We Have A Psychotic, Insane Education System That Stamps The Humanity Out Of Our Children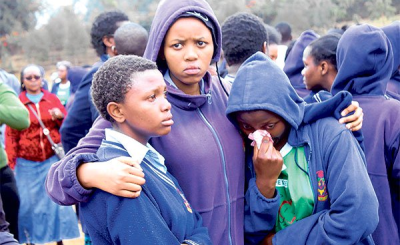 By Prof. Wandia Njoya
Time for some Lewis Gordon wisdom once again.
One of my favorite articles by Prof Gordon (if such a thing is possible, because I love them all), is an article entitled "the problem of maturity in hip hop." It is one of the few articles that people always misunderstand when I quote it, but it doesn't hurt to try again.
In this article, Gordon mentions that the difference between childhood and adulthood is not age, but a tragic consciousness. To be a child, he says, is to stretch the limits of culture without worrying about responsibility. In essence, childhood is a world without limits. Adulthood, however, requires a consciousness of limits, and of consequences of breaching those limits. This means that even if we want children to imagine and play, the adults have to mind the children. When I was young, I once asked a group of Christian parents why they kept making life hard for us in preventing us from making mistakes. I argued that maybe we should just be allowed to make the mistakes, since that's all we seem to be able to do. I will never forget what Mrs. Tabitha Seii told me. She called me aside after the meeting and told me: you know, there are some mistakes which should never be made, because you can never recover from them.
And that's the tragedy of being an adult. On one hand, you have to let the children play and stretch limits. On the other hand, you must not let them make irreparable mistakes. In other words, we must all face adulthood with dread and awe, because it is a great responsibility placed on us. And that is not easy. It is a balance you have to juggle as long as you're alive. There's no formula to it. That is why African societies have initiation ceremonies, to remind kids of the inevitable responsibility of being an adult.
Worst of all, we must realize that we Africans are parenting in a dysfunctional world. We live in a world whose media doubts our humanity. And so our children are being battered by a lot of nonsense, so parents must protect them while also allowing them to be creative and explore. I started teaching a course on sex, beauty and love because I realized that if I don't get these young people to think about what is beautiful from an African perspective, they'll think that dressing well is looking like Kim Kadarshian. And I know because the page in True Love where readers talk of their fashion icons, Kim Kardarshian's name shows up quite often. So we must not only teach our kids morals; we must also teach them humane and African aesthetics and knowledge. But guess who tells us that the arts are useless?
That brings me to the death of our children in a high school because some kid thought that taking her life was the way to make her parents listen to her say that she hated her school. The truth is, we have a sick institution called schools that has left a lot of trauma and scars in many of our lives. It is not so hard to imagine that a kid would hate school so much to try to burn herself, and end up burning others instead. That is not to "excuse" her. At all. The point is not her. It is the failure of adulthood at such a massive scale, that we should all be ashamed. These are the failures of Kenyan adults:
1. The failure to reform our education system. We have a psychotic, insane education system that stamps the humanity out of our children. Like Cirū Ngigi keeps telling us, alot of adults are messed up. Ask me – I'm tired of hearing how many adults, including pastors, are predators of our children and people under their care. I've also made so much noise over the last two months about our failure at logic and reasoning. Look at the insults on many of our timelines. They are written by adults who find reasoning too difficult, and when they are not insulting you they are using this passive aggression, where they pretend they are in a conversation with you but are not really listening to you. So like Ciru says, I don't want to hear any of us say we went through brutality in school and turned out fine. No. We didn't. You just need to see the disaster of our elections and wonder if there are no adults in IEBC who could have thought of the country before thinking of themselves.
2. The failure of the principal to get a suicidal – and clearly dangerous kid – out of school. I saw a comment on someone else's timeline arguing that boards of governors are afraid to send kids home for psyche evaluation, in case the board's action is considered unconstitutional. What the heaven! So, I asked, is such a board more concerned about being on the right side of the law than about protecting children? Nkt. Really. If I was the head, I would tell Matiang'i and Maraga – do what you want with me, but as long as I have 1000 kids to take care of, this kid isn't staying here. I would rather go to jail than have to explain to grieving parents why their children are no more. There are some mistakes that are irreparable. And in any case, no parent is going to bring me a kid to avoid doing what they need to do, which is get the kid some treatment. It's the board of governors and the principal who should be in court before that kid. Two – the law is supposed to protect us doing the right thing, not excuse us from doing the right thing. We need to stop making excuses for adults. They need to be held accountable for failing to be adults.
3. I am cautious about getting into the reports about the kid being spoiled, with all the gadgets many just dream of, because that's hearsay. But if that is true, there is a failure of adults to understand their tragic role of allowing play but also setting limits. You can't have parents who give kids everything they want, with no limits, then send them to the prison we call school and want it to set extreme, brutal and callous limits. Swinging kids between extremes is psychotic. At BOTH home and at school, kids must be creative and explore, but they must also be set for limits. We cannot run a society on parents who act as ONLY good cop and schools as ONLY bad cop. We must balance both. Always.
Remember what Gordon says: childhood is about play, about stretching limits. There's no fun without abandon. There's fun because the limits are there. That's why a football pitch has the lines which players must not cross, otherwise they are out of play. But what goes on in the pitch allows us to see great skill and marvel at the art of football. Even kids know what rules are – watch them playing foota or kati – they also set rules for themselves and it's quite some fun watching them argue over the rules.
There was a great, great failure of the adults, and those poor girls died because adults refused to be adults. And I don't care whether the girl who set the fire was evil, wrong or sick. The point is that none of us over the age of 18 has a right to even point a finger at her. We the adults are the ones who failed. So let us stop trying to grieve like the parents of the students who died. It doesn't make us noble. It makes us cowards. Let us comfort the parents of the lovely departed as they grieve, cry out to God, and ask why such an awful thing happened to their children. Let the classmates of the departed blame that girl for being spoiled. But us? let us be a ashamed and repent for failing as adults. Let us demand that the principal and the board of governors be investigated for the negligence that allowed this tragedy to happen. Let us start paying attention to our education system, stop abandoning it to the whims of Matiang'i. Let us make wise political choices. And let us be honest about our educational experiences and start to heal. We must stop thinking that just because we can pay rent and drive a good car that the brutality of school helped us turn out ok. Hell no, we're not ok. And let's keep discussing, thinking, praying about how we can be mature as adults, and how we can raise our kids by allowing them to be playful while also showing them that playfulness has limits.
Writer is a lecturer at Daystar University. 
---
Kenya Insights allows guest blogging, if you want to be published on Kenya's most authoritative and accurate blog, have an expose, news TIPS, story angles, human interest stories, drop us an email on

[email protected]

or via Telegram
---