Wafula Chebukati The Man With The Worst Job In Kenya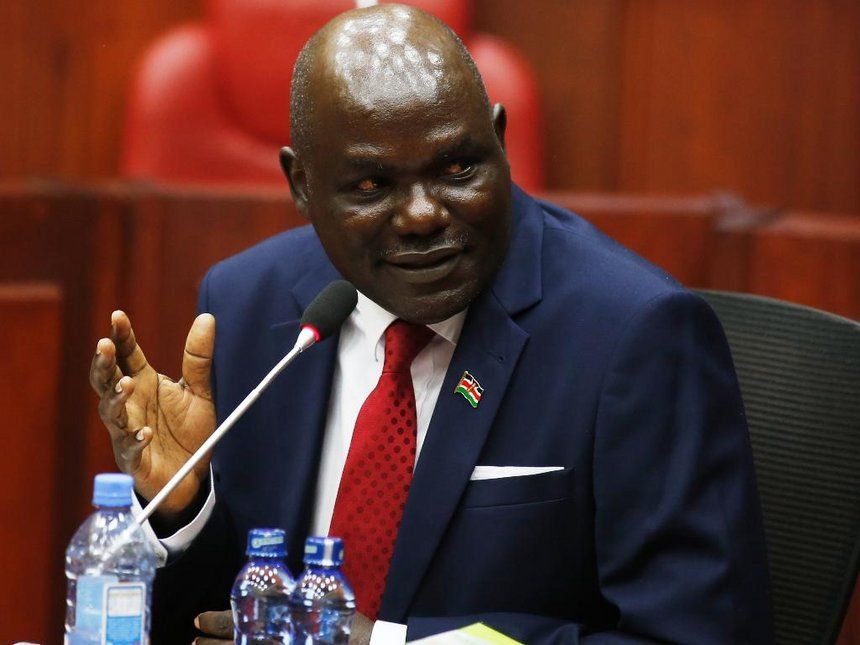 "The police look more prepared for the election than IEBC" a friend jokingly told me that leaving me struggling to grasp the essence. In Africa not only Kenya, elections are not just a democratic exercise but a horror period as it has become synonymous with war. The government will flex its muscles strategically revealing their armory, fierce cops ready to pounce on demonstrators. A whole set of intimidating theatrics. Media in the other end especially the western even though local media equally infected, will create a hot narrative of possible violence. "We're not here to cover your elections" a foreign journalist is quoted during the 2013 contested poll that luckily didn't end dirty as the previous.
History doesn't help either. While 2007 stands out as the country's worst electoral year, the truth is that we have seldom had a peaceful election in this country since the advent of multi-partyism in 1991. Like clockwork, in 1992 and 1997, there was violence. In 2002, 350 deaths were reported within two months. The 2007 election went down in history as the worst yet. Pockets of violence and deaths were reported even in the largely peaceful 2013 elections.
Every election comes with its new set of a headache. Presidential elections given the heavily ethnicized country has been the breeding pot for violence. This is a do or dies contest reason it is often the biggest headache. Electoral malpractice has been the core root of all the violence in past electoral history. Agents of change have never gone to sleep and several legislations have been made to minimize loopholes of stealing elections including constituting a fresh electoral body.
During the 2007 election that would erupt into the worst violence in history, the then election board chairman Samuel Kivuitu was a man under siege and his decision to declare Kibaki as president in a clearly pressurized environment, is a decision he probably died regretting. On several occasions when asked, Kivuitu reiterated that he didn't know exactly who won between Raila and Uhuru. Those are words you wouldn't want to hear from someone who was to be working independently and announce verified results. It showed how much he was compromised with powerful forces and coerced into announcing cooked results. Many would put the curse of murdered Kenyans on his head for that announcement that triggered nationwide protests.
Kivuitu's successor Isaak Hassan who was the first to chair an integrated a d independent electoral body IEBC following amendments to have a credible electoral body didn't escape the wrath a d curse of the office either. In a tightly contested race that was seen to be going into a runoff but given to Uhuru, Hassan was accused of manipulating figures in favor of Jubilee. An electronic voting system that was made to avoid ghost voting was deliberately failed giving way to electoral fraud. IEBC was also accused of playing into Jubilee ball therein shared same servers in which a bug was injected into the system to manipulate numbers in Uhuru's favor.
Ideally, it really doesn't matter most of the times who wins but how they win. This is why the integrity and credibility of the electoral process are paramount and the most bankable guarantee of peace. IEBC generally enjoys a dangerously low rated public confidence. The body is perceived as partisan and without integrity. This is a disastrous set of mind going into an election fixed with. On the other hand, IEBC has done too little or nothing to redeem their image and attempt to win the public trust. Hopes of Kenyans are on IEBC and the prayer is for a successful run of the system which by the way is the only remaining string of trust on IEBC. The individual figures in the IEBC are jinxed.
The assassination of the ICT Boss Chris Msando has done more damage to the already damaged IEBC. Here was a man running a sophisticated election system; his public assurances that the integrated system was hacker proof and that all will go untampered with gave a new life and hope in the system. Being a major role player in the most crucial electronic voting system, the murder of Chris has generally been viewed as a direct sabotage on the system. IEBC might put up a strong face and give assurances that the system will work well in Msando absence but I can assure you his role especially in restoring public trust won't go unnoticed. His death is a blow to public trust something IEBC needed most.
IEBC Chairman Chebukati is the man of the moment, recovering from the trauma of death of a senior colleague in a murder that was also meant to send chilling threats to the rest of IEBC officials, Wafula had the obligation of delivering a successful election and announcing credible and verifiable results or play the tunes of power players. The power elite or the inner state are ruthless and can go to any heights to retain power. Here's the biggest headache Chebukati has to deal with. The state, inner state, the opposition and entire world have their eyes on this man. With different interests, they both want to achieve. But I don't think Chebukati should be spoiled for choices while he has the most advisable obligation of delivering a free, fair election.
In the next few days Mr. Chairman, things will get chaotic, you'll get calls, you'll get summons, you'll get visitors you might even in worst cases get kidnapped, you'll get credible threats on yourself and family. These aren't just here mentions, you don't take history lightly. You learn and take precautions. I want to believe that before you applied for the job and took the oath, you were fully aware of the nightmare of a job you were getting into now you have no otherwise but to deliver. Let a few criminal minded individuals who would want to use you in bungling the election loathe you for disappointing but the public cheer you for giving a credible election. History will be kind to you. Listen to nobody but your conscience. Pray to God to guide you. Chebukati you're literally holding the future of over 40 million Kenyans in your hands. Pray that may God give you the courage and wisdom to deliver a historic election that is credible. With the low public trust on IEBC, I can only wish you the best and all system works as stipulated. But oh boy, I wouldn't wanna be you, you have the worst job in Kenya. Curses or praises awaits you.
---
Kenya Insights allows guest blogging, if you want to be published on Kenya's most authoritative and accurate blog, have an expose, news TIPS, story angles, human interest stories, drop us an email on

[email protected]

or via Telegram
---