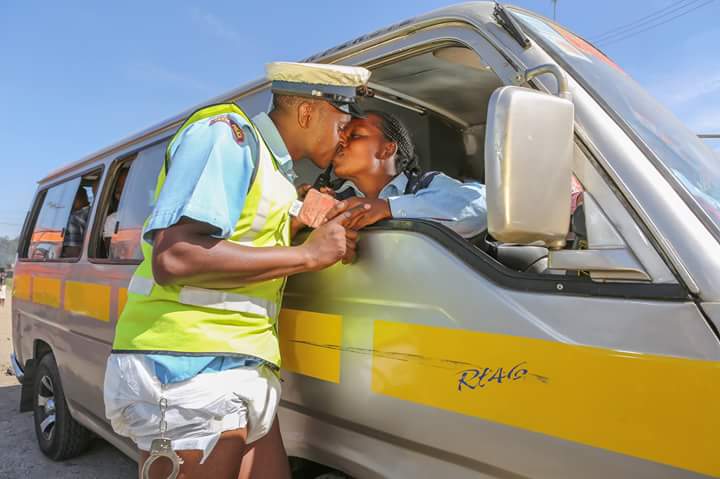 The Matatu Terrorism
According to statistics, every year an average of 3000 Kenyans lives are lost on the road. Accidents continue to escalate despite strict traffic rules and NTSA monitoring that has less to show. Are Kenyans going to sit back and watch the rogue police officers and NTSA officials conspire with the Matatu Sacco in the powerful cartel to drive them to their graves? Things have to change and the only people to push this is the public who at the day suffer the burden of reckless driving.
Langata Road accident has exposed the ruthless and lawlessness of the Ongata Rongai Matatu crew, the busses are driven at devil's speed with reckless and intoxicated drivers, the conductors treat their passengers like a heap of garbage, the music in these busses would burst an aged eardrum and don't be surprised if I'm few years young people will be dealing with mysterious eardrum problems.
The rogue matatu crew would pick and drop you wherever they feel like, they rarely reach agreed tension and will make abrupt turn at their convenient point forcing the passengers to board the second bus or walk to their final destination, they've perfected this art per if trickery that however much the passengers complain nothing happens and be careful most of these young intoxicated boys are ready to fight you when you demand for your rights as a passenger.
The Matatu Cartel is run mostly by politicians, drug dealers, senior police officers amongst other money launders making it so powerful such that the crew operating them openly flaw traffic rules with the utado mentality since their owners are untouchable.
The bus that killed four people had already been deregistered by the Ongataline Sacco and was operating without a license; this shows you the level of impunity and incompetence of the traffic police and the NTSA who were fully informed and yet they still let the bus operate and drive people to death.
NTSA has staged a cosmetic PR drive over the past days including the banning of the Ongataline buses and stepping up their inspections; this is a typical knee-jerk Kenyan way of reacting to situations while the fire is still burning and soon it will be back to normalcy.
NTSA has deliberately been ignoring the biggest danger and targeting soft spots. They let public vehicles flaw traffic rules as they get their daily cut instead fully prey on private cars this anyone who uses Nairobi roads will tell you. NTSA should focus on these big offenders who're killing most. Example the Rongai vehicle that killed had been deregistered by Ongataline and NTSA was informed through an available letter; the NTSA, however, allowed the bus to ply the route. Being deregistered by the Sacco imply that it was operating without the license in full watch of NTSA. They should take their work seriously and not concentrate on taking bribes. The accident could've been prevented the sheer incompetence of NTSA is and will continue to cost more lives of things remain as they are
NTSA doesn't have arresting powers that's why they walk around with police for law enforcement. If the police are now enforcing and ensuring all requirements are adhered to, then they're part of the problem. Traffic police are to ensure all vehicles are upbeat if any passes them then they're part of this massacre
Drivers are biggest to take the blames for recklessness it trickles down to self-restrain. Most of these drivers are on the road intoxicated. Lack self-discipline that would put them in line. The ghetto mentality in the minds of these guys that want to rush for more squads while risking the lives of the passengers. It should be natural for drivers to put lives of passengers ahead of self-interests, most think they're heroes when they over speed and do more squads in fact there's a trend whereby the driver who goes the highest speed and makes most trips will have better chance in different busses since the rule is you can't stay on one bus through, The drivers and conductors are switched on every trip, so you stand high chance of many trips according to how much speed. This mentality must again be stopped.
Apart from the drivers, passengers are also to blame for tolerating and allowing these rogue drivers to drive them to death. It's not like they're helpless, you can tell off the driver if he's over speeding. It's gotten to a point where everyone must take responsibility for his life on the road. Responsibility means calling out rogues. Same passengers esp the young prefer the pimped buses with defining music and the ones that hepa jam most. In fact, you'll hear people say I don't prefer particular bus since they don't overlap I mean it's become lucrative and appealing for the busses that over speed and overlap as the most preferred. These are death traps.
Severe legislations must be put in place to tame these rogue matatu crew before more lives are taken. Notorious drivers who persistently flaw traffic rules should have their licenses revoked and banned from driving for life and better yet a jail term would do just well. The system should be digitized that repeat traffic offenders can be detected on a click, eliminate them from the roads before they kill. Weed out criminal elements masquerading as
The Sacco's need to thoroughly vet their crew and train then on road etiquette with basics being treating passengers with utmost respect. They must work to ensure the crew is at all times sober and not high on drugs, these people have become sleek and resorted to cheap drugs that can't be detected by NTSA. The driver who recently killed was chewing Mogoka a common stimulant amongst Matatu crew.
---
Kenya Insights allows guest blogging, if you want to be published on Kenya's most authoritative and accurate blog, have an expose, news TIPS, story angles, human interest stories, drop us an email on

[email protected]

or via Telegram
---