Auditor General's Office Can Solely Curb Corruption In Kenya If Empowered
AUDITOR GENERAL'S MANDATE
In 2010 new constitution, Auditor General's office was delegated into two wings: Controller of the Budget(Active during funds allocation) and Auditor General (Audits after Use).
The Office of the Auditor General draws its mandate from the Constitution of Kenya.
Chapter 12, Part 6, Article 229 establishes the Office of the Auditor General. Chapter 15, Article 248, Section 3 and Article 249, Section 2 (a) and (b) provides for the independence of the Office of the Auditor General.
The Auditor-General shall audit and report, in respect of that financial year, on:-
The accounts of the national and county governments;
The accounts of all funds and authorities of the national and county governments;
The accounts of all courts;
The accounts of every commission and independent office established by this Constitution;
The accounts of the National Assembly, the Senate and the county assemblies;
The accounts of political parties funded from public funds;
The public debt; and
The accounts of any other entity that legislation requires the Auditor-General to audit.
°The Auditor-General may audit and report on the accounts of any entity that is funded from public funds.
°An audit report shall confirm whether or not public money has been applied lawfully and in an effective way.
°Audit reports shall be submitted to Parliament or the relevant county assembly.
°Within three months after receiving an audit report, Parliament or the county assembly shall debate and consider the report and take appropriate action.
Article 226, Section 4 provides for the accounts of Office of the Auditor General to be audited and reported on by a professionally qualified accountant appointed by the National Assembly.
Article 249, Section 2 (a) and (b) states:
The commissions and the holders of independent offices–
Are subject only to this Constitution and the law;
Are independent and not subject to direction or control by any person or authority.
EACC MANDATE.
13 (1) The Commission shall have all powers generally necessary for the execution of its functions under the Constitution, this Act, and any other written law.
(2) Without prejudice to the generality of subsection (1), the Commission shall have the power to –
Educate and create awareness on matters entailing its mandate;
Undertake preventive measures against unethical and corrupt practices;
Conduct investigations on its own initiative or on a complaint made by any person and
Conduct mediation,reconcilliation and negotiation
Special Audit Reports that Have threatened Ouko's Stay in office.
1.The Audit report that unmasks 17 ministries and departments spent a total of Sh66.7 billion in the fiscal year 2013/14 without availing any documents to authenticate how the money was used.
The amount was part of a total of Sh450 billion in unsupported expenditures in the public sector, underlining the lack of rigour in accounting for taxpayers' money.
Thereafter President's Chief of Staff Mr.Kinyua came with a coronation directive "The Auditor-General's reports shall be availed to ministries at least seven days before tabling in Parliament,"Contrary to the constitution which requires audit of Public funds to be reported to parliament or the relevant County assemblies, which have the mandate to interrogate the reports and take appropriate actions. It was also suspicious as to why these would be presented to ministries when the same ministries to be presented to are the ones under scrutiny.
2.NYS saga–where the special audit noted fraudulent practices that led to the losses of KSh1,863,512,256 in various circumstances as is in Case 1 (KSh791,385,000), Case 2 (KSh609,252,760), Case 3 (KSh240,751,576) and Case 4 (KSh222,122,919). This scam involved key and intermediate family relatives and friends to high profile public figures in the country including President Uhuru Kenyatta, Senator Kipchumba Murkomen, Governor Anne Waiguru who was the main Victim, Worn out Political Analyst Mutahi Ngunyi and National Assembly house Majority leader Aden Duale.
3.Eurobond Saga–When The Auditor General Ouko declared that Sh215 billion from Kenya's controversial Eurobond funds had not been accounted for, two years after the Government claimed the cash was allocated to ministries.
Thereafter, Investigations by Parliament revealed that the Government did not deposit the Eurobond proceeds in the Consolidated account, as required by law, but instead had first put the money in offshore accounts.
For accountability, Treasury said it transferred Ksh34 billion from the Ksh215 billion that was sitting in the offshore account to the Exchequer Account to fund infrastructure projects.
On the same day, July 3, 2014, another amount of Sh53.2 billion was withdrawn from the offshore account to pay a syndicate loan. Game of tik tak that at the end exposed them guilty.
4.Health Ministry Ksh5B Saga(Afya House Scandal)–The probe was triggered after a leaked audit by the ministry's internal auditor Bernard Muchere revealed billions of shillings were lost through irregular payments. Surprisingly, the investigations by the Auditor General came after a delayed probe by the Ethics and Anti-Corruption Commission. Their delay was on a mission for monkey business since one of the entity that was involved was Philip Kinisu who was former Ethics and Anti-Corruption Commission Chairman. Again these tik taks led to USAID withdrawal from funding Health Ministry as they used to and so was many other shareholders.
5.In this month of December solely, below are mega Audit Reports that precisely insights on unaccounted public funds hence can be considered stolen:
1. Interior Ministry-Ksh8,600,000,000 Unaccounted. Despite the expenditure scrutiny is exempted by the constitution, it's unlawful to scrutinize this office but this has led to officials taking advantage to squander and launder money.
2.Kenya Police shoe scam-Ksh175,000,000 Unaccounted
3.Kenya seed company scam–10,000,000,000 Unaccounted
4.Kenya Police Insurance Cover scam–3,500,000,000 Unaccounted
5.Police VIP Copter bought–2,300,000,000 Government argued that the purchase was classified when Auditor requested for supporting documents for the purchase.
Total:Kshs.24,575,000,000 Money Laundered.
6.Ministry Of Immigration Ksh1.5B theft–this occurred last year 2016 when immigration ministry was only able to account for Ksh1.4B Passports and stickers revenue but couldn't for Ksh1.5B Visa revenue in the Ksh2.9B Total revenue that was collected.
7.Ministry of Tourism Ksh 390M theft– Came to spotlight early March this year 2017. He argued, there was likelihood that revenue collected were being deleted from the system and later withdrawn in cash unauthoritatively. "The system could not also distinguish a late payment with an arrears payment as it applied penalties to both. This meant that levy department has to call back and confirm the payment and manually make corrections," as quoted by Businessdaily
In EACC, Recovered assets sums upto only Kshs9.7B since its Establishment. This year, it has been running battles with traffic police and puppetry political witch-hunt on Governor Hassan Joho over his Academic credentials which bow no fruits.
I have been Comparing and Contrasting between Ethics and Anti-Corruption Commission(EACC) and Auditor General's office obligations and mandates, achievements and failures. I had to take this to a take a new twist by running a poll on twitter and also views from various communication platforms and the message was solid, precise and clear: EACC had the least public trust with witnessed peanut achievements that haven't convinced the majority tax payers of their relevancy and more importantly their hardwork.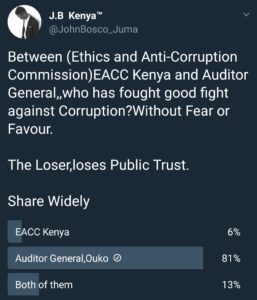 Therefore my take and wish is on empowerment of Auditor General by giving him more mandate to Prosecute Public fund coffers considering the fact that Procurement, Bribery are the most common on a measurement of 70% mode of Corruption in Kenya. Auditor queries Misappropriated funds, forwards to the parliament who intern might direct EACC who has the power to prosecute corruption perpetrators. EACC has been too mean and ineffective in response these matters. I have come to observe, Big-man syndrome between the two entities(Auditor General and EACC) who basically are on duty to curbing Corruption menace in this country. EACC wants to be first runners in unmasking these schemes and so is Auditor General's office. The litmus test is simple, EACC is more compromised with Cartels and has lost its independence as a Commission. Controversial interlect Dr.PLO Lumumba was once the captain of the Commission, he thought he would be the game changer,he thought he was the strongest of all, he thought he would be the new dawn, he was brought down to earth the same people, among them cartels who fixed him inn. Auditor General has given Cartels sleepless nights, including Uhuru Kenyatta who wanted him out of office sometimes back last year.
Lately, during EACC seminar, Chairperson Rev.Eliud Wabukala opted for more empowerment for the Commission to work better. I wondered for what motive when Auditor General lacks this power to prosecute perpetrators but works better than he who has. EACC is just a brand, Cartels public institution in the name of a Commission to launder money in a Godly manner from 'Clean hands'. Those who are left to prosecute after Audit report are tabled in parliament are the same entities in one way or the other involved in these schemes. Don't expect much.
AG eyes to open offices in every county for oversight mission that worries EACC as they're going to be outshined and overshadowed.
Soon Ethics and Anti-Corruption Commission(EACC) will launch an online public portal to display their Achievement like #GoKDelivers on a mission to convince the public.
EACC and AUDITOR GENERAL RIVALRY
So called State graft watchdog, the Ethics and Anti-Corruption Commission, since stated that the Ksh215B Eurobond whose whereabouts were yet to be explained was not stolen while Auditor General report maintained that it was illegal for the Government to deposit any of the funds in the off-shore accounts and above all the government has no documentation Receipt of Expenditure' to account for the funds hence considered theft act.
EACC CEO Halekye Waqo recommended Eurobond file to be closed due to lack of adequate evidence at a time when state was witch-hunting Edward Ouko for Arbitrary Abuse of office allegations for he was not sparing any Dick and Harry.
#EmpowerOuko
---
Kenya Insights allows guest blogging, if you want to be published on Kenya's most authoritative and accurate blog, have an expose, news, story angles, human interest stories, drop us an email on

[email protected]

or via Telegram
---
Squandering Goodwill: DPP Noordin Haji Should Choose If He's Working For Uhuru Or Kenyans.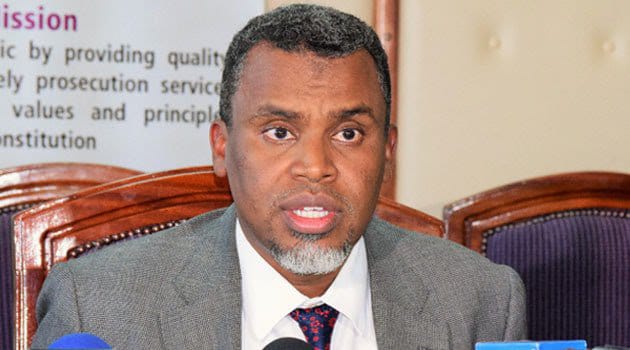 Yesterday Kenyans were disgusted to see our mother Philomena Mwilu being arraigned in court over frivolous charges, even when the real criminals are just moonlighting across 5-Star hotels in Kenya.
This comes under the back-drop of last year's incident, where her driver was shot dead, by elements believed to be working with the Jubilee regime last year, something which indicates that she's a marked woman.
The response to this persecution has been overwhelming with top lawyers lining up in the defence of the Deputy Chief Justice, with prominent critics like David Ndii and Miguna Miguna casting aspersions on the character and professional impropriety of the DPP.
That this case had been purposely "leaked" to Githeri Media Nation Media Group, shows that it was being manipulated from Statehouse, because the notorious media house editorial policy is drawn up from there.
The DPP and the DCI need to figure out of they are working for President Uhuru Kenyatta or the Constitution of Kenya. Uhuru can be a very petty and vindictive character who reacts on the slightest impulse, and his input to such important offices can be catastrophic. We remember vividly his threat to the Judiciary when he yelled publicly under the influence of alcohol that "we shall revisit".
We cannot have someone who is as emotional and irrational as Uhuru, tainting the independent offices of the DPP and DCI.
I also remember when Mike Sonko was setting up Kiambu Governor Ferdinand Waititu, he expressly said that Uhuru is controlling/manipulating arrests. What nonsense is this?
DPP cannot purport to arrest the Deputy Chief Justice, as Kirinyaga Governor Anne Waiguru cat-walks free, as she writes intimidating letters to the EACC, as if they report to her. Kenya Revenue Authority (KRA) the most corrupt institution in Kenya, cannot purport to be pursuing Philomena Mwilu over peanuts, yet sham "investors" like Vimal Shah and Somali businessmen are evading taxes in the billions.
If you want goodwill, go for known villains. Don't lump fictitious charges on soft-targets who are victims of the political alignments in the country. It is Kenya's taxes which are funding these offices, not Brookside Dairies or Heritage Hotels money.
We won't clap for you when petty thieves of 900,000 Kshs are arrested by your office, when known thieves are walking scot free. The DPP cannot commit his scarce resources to chase for petty thieves of scams below 10 Million and expect public goodwill.
People must now justify their continued stay in office. When you commit over 10 officers to hunt down 6 suspects who embezzled 900,000, does that even make economic sense? Can you spend such expensive man-hours chasing for peanuts? DPP and DCI you need to get your act together.
The people who have "eaten" Kenyans money are well-known. They have built flats, malls, stashed the money abroad and hidden it in their houses. You should be giving us the progress of the recovery of these assets first, and not chasing petty thieves of 900,000. We won't allow our resources to be wasted in pursuit of petty offenders.
Tell us how far you've reached in repossession of Evans Kidero's assets. Tell us which Governor is going to be successfully tried and convicted. Nab the MP's who were bribed to endorse a sugar report. Go for the people who brought down Chase Bank and Imperial Bank Limited. We want to see blood of the upper-echelon of corruption.
We are being told that Deputy President William Ruto's PA Farouk Kibet is being arrested on Friday. That one will be a welcomed image because he represents the face of corruption and impunity. But now when you chase a motherly-figure like Philomena Mwilu, you're eroding all the gains you've made so far. We want Alpha-Females who walk as if they own Kenya, to be apprehended.
My only advise to the DPP and the DCI is to choose your battles wisely. If you needed to shake the Judiciary, you could've started with the judge Tonui who took a 200 million bribe from Evans Kidero.
Secondly, those independent office-holders should desist from being used by the petty and emotional clowns working at Statehouse. We are in this current mess because Uhuru consciously allowed corruption to thrive, yet now he's acting as if he doesn't know where it came from. Selective-amnesia.
If Uhuru wants to clean up the mess he created, he must do so within the confines of the constitution and not under the influence of his political-biases and petty emotions. Kenyans have no time for his tantrums and petty emotions. His cheap theatrics should be restricted to White House, where he unleashed his fake St. Mary's British accent.
---
Kenya Insights allows guest blogging, if you want to be published on Kenya's most authoritative and accurate blog, have an expose, news, story angles, human interest stories, drop us an email on

[email protected]

or via Telegram
---
Daily Nation's Role In Arrest Of DCJ Philomena Mwilu As David Ndii Claims NIS Edits DN Stories Nowadays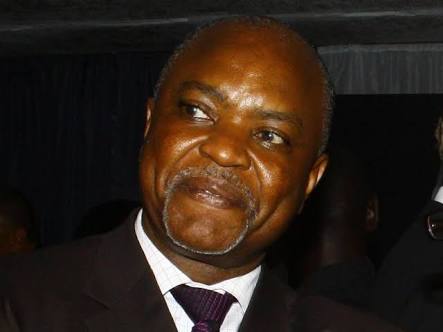 From Monday, one thing has been consistent with the Nation Media Group's DN. The splashing headlines have been on a roll. Leading writers at Daily Nation; Mutuma Mathiu and John Kamau are the familiar faces in this. In what is a clearly well orchestrated plot to build a narrative and set an agenda, the popular newspaper seem to have been favorited in this ploy. Media enjoys the monopoly of agenda setting.
Monday, the splash headline on Daily Nation read, 'Supreme Court judge targeted in corruption purge'
"A Supreme Court judge faces imminent arrest and prosecution for corruption in a devastating and dramatic escalation of the government's campaign against graft. The arrest of such a high-ranking judicial staff, unprecedented in Kenya's history, will be the culmination of weeks of investigations into brazen corruption at the Judiciary, and is likely to send shock waves throughout the institution." It read.
"The Nation has followed this case for months after it learnt that the judge had been reported by the Kenya Revenue Authority to the Director of Public Prosecutions over the suspicious movement of large sums of money in and out of bank accounts." The part of six months got me giggling.
They had the fine details of the entire case probably on tips from the DCI or ODPP who were on top of the case. How they got the information is not important what's key is, they did not only instill fear in the judiciary corridors but at that particular moment they had put entire Supreme Court bench on public trial before the court of public opinion.
On Tuesday, same writers, different headline 'Drama at Supreme Court over arrest of lawyer and top judge'
While this might look harmless to a layman's perspective viewpoint, I find it alarming that entire bench was on the spot, it paints the picture of a corrupt Supreme Court which is not only defaming but undermining authority and legitimacy of the highest court in the land. I don't know if the editors had that in mind or maybe they did and a narrative had to keep building up.
On the second day running, the public was being prepared for the eminent arrest of the judge and the narrative was being built to paint a totally corrupt judge even when the entire case hadn't been tabled. It's called building perceptions, you don't necessarily need to tell the truth, you can sway opinions with anything that suits your agenda.
On Tuesday, DCJ Philomena Mwilu was arrested within the precinct of the court which again in my view wasn't the best thing to do as it doesn't only undermine the authority of the court but also sends intimidating messages to other judges who might now not want to cross paths with the executive.
Mwilu now faces numerous counts of stealing, abuse of office and failure to pay taxes. "The evidence in our possession, reveals that Lady Justice Mwilu abused her office for personal gain; accepted a gift in the form of money in circumstances which undermined public confidence in the integrity of her office (and) conducted herself in disregard of the law," DPP Noordin Haji said in a statement.
"In view of the above, I have concluded that the evidence is sufficient with a reasonable prospect of conviction and it is in the public interest that criminal proceedings should be preferred," the DPP concluded.
Wednesday, the Daily Nation was once again at it shouting the fall of the DCJ.
Again, this was not only done in bad faith but part of the narrative to defame the DCJ according to my thinking, look, there's a presumption in the courts that one is assumed innocent until proven otherwise but here's Daily Nation smartly executing a case in the courts of public opinion. To me this is character assassination on the person of Mwilu.
The @dailynation allowed itself to be used very badly in the case of DCJ Mwilu. All along the perception created was she was sitting in her office collecting huge bribes in utter disregard of logic and norms. This was false and hugely DECEPTIVE.

— Benji Ndolo (@BenjiNdolo) August 29, 2018
The Deputy CJ case by DPP and DCI is serious political witch-hunt. There is evidence that DCI boss personally used Daily Nation's John Kamau and Mutuma Mathiu to prosecute and judge the Deputy CJ without clear evidence. John Kamau of DN is Kinoti's spanner boy.

— Robert ALAI, HSC (@RobertAlai) August 28, 2018
I find it exposing that the newspaper would overlook the presumptions of the court to prosecute and convict without facts. There are rumors that there's a succession plan underway since the Chief Justice Maraga is three years shy of his retirement age hence the need to find a favorable replacement. As the DCJ, Mwilu is poised to take over but she is presumed to be a tough nut and system unfriendly, maybe that's why she need to get out of the way.
David Ndii seems to have an idea on who's behind Daily Nation's Headlines. This is not the first time accusations are being thrown at Daily Nation for being a mouthpiece of the state and if it can be proved then it would be unfortunate for such a big scale media house being reduced to a government mouthpiece and a propaganda channel.
NIS. They edit the DN these days.

— David Ndii (@DavidNdii) August 29, 2018
---
Kenya Insights allows guest blogging, if you want to be published on Kenya's most authoritative and accurate blog, have an expose, news, story angles, human interest stories, drop us an email on

[email protected]

or via Telegram
---
New Energy Felt As ODPP, DCI And NPS Gets More Active And Engaging On Social Media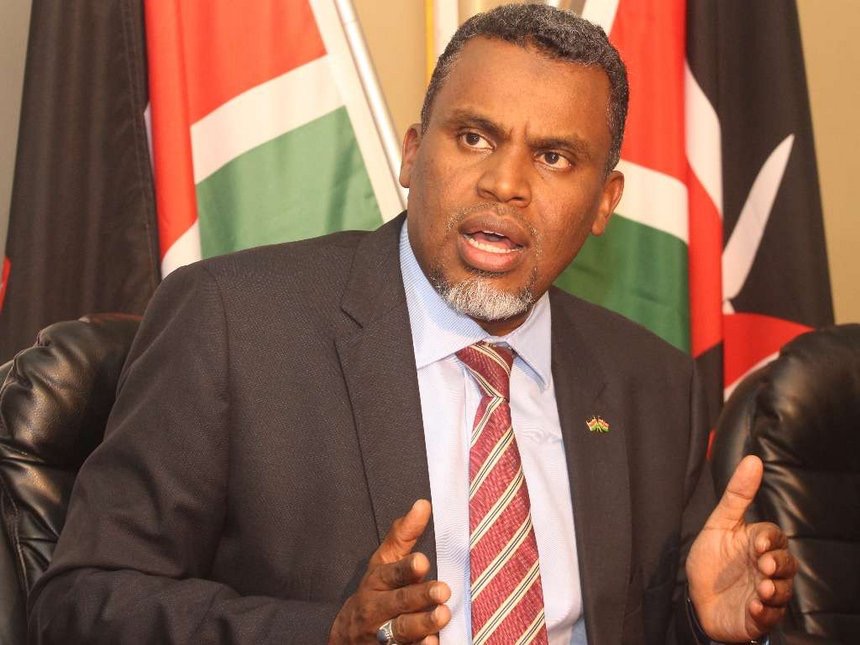 Social media is changing lives they say and that's becoming clearer by the day as corporates come to the reality that without a social media presence, running a business is like a beautiful girl walking in the dark, nobody notices her.
Public institutions are also not remaining behind as they fully embrace social media in service delivery. I've been observing and can't help notice and express my satisfaction with more specifically the Office Of Director of Public Prosecutions, the Directorate Of Criminal Investigations and the National Police Service.
Kindly DM details for ease of follow up and immediate action. https://t.co/rjCofFqD9v

— ODPP_KE (@ODPP_KE) August 21, 2018
Evidently, these accounts are under new management given the direction they're taking and amount of work they're putting in. ODPP is the most active in my view and a news hub, a good number of cases that previously would go unattended to are now being picked up in a snap.
The relationship between the ODPP and DCI especially on Twitter is really amazing and also I should put in EACC, they're doing well too on Twitter as far as updating the nation on anti corruption news is go concerned.
Twitter for instance, is a news hub and a powerful communication tool, many cases have been prosecuted off Twitter noise. We're blessed to have ODPP that's very active and always picks up most cases raised and a DCI that immediately picks up the cases on directions from DPP and the whole coordination is amazing.
Good Morning tweeps! Mr. William Hanga Mwazombo an employee of #Well's Fargo Security firm was #arrested yesterday & is currently in lawful custody for posting defamatory children photographs on the media.We thank you ????????the members of the public for alerting us.#BetterPolicing. pic.twitter.com/UHZdafEx9r

— DCI KENYA (@DCI_Kenya) August 23, 2018
For time now, Kenyans perceive the police as unfriendly and often, they keep their ways apart as much. I've realized the NPS handler is actively changing that perception by being friendly and giving a sense of cops are also human and friends.
I just like how they're engaging the public with some sense of humor you know, Kenya is tough For is all so who wouldn't do with a bag of laughter? Whoever made the decision to ease the muscles and have such kind of engagements to work on the public and police bond did a good thing. When it comes to security, coordination is key between the two, lack of which things are bound to go wrong way.
Kulingana na matokeo ya #TwitterVAR umeng'oa,kwa hivyo jaribu kwingine. https://t.co/3YRNu1Uqe3

— Kenya Police Service (@PoliceKE) August 25, 2018
Government institutions are actively getting onboard on social media which is the future and that's a good thing, we're all snack news consumers, we want everything on our phones. Dealing with crimes, you have to follow and admire the work of the trio; ODPP, DCI and the NPS. Timeliness, consistency, engagements the recipes that's msking the Noordin, Kinoti teams stand out. There are other public institutions doing great too but this not your post, you'll get a mention next time.
---
Kenya Insights allows guest blogging, if you want to be published on Kenya's most authoritative and accurate blog, have an expose, news, story angles, human interest stories, drop us an email on

[email protected]

or via Telegram
---