Blogger Cyprian Nyakundi's 'Boy Child' Campaign Fundraiser Was Well Deserved But Was Miscalculated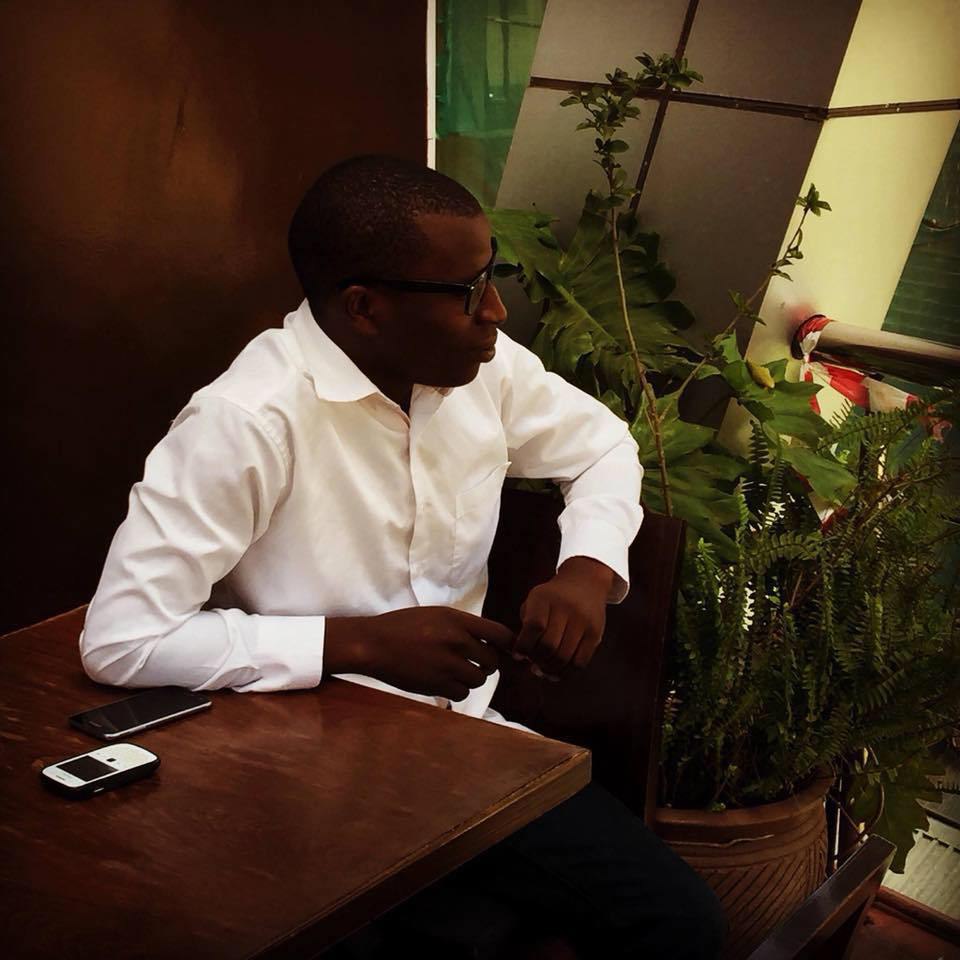 Cryptocurrency is proving a threat to traditional banking and Bitcoin is the current talk of the town. When it came out in 2011, one bitcoin was trading at 1cent, today, it is at USD16,000 with a rising trend. I've been studying the phenomenon and many user experiences. I was particularly caught by the story of, Andreas Antonopoulos, a bitcoin blogger, an advocate who has trained many people the art of cryptocurrency since 2012. He has empowered many and in line made many millionaires but himself.
While he has been advocating for the bitcoin movement, he was low-key broke, for someone who started off early and had hundreds of units, you'd naturally expect him to be super rich now that one bitcoin is going for $16,000 but that would not be the case. He sold off his bitcoins to clear off debts leaving him church mouse broke. Overwhelmed, he placed a plea for donation, naturally given his high ranking in the bitcoin world, he received a backlash but more important, he received support from those he had mentored. He needed donations to support his work and life.
After revealing in late November he had not profited off bitcoin's nearly 2,000% rise over the last year, Andreas Antonopoulos, who has convinced many to get into the bitcoin game through his speeches and books, received hundreds of donations totaling $1.6 million worth of bitcoin as of Friday. That's about 102 tokens over the course of three days.
Cyprian Nyakundi is a renowned Kenyan blogger with outstanding record largely marred with controversy, he has made a name that many don't want to mention but can't escape. In the past two weeks, the blogger set up an experiment and ran a turbocharged campaign against toxic feminism and for the empowerment of boychild.
When this vicious campaign that includes going after his target group of women started, I wasn't available online. On returning, things had changed and Nyakundi was baptized the President of the boychild. He had ignited a national debate from the comfort of his desktop. From the radios to TVs, the trending topic was boychild and the famous 'Nyakundi said no' slogan was trending. This I learned was to discourage the commercialization of sex where young girls ask for money from their boyfriends in exchange for sex.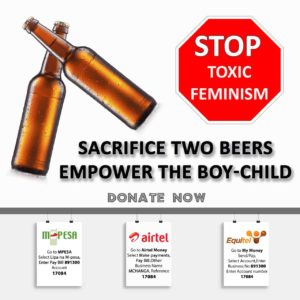 I was reading a report by Mashujaa organization this morning and one of the things that stood out was that most young people are having sex, and some become active even before their teenage years.
According to the report, two out of three youths are sexually active and one in five start having sex before their 16th birthday.
"Curiosity and peer pressure are the key early motivators for sex; later on sex becomes a tool for getting tangible and intangible benefits," states the report. It is this 'benefits' part that Nyakundi said No campaign took a toll.
Running such a campaign against 'toxic feminism' was definitely going to attract a nuclear backlash especially from the women and true to the words it sure did. His Facebook page is awash with swipes from the obvious.
Unknown to him, Nyakundi started a movement, it blew up from a normal social media rants, he became the talk of the town, conversations in bars, social gatherings revolved around this talk. It is a topic that needed to be addressed since more emphasis went to empowering the girl child at the expense of boychild whom majority felt neglected.
While many may not agree with Nyakundi's tone of communication including yours truly, I think he busted a bubble and ignited a conversation that was so much needed. Sometimes we channel our energies on one thing that we forget about the rest ending up losing much.
Along the road, members of the boychild movement suggested to Nyakundi to have a donation platform where they would make donations to support his work, without hesitation, he picked up the idea, set up a paybill not knowing it was set to boomerang. Under an hour on Friday of going live with the fundraising, he had received about Sh30,000 and counting. Unexpectedly, he called it off citing serious backlash and many terming the drive as extortionate.
I don't know why he didn't see this coming, should've been anticipated especially that he has amassed a large number of enemies especially the pro-feminists. Some people have argued that the fundraiser was a bad idea that killed the boychild movement and I have to disagree.
You see most work that humanitarians, bloggers do is generally for free and out of passions, people dedicate their times and resources to a discourse. Nyakundi explains that he compiled a team of young talented men who developed the pro-boychild articles which makes sense, as a blogger I can't emphasize much on how consuming both mentally and financially it is to develop content but most of you won't know since all you can see is the end product.
The idea of a fundraiser to keep the activities of the pro-boychild campaign was well deserved but poorly executed for me. All that Nyakundi needed to do was build a momentum, create a visible void that would necessitate funding to achieve bigger goals, this ought to be followed with an elaborate explanation why donations were needed but it popped out of the blues and since many weren't as prepared with enough details, took it as an extortion plan which it really isn't.
If you look around most of these feminist movements, they're running on donors funds I mean you need enough resources to maximise your audience reach and smoothly run your activities. This boychild movement needed to go all the way to the grassroots way beyond Facebook rants, this is how it ought to have been done but still online gives a great platform. For Nyakundi, he needs to diversify content not minimizing on articles alone, videos et al but all these needs talents and resources which is why I feel the donation was deserved.
If by now there's no organization that has approached to work with him but he has plans to sustain and expand the campaign then definitely individual donations would keep it going. Money issues are case sensitive and a slight mishap can cancel all the advancements in a flash, Nyakundi didn't do enough convincing even though he has the huge willing following to donate, that's his mistake he made. He needs to convince his followers that the movement is growing and need to grow more channels for empowerment.
Lastly, like in Antonio's story that I opened up with, there's nothing wrong in supporting someone's work, allow me to use a rated comparison, you splash notes on strippers When you go to the clubs but find it wrong to support a blogger's work. Many blogs and movements like WikiLeaks, Guardian have donation links for avid readers to support their work so why is it extortion to support other bloggers as well be it Nyakundi or anyone else? It's more of appreciation, don't you people pay those matatu pastors sadaka?
I'd encourage Nyakundi to go back to the drawing board, you've started a movement that has become your trademark, I might not agree with A, B, C,D but the undeniable fact is you have a bright idea that needs a bit of tweaking and not be abandoned, if you chose to be the President of the boychild then you must be with or without the fundraiser after all you've been doing it for free. However, build the ground, expand this, team mafisi which stands for immorality was recently registered, have boychild movement registered and you n identified by it, go out hold talks in halls take your message home and hopefully the donations checks back.
---
Kenya Insights allows guest blogging, if you want to be published on Kenya's most authoritative and accurate blog, have an expose, news, story angles, human interest stories, drop us an email on

[email protected]

or via Telegram
---
Squandering Goodwill: DPP Noordin Haji Should Choose If He's Working For Uhuru Or Kenyans.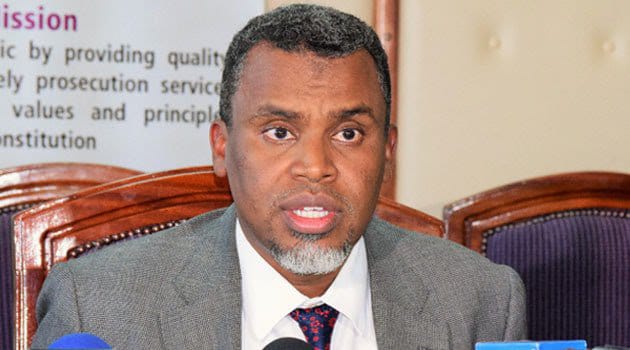 Yesterday Kenyans were disgusted to see our mother Philomena Mwilu being arraigned in court over frivolous charges, even when the real criminals are just moonlighting across 5-Star hotels in Kenya.
This comes under the back-drop of last year's incident, where her driver was shot dead, by elements believed to be working with the Jubilee regime last year, something which indicates that she's a marked woman.
The response to this persecution has been overwhelming with top lawyers lining up in the defence of the Deputy Chief Justice, with prominent critics like David Ndii and Miguna Miguna casting aspersions on the character and professional impropriety of the DPP.
That this case had been purposely "leaked" to Githeri Media Nation Media Group, shows that it was being manipulated from Statehouse, because the notorious media house editorial policy is drawn up from there.
The DPP and the DCI need to figure out of they are working for President Uhuru Kenyatta or the Constitution of Kenya. Uhuru can be a very petty and vindictive character who reacts on the slightest impulse, and his input to such important offices can be catastrophic. We remember vividly his threat to the Judiciary when he yelled publicly under the influence of alcohol that "we shall revisit".
We cannot have someone who is as emotional and irrational as Uhuru, tainting the independent offices of the DPP and DCI.
I also remember when Mike Sonko was setting up Kiambu Governor Ferdinand Waititu, he expressly said that Uhuru is controlling/manipulating arrests. What nonsense is this?
DPP cannot purport to arrest the Deputy Chief Justice, as Kirinyaga Governor Anne Waiguru cat-walks free, as she writes intimidating letters to the EACC, as if they report to her. Kenya Revenue Authority (KRA) the most corrupt institution in Kenya, cannot purport to be pursuing Philomena Mwilu over peanuts, yet sham "investors" like Vimal Shah and Somali businessmen are evading taxes in the billions.
If you want goodwill, go for known villains. Don't lump fictitious charges on soft-targets who are victims of the political alignments in the country. It is Kenya's taxes which are funding these offices, not Brookside Dairies or Heritage Hotels money.
We won't clap for you when petty thieves of 900,000 Kshs are arrested by your office, when known thieves are walking scot free. The DPP cannot commit his scarce resources to chase for petty thieves of scams below 10 Million and expect public goodwill.
People must now justify their continued stay in office. When you commit over 10 officers to hunt down 6 suspects who embezzled 900,000, does that even make economic sense? Can you spend such expensive man-hours chasing for peanuts? DPP and DCI you need to get your act together.
The people who have "eaten" Kenyans money are well-known. They have built flats, malls, stashed the money abroad and hidden it in their houses. You should be giving us the progress of the recovery of these assets first, and not chasing petty thieves of 900,000. We won't allow our resources to be wasted in pursuit of petty offenders.
Tell us how far you've reached in repossession of Evans Kidero's assets. Tell us which Governor is going to be successfully tried and convicted. Nab the MP's who were bribed to endorse a sugar report. Go for the people who brought down Chase Bank and Imperial Bank Limited. We want to see blood of the upper-echelon of corruption.
We are being told that Deputy President William Ruto's PA Farouk Kibet is being arrested on Friday. That one will be a welcomed image because he represents the face of corruption and impunity. But now when you chase a motherly-figure like Philomena Mwilu, you're eroding all the gains you've made so far. We want Alpha-Females who walk as if they own Kenya, to be apprehended.
My only advise to the DPP and the DCI is to choose your battles wisely. If you needed to shake the Judiciary, you could've started with the judge Tonui who took a 200 million bribe from Evans Kidero.
Secondly, those independent office-holders should desist from being used by the petty and emotional clowns working at Statehouse. We are in this current mess because Uhuru consciously allowed corruption to thrive, yet now he's acting as if he doesn't know where it came from. Selective-amnesia.
If Uhuru wants to clean up the mess he created, he must do so within the confines of the constitution and not under the influence of his political-biases and petty emotions. Kenyans have no time for his tantrums and petty emotions. His cheap theatrics should be restricted to White House, where he unleashed his fake St. Mary's British accent.
---
Kenya Insights allows guest blogging, if you want to be published on Kenya's most authoritative and accurate blog, have an expose, news, story angles, human interest stories, drop us an email on

[email protected]

or via Telegram
---
Daily Nation's Role In Arrest Of DCJ Philomena Mwilu As David Ndii Claims NIS Edits DN Stories Nowadays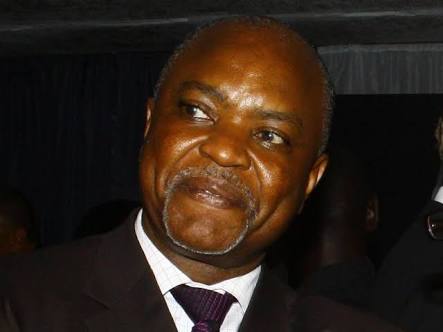 From Monday, one thing has been consistent with the Nation Media Group's DN. The splashing headlines have been on a roll. Leading writers at Daily Nation; Mutuma Mathiu and John Kamau are the familiar faces in this. In what is a clearly well orchestrated plot to build a narrative and set an agenda, the popular newspaper seem to have been favorited in this ploy. Media enjoys the monopoly of agenda setting.
Monday, the splash headline on Daily Nation read, 'Supreme Court judge targeted in corruption purge'
"A Supreme Court judge faces imminent arrest and prosecution for corruption in a devastating and dramatic escalation of the government's campaign against graft. The arrest of such a high-ranking judicial staff, unprecedented in Kenya's history, will be the culmination of weeks of investigations into brazen corruption at the Judiciary, and is likely to send shock waves throughout the institution." It read.
"The Nation has followed this case for months after it learnt that the judge had been reported by the Kenya Revenue Authority to the Director of Public Prosecutions over the suspicious movement of large sums of money in and out of bank accounts." The part of six months got me giggling.
They had the fine details of the entire case probably on tips from the DCI or ODPP who were on top of the case. How they got the information is not important what's key is, they did not only instill fear in the judiciary corridors but at that particular moment they had put entire Supreme Court bench on public trial before the court of public opinion.
On Tuesday, same writers, different headline 'Drama at Supreme Court over arrest of lawyer and top judge'
While this might look harmless to a layman's perspective viewpoint, I find it alarming that entire bench was on the spot, it paints the picture of a corrupt Supreme Court which is not only defaming but undermining authority and legitimacy of the highest court in the land. I don't know if the editors had that in mind or maybe they did and a narrative had to keep building up.
On the second day running, the public was being prepared for the eminent arrest of the judge and the narrative was being built to paint a totally corrupt judge even when the entire case hadn't been tabled. It's called building perceptions, you don't necessarily need to tell the truth, you can sway opinions with anything that suits your agenda.
On Tuesday, DCJ Philomena Mwilu was arrested within the precinct of the court which again in my view wasn't the best thing to do as it doesn't only undermine the authority of the court but also sends intimidating messages to other judges who might now not want to cross paths with the executive.
Mwilu now faces numerous counts of stealing, abuse of office and failure to pay taxes. "The evidence in our possession, reveals that Lady Justice Mwilu abused her office for personal gain; accepted a gift in the form of money in circumstances which undermined public confidence in the integrity of her office (and) conducted herself in disregard of the law," DPP Noordin Haji said in a statement.
"In view of the above, I have concluded that the evidence is sufficient with a reasonable prospect of conviction and it is in the public interest that criminal proceedings should be preferred," the DPP concluded.
Wednesday, the Daily Nation was once again at it shouting the fall of the DCJ.
Again, this was not only done in bad faith but part of the narrative to defame the DCJ according to my thinking, look, there's a presumption in the courts that one is assumed innocent until proven otherwise but here's Daily Nation smartly executing a case in the courts of public opinion. To me this is character assassination on the person of Mwilu.
The @dailynation allowed itself to be used very badly in the case of DCJ Mwilu. All along the perception created was she was sitting in her office collecting huge bribes in utter disregard of logic and norms. This was false and hugely DECEPTIVE.

— Benji Ndolo (@BenjiNdolo) August 29, 2018
The Deputy CJ case by DPP and DCI is serious political witch-hunt. There is evidence that DCI boss personally used Daily Nation's John Kamau and Mutuma Mathiu to prosecute and judge the Deputy CJ without clear evidence. John Kamau of DN is Kinoti's spanner boy.

— Robert ALAI, HSC (@RobertAlai) August 28, 2018
I find it exposing that the newspaper would overlook the presumptions of the court to prosecute and convict without facts. There are rumors that there's a succession plan underway since the Chief Justice Maraga is three years shy of his retirement age hence the need to find a favorable replacement. As the DCJ, Mwilu is poised to take over but she is presumed to be a tough nut and system unfriendly, maybe that's why she need to get out of the way.
David Ndii seems to have an idea on who's behind Daily Nation's Headlines. This is not the first time accusations are being thrown at Daily Nation for being a mouthpiece of the state and if it can be proved then it would be unfortunate for such a big scale media house being reduced to a government mouthpiece and a propaganda channel.
NIS. They edit the DN these days.

— David Ndii (@DavidNdii) August 29, 2018
---
Kenya Insights allows guest blogging, if you want to be published on Kenya's most authoritative and accurate blog, have an expose, news, story angles, human interest stories, drop us an email on

[email protected]

or via Telegram
---
New Energy Felt As ODPP, DCI And NPS Gets More Active And Engaging On Social Media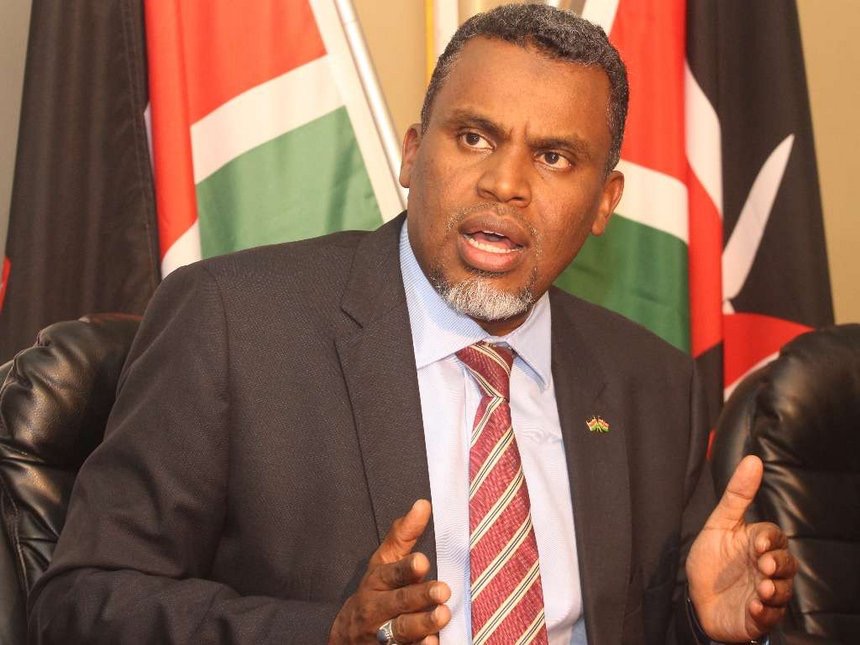 Social media is changing lives they say and that's becoming clearer by the day as corporates come to the reality that without a social media presence, running a business is like a beautiful girl walking in the dark, nobody notices her.
Public institutions are also not remaining behind as they fully embrace social media in service delivery. I've been observing and can't help notice and express my satisfaction with more specifically the Office Of Director of Public Prosecutions, the Directorate Of Criminal Investigations and the National Police Service.
Kindly DM details for ease of follow up and immediate action. https://t.co/rjCofFqD9v

— ODPP_KE (@ODPP_KE) August 21, 2018
Evidently, these accounts are under new management given the direction they're taking and amount of work they're putting in. ODPP is the most active in my view and a news hub, a good number of cases that previously would go unattended to are now being picked up in a snap.
The relationship between the ODPP and DCI especially on Twitter is really amazing and also I should put in EACC, they're doing well too on Twitter as far as updating the nation on anti corruption news is go concerned.
Twitter for instance, is a news hub and a powerful communication tool, many cases have been prosecuted off Twitter noise. We're blessed to have ODPP that's very active and always picks up most cases raised and a DCI that immediately picks up the cases on directions from DPP and the whole coordination is amazing.
Good Morning tweeps! Mr. William Hanga Mwazombo an employee of #Well's Fargo Security firm was #arrested yesterday & is currently in lawful custody for posting defamatory children photographs on the media.We thank you ????????the members of the public for alerting us.#BetterPolicing. pic.twitter.com/UHZdafEx9r

— DCI KENYA (@DCI_Kenya) August 23, 2018
For time now, Kenyans perceive the police as unfriendly and often, they keep their ways apart as much. I've realized the NPS handler is actively changing that perception by being friendly and giving a sense of cops are also human and friends.
I just like how they're engaging the public with some sense of humor you know, Kenya is tough For is all so who wouldn't do with a bag of laughter? Whoever made the decision to ease the muscles and have such kind of engagements to work on the public and police bond did a good thing. When it comes to security, coordination is key between the two, lack of which things are bound to go wrong way.
Kulingana na matokeo ya #TwitterVAR umeng'oa,kwa hivyo jaribu kwingine. https://t.co/3YRNu1Uqe3

— Kenya Police Service (@PoliceKE) August 25, 2018
Government institutions are actively getting onboard on social media which is the future and that's a good thing, we're all snack news consumers, we want everything on our phones. Dealing with crimes, you have to follow and admire the work of the trio; ODPP, DCI and the NPS. Timeliness, consistency, engagements the recipes that's msking the Noordin, Kinoti teams stand out. There are other public institutions doing great too but this not your post, you'll get a mention next time.
---
Kenya Insights allows guest blogging, if you want to be published on Kenya's most authoritative and accurate blog, have an expose, news, story angles, human interest stories, drop us an email on

[email protected]

or via Telegram
---