Nominated MP David Sankok Gifts His Wife A Car And Dedicates Her A Special Poem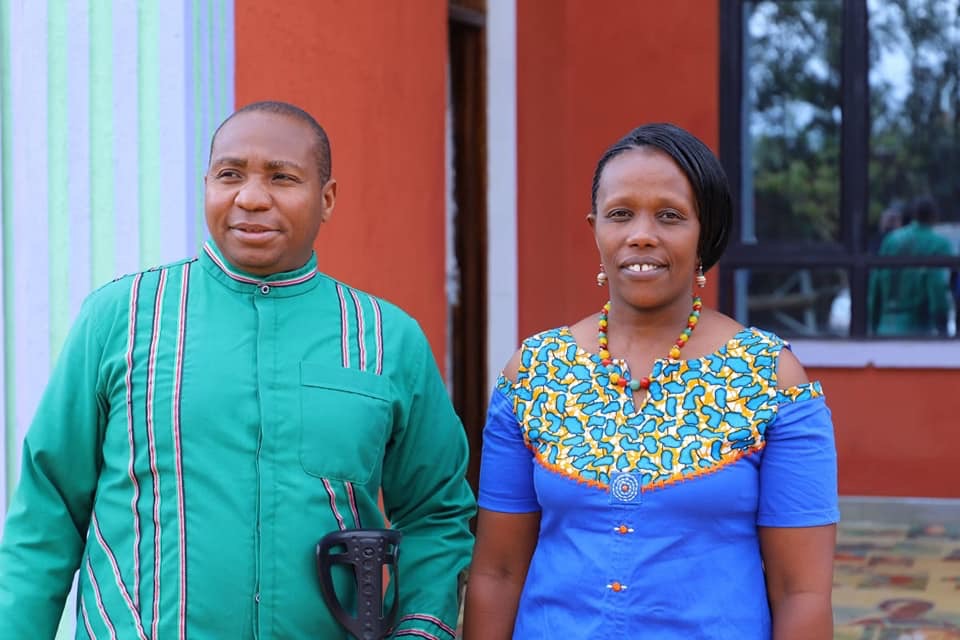 You chose me and rejected rich able-bodied men,
Choices have consequences,
Consequences can be positive or negative,
I can re-write the story again today as I present you this special gift of a car,
I can remember that day we enjoyed our time at Uhuru Park,
Money I had none except the Sh5/= in my pocket which was only enough to buy two ice creams,
I can remember we had not taken lunch that day,
Not because we were not hungry but because my pockets were empty.
True money I had none except many dreams and my special gift – sense of humor,
I could dream and make promises,
I could tell you in future I will be the greatest of leaders,
I could tell my love my ambitions and aspirations,
I told you about the castles in my dreams,
I told you how I will build a Palace and you believed even though we were still living in my mother's Manyatta, sleeping on a cowhide as a matteres.
My love;
You left your father's stone house,
You left two Datsun cars in your father's compound,
You left your father's Chevrolet car,
You left a Toyota lorry in your father's compound,
You left three tractors in your father's compound,
You followed a poor disable boy to my homestead with an axe and njora as the biggest machines.
Remember those days, a beautiful educated lady in Maasai land was a gold, all men young and old working hard to mine.
My love,
Maybe in my busy schedule as a politician I forgot to sing the sweet songs and recite the sweet words,
Sometimes I'm so much engrossed in our business instead of giving you some worthy attention,
Sometimes I ask much about our children,
Often I ask much about our cows instead of asking much about you my love,
Sometimes I feel a jolt in my heart,
Sometimes I think I'm not singing enough like I did many years ago,
Sometimes I think I'm not reciting loving words often enough,
Today everything is all coming back,
I'm thinking of a sweet beautiful angel who was never ashamed of my broken legs,
My beautiful innocent Angel who saw ability beyond my disability,
I'm thinking of my princess who saw me and got a reflection of a Prince in her eyes,
My love is the most beautiful,
She is the most fair,
She is elegant like the gazelles of the Mara plains,
She is swift and strong to compliment my feable legs,
She is full of wisdom and care for our children like an eagle would care for her chicks.
I wish to sing today like I did many years ago,
I wish to jump with my one strong leg again to praise my love,
I wish to throw away my crutches to create room that enables me to hug and lift you up but my disability won't allow,
I know no present is precious and of value compared to the great love you have for me,
Kindly receive this present of a car from the bottom of my heart,
It will assist you run the errands,
It will assist you take our kids to school,
It will assist you in the farm,
It will greatly assist you in our family business,
I love you my dear wife Hellen Seyianoi Sankok,
Remember our special outing in Uhuru Park we envied those who would take lunch in special hotels,
I kept the imagination of the hotels I could not afford to attend those days,
Today we have our own hotel(OSIM Country Lodge) which was my dream that is now a reality,
Today is a special day,
Today I present you a sentimental present just like the ice cream in Uhuru park,
Though there is a big difference in monetary value,
The special ice cream of our youth and this gift of a car are the same,
Just like the ice cream it is a special gift down from a loving heart,
The price of a gift doesn't matter, what matters is the love attached to it,
I present you this gift in remembrance of the sweet days of our sweet ice cream,
I know you will smile,
The same smile I saw when you took the ice cream from my hand,
I know I will see that special glow in your eyes as you receive the keys of your own car,
A special gift from a loving husband to an equally a loving wife and a caring mother.
---
Kenya Insights allows guest blogging, if you want to be published on Kenya's most authoritative and accurate blog, have an expose, news TIPS, story angles, human interest stories, drop us an email on

[email protected]

or via Telegram
---