Kenyan Gospel Industry Cares Less About God's Ministry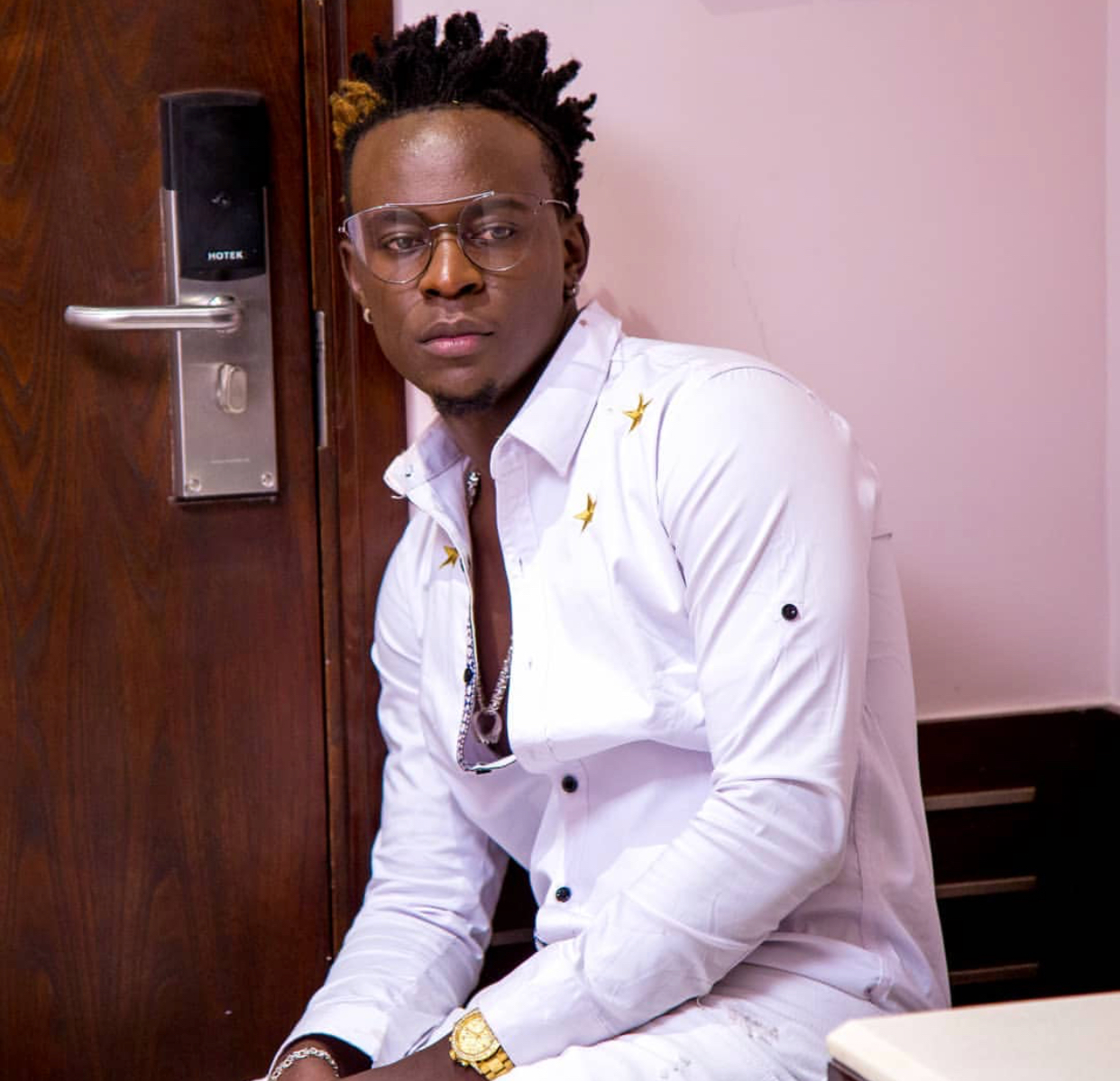 Gospel music is dead but not resting in peace
By Nicholas Olambo
Industry should have the chosen few who can accomplish what governments, schools or religions can't do. Artists who can write and perform inspirational songs about how their strong faith got them overcome challenges in the filthy ghettos where they grew up.
Unfortunately we have an industry that cares less about the ministry, fairy tales, fables and nursery rhymes with the word God or Jesus pass for gospel music. This was not the case like a decade ago when the likes of the late Angela Chibalonza, Rose Muhando and the likes made sense of the gospel music writing witty lyrics that pushed the notch even higher.
A crop of money hungry deejays took over the industry with their girlfriends, mistresses and groupies. These guys got the gospel glory all faded, who is going to reshape it? Janet Otieno is riding high with her cricket sound because she has deep pockets, Size 8 is where she is because her man is calling shots in big events and gospel tv shows otherwise she talks, walks and act secular.
Willy Paul is calling his thing gospel because that sells for him and pleases the deejay units that run the game. Loyalty pays more than royalty in this industry but if you dare to say it like I just did, gosecular queens like Size 8 will grab you by the ankles like she nearly did Jalang'o who criticized their shallow lyrics that don't sound gospel.
But hey! We don't care how big or long your chain is. Industry should have real artists who live to their titles in terms of content, performance and actions. Ringtone is no longer serving music but his fantasies and infatuations over Zari Hassan. Yes and a good chunk of these fakers are bootlickers who made money from jubilee campaigns / rallies, the same regime that is responsible for the poisonous sugar and rampant looting.
Its money over everything they say but I fear for the next generation that will have to trace the footsteps of failures to succeed. Where did the real gospel music go? I think it never left and secular never closed shop, secular took over gospel, maintained its banging beats that vixens can shake to and shut down hip hop that had socially conscious rhymes that they say is never  selling.
Today we no longer have artists who can write rhymes that can be read even by the visually impaired for the world to realize the deep vision they share. It's who you date, know or the money that will buy your way the media flooded by bentens and comedians.
No serious producers, writers, shows and awards. Things won't change if people don't stick to their lanes; deejays are running everything from events, production, radio/TV shows, management, wardrobe and makeup artists in shooting sets. Long live gosecular.
---
Kenya Insights allows guest blogging, if you want to be published on Kenya's most authoritative and accurate blog, have an expose, news, story angles, human interest stories, drop us an email on tips.kenyainsights@gmail.com or via Telegram
---
King Kaka Is The First Kenyan Musician To Grace The Red Carpet At Cannes Film Festival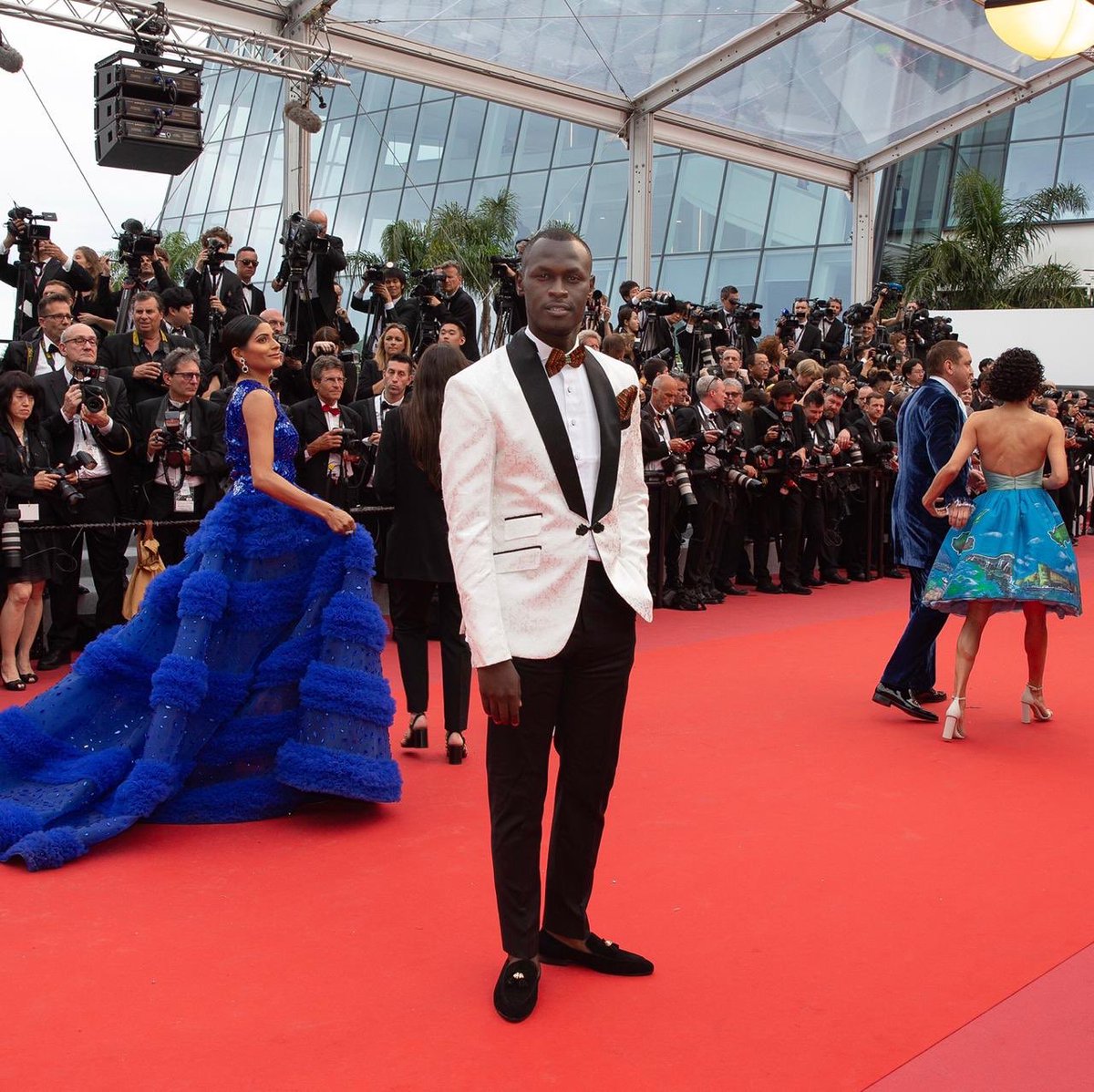 King Kaka of the famous Kaka Empire has hit the international stages again and this time around carrying the flag of our country to greater heights.
King Kaka was featured in these year's Cannes Film Festivals in France.
French Riviera is where some of the world's most prominent executive Directors premiere their films and any other productions.
Cannes film festivals also give a platform for critics of a film to express their disgrace at the same time rewarding the best film production and the executives behind it.
The Cannes also has Red Carpet sessions. This is where celebrities' flaunt their luxurious dresses and expensive jewelries.
Kenya's King Kaka was the first ever Kenyan to premier on the 72nd annual Cannes Film Festivals.
King Kaka shared the joyous moment of him on red carpet in France via this tweet
A Kenyan in Cannes.
History is made. First Kenyan musician to grace the red carpet in 72years.#CannesFilmFestival#RemyMartin #RemyMartinXO #Cannes2019 #RemyMartinKe #Cognac#kakaempireisthelifestyle #eastlandoroyalty @remymartin pic.twitter.com/jPbLO4HvtG

— KING KAKA (@RabbitTheKing) May 15, 2019
---
Kenya Insights allows guest blogging, if you want to be published on Kenya's most authoritative and accurate blog, have an expose, news, story angles, human interest stories, drop us an email on tips.kenyainsights@gmail.com or via Telegram
---
Origin Of The Phrase Wamlambez Wamnyonyez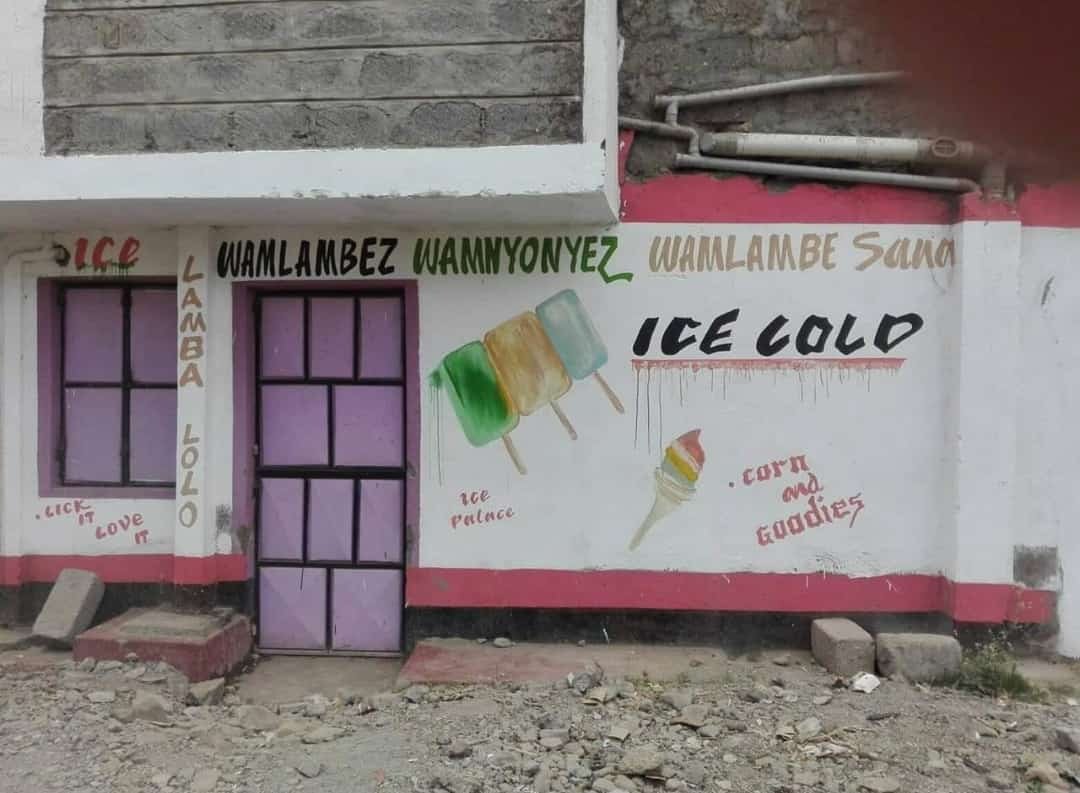 Majority, if not all of you have already heard of the Phrase 'wamlambez wamnyonyez'.
Some of you have used the phrase  to mean something totally different from what it originally meant.
Wamlambez wamnyonyez' has been used on the lips of every Nairobian youths.
The biggest sheng speakers community is located in Kenya's capital- Nairobi.
The biggest sheng speakers know 'wamlambez wamnyonyez' in a sexual meaning portrayed in this sheng rap song…
WAMLAMBEZ- Miracle Boy,Shalkido,Masilver,Lexxy Yung, Qoqosjuma.
The youths in the City under the sun have produced the 'wamlambez wmnyonyez' songs- which loosely means 'licking and sucking.'
But the real origin of 'Wamlambez Wamnyonyez' is an old ice cream shop in Eastlands, Nairobi.
The ice cream shop started operating in 1990 under the name- Ice-cream CONEnection.
(Tweet pic courtesy  @Kianangih)
The ice vendor store changed its name in 2018 to the now popular phrase WAMLAMBEZ WAMNYONYEZ.
They were operating under a business tag, Lamba lolo. Another Nairobi's popular phrase.
Sheng speakers, now you know the original meaning of wamlambez wamnyonyez. And for those who had no idea of the phrase~ Now you have the insights
---
Kenya Insights allows guest blogging, if you want to be published on Kenya's most authoritative and accurate blog, have an expose, news, story angles, human interest stories, drop us an email on tips.kenyainsights@gmail.com or via Telegram
---
Wanuri: Rafiki Was Successful Because Of Kenyans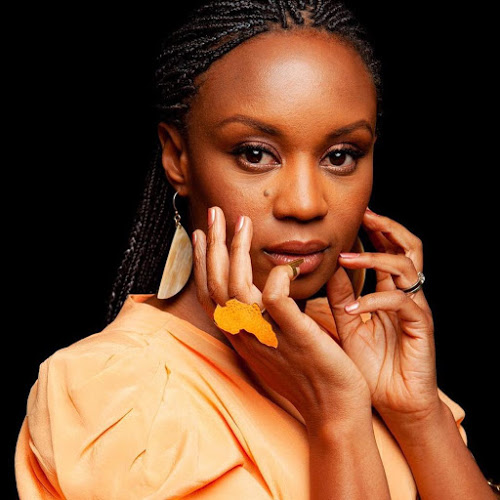 Kenyan Filmmaker Wanuri Kahiu  blasts the Start news paper over a fake article against her film 'Rafiki'.
Rafiki is a love story of two teenage girls who develop a romance that's opposed by their families and community.
Wanuri, has expressed her disgrace through her twitter account calling out the Star Newspaper site.
Rafiki, was banned in Kenya by government watchdog KFCB. The film classification board had alleged that the movie's depiction of homosexuality runs contrary to the laws and the culture of Kenya.
Wanuri has said that Kenyans showed her love and watched her movie despite the ban.
Wanuri says during the seven days the film was screened in Kenya, some people opened up to her.
"Many people came to me and told me they saw themselves in the movie because they had lived in denial for so long," she said while on a TV interview.
Wanuri has thanked Kenyan viewers and subscribers who believe in her fights to express what affects the audience without following regulations from the authorities.
Also read:Chinese Wild Foods Take-over
The director and Rafiki film creator also called off the Star for creating fake quotes of her from unknown interviews. She said she won't accept any interviews with the Star newspaper after faking her up and tagging her on unverified quotes.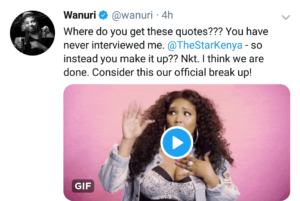 While Rafiki remains banned,  Wanuri Kahiu says the movie is still getting abundant views and love from the local audience.
---
Kenya Insights allows guest blogging, if you want to be published on Kenya's most authoritative and accurate blog, have an expose, news, story angles, human interest stories, drop us an email on tips.kenyainsights@gmail.com or via Telegram
---