Sensing Betrayal, Ruto Rises To The Occasion Against Uhuru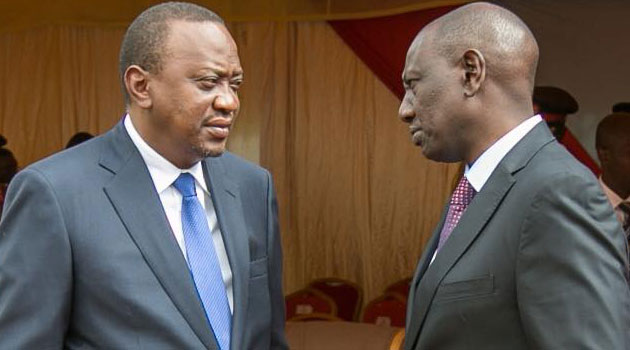 Having been the longest-serving Kenyan VP, and a close friend of the then President Moi, Prof. George Saitoti had been secretly gunning for the presidency. He had thought his loyalty to the totalitarian leader had earned him the consideration and that he would easily endorse him as Moi went to retirement. The shock on him, Moi planned a marriage with Raila and had Uhuru Kenyatta in his mind as his preferred heir to the throne.
The reality would hit Saitoti later in at Kasarani where the disappointed and furious VP when he realised his dreams had been shattered, took to the microphone at the Kasarani and made his now most famous political speech: "I know there are many of you who wanted me to contest, is that not so?" he asked the delegates. "There come (sic) a time when the nation is more important than an individual…but one day I will be proved right."
By working outside the Rift Valley elite, Prof Saitoti naively thought he could marshal support and that, as the vice-president, his appointment to a senior party position was a given. What Prof Saitoti did not know, however, was that his fall had been choreographed at State House by some key Rift Valley elite and erstwhile associates.
Another person who was to fall with him was then Kanu Secretary-General Joseph Kamotho, whose position was to be taken by Mr. Odinga. Neither got the wind of what lay ahead. It was a few months to the Kanu presidential nominations and Raila thought this would be his crowning moment if he combined the Kanu block of votes with the ones in Nyanza — a dangerous gamble. Pundits say the problem with Saitoti was that he had very few confidantes. That day, he was horrified to find out that his name was not in the line-up.
He walked over to Mr. Moi and, according to multiple sources, complained loudly about it. It was the first time that many of his friends had seen him complain bitterly. But Moi dismissed him with: "Kimya (shut up!) Professor, if your name is not on the list, it is not there." Saitoti left a hurt man and felt betrayed by the person (Moi) and people (presumed friends) he least expected.
Politics and betrayal go in hand as they say it is nothing personal just business. When Raila and Kibaki signed a memorandum of understanding for Kibaki to serve only one term and leave for Raila, we all bought it until Kibaki threw his 'friend' under the bus and ran for a second term. Closer is the shortest deal in political history when Uhuru endorsed Mudavadi for the presidency only to withdraw it hours later.
With these realities that can't be ignored, the rather glamorous marriage between Uhuru and Ruto couldn't be as glittering after all. Ruto's Friends Fear Uhuru Stab In The Back. However, this is not something new, many of Central politicians have been low-key speaking about it, Ex-Governor of Kiambu even publicly said Kikuyus will reconsider their support to Ruto after 2017.
However, it is not like Samoei one of the Machiavellian politicians of these times is completely aware of silent talks and betrayal schemes. One of his senior aides once told me, "Ruto is not naive he knows all these you're telling me about and has an exit plan God forbid should it get there."
UhuRuto marriage was crafted on circumstances as The two found themselves hinged at The ICC Fulcrum, it has been referred to as The marriage of convenience. The return of Peter Munya to Jubilee has unsettled Rift Valley. Uasin Gishu leaders meeting in a posh hotel yesterday see the hand of Gideon Moi. Some feel that a betrayal would be fate. Now that Ruto tried to impose Buzeki as Governor. Political observers say there's mounting pressure on Uhuru to win the fresh elections. Win or win.
Yet money is low in the camp. And those funding the rerun have conditions attached to their generosity. Whispers in Central Kenya ask, "Who's next to come 2022?" Those who aim to ascend to power wish to cut all links with Gatundu and Moses Kuria. "The man never knows when to shut up! He shall sink alone," they say. Mursik has a sour taste.
In the Rift, there's that tired and run-down feeling. The bread basket of Kenya wants to plough their fields. Continue with the construction of tall buildings in their jewel, Eldoret. They would if
Kenya was not so caught up in the election fever. Ruto's confidantes Murkomen and Duale feel they have sacrificed much to be cut off now.
By now many must have noticed the public display of anger by the President has gone down, instead, Ruto is a walking inferno. According to heavy political intelligence captured by Kenya Insights, Uhuru is continuously growing tired of fights with Raila and considering getting into a coalition government with him if that's what it will take for him to maintain the presidency. During the Supreme Court proceedings, Uhuru through his lawyer told the court he was willing to form a nusu mkate or an inclusive government with Raila. But Ruto can't hear any of that as he knows such a situation would share off the limelight from him just when he needs it most ahead of 2022.
"These people refused to open the IEBC servers for it would expose the rot it holds and in line evaporate the legitimacy of Uhuru, they sacrificed the presidency now you think sacrificing few seats for Raila to calm down would be too much?" One of my sources placed deep in Jubilee posed to me.
Recently, the President bragged about having majority numbers in both houses; Parliament and Senate enough to martial for changes in the constitution. Amongst key considerations is cutting off the term limits from two to lifetime for the presidency. This brought fear and excitement to Ruto at the same time, excitement because it would mean after 2022, he could rule as long as he lives and fears that his partners would take advantage and short change him to a political oblivion.
DP Ruto's Karen home has been a hub of late night meeting with his loyalists mostly from the Rift Valley strategizing on the next move. Ruto we learn has vowed to never allow Jubilee / Raila partnership. It is through the DP's intervention that IEBC CEO, Ezra Chiloba was reinstated and even charged to oversee the August election. The CEO who is said to be largely responsible for bungling the election has already been endorsed by Jubilee to oversee election and NASA rejecting saying there won't be an election until he exists. One doesn't want to think hard on the insistence to retain Chiloba by Ruto.
The DP we learn is going out of his limits to ensure they win the election even though Uhuru has lost confidence, he is on record sensing defeat that they'll impeach President Odinga. Perhaps the clearest indicator of the rift in Jubilee played out recently in public without many noticing it. When Jubilee paid a visit the IEBC, he was only accompanied by his loyalists from Rift Valley and very few from the other side. This was a simple hint of something unusual going on. It is difficult to read any misunderstanding between the two principals given their public display of romance.
Fool me once shame on you. Fool me twice. How tough is tough. The people in Sugoi and Kapsabet's kiosks are wondering. "Kwani nini imefanyikia Samoei Ruto?" "Alikuwa anapigania katiba na haki. Sasa anasema katiba ni mbaya! Maraga ni mbaya!"
This sentiment and the alternative of a Moi and Munya presidency come 2022 has a few old men
smiling.
The young leaders around Ruto feel threatened. They should be. Gideon Moi has the image of a fair man. He is urbane, knows the constitution and loves law and order. Favourable attitudes which arouse admiration in villages and cities. From Kabartonjo to Kericho. Others fear a repeat of history. If it were not for James Kanyotu, George Kariithi and Attorney General Charles Njonjo: Daniel Toroitich Arap Moi would never have been president. And DP
Ruto has few powerful friends.
Oil rises above the water. To DP Ruto's credit, he has risen fast. Too fast. With many pushed aside and stepped on. An I-can-do-all-things attitude. He forgets that you need people. The loyal ones around him see the faint writing on the wall of history. DP Ruto cannot see it at all. They know the Jubilee Treaty is a monstrous lie. Failing in strength and health every day we near 2022.
A dangerous stewardship. Kipchumba Murkomen is the man on the hot seat. Tasked by Rift Valley's leaders to guide the ship, MV Samoei, come 2022 into State House. In reference to Gideon Moi, they warn, "A man may be down but he's never out."
If we're to borrow a leaf from the history then we can say the fire is just getting started. Power is not given but taken, with all factors constant, Ruto must stretch beyond his limits if he aims to capture power. Knowing the man in question, I can tell this battle is just getting started. You ever stayed in a relationship that is completely off and hanging on a string? Both of you having lost the mojo but just hold on to it for the admirals from your friends? You ever chewed a gun till it lost taste but you keep on going just to keep your mouth busy? Well, Ruto and Uhuru might not show any signs of mistrust and displeasure in public, in fact, you'll keep seeing them happily appearing together but keep in mind, behind every smile there's underlining cause. Time will finish this story.
---
Kenya Insights allows guest blogging, if you want to be published on Kenya's most authoritative and accurate blog, have an expose, news TIPS, story angles, human interest stories, drop us an email on

[email protected]

or via Telegram
---