'M-Pesa Is Not Safe' Presidential Candidate Warns After Losing Money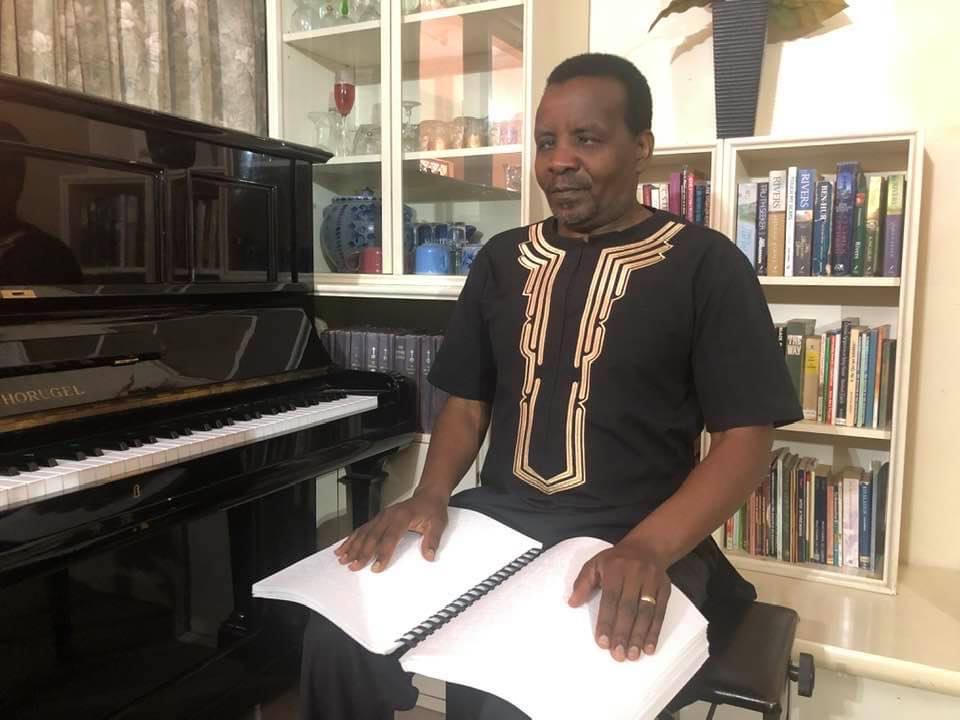 Presidential candidate Reuben Kigame is unhappy following his long battle for transparency against Safaricom after losing money in a scandalous way. Below is his narration courtesy of his Facebook page.
SAFARICOM MPESA IS NOT SAFE! YOU CAN LOSE YOUR MONEY WITHOUT TRACE!
By Reuben Kigame
"I wish I never had to go public with this! I wish everyone, including Safaricom, would believe that my coming out to warn on this is inevitable. It's not good for someone to divulge details about their personal life at this level, but I feel this is necessary. So, read, tell Safaricom and be warned. Here we go. Be patient and follow to the end:
Let me preempt an important question many of you may be asking. Am I able to use a phone and transact on MPesa as someone with visual challenge by myself? The answer is "Yes." Now that we have this out of the way, read carefully:
Shortly after Midnight, the morning of 18th November, 2021, at 12:33 A.M. my colleague sends me 10,000 shillings for my flight to Nairobi because of an urgent meeting that had come up. In the morning at 6:43 A.M. I sent kshs6,800 to Jambo Jet for my ticket. My MPesa balance read kshs3442.95. My team drove me to Eldoret International Airport where I was handed over to the Airport security for the scanning of my bags and escort to check-in. The routine procedure was smooth and fast. I handed in my luggage, customarily removing my laptop and putting it on the tray together with my phone, belt and watch. I was quickly helped onto the other side of the scanner and handed my items including my phone. Because I was getting late for the flight, everything was done pretty fast. … I was escorted to board and I left for Nairobi.
At JKIA I was received by the ground crew and security and handed over to my team which was waiting at the VIP parking. We drove off and proceeded to the venue of the meeting. Along the way, my Assistant says it is important for us to stop and fuel. I told him we were in a hurry and that I did not have enough money for the day's events but that I could use my MPesa to put a little fuel to save us on time. We pulled into a gas station and I told him to fuel. Because it was not our favourite petrol station, we agreed we can put in kshs1000 and then fuel later. When I sent the money to the Till number provided, I was greeted by a big shock: The message read "failed. There You do not have enough money in your MPesa account to pay ksh1000.00 to Total South C." and that my MPesa balance was141.95 shillings.
The mystery was a transaction that took place at exactly 7:11 the same morning, while I was checking in at the airport in Eldoret. The transaction read:
Pki7suusdd confirmed. Ksh3,230.00 sent to Mike Isalamba 0769142199 on 18/11/21 at 7:11 AM. New MPesa balance is Ksh141.95. Transaction cost, Ksh51.00. …
WHO MOVED MONEY FROM MY PHONE TO MIKE ISALAMBA, someone I do not know? Someone I have not interacted with? Someone not at the airport, following investigations? Who is he? Who accessed a phone that was in my custody all the while? Since I was being helped by Security, I needed to check in. Once we boarded, I put my phone off, as is required. Before you think I am joking, I have consulted and followed up with the Airport Security at Eldoret International Airport and they have reviewed the CCTV footage carefully and confirm they can see me and all my movements including the check-in and also confirm that they do not see me or anybody using my phone at the time the incident happened.
So why do I put everything at Safaricom's desk and warn you about MPesa safety?
When I got the message that I did not have enough money on my phone and saw the mystery transaction, I immediately called Safaricom Customer Care. They told me they had received the info and had escalated the matter to their anti-fraud department and that Safaricom would get back to me within 48 hours. They did not and so, about 10:00 A.M. on Saturday, 20th November, 2021, I called again and this time I was told Safaricom would get back to me within two hours. They did not. On Monday, 22nd November, 2021, I called in the morning to find out the progress. I was told by the Customer Care that the Issue was still pending and that someone would call me by end of day. Nobody did. I called the Eldoret Safaricom shop and reported the case on the same day and they told me they were following it. Two days later, on the afternoon of 24th November, I called again and I was advised just to be patient and that the Issue was still being looked into. I asked why all the previous promises had failed and told I just needed to be patient. The next day, 25th November, I felt it necessary to report the incident to the police and so I filed the case at Naiberi station in Eldoret. I escalated the information to the Airport Police Station and decided to wait.
Well, I decided to call one more time this afternoon before going public. I was told to wait on the line. I did. The next thing I noticed, the Safaricom automated service was asking me to rate the service I had received, whether I was served well, and, all, at the scale of 1-10 whether I would recommend Safaricom to someone else.
Well, you can imagine how I graded Safaricom!.. am I a patient person? Maybe not!
Meanwhile, my call to Mike Isalamba received the usual, "cannot be reached … we have notified him…" and my text inquiring about the same to him also goes unresponded to. I contacted him just a couple of days ago, having taken this long to give Safaricom the maximum time to help me.
Nearly one month after the incident, a digital company cannot tell me how someone knew exactly how much I had left on my MPesa to be able to withdraw the maximum amount. They cannot tell me who Mike Isalamba is. They have not refunded my money and the inconvenience and embarrassment caused. They cannot explain why the matter could not be resolved in 48 hours. Nobody has talked to me.
Conclusion: You can lose money on the Safaricom MPesa App without trace for nearly a month or more. Do I say this because I hate Safaricom? No. Do I have anything against the company? No. Is my money lost under their watching eye? Yes. Do you have a reason to fear? Yes."
Sounds like a good case for litigation against Safaricom. It is the only way the company can be held accountable for its actions. Any financial system thrives on trust and Safaricom should know that without such it cannot succeed. Regulators including CBK and CA should be seized of this matter and act expeditiously to restore consumer confidence. The overreliance on MPesa by the country should also be re-examined.
---
Kenya Insights allows guest blogging, if you want to be published on Kenya's most authoritative and accurate blog, have an expose, news TIPS, story angles, human interest stories, drop us an email on

[email protected]

or via Telegram
---