Heartbreaking: How Equity Bank Took Advantage Of An Agent And Sent Him To Poverty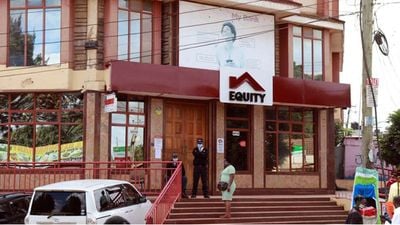 This is a story of an Equity Bank agent who was doing well for the bank at one point making huge profits for the firm. All were merry and he was the darling of the company, the poster boy whose success story ran on banking halls until one day he failed to meet his daily targets and the bank turned  its back on him.
The man went from hero to zero, his successful business which inspired many in the region, went under. His beautiful family was completely shuttered, from running a business where he could make about Sh200K daily, the withered businessman ran away from home where those he owed were on his tail, he sold family land abs everything to pay off Equity who didn't back off even after the tits ran dry to vending water for survival.
The sad story is narrated by a friend and below is the full story.
Courtesy Tony Murega
"I just listened to heart shredding story of an equity bank agent (personal friend) completely decapitated (financially) by the bank in most cruel extortionist arrangement never discussed in media." He posted.
He continued, 'The story, as promised. A THREAD My friend had a very successful retail business in Meru. Equity bank recruited him as one of their agents. In no time, he was best agent in Meru county & was invited for a seminar in Thika, to enhance the 'partnership'. That's where trouble began'.
A brief background
In 2000, he was baking cakes in Meru's Kooje slums & distributed them in his bicycle. Through sheer hardwork, he transitioned into retail business & relocated. By 2005, he had established a successful retail business. That's when he hired me as shop assistant.
I worked for him for 7 months as I waited to join university. He was a shrewd & diligent businessman. A committed Christian. During my stay, we made sales of ksh100k/day. Business was good. By 2009, he was making ksh200K/day in sales. Banks courted him for loans. He was reluctant.
When equity bank rolled out agency banking, he was a prime candidate. He was recruited. It was time to diversify & grow. In no time, he was the banks best agent in Meru county & was feted by the bank. He was a constant feature at bank halls, opening accounts & registering equitel.
It's on this basis that he was selected for a seminar/ training on enhanced partnership. At the seminar, they're offered a facility through which they could access short-term float to offer seamless services. They would borrow & repay same day at zero interest. No contract signed.
Back to business, he went full throttle. He borrowed between ksh200k -ksh500k daily & repaid the same day without a hitch. Everything was good. Equity bank called often, made videos of his business & ran it in its banking halls. His calls were on priority list.
Then came the rude shock day. He had borrowed ksh200k on that day. By end of day, he had ~ ksh170k in float. He made frantic calls to fellow agents to buy additional float. They'd none. Frustrated, he went to bed & decided to make settlement the following morning. Shock awaited!
In the morning, as usual, he logged & checked his account balance. He almost fainted. The bank had charged him ksh18K daily for the facility. For entire 3 months. That totalled >ksh1M in interest for money he had repaid same day & was sold as zero interest facility. He cried
He rushed to the bank manager & sought audience. The mood had changed. The manager said bank position on facility had changed. He had to pay. For a week, he walked into every office, made calls, he was no longer welcome. His videos were pulled down, threats followed.
He ran out of options & decided to start payments. Further shock awaited. Every time he deposited for a customer, bank would deduct ksh18K & CR customer with the rest. Customers would go mad. He would need additional float by using business cash for withdrawal. Business dipped.
Same thing with withdraw. If customer made ksh30k withdraw, bank would take ksh18K float leaving him with ksh12. Meanwhile customer would take ksh30K in cash. His business could no longer sustain this assault. Bank was relentless. He hid his vehicle, sold plot to repay.
The story, as promised.
A THREAD
My friend had a very successful retail business in Meru. Equity bank recruited him as one of their agents. In no time, he was best agent in Meru county & was invited for a seminar in Thika, to enhance the 'partnership'. That's where trouble began. https://t.co/knhmsIw3SX

— Tony Gitonga (@TonyMurega) December 15, 2021
Still, he had to borrow more money to top up customer deposits, pay equity & clear older debts. Meanwhile, interest kept growing & equity grew deaf. He was arrested on complaint of creditors X2. His rent went into arrears for a year & shop went empty. With nowhere to turn he self-exiled.
At last, a random friend helped clear equity balance. Pacified, the bank relented. They never picked their gadgets. Meanwhile the shop closed doors 7 months ago. Rent in arrears over one year & soaking in debts. The family can't pay fees for children, can't buy food
From exile in neighboring county, my friend hawks water & fruits to pay off debts. Nothing left for family. The wife struggles with kids & rely on well-wishers.
This is a street narrative picked & shared at impulse. In September 2020, while preparing for my wedding, I visited my friend & former employer to invite him. I noticed that his shop was conspicuously empty. I told my fiancée, I sensed something was terribly wrong.
The couple was very guarded on what they were going through but admitted they were facing financial challenges origination from their equity agency business. Maybe they didn't want to mess our wedding plans with depressing details. We agreed to talk after wedding. We didn't.
In May this year, he reached out. His daughter was joining college & he had nothing to get her admitted. I was very disturbing. But this wasn't time for questions. We organised for a small fund mobilisation. She went to college.
Few days ago, the wife reached out. She was requesting for ksh1000 for her younger daughter's shopping. I became very worried & requested for a meeting. That meeting was yesterday (14th Dec 2021). I rode my bike from Nanyuki, got in Meru by nightfall. We sat down until 12.15 am today (15th Dec 2021).
She tearfully narrated. I listened. My eyes wet. Voice lost. I asked few questions for clarity. My mind got numb & unresponsive. She saw me off at the gate at 12.35am & said goodnight. He story made me so physically vulnerable that I requested she wishes me safe journey instead.
Four Kilometre down the road, (to my parents place) a car suddenly came to life behind me. I grew apprehensive, took a diversion on a rough road. I knew my Yamaha DT was king here. Two corners & lights shore behind me. They were tailing me. Survival mode activated, I accelerated & lost them
I got home 15 minutes later. Switched the lights on. There was none. I eased into the chair. Tried making a draft but phone went off. It was 2.30am. I wondered:
1. Why would equity charge ksh18K for a facility repaid same day?
2. Why change position midway & apply retroactively?
3. Why not negotiate settlement instead of this financial atrocity.
4. Why risk customer deposits yet they knew their agent was insolvent?
5. Why take/ intercept customer money to settle their debts?
6. Where is Central Bank of Kenya (CBK) in all this arrangement?
This is not an isolated case, despite being a top bank in Kenya, Equity has been a hub of complaints with many gullible customers losing big chunks of money to schemes internally and beyond.
---
Kenya Insights allows guest blogging, if you want to be published on Kenya's most authoritative and accurate blog, have an expose, news TIPS, story angles, human interest stories, drop us an email on

[email protected]

or via Telegram
---