KRA's Commissioner General John Njiraini Stay In Office Extended Irregularly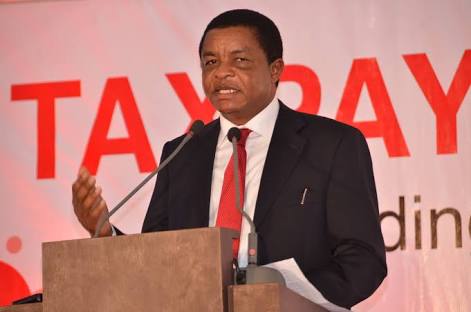 On the 20th of December 2017, Njiraini turned 60 years the retirement mandatory age for any state officer, however, despite this, there were no signs of the CG bowing out as he was determined to extend his stay. In this light, Activist Okiya Omtatah rushed to petition his then-imminent reappointment in court.
As this was ongoing, Njiraini who again was one of Jubilee's great financiers had managed to secure his job and another contract renewed thanks to his high connections. All this was happening while there's a petition yet to be determined by the court on his appointment. A clear case of middle finger to the law.
Kenya is currently struggling to stay afloat as financial status continues to worsen and we continue to dig deeper our debt burden. We're spending half the GDP on repaying loans and treasury recently said that the tax collector is not meeting the revenue threshold meaning more trouble. Simply put, more loans to worsen the debt situation.
Jubilee has been investing heavily in infrastructure in the bid to boost the economic growth but somehow it has docked with challenges. SGR is one of the major projects accomplished by the government but is now proving to be a white elephant. Projections out in place to ensure enough money for loan repayment are by all signs showing negative signs of failure taking precedence.
As a drastic measure to put a lead in the piling sewerage, the government recently gave a directive that all cargo handling be only done at the ICD in Embakassi, this way, importers will be forced to use the SGR cargo trains. However, this directive has received serious backlash especially from investors in the CFS amongst the worst hit, also the trucking business and communities along the Mombasa-Nairobi way who depended on this business model for survival.
#SGRWhiteElephant I attend the last mile presentation at ICD on 23/01/18 chaired by the railway MD all the stakeholders were present and when everybody was given a chance to speak it was evident the cargo project is not ready any time soon @KinyanBoy

— mohamed adan (@itsmasty) March 12, 2018
Importers claim that facilities available at the ICD are not efficient to handle the cargo volumes and in this line, they've been making losses and above all, subjected to avoidable inconveniences. The forced directive of cargo beats the spirit of a free market that ought to give businessmen the liberty to use a convenient, profiting transport model. SGR is yet to even insure the cargo meaning containers that risk being stolen, destroyed, are transported at owners risk unlike tracking where most were insured.
A task force is in place pushing for this directive that is plainly moving the port from Mombasa to Nairobi a move that with a microscopic look, didn't put into considerations economical repercussions on the investors and communities in the freight industry. We've covered this in our previous articles you can check back.
The MD of KPA advised the government on the need for CFS but they tried to use force but in only two days the yard at the ICD was full. This not the first time, they're turning a blind eye, a few years ago when Hon Mwashetani put Njiraini to task on why he was insisting on small cars paying excise duty and Njiraini went on to force car importers to pay excise they had a short fall on their targets. Simply put, forced ideas are never widely thought over and often ends bad.
KRA frustrating importers at ICD demanding entry must be lodged and duty and extra storage charges paid before Containers manifested to be cleared and forcefully transferred on SGR are railed back to MSA. Importers will, therefore, pay extra handling cost in Mombasa.
KRA also rolled out new benchmark in January without doing proper market survey killing small-time importers consolidating cargo. New benchmarks were 1M and 2M for 20ft and 40ft container respectively without tabulating invoice value of items therein. KRA CG Njiraini who is leading the taskforce team to forcefully implement the SGR freight has his tenure increased despite reaching the end of his term and retirement age.
We can't trace Two containers for weeks now. KPA have stopped responding to emails.

Other container is still on the wagon since last week.

No capacity at ICD @KRACare
@KenyaRailways_ @TransportKE

— YKI (@Paperboyrocks) March 13, 2018
While KRA track shipments through manifest numbers the now threatened CFS' bound cargo is audited and reconciled through CAMIS-a cargo management info system. Importers with pre-nominated containers shipped to the ICD are vulnerable in case of theft or damage because insurance companies won't pay. In all fairness and adherence to international trade laws, a rushed decision like this shouldn't be encouraged as it paints our country dull in the investment world. All these begs the question as to whose interest is this push led by Njiraini headed board that is completely disrupting the business structures of a flourishing industry, won't be surprised of another cartel in Nairobi.
Making it mandatory for all cargo to be processed in Nairobi mean a lot but lemme say a few:
-CFS in Mombasa to shut, that's Sh40B investments, 8000+ jobs
-Truck business to dry up, factor in communities along M-Nai route who depend on this biz.#SGRWhiteElephant

— Kenya West© (@KinyanBoy) March 12, 2018
In business, convenience is key, we're discouraging investors instead of doing the other way. Njiraini morally and legally doesn't deserve to stay in office and I'm certain there are thousands out there more qualified than him to steer a proper working model as opposed to this shove down the throat industry killer. Its within hope and highly needed that ministries involved must promptly engage and address several concerns raised therein. Otherwise, driving blindly never ends well.
---
Kenya Insights allows guest blogging, if you want to be published on Kenya's most authoritative and accurate blog, have an expose, news TIPS, story angles, human interest stories, drop us an email on

[email protected]

or via Telegram
---