Kenya Joins Other Authoritarian Regimes in Switching off the Internet vote, UN Furious
There has been telltale of the government gagging the internet citing security issues. Most recently, the system has hinted at a possible stiff Internet regulation policies ahead of the 2017 elections.
With internet accessibility in the country continuing to skyrocket and many rely on the web for information, the growing number of users, regulating content is a nearly impossible task.
NCIC has warned that social media is the new platform in which hatemongers propagate tribal hatred and are seeking ways in which to regulate social media use. Initially, oppressive article 19 was used to muzzle voices, but it has since been overruled as being unconstitutional. The government is determined to regulate the internet, and all the signs are in the air.
The move by Kenya in joining other dictatorial regimes in the bid to have the government be a key player in regulating the Internet use is causing fear for the future as Kenya heads to 2017 elections. In Uganda, President Uhuru Kenyatta's ally Yoweri Museveni shut down the internet and messaging services as the country held their general elections.
The authoritarian president claimed an open internet was a threat to national security during the period.
The United Nations officially condemned the practice of countries shutting down access to the internet at a meeting of the Human Rights Council on Friday.
A resolution entitled The promotion, protection and enjoyment of human rights on the Internet extends human rights held offline to the web. Consensus passed it, but only after a determined effort by some countries, including China and Russia, to pull out key parts of the text.
In particular, some states – notably by their authoritarian stances – were opposed to the resolution's focus on the need for an accessible and open internet, and its condemnation of violations against people for expressing their views online. A vote planned for Thursday was delayed until Friday after the issue became heated.
Some were surprised by the 13 other countries that lined up with Russia and China to delete the text on ensuring access to the internet. Among such authoritarian regimes as Saudi Arabia and Qatar were also democracies including India and South Africa.
Likewise on a second amendment to remove references to freedom of expression. Russia and China were joined by 15 other countries including India, Kenya and South Africa.
"We are disappointed that democracies like South Africa, Indonesia, and India voted in favour of these hostile amendments to weaken protections for freedom of expression online," said Thomas Hughes, the executive director of Article 19, a charity focused on protecting free speech. He added: "The resolution is a much-needed response to increased pressure on freedom of expression online in all parts of the world."
Resolutions
That person has the same rights online as offline, "in particular freedom of speech, which is applicable regardless of frontiers and through any media of one's choice."
Those human rights violations enacted against people due to making their views known online are "condemned unequivocally," and states are held accountable for any such violations.
Any measures to "intentionally prevent or disrupt access" to the internet are also "condemned unequivocally," and all states should "refrain from and cease such actions."
In effect, that means that the expanding use of Internet shutdowns by governments claiming national security issues or even, in the case of Iraq, to prevent exam cheating, will now go against formal UN policy.
If all these signs have anything to go by then freedom of expression and access to information on a population that consumes heavily from the internet, Kenyans should look ahead for business unusual in coming days, weeks, months and years.
Save
---
Kenya Insights allows guest blogging, if you want to be published on Kenya's most authoritative and accurate blog, have an expose, news, story angles, human interest stories, drop us an email on tips.kenyainsights@gmail.com or via Telegram
---
King Kaka Is The First Kenyan Musician To Grace The Red Carpet At Cannes Film Festival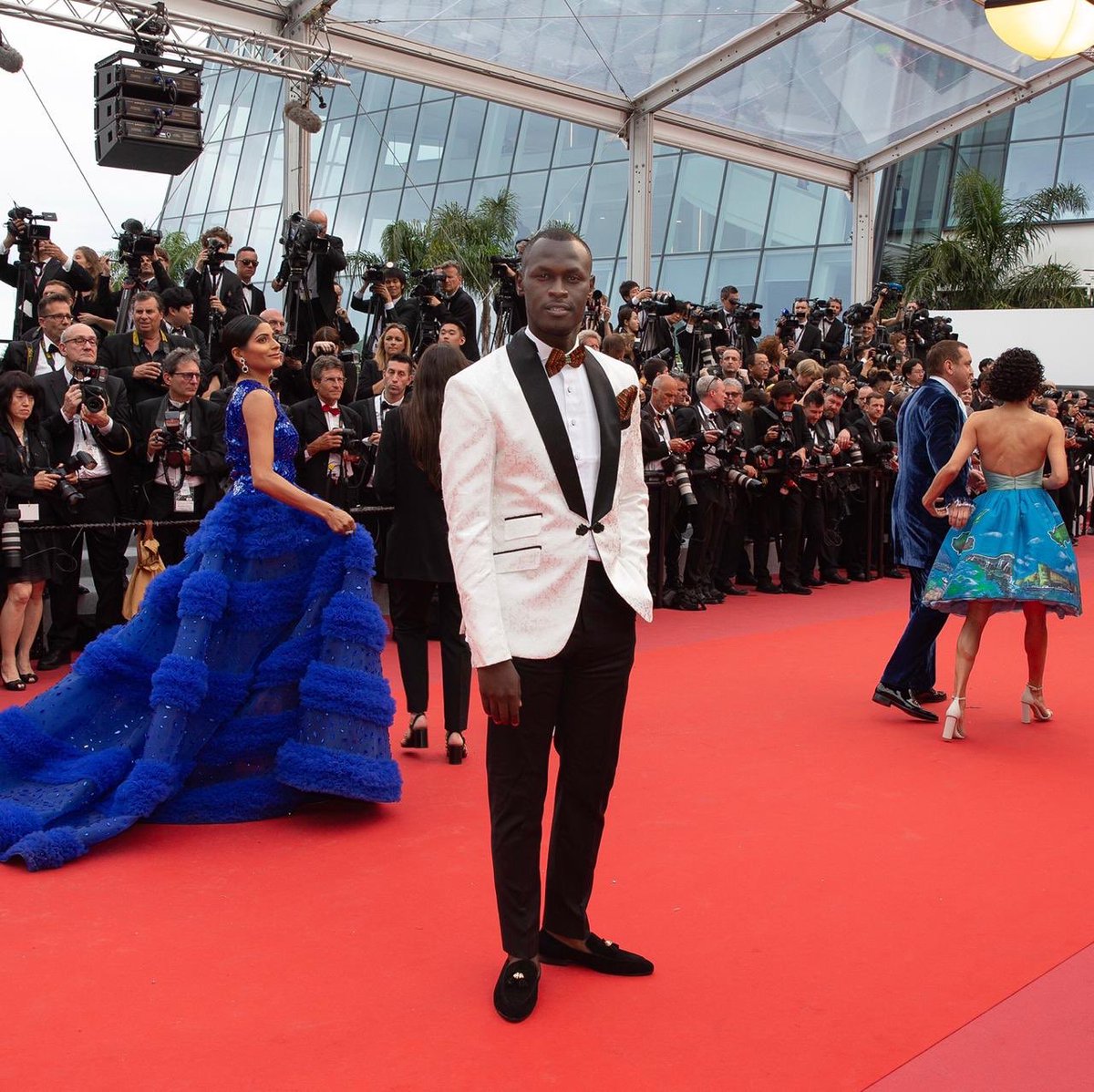 King Kaka of the famous Kaka Empire has hit the international stages again and this time around carrying the flag of our country to greater heights.
King Kaka was featured in these year's Cannes Film Festivals in France.
French Riviera is where some of the world's most prominent executive Directors premiere their films and any other productions.
Cannes film festivals also give a platform for critics of a film to express their disgrace at the same time rewarding the best film production and the executives behind it.
The Cannes also has Red Carpet sessions. This is where celebrities' flaunt their luxurious dresses and expensive jewelries.
Kenya's King Kaka was the first ever Kenyan to premier on the 72nd annual Cannes Film Festivals.
King Kaka shared the joyous moment of him on red carpet in France via this tweet
A Kenyan in Cannes.
History is made. First Kenyan musician to grace the red carpet in 72years.#CannesFilmFestival#RemyMartin #RemyMartinXO #Cannes2019 #RemyMartinKe #Cognac#kakaempireisthelifestyle #eastlandoroyalty @remymartin pic.twitter.com/jPbLO4HvtG

— KING KAKA (@RabbitTheKing) May 15, 2019
---
Kenya Insights allows guest blogging, if you want to be published on Kenya's most authoritative and accurate blog, have an expose, news, story angles, human interest stories, drop us an email on tips.kenyainsights@gmail.com or via Telegram
---
Origin Of The Phrase Wamlambez Wamnyonyez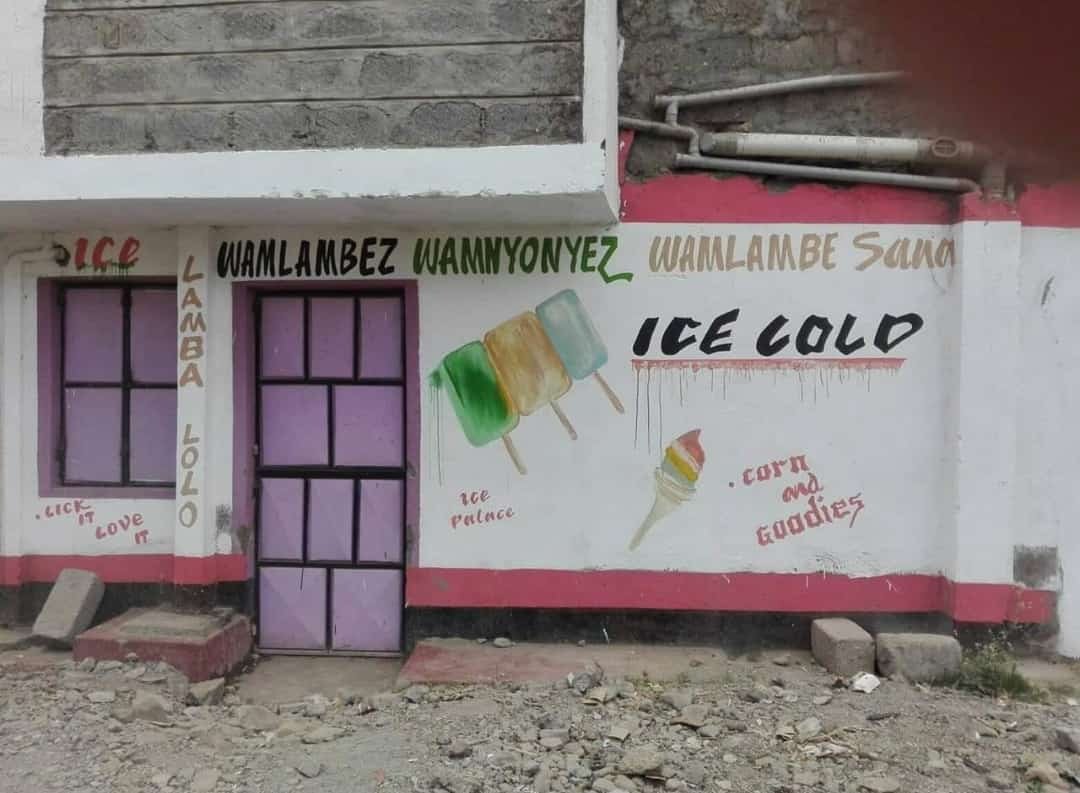 Majority, if not all of you have already heard of the Phrase 'wamlambez wamnyonyez'.
Some of you have used the phrase  to mean something totally different from what it originally meant.
Wamlambez wamnyonyez' has been used on the lips of every Nairobian youths.
The biggest sheng speakers community is located in Kenya's capital- Nairobi.
The biggest sheng speakers know 'wamlambez wamnyonyez' in a sexual meaning portrayed in this sheng rap song…
WAMLAMBEZ- Miracle Boy,Shalkido,Masilver,Lexxy Yung, Qoqosjuma.
The youths in the City under the sun have produced the 'wamlambez wmnyonyez' songs- which loosely means 'licking and sucking.'
But the real origin of 'Wamlambez Wamnyonyez' is an old ice cream shop in Eastlands, Nairobi.
The ice cream shop started operating in 1990 under the name- Ice-cream CONEnection.
(Tweet pic courtesy  @Kianangih)
The ice vendor store changed its name in 2018 to the now popular phrase WAMLAMBEZ WAMNYONYEZ.
They were operating under a business tag, Lamba lolo. Another Nairobi's popular phrase.
Sheng speakers, now you know the original meaning of wamlambez wamnyonyez. And for those who had no idea of the phrase~ Now you have the insights
---
Kenya Insights allows guest blogging, if you want to be published on Kenya's most authoritative and accurate blog, have an expose, news, story angles, human interest stories, drop us an email on tips.kenyainsights@gmail.com or via Telegram
---
Wanuri: Rafiki Was Successful Because Of Kenyans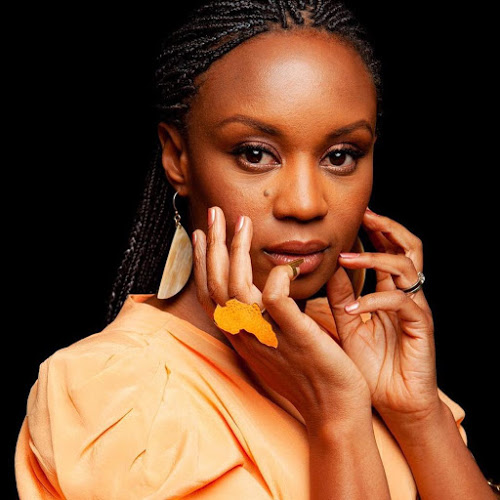 Kenyan Filmmaker Wanuri Kahiu  blasts the Start news paper over a fake article against her film 'Rafiki'.
Rafiki is a love story of two teenage girls who develop a romance that's opposed by their families and community.
Wanuri, has expressed her disgrace through her twitter account calling out the Star Newspaper site.
Rafiki, was banned in Kenya by government watchdog KFCB. The film classification board had alleged that the movie's depiction of homosexuality runs contrary to the laws and the culture of Kenya.
Wanuri has said that Kenyans showed her love and watched her movie despite the ban.
Wanuri says during the seven days the film was screened in Kenya, some people opened up to her.
"Many people came to me and told me they saw themselves in the movie because they had lived in denial for so long," she said while on a TV interview.
Wanuri has thanked Kenyan viewers and subscribers who believe in her fights to express what affects the audience without following regulations from the authorities.
Also read:Chinese Wild Foods Take-over
The director and Rafiki film creator also called off the Star for creating fake quotes of her from unknown interviews. She said she won't accept any interviews with the Star newspaper after faking her up and tagging her on unverified quotes.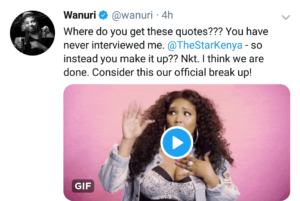 While Rafiki remains banned,  Wanuri Kahiu says the movie is still getting abundant views and love from the local audience.
---
Kenya Insights allows guest blogging, if you want to be published on Kenya's most authoritative and accurate blog, have an expose, news, story angles, human interest stories, drop us an email on tips.kenyainsights@gmail.com or via Telegram
---