Jirongo Has Many Kids He Bought Them Own Minibus To Take Them To School, Opens Up On His Wives And Girlfriends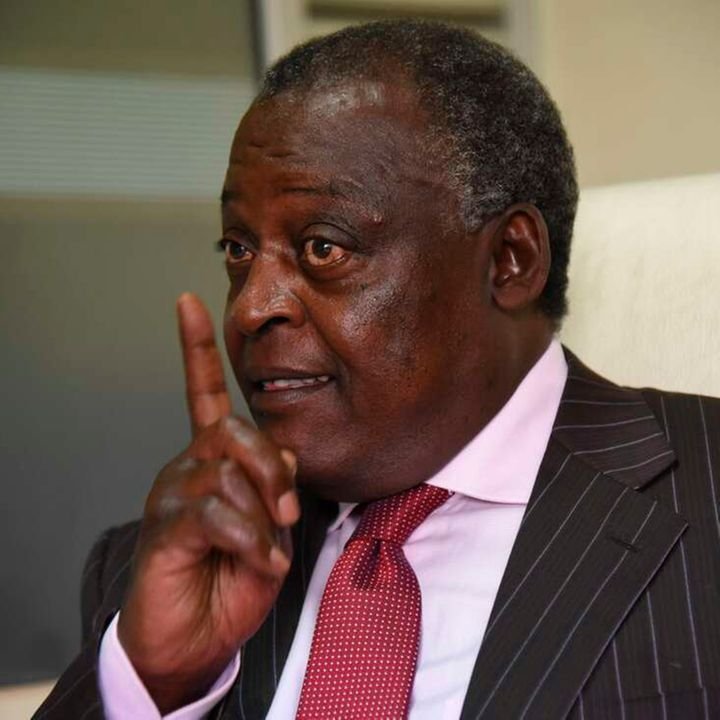 Former Lugari MP Cyrus Jirongo is known for being outspoken and never hesitates to speak his mind. Having made his fortune during Moi's era, Jirongo who mentored DP William Ruto has grown to become one of his greatest critics, while DP has often chided his friend turned foe, Jirongo has never missed an opportunity to throw shades.
During the burial of slain businessman Jacob Juma whose murder was largely speculated on DP having an hand in, Jirongo shocked the nation when he revealed that he once witnessed Ruto strangle a young man to death.
In a latest interview with Daily Nation, Jirongo warned Kenyans against embracing the DP ahead of 2022 alluding that he's dangerous for the prosperity.
"I know Ruto inside out. He's power hungry, he may plot to remove term limits. You can laugh at neighboring countries that people are being battered but it can happen here."
"In Kalenjin tradition, when you're on the wrong you send elders to apologize for you. Ruto tried sending elders to Moi and the former President refused. What did he do that Moi defied Kalenjin elders? That's a question you must ask yourself."
"Some of the things we know about Ruto can't be printed. Raila, Uhuru, Mudavadi, Martha Karua and me can't work with him. Ask yourself why. Ruto worked for me for 7 years. Find out why I kicked him out." Jirongo said.
In continuation of the interview, the father of many and husband to several and a boyfriend to several concubines, Jirongo doesn't shy away from his lifestyle and revealed details. Below is an excerpt from the interview with Sunday Nation as he opened up on his personal life.
A number of your friends say that your major undoing is that you splash money around and are generous to a fault, that you can have Sh10 million today and fail to afford a meal tomorrow. Is that so?
What did I come with to this world? Why would I deny you to enjoy the extra that I have, that I want to hold it. When I came from my mother's womb, I had nothing. It is through giving that you receive.
Do not watch a friend go through pains and problems because you are hoarding for your children. That is how we end up with drunkards because that person is cursing. If you have, do with your whole heart, that is the whole purpose of living, service. That is what is interesting in life.
When somebody tells you thank you, you feel very nice. That is the purpose of life, because you have served, because somebody appreciates what you have done. I believe that is what we must all do as human beings.
Families of prominent leaders have been left in chaos either for lack of a will or leaving a contested one. Do you have a will for your family?
My children are very good friends, they do not need a will. You see the way children grow, to understand somebody, you need to watch them in various instances. When they are alone, and they do not know you are watching. When they have money, when they are with their girlfriend, you tend to get a real feel of what your son, daughter is. I do believe they are good people because I have watched them grow, marry, earn money. I have seen how they behave with money and when they don't have.
That may change when you are not there, especially because they have different mothers.
No, they will turn against that person who tries to poison their minds. I know them, they will turn against them very viciously.
How many children do you have?
(Laughs) Wanga, you know that we do not count children where we come from, you know it. We say we have many children, so I have many. They are several.
How many wives do you have?
That is also another topic on its own. They (children) come from several mothers but that does not make them not to be friends. They have grown up together, I have taken them to school together, there is nothing like this child belongs to this or that mother. It does not matter who their mother is, they all come from my house.
There is a time they used to go to Makini School in a bus. I had a minibus for all my children, you must have had that story. All my children used that minibus. They do not know those stories about daddy's girlfriends.
Would you advise youth to have more than one wife?
Most men have more than one partner. The only difference is some of us do not know how to hide. People have mistresses here and there and know how to hide. Personally, I do not hide because whatever the product, it is my product, so why should I hide? I talk to my wives and tell them, there is this boy, there is this girl, and he or she is a member of this family.
The law allows polygamy. The law would not have allowed it if it was something bad. The law is just trying to remove you guys from where you are hiding because you all have mistresses. The law is just telling you, guys, do not bring us problems when you pass away, just do it, it is okay. Let the other members of the family know that she is not the only one. How I can advise a man? All of them are polygamous by nature.
Don't your wives have a problems with you bringing other children to their homes?
Whether they take it well or not depends on the man. You have to put your foot down. You do not open that up for debate. When it comes to my children we do not discuss. Mtoto atakuja nyumbani (the child must come home). Otherwise, why are you a father? Why are you the leader of that home?
You know in your case, you are a man of means so you can afford. It is…
You are forgetting there was a time I slept in jail because I could not pay Bran Yongo 10 million shillings. People paid for me, including President Uhuru. Sometimes I have, sometimes I do not have because I do not have formal employment. I am businessman where today you make a profit and tomorrow you do not. Sometimes you have too much, other times you do not have, totally. They have also come to understand the dynamics of business.
What are some of the dos and don'ts in polygamy?
There is no uniform script for that. Let me tell you, those who pretend every Sunday that I am with my wife and we are going to church and so forth, it is a shocker. They are not living in reality. So much pretence around.
In the animal kingdom, where does an animal have one wife? And we are animals, the appetite for the male species is propagation of its genes and when you look, be it a lion or any other animal, they all try to own as many as possible. And I think that is how God made us anyway. Just be honest, do it openly and don't leave problems behind where people are fighting saying they do not know each other. Be open.
That child is just as good as the children of your wife, give her or him his right to be known as your child and let that child feel proud that you are the father. Do not deny the child the good things. God meant the child to have a mother, a father, to be proud of her father. You know for children, the biggest hero is their father, they think no one can beat their father, so why do you deny them that? They think we are everything, do not deny your children that.
---
Kenya Insights allows guest blogging, if you want to be published on Kenya's most authoritative and accurate blog, have an expose, news TIPS, story angles, human interest stories, drop us an email on

[email protected]

or via Telegram
---