Fellow Research: Inside the Shadowy World of Disinformation-for-hire in Kenya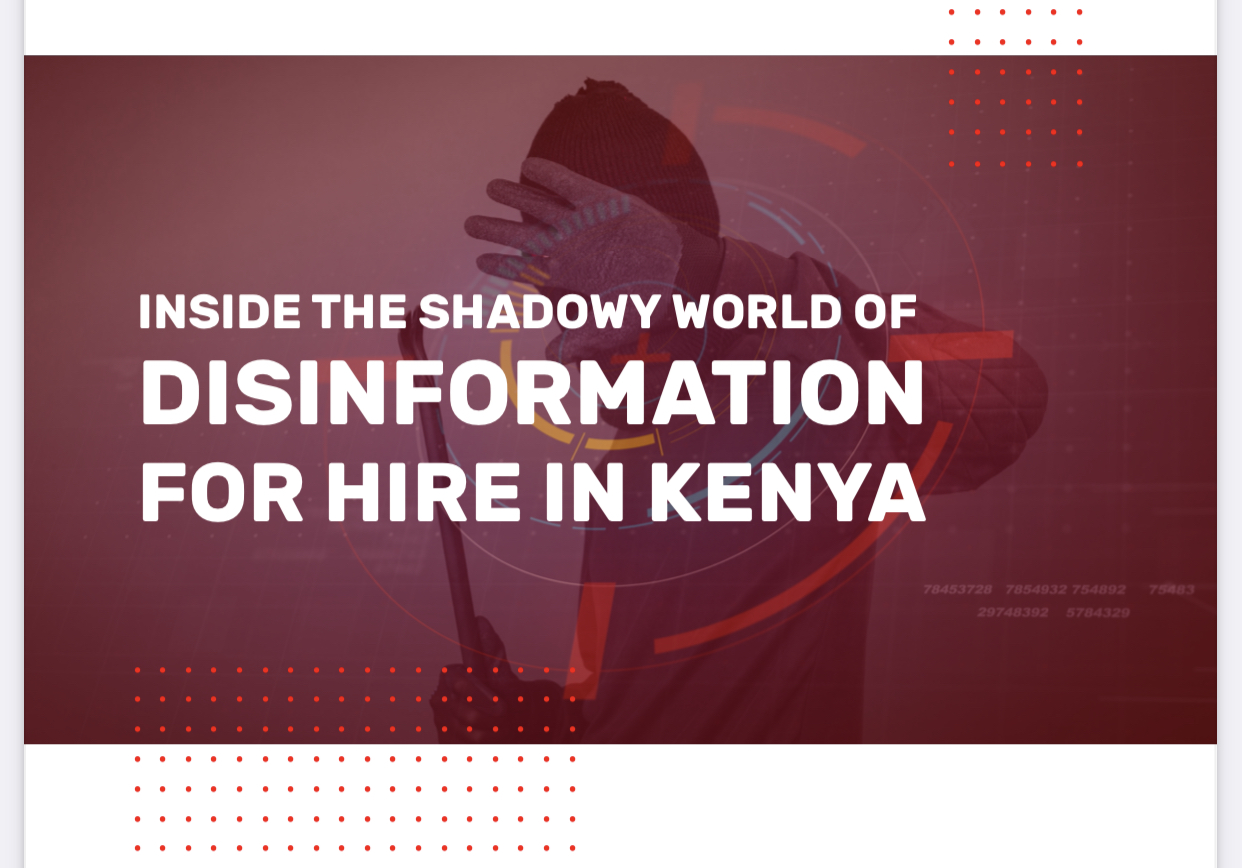 New research by two Mozilla Fellows reveals how malicious, coordinated, and inauthentic attacks on Twitter are undermining Kenyan civil society
Meanwhile, Twitter is doing little to curb this behavior, and good-faith activists are having a hard time on the platform
---
UPDATE: After an internal investigation, Twitter took action on over 100 accounts operating in the country which it found had engaged in violations of its platform manipulation and spam policy.
New research by Mozilla Fellows Odanga Madung and Brian Obilo reveals that Kenyan journalists, judges, and other members of civil society are facing coordinated disinformation campaigns on Twitter — and that Twitter is doing very little to stop it.
Madung and Obilo conducted the research over the course of two months using tools like Sprinklr, Twint, and Trendinalia. The pair also interviewed influencers who participated in the disinformation campaigns, and collected a vast trove of screenshots, memes, and other evidence. In total, the research uncovered at least 11 different disinformation campaigns consisting of more than 23,000 tweets and 3,700 participating accounts.
Says Odanga Madung: "This research provides a window into the booming and shadowy industry of Twitter influencers for political hire in Kenya. This industry's main goal is to sway public opinion during elections and protests, especially with regard to Kenya's ongoing constitutional review process, the Building Bridges Initiative."
Says Brian Obilo: "Amid this chaos, Twitter is doing very little. The platform allows malicious actors to run sock puppet accounts, create malicious content, generate fake engagement, and ultimately hijack Twitter's very own trending algorithm. As a result, millions of Kenyans are being manipulated on Twitter."
This research provides a window into the booming and shadowy industry of Twitter influencers for political hire in Kenya.
ODANGA MADUNG, MOZILLA FELLOW
Odanga Madung is a Mozilla fellow, journalist, and data scientist based in Nairobi, Kenya. Brian Obilo is a Mozilla Fellow and cybersecurity analyst based in Nairobi, Kenya.
Twitter's negligence in Kenya and other African countries more broadly is especially brazen given CEO Jack Dorsey's public "commitments" to the African tech industry. Previously, Dorsey announced plans to relocate to Ghana (which he scaled back citing coronavirus concerns); encouraged cryptocurrency adoption on the continent; and even told reporters that there is a "huge opportunity especially for young people [in Africa] to join Twitter and for us to learn to best serve them."
---
Highlights of the investigation include:
Disinformation campaigns are a lucrative business. One interviewee revealed that disinformation influencers are paid roughly between $10 and $15 USD to participate in three campaigns per day. Payments are made directly to the influencers through the mobile money platform MPESA.
Twitter's trending algorithm is amplifying these campaigns, and Twitter is placing ads amid all this misinformation. Eight of the 11 campaigns examined reached the trending section of Twitter. The campaigners we spoke to told us that this is their number one target, as it affords them the amplification they seek.
These campaigns run like a well-oiled machine. One of the influencers who researchers spoke to explained a complex system of using Whatsapp groups to coordinate and synchronize tweets and messaging. Anonymous organizers use these groups to send influencers cash, content, and detailed instructions.
These campaigns are increasingly targeting individuals. No longer focusing on just broad issues and events, disinformation campaigns are increasingly identifying and targeting individuals, like members of the Linda Katiba movement and the Kenyan judiciary. This work is also beginning to border on incitement and advocacy of hatred, which is against Kenyan Law.
Verified accounts are complicit. One influencer we spoke to claimed that the people who own coveted "blue check" accounts will often rent them out for disinformation campaigns. These verified accounts can improve the campaign's chances of trending. Says one interviewee: "The owner of the account usually receives a cut of the campaign loot." The researchers managed to review screenshots from one of their sources confirming the availability of the accounts for rent from another influencer.

The researchers however did try to reach out to the blue check accounts they identified in the campaigns to verify if indeed these claims were true. All of them denied that their accounts were rented. Reiterating that they were publishing content with the hashtags in their own capacity.
These campaigns are chilling good-faith activism and making the platform harder to use for activists. Good-faith activists are now self-censoring on Twitter. One activist said she significantly reduced her Twitter activity thanks to all the trolling she experienced: "What was once a place where one could have some semblance of a healthy discussion on topics has now been completely poisoned." Another activist mentioned that she had to spend a significant amount of effort countering narratives that were being seeded by disinformation campaigns.
---
Kenya Insights allows guest blogging, if you want to be published on Kenya's most authoritative and accurate blog, have an expose, news TIPS, story angles, human interest stories, drop us an email on

[email protected]

or via Telegram
---