Did CBK's Ex-Governor Prof. Njuguna Ndung'u Aid Shah Brothers Of The Fallen Charterhouse Bank In Money Laundering And Tax Evasion?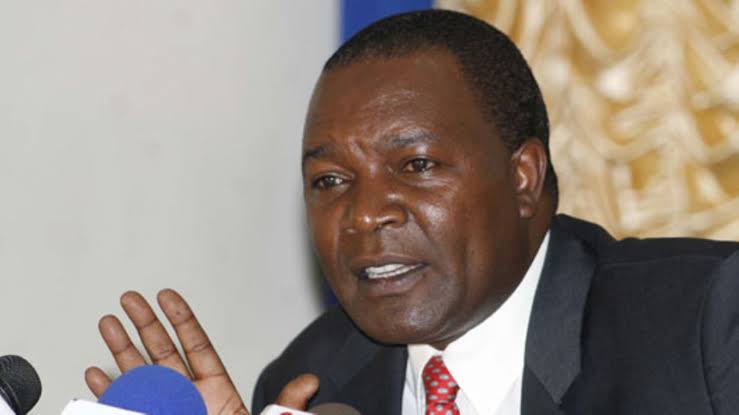 Peter George Odhiambo, the Central Bank of Kenya (CBK) spy who disguised as internal auditor revealed tax evasion and money laundering of at least $573 million (Sh64.2 billion) through the Charterhouse bank.
In his affidavit supporting the claim, former managing director of the collapsed Charterhouse Bank, Sanjay Shah claimed that during an inspection of Charterhouse Bank's operations, inspectors suggested that the lender hires an internal auditor, before recommending Mr Odhiambo.
As managing director, Sanjay asked Mr Odhiambo to formally apply for the job and not only became the lender's internal auditor, but also wound up blowing the whistle on a tax evasion and money laundering network at the bank. Among Mr Odhiambo's referees was Titus Mwirigi, a CBK investigator who would assist him reveal one of the biggest money laundering and tax evasion networks in Kenya's history. Mr Odhiambo in 2005 handed over information on at least 85 accounts at Charterhouse Bank whose owners were suspected to have been involved in evading taxes worth billions, while anonymously laundering illicit funds.
Among the clients that moved large sums of money were retailers Nakumatt and Tuskys. Tuskys moved Sh4.3 billion through its accounts at Charterhouse Bank until 2003. The money was undeclared in Tuskys' books of accounts, indicating possible money laundering and tax evasion.
By the time Charterhouse Bank was closed, Tuskys had Sh66 million left in its accounts. The investigations would reveal that the retailer's directors ran 75 undeclared accounts at Charterhouse Bank. Nakumatt stashed Sh33.3 billion at Charterhouse Bank, mostly undeclared sales. By the time the CBK struck, Nakumatt only had Sh108 million in its accounts.
When the Central Bank of Kenya (CBK) announced on May 7 that it was liquidating Charterhouse Bank, a nexus for many of the country's biggest financial sins and sinners, many thought that the regulator had written the final chapter in the lender's controversy-ridden book.
Status Quo
Apparently, Sanjay Shah and his brother Monaj, half of the collapsed lender's board of directors, have forced in a final chapter by suing the government investigative and regulatory bodies for closure of the bank 15 years ago. The Shah brothers hope that the extra chapter in Charterhouse Bank's story will lead to a sequel, as they want the courts to give them control of the collapsed lender alongside a taxpayer-funded Sh89.3 billion compensation package for what they term an irregular and unfair closure of their controversial outfit.
The Shahs have claimed Sh3.07 billion in customer deposits stuck at the lender when it shut operations and Sh3.7 billion in loss of expected income. They claim that the bank is valued at Sh82 billion and want compensation to that effect.
The CBK, Kenya Deposit Insurance Corporation (KDIC), National Police Service, the Directorate of Criminal Investigations (DCI) and Attorney-General Paul Kihara Kariuki have asked the courts to hand the Charterhouse story an codicil by dismissing the case, insisting that the lender was rightly shut down.
Sanjay and Monaj do not indicate why their brothers Artur and Manish, who were also directors of Charterhouse Bank, have not joined the suit as co-plaintiffs. They, however, argue that the suit has been filed on behalf of all directors.
The Four Shah brothers
The four Shah brothers owned 43.8 per cent of the bank through their Liechtenstein-registered Ram Trust. They held another 21.7 per cent through Proudview Investments, a shell company registered in the British Virgin Islands.
Another of their shell corporations registered in Belize, Foreman Corporation, owned 21.7 per cent. Nakumatt Supermarkets also owned an undisclosed number of shares at Charterhouse Bank. The Shah brothers also owned the Kingsway Group, a business they inherited from their father Ramniklal Shah. This means that the Shah brothers owned at least 87 per cent of Charterhouse Bank, despite Kenyan laws limiting individual ownership of lenders to 25 per cent.
Link with Former CBK Governor Njuguna Ndung'u
The Shah brothers have in the case dropped a bombshell by claiming that former CBK governor Njuguna Ndung'u had agreed to reopen Charterhouse Bank and hand its control back to the Shah family.
The brothers argue that CBK's move to liquidate the bank, announced in May this year is a violation of a valid and legally enforceable agreement for reopening of the collapsed lender.
Prof Ndung'u served as CBK governor between 2007 and 2015 and evaded Graft charges and public prosecution several times with one being a Sh1.2 billion tender for security surveillance at CBK—a case that took 3 years to be acquitted off the charges for irregular malpractises by the appelate court after tug of war in the Judiciary with colluding orders out of conflict of interests.
Under the agreement signed on August 31, 2009, the CBK agreed to grant Charterhouse Bank an operation licence, notify the Kenya Bankers Association of the move, issue a press release on the reopening and give the maximum possible regulatory support to the lender's operations.
"During the term of Prof Njuguna Ndung'u as the governor and chief executive officer of the CBK, faced with the circumstances upon which the manager was appointed, he found injustice and decided that the appropriate manner to resolve the matter was to reopen the bank under a restructured management and that it be handed over to its lawful directors," Sanjay says in court papers.
"It is unjust and unfair for the CBK to be allowed to depart, renege and resile from its previous formal position, obligations and undertakings to the detriment of Charterhouse Bank Limited, its directors and depositors more so where Charterhouse Bank Limited and its directors have complied with their obligations under the restructuring agreement dated August 31, 2009," Sanjay adds.
In seeking reopening of the bank, the Shah brothers claim that the KDIC, which inherited the Deposit Protection Fund's mandate in line with the 2010 constitution, has illegally managed Charterhouse Bank since 2008.
The CBK placed Charterhouse Bank under statutory management on June 23, 2006 for a period of a year. At the end of the period, the Deposit Protection Fund successfully sought a one-year extension of its term from the courts.
The Shah brothers say that no other extension has ever been sought or granted in court, hence the DPF and KDIC have been illegally managing the collapsed lender's affairs since 2008.
Rose Detho, the former CBK director who managed Charterhouse Bank on behalf of the regulator and the DPF, says that the lender was shut down to protect the interests of depositors and avoid panic withdrawals by depositors. Ms Detho says that after being given control of Charterhouse Bank's affairs, she ordered for an audit of the lender's operations, which revealed several violations of the Banking Act related to defying of KYC policies, aiding of money laundering and tax evasion.
The Shah brothers have not denied the existence of the Banking Act violations, Ms Detho adds. Ms Detho insists that the 2009 restructuring agreement that could have revived Charterhouse Bank had an arbitration clause for resolution of any disputes, and that any claims from the deal are outside the 12-year window provided by law.
"This honourable court lacks jurisdiction to hear, determine or entertain any issues arising from the restructuring agreement since the same are subject to an arbitration clause. The matters relating to the restructuring agreement are in the event, time barred. Notwithstanding the foregoing, and without prejudice threreto, I verily believe that the plaintiff and the directors of the bank failed to perform their obligations under the restructuring agreement," Ms Detho says.
"In particular, pursuant to clause 4.0 of the restructuring agreement, the plaintiffs were required to withdraw all the pending court cases that had been filed against the CBK and I, but to date they have failed to do so. Further, a banking licence was never issued to the bank, with the result that the restructuring agreement was not capable of being implemented," Ms Detho says.
CBK Cartels
So entrenched and powerful were the cartels within the bank that Parliament was later told that the new CBK Governor, Dr Andrew Mullei, was thrown out in 2006 for recommending  the closure of the bank for allegedly helping some companies evade taxes amounting to Sh18 billion.
Interestingly, it was Dr Mullei who was charged with abuse of office and suspended from office over irregular hiring of a task force which the Minister for Finance, Mr Amos Kimunya, said was a "coincidence".
"This is a very serious matter. I sympathise with my friend the minister for Finance. If you look back to determine the time which the Governor was suspended, it is very suspicious…"
Initially, Charterhouse bank was started as a family business, sharing directors with Kingsway Group via holding company Ram Trust. The directors were Manish Shah, Manoj Shah, Artur Shah and Sanjah Shah.
Ram Trust  was named after the father of Kingsway Tyres, the late Ramniklal P. Shah – commonly known as Ram – who in 1962 opened a small shop along the then Kings Way (now University Way) to sell tyres.
By the time the bank was closed, Ram Trust was thought to own 43.8 per cent of Charterhouse Bank but further investigations found that Manoj Shah and his brothers owned over 54 per cent shareholding. This was in violation of the Banking Act, which restricts ownerships by a party to a maximum of 25 per cent.
Registered offshore in the billionaire tax haven of Liechtenstein, which is favoured by billionaires thanks to banking secrecy and security, Ram Trust was used by Sanjay, Manoj and Manish to hide their loot.
They had also registered another shell company in British Virginia, Proudview Investments, which owned 21.7 per cent of Chaterhouse Bank. Another company, Foreman Corporation, was registered in the Caribbean nation of Belize, and owned 21.74 per cent shareholding in Charterhouse Bank. As such, Charterhouse would normally transfer huge amounts to these perceived owners while also witnessing large inward and outward telegraphic transfers.
Money laundering suspicion
In 2001, the bank had been involved in the controversial Sh2 billion transfer that was credited to Crucial Properties Limited, associated with a Nairobi businessman, Mr Humphrey Kariuki.
The transfer had grabbed the attention of the local police and the US Federal Bureau of Investigations after the money was wired from Liechtenstein. But when Central Bank froze Crucial Properties' accounts, Mr Kariuki went to the High Court and was allowed to withdraw Sh300 million. He later fought the money laundering suspicion and on May 10, Justice Samuel Oguk lifted the freezing orders, allowing Mr Kariuki to withdraw the money.  Within hours, and before the Attorney-General could appeal the order, Mr Kariuki had withdrawn Sh1.6 billion.
Later, Justice Oguk refused to order investigations into the withdrawal, blaming Attorney-General Amos Wako for the delay in presenting his application to the court. With the closure of the bank, a few years later, the Departmental Committee on Finance, Planning, Trade and Tourism chaired by then Finance assistant minister Oburu Oginga recommended the opening of the bank and threatened to censure the CBK Governor.
There were many attempts from the floor of the House, and from interested parties, to try and force CBK to reopen the bank as it was the medium of money laundering and tax evasion.
Then CBK Governor Njuguna Ndung'u seems to had a lucrative deal with the Shah brothers but deal went sour as perhaps Njuguna's hands got tied as he was on the spot over alot of other irregularities and malpractices that could've easily pinned him down.
Impeccable sources say the deep state and state operatives threatened to revive Ndungu's corrupt past when he was the CBK boss between 2007 and 2015.
Ndungu's corruption history is as long as ancient Egyptian history and that is why State operatives threatened to revive the cases and send him to Kamiti Maximum Prison.
One of the cases that state operatives threatened to revive is a Sh1.2 billion controversial security tender that Ndung'u awarded to Horsebridge Network Systems in 2012.
The other case is where Ndungu's wife, Wanjiru, was among the suspects who played a big role in the multi-billion shilling accounting fraud that felled Imperial Bank.
Sanjay Shah played a crucial role in the collapse and voting to dissolve Nakumatt Supermarket. He, Sanjay Shah, no matter how 'clean' he pretends to be currently, the mention of Nakumatt should not leave out his name in the USD1.5 billion (Sh153 billion) Charterhouse bank collapse.
It is now common knowledge that Charterhouse Bank allegedly aided Nakumatt, to evade tax and to launder money.
According to Wikileaks, estimates are that the country lost approximately US$240 million (sh24 Billion) in taxes over a period of five years. Nakumatt is alleged to have under-declared sales to report trading losses for years. Curiously, in spite of the losses, the supermarket chain expanded, opening numerous new stores countrywide.
Charterhouse Bank is alleged to have flouted know-your-customer principles by allowing the supermarket chain to open accounts under fictitious names, which were then used to launder receipts. Other companies linked to Nakumatt as well as its lawyers, are said to have been some of the bank's biggest depositors, according to ISS Cape Town.
Inside the world of Sanjay Shah, everybody was corrupted including the defunct Kenya Anti-Corruption Commission (precursor to EACC); it took the intervention of then US Ambassador Michael Ranneberger in 2011.
KACC (now EACC) issued a clean bill of health to the bank on numerous occasions.
In its report, Africa Centre for Open Governance also hit out at the Central Bank of Kenya (CBK), the financial services sector regulator, for failing to detect Charterhouse's dubious operations for more than seven years ending 2004.
Huge sums of money were being transacted inside Charterhouse bank enough to catch the attention of CBK, but the regulator seems to have turned a blind eye on it.
It is not rocket science that then CBK Governor Prof. Njuguna Ndung'u faced corruption charges over his alleged role in the award of a Sh1.2 billion tender to a private company and in which the Kenyan public lost Sh400 million.
The greed for money by CBK governors was a clear sign why Charterhouse bank succeeded to run a scam for far too long, Though Prof. Ndung'u was not in the eye of the Charthouse Bank storm, his predecessor Anrew Mullei was.
Dr Mullei left the position entangled in the web of controversy involving procurement of forensic services to investigate alleged crimes at Charterhouse Bank. He had appointed four people to the forensic investigations, one of whom was his son.
Reformed Sanjay Shah?
In the Charterhouse Bank money laundering scheme, the crooks led by Sanjay Shah exploited the loopholes that were there in the law. Before 2009, Kenya didn't have Anti-Money Laundering (AML) laws, however, tax evasion laws were in place.
Tax Evasion, money laundering of proceeds of drug business and possible terrorist links apart from creative accounting were some of the sins of Sanjay Shah led Charterhouse bank.
Initially, we had mentioned a company by the name W. E. Tilley as one of the tax evasion and money laundering sister-firms to Charterhouse Bank, see how it was used in Nakumatt.
According to an expose' in September 2007, the criminal enterprise of Sanjay Shah not only included Supermarket chain Nakumatt, it also had Tusker Mattresses, John Harun Group, Kingsway Tyres, W.E Tilley (Muthaiga) Ltd, Creative Innovations, and Kariuki Maigua and Company Advocates.
In 2006, then shadow Finance Minister Billow Kerrow, now retired from politics, tabled documents in parliament that showed blatant and widespread tax evasion by the above mentioned companies over a period of six years.
All these companies were found to be linked to Nakumatt Holdings. "This is an extension group of allied accounts that were identified but not fully examined. They are undoubtedly involved in significant tax evasion if not other economic crimes," the report said.
The report pointed out that Nakumatt supermarkets, for instance, was performing 20 times better than Uchumi Supermarkets – that collapsed around 2006 – yet paid less taxes than Uchumi. While Uchumi was paying between sh500 million and Ksh600 million per annum in VAT Nakumatt was only paying between sh33 million and Ksh85 million per annum.
"It should be noted that Nakumatt has never shown a profit to date; always loses. Its VAT payments are between Sh33 and sh85 million per annum. Uchumi pays sh500 to sh600 million per annum. As Nakumatt's turnover is much higher than Uchumi, you would expect corporation tax and VAT to be in the range of Ksh1.8 to sh2.5 billion per annum," said a report that CBK governor then, Dr. Andrew Mullei sent to finance minister then David Mwiraria.
Former Finance minister David Mwiraria in 2004 formed a task force with officers from the EACC, the CBK, the Kenya Revenue Authority and the Department of Governance and Ethics from the Office of the President, which authored an interim report implicating the bank and Mr Shah in the scam.
This chain of the scam did not leave behind Businessmen Shailesh Prajapati and Paolo Sattanino and the now Advocate for Nakumatt, lawyer Kariuki Muigua, through his company Kariuki Muigua & company Advocates if the recent report by independent auditor Parker Randall is anything to go by.
Sanjay Shah led CharterHouse Bank, the report said, abated the questionable activities of the suspect firms. The bank, the report points out, operated multiple accounts for some of its clients, an alarm bell sign for money laundering and tax evasion. Some of these accounts had been opened without signing of opening forms, the report says.
According to Central Bank of Kenya (CBK) report, Charterhouse Bank was closely linked with Nakumatt and its branches were located inside the supermarket's stores. Nakumatt had a common shareholding with the bank.
Remember, Nakumatt Holdings had Sh123 million in accounts at Charterhouse Bank at the time it collapsed over claims of money laundering.
The loot
Atul Shah, his son Ankoor Shah and Sanjay Shah are directly involved in the Nakumatt's collapse. While Atul and son Ankoor are accused of writing off stock worth Sh18 billion in May 2018, just weeks before the company ground to a halt; accessing and failing to refund interest-free loans amounting to Sh1 billion from the retail chain at a time when the stores were struggling to repay its suppliers, landlords and other creditors, Mr Sanjay Shah ensured that their investments such as a Sh2 billion property in Nairobi owned by Collogne, Park View Shopping Arcade (Sh600 million), a Sh220 million plot in Westland under Nakumatt Investments, an office block valued at Sh350 million in Mombasa and River View Plaza, which is worth Sh200 million blossoms.
This investment happened at a time Nakumatt owed DTB Sh3.6 billion, Standard Chartered Sh900 million, KCB Sh1.9 billion, Bank of Africa Sh328 million, UBA Sh126 million and GT Bank Sh104 million.
The assets are in no doubt linked to Atul Shah and other related entities such as Collogne Investment Limited, Nakumatt Investment Ltd, River View Plaza and Park View Shopping Arcade among others as indicated in a report by Nakumatt administrator Peter Kahi.
---
Kenya Insights allows guest blogging, if you want to be published on Kenya's most authoritative and accurate blog, have an expose, news TIPS, story angles, human interest stories, drop us an email on

[email protected]

or via Telegram
---