How The Blacklisted China Communication And Constructions Company(CCCC) Bulldozed Themselves Into A KPA Inflated Tender Of Sh40B From Sh12B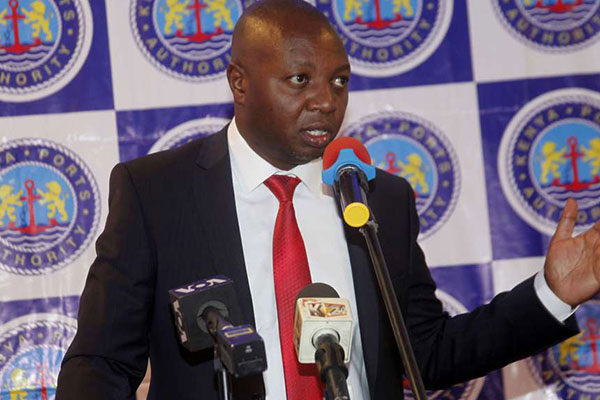 On July 29, 2011−The World Bank announced the debarment of China Communications Construction Company (CCCC) Limited, and all its subsidiaries, for fraudulent practices under Phase 1 of the Philippines National Roads Improvement and Management Project. Under the sanction, CCCC was henceforth ineligible to engage in any road and bridge projects financed by the World Bank Group until January 12, 2017.
CCCC is the designated successor entity to China Road and Bridge Corporation (CRBC) which, along with six other firms and one individual, was debarred by the World Bank for eight years, beginning January 12, 2009, following an investigation of the National Roads Improvement and Management Project by the World Bank's Integrity Vice Presidency (INT).
Earlier July, 2011, China's National People's Congress amended the country's criminal law to make it an offence for Chinese companies and Chinese nationals to bribe foreign government officials in favour for tenders. The law applies to companies organized under Chinese law and included Chinese companies overseas and wholly foreign-owned enterprises in China. This was done in a fierce bid to curb corruption.
On June 12, 2019, the World Bank again announced that China-based Dongfang Electronics Co. Ltd. ("Dongfang") would be debarred for fifteen (15) months for fraudulently bidding on a $60 million electrical expansion project in Liberia.
These are some few examples of how fraudulent Chinese and their companies are nolonger hygienic in business. Cheap is expensive, I would say. They have been Tried, Tested and Confirmed to be unsuitable in many occasions and especially for Kenya, a country that top the rankings in the world in reference to Corruption which has become an activity and is currently at the highest libido in fighting corruption.
The corruption agencies currently, are at their best than ever, arresting, prosecuting; Cabinet Secretaries and their aides, Billionaire Businessmen evading tax and that's just to mention a few and even convicting the guilty. The drums can be heard in all corners and even in vacuum mysteriously, where the rogue Chinese thinks they're. The dog has been barking but not biting but this time round the dog is barking and biting even the owner.Now, lets get to the main agenda.
The World Bank on barring China Construction and Communication Company did not issue any restriction to any country from collaborating or dealing with CCCC but as a country which is fighting corruption,the debarment by World Bank also applies to procurement conducted by public entities in Kenya pursuant to Section 3 (g) of the Procurement and Disposal Act, 2015 which states that all public procurement and disposal in Kenya shall abide by International norms as well and which in this case is the International norms of World Bank.
On 23rd March, 2016 according to documents seen by Kenya Insights, Kenya Ports Authority (KPA) in the subject tender KPA/077/2017-18/PDM ENGINEERING, PROCUREMENT AND CONSTRUCTION OF NEW KIPEVU OIL TERMINAL, CCCC was allowed to participate in the said tender on the basis of a pre-qualification tender process when this was against the law of the land as stated above, Section 3 (g) of the Procurement and Disposal Act, 2015.
The pre-qualification exercise enabled KPA to shortlist 12 firms out of 31 firms that participated and on July 2016 KPA informed the shortlisted 12 firms including CCCC of their invitation for the tender bid.In pursuant to the requirements of Sections 55 (5) of the public procurement and Asset disposal Act, 2015 which states that the procuring entity shall consider a tenderer as illegible to participate in procurement proceedings for providing inaccurate or incomplete information (55,5), CCCC went against the law of the land for providing false and inaccurate information following its debarment by World Bank from participation in any procurement process.
CCCC deliberately and with impunity did not provide information that by the time of their participation in the pre- qualification process for the tender, they were debarred by World Bank from participating in any procurement process for committing corrupt and fraudulent acts and that by the that time of pre-qualification in 2016, the debarment was on course till January 2017.
Section 62 of the act and standard form titled "Self Declaration That The Person/Tenderer Is Not Debarred In The Matter Matter Of Public Procurement And Asset Disposal Act 2015" demands that the tenderer or subcontractors admits their status of debarrement from participating in any public procurement process and therefore act by CCCC to give misinformation made them ineligible to participate in the subject tender for construction of new Kipevu Oil terminal.
Following these irregularities, Kenyan authorities are at a better position as World bank to debar China Communications and Construction Company from participating in any public procurement Public Procurement and Regulatory Authority inconsideration to Section 41 [1] [a, b & d] of the Act.
In rebuttal, CCCC through their managing director according to a letter seen by Kenya Insights played the debarment down saying it didn't include port projects rather limited to WorldBank funded bridges and roads.
In the backdrop of all these, Senior Kenya Ports Authority (KPA) officials are likely to be arrested over the Sh40 billion Kipevu Oil Terminal scandal being investigated by the Ethics and Anti-Corruption Commission (EACC). Among the officials implicated in the scandal are Managing Director Daniel Manduku, and former MD Catherine Mturi-Wairi.
Kenya Insights sources also imply that the CCCC directors will also be arrested. Others on the list also includes; Head of Procurement and Supplies Anthony Nyamancha, former Head of Procurement and Supplies Yobesh Oyaro, and chairman of the tender committee Rashid Salim.
Other officials are Adza Dzengo, Geofrey Kavate, Edward Kamau, William Ruto, Dan Amadi, Margaret Shayo, Beatrice Ratemo, Geoffrey Namadoa, Raymond Warr, Miguel Pires, and due diligence team member William Tenay.
The EACC has assembled at least 30 files to make its case in the matter, which it has been investigating since January following a complaint by a Mr. Dan to the PPRA.
A highly-placed source said the project was estimated to cost Sh15 billion, which was later raised to Sh25 billion and then Sh40 billion.
"The award of the tender was signed in October last year and 10 per cent of the amount paid, but the officials dilly-dallied for reasons best known to them, and that is what is being pursued. There were malpractices," he said.
The information, which is available on the World Bank's debarred list, also said that CRBC had colluded with Philippines' state officials to enter "non-competitive, artificially high bid prices".
The unusual awarding of the contract is part of investigations by the EACC into the matter, in addition to allegations that the cost of the project was inflated from Sh15 billion to Sh25 billion, and then to Sh40 billion.
The EACC detectives have also been investigating the decision to include a Liquefied Petroleum Gas (LPG) component to the terminal, which was not in the original design but would definitely make the construction cost go up. Due process wasn't followed neither was it approved that CCCC had the capacity to deliver LPG. Instead of re-advertising the tender as required by the law, they took a shortcut, inflated the tender and irregularly awarded to CCCC. Seems like a boardroom deal and kickbacks filled the air.
When tasked on the PPRA complaint,  the MD Mr. Manduku said he had been cleared but that's neither here or there since there's no evidence. In fact, Maurice Juma the director of PPRA should be questioned in this matter should their be possibilities that they conspired to wash down this case.
Also worth noting is the fact that such a tender couldn't go through without the knowledge of the BoD and Transportation CS and the CS. However, Dr. Manduku who signed the contract must bare the wrath as the accounting officer.
How KPA awarded a Sh.40B tender to a blacklisted company is a text book example of how fraudulent Chinese companies are taking advantage of Kenyans appetite for corruption to get such tenders. Chinese are known to be generous with giving kickbacks a reason why most have been winning infrastructure tenders. This particular case could possibly be as a result. Nothing adds up.
According to our sources, the state has lined up witnesses including the PPRA complainant a Mr. Dan who'll be the main witness and the only civilian. It is believed his testimony will be a major breakthrough in the case that would send KPA and CCCC officials into jail.
CCCC given the open irregularities should not only be blacklisted in Kenya but the directors, associates should be jailed and on the better side for them be deported. The president during his recent visit to Coast gave the officials a warning sound of impending arrests.
We can't allow foreign companies like CCCC with a tainted portfolio to have a free space in Kenya where we have rules and laws.
---
Kenya Insights allows guest blogging, if you want to be published on Kenya's most authoritative and accurate blog, have an expose, news TIPS, story angles, human interest stories, drop us an email on

[email protected]

or via Telegram
---