WE Charity Exposed For Conning Donors About Building Schools In Kenya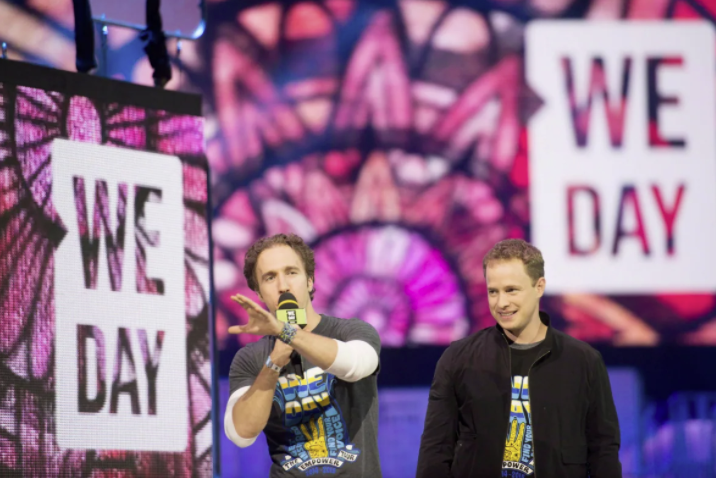 A Canadian-based charitable organization, WE Charity, has been accused of misleading school children and wealthy philanthropists across North America for years to fund building of schools and other projects in Kenya.
The charity was present in classrooms, through its 'Brick by Brick' program where School children were recruited to collect small donations from friends and acquaintances.
An investigation report by CBC's The Fifth Estate into the charity's operations in the country reveals that far fewer schools were built than were funded by donors.
WE Charity is said to have raised millions in funding for more than 900 primary schools in Kenya, but records show only 360 have actually been built since its work began in 2003.
How WE Charity raises funds
Founded in 1995 by human rights advocates Marc and Craig Kielburger, the organization uses deft marketing videos, congratulatory social media posts and crowdfunding websites to get people to back their projects.
Rukshan de Silva and his high school classmates raised money for WE Charity to build a classroom in Kenya, which he personally travelled to see for himself in 2013.
However, as The Fifth Estate reports, he has now realized that they were deceived after discovering four small blue letters (MPCF) displayed prominently above the doorway which were a dedication to another group that had also fully funded the classroom.
One former employee told The Fifth Estate that if other donors asked about the MPCF logo on a schoolhouse, the "messaging" was that WE Charity would tell them it referred to the Kenyan Ministry of Education.
WE Charity, then known as Free the Children, had allegedly collected donations to build two schools. Instead, they built one and told both donors they had paid for it.
In March 2021, the Kielburgers appeared before a parliamentary ethics committee and were questioned about Reed Cowan, an American broadcaster and WE fundraiser.
Cowan had told the committee that a plaque bearing the name of his deceased son was removed from a school he had fully funded and replaced with a commemoration to another donor.
"We're heartbroken about what happened," Marc Kielburger told members of Parliament.
"It should never have happened. We made a mistake," said Craig Kielburger.
Multiple donors are said to have received photos of the same classrooms with the charity congratulating them for their donations which resulted in many sponsor groups paying for the same classrooms many times over.
The "claims that multiple donors funded the same school" is "false," WE said in a letter to The Fifth Estate.
"Donors understand that the funds [they give] are not simply going to be used to construct buildings. Donors are told that their donations will be pooled with others to do the most good in a given region or village," they said in another letter.
"We have always tried our best to be very clear with our donors," said Carol Moraa, a senior WE executive based in Kenya.
WE Charity scandal
This is not the first time that activities of WE have been put into scrutiny.
In 2020, WE Charity was put on the spot after it was reported that the organization had paid close family of Canadian Prime Minister Justin Trudeau to appear at its events.
WE Charity was also accused of using pictures of Trudeau's family members as celebrity endorsements when they applied to administer the $912 million Canada Student Summer Grant program (CSSG).
Trudeau, however, stated that WE Charity had been uniquely capable of administering the program as "the only possible option", and that it was the civil service, not him, who decided that WE Charity was the best option.
WE Charity (formerly Free the Children) was founded in 1995 by Canadian teenagers, Craig and Marc Kielburger. Originally, WE Charity's focus was on international development. Today its North American and UK operations are its largest programs. WE Charity is a global children's charity. Its mission is to empower students by giving them, and their teachers, the tools to create transformative social change.
According to Charity intelligence Canada, WE Charity states that it has been irreparably harmed by the fallout of what is called the WE Charity scandal.  On June 25, 2020, as part of the covid-19 pandemic response, the Canadian government awarded a $912m contract to WE Charity to recruit, manage, and fund student volunteers. On July 3, WE Charity withdrew from this contract. In the aftermath, new information came out about WE Charity. In September 2020, co-founders Craig and Marc Kielburger announced that WE Charity's Canadian operations will close down. Proceeds from selling its Toronto buildings will fund an endowment to support WE Charity's programs in Kenya, Ecuador, and China. At this time, this closure only applies to WE Charity's Canadian operations and does not affect WE Charity US, WE Charity UK, ME to WE social enterprise, or other WE entities.
DONOR ADVISORY: Charity Intelligence issued a donor advisory on July 17, 2020 reflecting WE Charity Canada's turnover in directors and new information about governance. WE Charity Canada had four new directors appointed in 2020. Three of these directors stepped down in March 2021. Greg Rogers remains as board chair.
WE Charity's two main programs in F2020 are Canadian youth programs and international development projects.
In F2020, WE Charity spent $28.1m on Canadian programs, excluding donated goods. This is 54% of WE Charity's total program spending. Canadian programs include WE Days, WE School resources, WE Teachers, and WE Well-being, a mental health initiative. WE Days are youth rallies that celebrate social good. The 2019-2020 WE Days were held in 11 cities, including Toronto, Halifax, Edmonton, Winnipeg, Vancouver, and Ottawa in Canada, and New York City and London, UK. WE Days are funded by corporate sponsors and feature speakers, athletes, and celebrity performers. WE Days cost around $1 million to host, not including volunteers and donated support. WE Days are free to attend, with youth "earning tickets" by helping with local initiatives. Due to the covid-19 pandemic, WE Days for Baltimore, Chicago, and California were cancelled.
WE Charity reports that more than 200,000 youth attend WE Days each year. Attendance ranges from 3,000 youth in Winnipeg to 20,000 youth in Toronto and Vancouver. WE Charity reported in 2018 that 4.3 million youth and 37,359 teachers around the world engaged with more than 10,000 WE Schools programs. Former WE Charity staff have raised issue with how WE Charity calculates its reach. WE Charity denies it manipulates or fabricates results data.
In F2020, WE Charity spent $23.9m on international programs, representing 46% of total program spending. Donations go to WE Villages, which are communities supported through WE Charity's five pillars of Education, Water, Health, Food, and Opportunity. WE Charity states that targeting these five areas helps to address the root causes of poverty and achieve holistic development. WE Charity's largest international region is Africa (Kenya, Ethiopia, Sierra Leone, and Tanzania) where it spent $16.8m, followed by Latin America (Ecuador, Haiti, and Nicaragua) at $4.7m, and Asia (China and India) at $1.1m. WE Charity's Ethiopian programs are run through Imagine 1 Day. WE Charity spent $1.9m in F2020 and $860k in F2019 for these programs in Ethiopia, such as building schools and latrines to give children access to education. After the year end, Imagine 1 Day separated from WE Charity and became, again, an independent charity.
WE Charity funds its international programs in two ways: it directly spends $13.1m on supporting WE Villages, and gives $9.4m to local non-profits working in WE Villages. WE Charity supports 86 WE Villages in 9 countries. Since its founding, WE Charity reports it has provided more than 1 million people with clean water and sanitation and helped 200,000 children access education.
ME to WE: There is confusion among donors about the blurred lines between WE Charity and ME to WE. Collectively these two distinct organizations are referred to as "WE", "WE organization", or "WE movement". ME to WE is an affiliated social enterprise. In other words, ME to WE is a private business controlled by Craig and Marc Kielburger, WE Charity's co-founders. While WE Charity was founded in 1995, ME to WE started up in 2004. ME to WE's CEO is Roxanne Joyal, Marc Kielburger's wife. WE Charity's CFO is also ME to WE's CFO.
WE Charity buys promotional goods and travel services from ME to WE.  ME to WE is also a corporate partner of WE Days.
---
Kenya Insights allows guest blogging, if you want to be published on Kenya's most authoritative and accurate blog, have an expose, news TIPS, story angles, human interest stories, drop us an email on

[email protected]

or via Telegram
---