US Law Firm Representing Kenyans In Boeing Crash Facing Sanctions Over Misconduct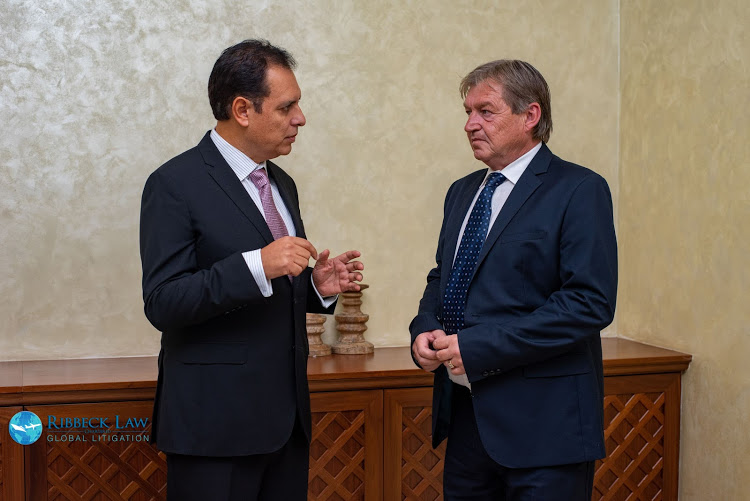 A committee of attorneys representing plaintiffs suing Boeing Co. in relation to the the 2019 Ethiopian Airlines Flight 302 crash has urged an Illinois judge to sanction two lawyers for actively soliciting the clients of other attorneys working on the case.
The Kenya Insights has learnt that plaintiffs' executive committee asked the court to order Manuel von Ribbeck and Monica R.Kelly Wood-Prince of Chicago law firm Ribbeck Law Chartered to explain why they shouldn't be sanctioned, claiming that the pair have sent unsolicited and improper communications to five clients they knew to be represented by Power Rogers LLP and seven clients of Clifford Law Offices and offered their services. Poaching of clients is seen as professional misconduct in the legal spaces.
Ribbeck Law Chartered, which represents the majority of families of the victims of the deadly Boeing 737 MAX 8 crashes, and Global Aviation Law Group, today (08/13) filed additional lawsuits against Boeing in the United States (US) federal court in Chicago, the firm said a written statement.
The firm has been seeking reasonable and fair compensation for the families of the victims of these tragedies. It said more than US$1 billion should be paid to the families of the Lion Air JT610 and Ethiopian Airlines ET302 crashes.
The Ethiopian Airlines jet headed for Nairobi, Kenya crashed shortly after take-off from Addis Ababa's Bole International Airport, killing all 157 on board including 32 Kenyans, At least 30 nationalities were on board.
This is not the first time the law firm is accused of ethical misconduct, the firm was exposed by Reuters for hounding Ethiopian air crash victim's relatives.
Days after the March 10 crash of a Kenya-bound Ethiopian Airlines' Boeing jet that killed all 157 people on board, strangers began calling or visiting bereaved families, saying they represented U.S. law firms.
They showed up uninvited at memorials and at homes full of weeping relatives. They cold called. They left brochures. In one case a grieving husband was offered money for an appointment. One woman offered counseling and another said she was creating an emotional support group, without disclosing they were working for lawyers.
Reuters interviewed 37 relatives of the victims, or their representatives, and found that 31 complained of inappropriate approaches by those saying they represented U.S. law firms.
In some instances, the behavior may have been illegal or unethical under U.S. laws and rules barring solicitation and deceptive practices, several legal ethics experts said.
Six firms were particularly aggressive in courting prospective clients after the Boeing plane nosedived into an Ethiopian field: Ribbeck Law Chartered and Global Aviation Law Group (GALG) of Chicago; The Witherspoon Law Group and Ramji Law Group from Texas; and Wheeler & Franks Law Firm PC and Eaves Law Firm of Mississippi.
Witherspoon, Wheeler, Eaves and Ramji denied any wrongdoing. Ribbeck and GALG did not respond to Reuters' requests for comment.
Ribbeck Law and GALG jointly filed two lawsuits against Boeing seeking "all damages available under the law" without being specific about the size of the claims.
A woman named Mihret Girma sent a Kenyan victim's family a message in August 2019, inviting them to attend a meeting with a grief counselor and the Law Society of Kenya.
At that time, she did not reveal she had ties to the firms GALG and Ribbeck.
Mihret was in a WhatsApp group with GALG staff and U.S. lawyers Manuel Ribbeck and Monica Ribbeck Kelly within three weeks of the March crash. Dozens of the messages reviewed by Reuters in their report showed GALG staff and the Ribbecks discussing how to reach bereaved families.
The Illinois state disciplinary commission censured Monica Ribbeck in 2014 for filing an aviation accident suit on behalf of someone who had already terminated her.
In 2015, the commission's hearing board recommended she be suspended for 60 days for filing what it alleged was a frivolous action for legal discovery over the disappearance of Malaysian Airlines' Flight 370. That was overturned after a review.
Monica Ribbeck Kelly, who made headlines by filing a lawsuit against Boeing and Malaysia Airlines when MH Flight 370 first went missing, has herself disappeared, leaving a trail of unhappy clients wondering about the U.S. justice system.
Judge Kathy Flanagan wanted to teach Ribbeck a lesson about their two pre-lawsuitpre-lawsuit discovery petitions filed in her court over a still-missing Malaysia Airlines plane.
The well-known Cook County Circuit Court judge tossed out the petitions and warned Chicago's Ribbeck Law Chartered if similar actions continue she would impose "sanctions" against them.
In 2013 the firm was also accused of soliciting for clients while the victim's families were still in shock in the Asiana 214 crash in what was described as distasteful.
In 2019, the Ribbecks set up a new entity, GALG, according to messages between GALG and the Ribbecks that have been viewed by Reuters. GALG staff directed clients to the Ribbecks, messages and emails shared by several bereaved families show.
GALG set up its website on 2019 March 28, only 18 days after the accident, and filed its articles of incorporation in Illinois on April 24.
Amos Mbicha, whose sister and nephew died in the crash, said he helped more than 10 law firms, including GALG, connect with bereaved families. He said he stopped working with GALG in October when the firm tried to contact a victim's relative after he had warned them not to.
Lawyers representing victims of airline crashes can get millions of dollars in fees if they win or settle cases in U.S. courts, where there can be large payouts.
Awards against an airline are capped if it was not negligent. But there is no limit for manufacturers, making lawsuits against Boeing potentially lucrative.
Plaintiffs' lawyers in these kinds of cases don't usually charge fees up front but take at least 20 percent of any settlement or award.
U.S. states have ethics rules that prohibit lawyers or anyone acting on their behalf from soliciting business by phone or in person, in most cases over any time period.
They also bar lawyers from giving anything of value to solicit a prospective client.
There is also a U.S. federal law that forbids lawyers from contacting victims' families within 45 days but it appears to be only applicable to U.S. aviation accidents, according to two legal experts.
However, U.S. disciplinary boards often don't have the resources to investigate complaints from abroad, said Jim Grogan, former deputy administrator and chief counsel at the Illinois bar disciplinary commission.
"There are so many shadows in which people can act, especially abroad," said Grogan.
Ribbeck is not new to controversies and has been a punching bag for aviation journalists some of whom describe the law firm as little band of ambulance chasers, perhaps for the nose for Boeing crashes, in nearly most of the recent cases of the aircraft manufacturer, they've been involved in litigation.
Knowing what was a head, the law society of Kenya, had advised families of victims of the ill-fated Ethiopian airlines to be cautious about who represents them in the compensation process raising alarm of untrustworthy elements would take advantage of they predicaments.
In December 2019, Ribbeck intensified their base in Kenya going on a major PR campaign with major Kenyan publications running their success stories to sell their services. Th company announced that one of their clients a Kenyan had received Sh335M settlement from Boeing as part of the Sh111B suit lodged against the company. Ribbeck said they were expecting more clients to use their services in getting settlements.
As they pitched camp in Kenya, Ribbeck Law partnered with a Nairobi law firm Igeria & Ngugi Advocates in handling the crashes.
In the backdrop of all this, Families that lost their loved ones continue to fight for compensation from Boeing, the aircraft maker, in legal battles at a US Federal Court in Chicago where the company is based.
"There have been rumours that we have been compensated. It is not true. We have been in contact with the rest of the Kenyan families that were affected and none has received compensation from Boeing," said one the victim's family in an interview with The Standard.
While Ribbeck Law awaits their fate with the Illinois committee, the firm recently sued Mike Danko for defamation over articles he posted on his aviation law blog. Among many aviation bloggers who've been on the firm's case is popular Christine Negroni who has raised issues about curious partnership that led to the formation of Ribbeck Law, she has also made several sexual misconduct accusations against Manuel von Ribbeck a partner in the firm.
Boeing in January paid $2.5 billion to settle a US Justice Department criminal investigation and admitted that employees misled regulators about the safety of the 737 Max.
The company and the US government said that the settlement included money for the crash victims' families, airline customers and a fine.
---
Kenya Insights allows guest blogging, if you want to be published on Kenya's most authoritative and accurate blog, have an expose, news TIPS, story angles, human interest stories, drop us an email on

[email protected]

or via Telegram
---