Tricks Used By Modern Day Land Grabbers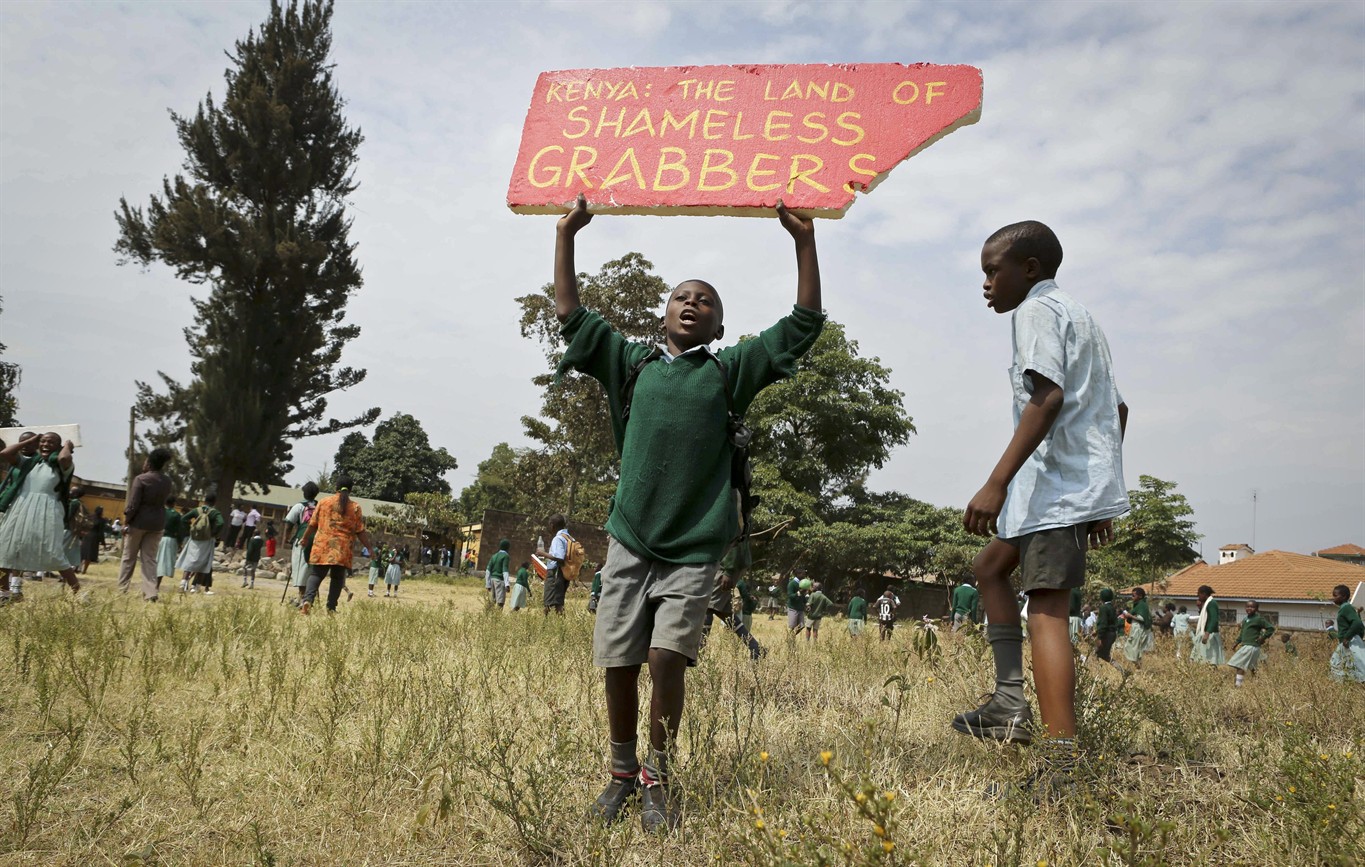 Grabbers have devised new tricks to fleece land owners as disputes continue to pile up in court.
From faking land registration titles, invading public and idle land, faking court orders, selling one piece of land to several buyers and forging death certificates, the list of tricks appears endless.
In one of the instances, a businessman of British origin was allegedly "killed" by a cartel of land grabbers while he was away attending to his sick wife in London. His titles were changed and by the time he returned to Kenya, the land had new owners and he was landless.
Paul Curzon accused Martin Muthama and Stephen Kirianki of faking his deathfaking his death, preparing a death certificate and using the document to obtain a new title to his parcels of land situated in upmarket Kileleshwa area.
Faked death
"It is amazing how they forged documents to claim that I had died and to register the property in their names.
Then while I was away, they invaded my home, chased away the domestic workers, stole my properties and put up the land for sale," swore Curzon in his court papers.
Curzon said he had lived in the properties from 1993 to 2004, when the landlord agreed to sell him the land.
He stayed peacefully in the premises until June last year when the grabbers struck, claiming he had sold the land in 2005 before his "death" in 2006.
Interestingly, Kirianiki in his response to the suit maintained that he bought the property from Curzon in 2005 before his death in 2006, and that the person now claiming to be Curzon was a ghost.
"I have reliable information that Paul Curzon died in August 2006 and he does not exist. We have been the legal owners of the property after we had the change of registration done at the Ministry of Lands," Kirianki swore.
His allegations were however, dismissed and High Court Judge Isaac Lenaola ordered the chief lands registrar to reconstitute records of the missing original land title, and also stopped further dealings, sale or transfer of the land.
Within Nairobi County, a task force appointed by Governor Evans Kidero in 2014 to investigate grabbing of public lands established there was a group of land cartels enjoying high-level protection who went about grabbing public land with impunity.
According to the report, grabbing of public land is carefully planned and executed through non-confrontational approaches where grabbers secure court orders through forged documents to claim ownership.
Other tricks used by land grabbers include hiving off a portion of land whose total acreage is unclear. They then hurriedly register it before the public land is marked.
Interestingly, religious institutions are also in the mix of land grabbers. These institutions get public land under the guise of putting up a worship centre only to turn around and claim ownership of the land.
"There are instances where religious institutions come under the guise of assisting a community put up facilities like toilets but later ask to be allowed to use part of the public land, to which they eventually lay illegal claim," said the report.
Some church leaders have also used the trust placed on them by their congregations to grab their land.
One such cleric, Bishop Joel Mwangi of Revival Gospel Church, was found guilty of fraudulently obtaining two acres of land from a widow under the guise that he could help her and her son relocate to Britain.
The widow, Grace Ndung'u, testified that she was approached by the bishop to surrender the land soon after her husband's death and she did not object.
"I believed once my son secured employment in the UK, he would buy me a bigger plot. The bishop used a photo of Queen Elizabeth to convince me, saying he had had discussions with the queen who agreed to host my son once he immigrates to the UK," she said.
Land owners' absence and failure to develop their land is another motivation for land grabbers to take advantage of other people's property.
At times, the forged title is used to secure a bank loan and the real owner only gets to know about it when auctioneers knock at his door ready to sell the land in order to recover the defaulted amount.
Bank loan
Such fate befell one Alice Awalo when land grabbers took advantage of her absence to forge her title and secure a loan from Sidian Bank.
Appearing before the court, Awalo said she bought the 100-acre land in Kajiado valued at Sh550 million in 2007 while she was an employee of the United Nations stationed in Uganda and had never sold or transferred it to anyone.
She said she was surprised when Sidian Bank sent auctioneers to her land, claiming the title had been used to secure a Sh50 million loan.
The bank's case was that directors of Zenith Pharmaceuticals Ltd approached it for a loan facility and when they asked for security, they provided the land title, which they believed was genuine as it originated from the land's registrar.
The bank was alarmed when the company defaulted in repaying the loan and sought to auction the land to recover their money.
However, according to Awala, the company directors forged her signature while she was away in Uganda purporting that she agreed to the change of title documents.
"I am a total stranger to dealings between the bank and the company. I was not in the country on the date they indicated that I signed the authorisation letter. It therefore surprises me when the bank says they have title documents, which I have never shared with anyone," she said.
These new tricks have led to an increase in court cases, which also take a long time to resolve.
A State of the Judiciary report established that 66 per cent of land disputes filed at the Environment and Lands Court are pending determination in all court stations spread across the country.
Pending cases
"The high number of pending cases shows the case clearing rate is very low. This is worrying as it shows that the lands court is adding more cases onto existing pending cases, thereby increasing the backlog," says the report.
Politicians too, have fallen victim to land grabbers in scams involving millions of shillings.
Kitui South MP Rachael Nyamai forked out Sh10 million hoping to get a piece of the controversial 134-acre Karen land. Only for her to later realise that she had been dealing with a person who was facing forgery charges.
She sued James Mbaluka for duping her, saying she met Mr Mbaluka in 2014 and he promised that he could help her get land in Karen.
Mbaluka is among suspects accused of conspiracy to transfer the Karen land between 2005 and 2014. He was charged alongside former National Social Security Funder managing trustee Jos Konzolo, Sara Mwenda, Pauline Wanjiku, Mark Muigai and Macmilan Mutinda.
Taveta MP Naomi Shaban and former nominated MP Amina Abdalla have also been victims of land grabbers' tricks. They paid Sh2 million for a fake land title in Karen.
The two paid Nancy Kioko the money only to later realise that the pieces of land they were shown belonged to another person and that Kioko had forged the title registrations. The lady was later charged with defrauding the two politicians.
In other instances, land grabbers pose as agents of the real land owners who get surprised when they find out their land has been sold without their knowledge.
Tobias Otieno fell for this trap when he was approached by lawyer Denis Mabeya and other people to buy prime land in Mombasa valued at Sh58 million.
According to Otieno, Mr Mabeya told him he had been instructed by the land owner, Daisy Wairimu, to act for her, after which they agreed he should pay Sh29 million as deposit with the balance to be completed after delivery of the title.
Ms Wairimu was surprised when she learned her land was being sold without her knowledge, and swore before the Law Society of Kenya (LSK) disciplinary tribunal that she never dealt with Mabeya and had never instructed him to do any transaction on her behalf.
The LSK tribunal later found Mabeya guilty of misconduct and struck him off the roll of advocates for falsely presenting himself as a representative of the land owner.
---
Kenya Insights allows guest blogging, if you want to be published on Kenya's most authoritative and accurate blog, have an expose, news TIPS, story angles, human interest stories, drop us an email on

[email protected]

or via Telegram
---