Is NMS Under The Spell Of City Hall Cartels?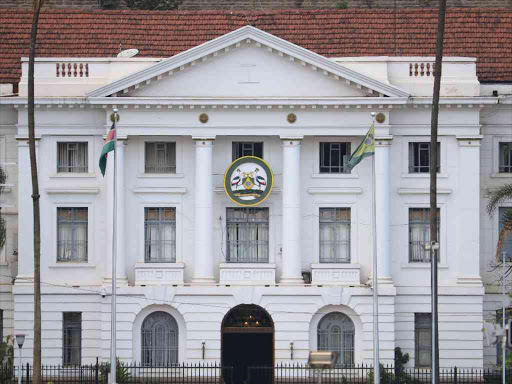 The demons of City Hall didn't disappear even with the transfer of critical functions to the General Badi's led NMS. The City's control center which is synonymous with scandals continues to make the familiar headlines even with Nairobi Deputy Governor Ann Kananu who took from the corrupt Mike Sonko being in control.
The DG is currently fighting numerous cases that has risked her getting arrested.
She was recently summoned by the Directorate of Criminal Investigations KRA Unit investigating a case involving the failure to remit income tax, withholding tax and PAYE contrary to Section 97 of the Tax Procedure Act.
Kananu moved to court to block her pending arrest over failure by county to remit Sh2.1bn tax arrears to KRA.
In the same week, court of appeal dealt a blow to Sonko who's challenging the legality of Kananu occupying the office. Court ruled that Sonko having stayed out of office for over 10 months, he was no longer a Governor. This paved way for the swearing in of Kananu as the governor.
However, the celebrations was short lived as Sonko moved to the Supreme Court and stopped the swearing in.
Now, analysts believe that there's a grand scheme by powerful forces to reinstate Sonko as the governor.
A network of powerful cartels in the corridors of justice is said to be frantically pushing for the return of former Nairobi governor Mike Sonko. In the scheme are judges, lawyers and politicians. This happens amidst fierce escalation of supremacy war between the executive and some individuals within the judiciary perceived to be bitter with Uhuru Kenyatta and who have consequently opted to team up with William Ruto, who pulls strings behind the scenes.
The mafias believed to have fully infiltrated the judiciary ostensibly played a major role in latest court drama that saw Sonko secure orders from the Supreme Court barring the swearing-in of acting governor Anne Kananu. There are predictions that Sonko is likely to be sneaked back to his former seat through a ruling that is coming in November in which he wants the appellate court to overturn the High Court decision and declare that he was illegally impeached.
Understandably, the idea to block Kananu's swearing-in which came as a shocker was a result of high level consultation among the cartels, aware that Sonko stood no chance of getting back his job in the event that the deputy governor was sworn in as governor.
Failure to stop the swearing-in meant that even if Sonko was to get a favourable ruling in November, the verdict would have nothing to do with Kananu's job. Sonko will then be governor and Kananu deputy. Constitutionally, a governor once sworn in office can only be removed through impeachment, death or through resignation. It is also against this background that the deep state and Kananu were upbeat of conducting an early morning swearing-in ceremony but which was rudely blocked.
To demonstrate how powerful individuals within the judiciary are the ones directing actions in Sonko's case, the former governor was not moved by a decision to dismiss his appeal but instead casually went on his Facebook and confidently told his supporters to keep calm and wait for November when a petition challenging his removal will be heard in the Court. The orders barring the swearing-in of Kananu were issued by Supreme Court's Justice Mohammed Ibrahim who certified Sonko's application as urgent.
It is imperative to note that Ibrahim has close links with lawyer Ahmednasir Abdullahi who is a staunch ally of the deputy president. Also said to be part of the wider game plan to bring back Sonko is the Deputy Chief Justice and vice president of the Supreme Court Lady Justice Philomena Mwilu. Mwilu is bitter following the deep state's power games that locked her out of the position of the Chief Justice currently held by Martha Koome. Apparently, the deputy chief justice feels that she is being frustrated and targeted by the state following her unending misfortunes as far as her professional life is concerned.
In her compounding tribulations, the office of the DPP is on record stating that it is confident of winning the graft and abuse of office case against the troubled DCJ. The DPP's office has threatened to release the dossier which would seemingly secure Mwilu's conviction. Shockingly, the Judicial Service Commission led by Chief Justice Koome cited that it had evidence on how the DCJ allegedly transacted over Sh20 million at the Supreme Court parking lot, her office building and her Kilimani home .
In a more dramatic development, former Chief Justice Willy Mutunga is the last to join the fray by telling judges to go on strike over the government's failure to obey court orders. Mutunga's appointment was linked to Ahamednassir then JSC member. The remarks did not go down well with Uhuru and CJ Koome who could not fathom how Mutunga was inciting judges to down their tools, given he served as the country's CJ who should be aware of the fact that implications of calling for a judicial strike are far-reaching.
And as was widely expected, the Law Society of Kenya president Nelson Havi joined the war by defending Mutunga. According to Havi, the CJ should not have responded to Mutunga because it is common sense that judges cannot go on strike. Havi in his usual manner attacked Koome stating that 'she lacks emotional intelligence and she needed not to respond to retired CJ's call for judges to go on strike.
Back to city hall and Kananu's tribulations.
Senate Devolution Committee chairman Moses Kajwang on Wednesday reprimanded Kananu for ignoring requests to go and explain reasons for paying Sh795 million to law firms out of the county's allocation of Sh2.5 billion meant for clearance of pending bills.
Kananu had been invited to respond to a statement by nominated Senator Millicent Omanga who alleged the county was spending a huge chunk of its budget on legal fees.
She claimed in the statement that City Hall paid a total of Sh795.9 million out of the county allocation of Sh2.5 billion meant for the clearance of all pending bills in the financial year 2018-19.
Omanga also wants to know whether there was documentary evidence availed by the law firms to support the payments made by City Hall.
She also wants a progress investigation report by the Ethics and Anti-Corruption Commission on investigation on the legal fees paid to lawyers for services by Nairobi county government during 2018-19.
In the past and for long, Imaginary court cases has costing Nairobians millions of shillings and this has been revealed in past audit reports.
Before Governor Evans Kidero took over in 2013, City Hall had outstanding legal claims amounting to Sh1.21 billion.
As at September 30, 2014, City Hall had sunk Sh133 million in court cases. Between June 30 and July 1, 2013, the county government spent Sh232 million on court cases.
Questioning humongous payments to lawyers, then AG Ouko said: "No evidence was provided to indicate the nature of the court cases. It is also not clear how so many legal cases arose within a year of the county assembly's existence. It is also not clear how they were concluded."
The Ethics and Anti-Corruption Commission (EACC) has launched investigations into multi-million shilling dealings between 25 law firms and the Nairobi County government.
The probe is focused on payment of legal fees by City Hall to the firms between 2013 and 2020.
The EACC, in a letter dated January 21, wants the county secretary to furnish it with the specific case files handled by the 25 law firms between 2013 and 2020, including letters of instructions and contract agreements.
"The commission is undertaking investigations at Nairobi City County in respect of payments of legal fees to the following firms. To facilitate our investigations, kindly but urgently furnish us with the original documents in respect to the mentioned firms," states the letter.
The law firms
The firms include Irungu Kang'ata and Co. Advocates, Osundwa and Co. Advocates, Kwanga Mboya and Co. Advocates, Kithi and Co. Advocates, Wanjiku Maina and Co. Advocates, E.Onyango and Co. Advocates, J.O Magolo and Co. Advocates, Ario Advocates, Maskam ( Asanyo), E.N Omoti and Co. Advocates and Ogeto Ottachi and Co. Advocates.
Others are Musyoka Mogaka and Co. Advocates, Masire Mogusu and Co. Advocates, Maanzo Co. Advocates, Miller Co. Advocates, Koceyo Co. Advocates, R.M Wafula Co. Advocates, Mbaluka Co. Advocates, Njenga Maina Co. Advocates, Kandie Murtai Co. Advocates, Sirma Co. Advocates, Arati Co. Advocates, C.M Mitema Co. Advocates, Munyasia Co. Advocates and Ongicho Ongicho Co. Advocates.
The EACC further asked to be furnished with all payment vouchers, cheque counterfoil and a list of pre-qualified law firms for the period under investigation.
This is in addition to minutes approving the list of pre-qualified law firms and any other documents relevant to the probe.
MCAs' complaints
The probe comes a few months after Nairobi MCAs raised concerns over the payment of large amounts of money to some law firms yet the county has not won any court cases recently.
The ward representatives also made allegations of favouritism by City Hall in the clearance of lawyers' bills instead of small scale suppliers owed less money.
City Hall paid legal fees to the tune of Sh795.9 million out of the Sh2.5 billion allocated for clearance of all pending bills, locking out other suppliers and contractors.
As a result, MCAs, through a motion by Silvia Museiya (nominated), called on the county executive to come up with a policy to streamline outsourcing of legal services.
The legislators alleged that the outsourcing has turned into a business, with some lawyers colluding with officers in the executive, including those in the office of the county attorney, to siphon money from the county.
They claimed an unnamed law firm was paid Sh250 million despite not carrying out any legal transaction with the county government.
Audit report
Painting a grim picture of the state in the legal department at City Hall, the Auditor-General's report for the 2016/2017 financial year revealed the department spent Sh592.4 million on unauthorised payments.
According to the report, the department spent Sh645.3 million on legal costs against an approved budget of Sh105 million.
Interestingly, the bulk of the money, Sh314.4 million, was paid to some 12 firms. The payment was not included in the Integrated Financial Management Information System (Ifmis).
In February 2019, the assembly's Public Accounts Committee found that the legal department spent Sh480 million, more than four times the Sh100 million budgeted for.
The payments were made without documentary evidence, including a total of Sh318.4 million which was sent to several lawyers.
In the 2018/2019 financial year, a total of Sh795.9 million was paid to 48 law firms yet only eight raised fee notes.
During that financial year, 335 cases were handled by the legal department but only 12 of them were successful. The rest were either withdrawn or lost.
City Hall Capture By Cartels
When President Uhuru Kenyatta established the Nairobi Metropolitan Services in March last year, he tasked Major General Mohamed Badi and his team with dismantling cartels in Nairobi County and ending corruption.
The President had been alarmed by runaway corruption at City Hall, that had made service delivery impossible.
He said the cartels had a vice-like grip on the county government services, from garbage collection to parking, water supply and issuance of permits.
At the time, Governor Mike Sonko was facing a Sh357 million corruption charge, which eventually saw him barred from accessing his City Hall office.
Several corruption-related investigation cases had also been opened by different investigative agencies, ranging from multi-million garbage tender awards to the multi-billion stadiums construction saga.
However, after a short lull following the impeachment of Mr Sonko in December last year, with transition of power from Nairobi County Assembly Speaker Benson Mutura to Deputy Governor Ann Kananu, the cartels are back, this time bolder and more ferocious.
Payments to lawyers, utilisation of Covid-19 funds, AAR-City Hall staff medical scheme and Covid-19 relief programme are just but some of the brewing scandals that could yet again sink the city county back to its old ways.
Nairobi County Assembly Minority Chief Whip Peter Imwatok, who appeared to be at the forefront of the transition at City Hall, even at times directing Ms Kananu during press briefings, has in the past weeks turned into a whistleblower, lifting the lid on the happenings at City Hall.
The first was in a letter dated April 27, 2021, where the Makongeni MCA wrote to the Ethics and Anti-Corruption Commission (EACC) and the Director of Public Prosecutions to investigate "suspicious and skewed" payments to 13 law firms by the Ms Kananu-led administration.
In the letter, Mr Imwatok alleges that more than Sh410 million was irregularly paid to the law firms with no information on the cases handled.
The second-term county legislator claimed the payments were made between February 9 and March 30, 2021.
In January, the EACC had written to City Hall about investigation of 25 law firms over an alleged payment of Sh500 million-worth of legal fees to the law firms with the anti-graft agency following specific case files handled by the law firms between 2013 and 2020, including details of the cases, letters of instructions and contract agreements.
"It has come to our attention that even before the investigations with regards to this matter commenced, if ever they did, the Nairobi City County proceeded to pay the lawyers monies amounting to over Sh410 million," read in part the letter.
But before all that could settle, another bombshell was dropped. Mr Imwatok wrote to the EACC and the DPP, asking them to investigate a payment of Sh275 million to suppliers.
He claimed that some seven companies, acting as "proxies to MCAs or members of county staff" undertook works or supplies in the Environment Department and/or supplied food as part of the Nairobi County Covid-19 feeding programme.
The ODM representative claimed that the county government had lined up the companies for payment for the services yet there is "no food that was ever supplied to the county or distributed to anyone".
"It is absurd that taxpayer's money amounting to Sh275 million shall be paid to companies belonging to MCAs or their proxies for either services and/or goods that were never supplied," said Mr Imwatok in a letter dated April 26.
The Sh84 million feeding programme was to benefit 127,500 most vulnerable people in Nairobi's informal settlements with foodstuff such as maize and wheat flour, sugar, rice, loaves of bread and powdered milk. Other items include blankets, sanitary towels and basins distributed to cushion them against the negative effects of the pandemic.
The programme was to run for three months between April and June 2021, with distribution done every week across Nairobi's 17 sub-counties.
According to documents, the seven companies were given contracts worth between Sh3 million and Sh22 million to supply the items.
Procurement process
However, most MCAs have said their wards are yet to get any supplies, while those who were fortunate to receive the items said the package was not more than 50 bags.
"I not only have the contract but the invoice, the payment transaction, the CR12 of the companies and I have forwarded all to EACC. I am questioning the procurement process and I have evidence of procurement officers saying the processes were done without their consent," said Mr Imwatok.
Then there is the controversial Sh1.7 billion AAR Insurance Kenya medical contract for City Hall staff, which has also been thrust in the spotlight.
Some MCAs have called for investigations into the deal, alleging that it has been turned into a cash cow by certain county officers, instead of benefiting the employees.
Waithaka MCA Antony Kiragu last month called on EACC and DCI to investigate the deal, claiming some county officials have been making money from the AAR-City Hall deal, with payments being staggered by the county government to give the individuals a platform to do business with the funds.
"The reason the payments are being done in phases is that people want to do business with AAR money. The officers want kickback from AAR," charged Mr Kiragu.
Mr Kiragu's assertions came hot on the heels of an announcement by Nairobi County Assembly Majority Leader Abdi Guyo that he will bring a motion to form an ad-hoc committee to look into the AAR-City Hall medical scheme.
The Matopeni MCA said the committee's brief will be to investigate how AAR was awarded the tender, what services they are providing to staff and whether there is value for money.
But that is not all. Maj-Gen Badi and Ms Kananu were also summoned by Senate to respond to "cross-cutting issues" involving the NMS and City Hall over the expenditure of Covid-19 funds.
The summons came after a damning report by Auditor General Nancy Gathungu on the utilisation of Covid-19 funds by counties, which fingered NMS for a number of irregularities involving Sh294.38 million received from the national government in June 2020.
Some of the irregularities involved single-sourcing of a Sh64.9 million tender for design and maintenance of a makeshift isolation centre, irregular cash withdrawal of Sh32 million from a KCB account for facilitation of health workers and Sh120 million payment to frontline health workers without a budget.
The auditor could also not establish the whereabouts of some Sh182.07 million donated by the Danish International Development Agency and the county's own contribution to boosting the war against Covid-19.
Mr Imwatok claim that cartels are back at City Hall in full swing, taking advantage of the vulnerability of Ms Kananu "who is seemingly out of touch with the reality of being an acting governor".
"The county is opaque and nobody is in charge. It is everyone for him or herself," he said.
A nasty falling out between Jubilee and Orange MCAs had been brewing following the revelations, with Mr Imwatok under siege as some ward representatives from his own party began collecting signatures to oust him as Minority Whip.
He was accused of using the party's name in bad light at the county government to advance his selfish interests, allegations, which he denied.
"I will not be cowed from exposing corruption at the county government. Let the masters of corruption be prepared to face me to death. I am ready for the challenge as this is not the first time I am facing such threats," he said.
The power tussle was seen Jubilee MCAs instigate the removal of Public Accounts Committee chairperson Wilfred Odalo of ODM, with 15 MCAs — three from ODM and 12 from Jubilee — appending their signatures.
But in retaliation, the Raila Odinga-led party withdrew its membership of the watchdog committee, citing intimidation and coercion of members into signing the removal of Mr Odalo as the chairperson.
The three MCAs who supported the removal of Mr Odalo — Jared Okode, Clarence Munga and Lawrence Otieno — were also withdrawn from the committees they serve in.
However, Mr Guyo hit back, saying the committee was to continue operating as long as it has a quorum.
He added that a chairperson of any committee serves at the pleasure of members and once that confidence is lost, the chair cannot force themselves on the members.
"It is not Jubilee's business if they (ODM) decided to pull out. The chair has been accused of gross misconduct, which will taint the image of the assembly. The members have the right to choose their chair, who will still be from opposition," said the Matopeni MCA.
Kenya Insights has documented well the city hall cartels and their nodes of operations. Guyo is the supremo and is the self proclaimed governor and speaker of the county government.
One wonders why and how this is possible given that Kananu and Badi are in position of control. As a woman we're told she's scared of Guyo and follows her commands, you can remember she was also fingered with Guyo in a Covid19 supply scandal. As for Badi, the two are bound by religion ties which has made them get along well giving Guyo to go about his deals with Badi looking the other way conveniently.
Despite the county drowning in debts and getting dragged in courts, Kananu under siege of cartels has been approving misuse of funds. Kenya Insights is informed that MCAs are flying out of the country on a weekly basis for unwarranted international trips costing taxpayers hundreds of millions.
In a bizarre move, we're informed of a trip earlier this year where the budget committee traveled to Turkey to hold a board meeting there on how to plan the budget and pay pending bills. We're adequately informed that the weekly trips of committee members mostly to Dubai cost Sh1M for each member. This is the new way of stealing and scheme of Guyo and cartels to buy loyalties of the MCAs who're not willing to lose the privileges and will support any duty paper tabled in the assembly.
EACC should investigate this fraud scheme.
In the subsequent article, we will expound how an elaborate scheme to take over Nairobi by the cartels for the final eating after NMS term expires has been drawn. The plan that includes returning embattled Jacob Ngwele who by the way is billing city hall for his frivolous court cases and how his case in the court of appeal that is being handled by a former city hall staff now with judge Warsame is being mishandled and the judge swallowed in the scam. We expound on how the current acting clerk is related to the disgraced clerk Ngwele and generally the spirited effort behind bringing Ngwele back as championed by Guyo.
The silence from NMS is by design, we're informed that a senior NMS official has his mouth shut given that he bought a petrol station franchise that is on a rapid expansion across the country and linked to land grabbing. We shall tell you more when the papers are right.
Kananu we're informed is scared of getting impeached hence the soft hands on the cartels, unknown to her, she's being fattened, handed scandals as she watches naively, and just like in Sonko's she'll be thrown under the bus and live in courts very soon.
"Ann Kananu is sonko but in a woman form." Concluded a City Hall source speaking to Kenya Insights.
---
Kenya Insights allows guest blogging, if you want to be published on Kenya's most authoritative and accurate blog, have an expose, news TIPS, story angles, human interest stories, drop us an email on

[email protected]

or via Telegram
---