Major Corruption Accusations On Taita Taveta County Officials Spills Online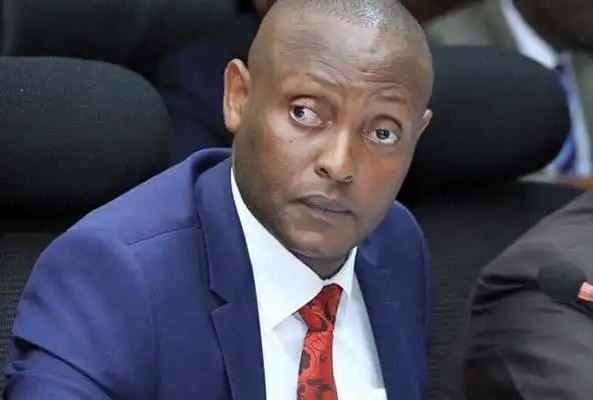 The County Government of Taita Taveta has come under fire following scrutiny laid by a group known as 'KWAELA NETWORK'. In the past few weeks, the group of anonymous whistleblowers has taken on social media pages to expose what they say is an elaborate and grand theft scheme by county officials and blaming the Governor Samboja for overseeing the heist.
A junior officer Edward Mwakisima working with the county has particularly been outed for putting up a huge mansion that costs millions despite being on allegedly Sh28K monthly salary. His rise in wealth has rose curiosity with KWAELA alleging he got his wealth through dirty deals with the county government.
"The young guy started working at the Taita Taveta County Government in 2020 and earns a Gross salary of Kshs 28k per month. He had no job before Governor Granton Samboja gave him a job. Neither did he own any Business even of selling njugu karanga 🥜…If the allegations that he is stealing from the County Government are not true, then where is he getting all the cash to build a house of this kind. Did he join Illuminati?" KWAELA said.
According to the whistleblower group, it's alleged that the County Drilling Rig, bought with Tax Payers cash, is his personal asset. Its MPESA till number is under his name. All the monies collected by drilling boreholes in the County, goes to his personal account.
A Dispensary Built by #TaitaTaveta County Government under Governor @GrantonSamboja, which has an annual Budget of over Ksh 5 Billions 🆚 Mwakimengo's house in Maungu, a County Government employee who earns Kshs 28K per month….

🎃🎃🎃🎃🎃🎃 pic.twitter.com/AOYIUkbCAh

— Kwaela News Network (@KwaelaDotCom) November 1, 2021
"Can Directorate of Criminal Investigations (DCI) , Ethics and Anti-Corruption Commission (EACC) and Kenya Judiciary come to TTC and save us by doing his lifestyle audit?" Concluded the group.
According to the information seen by Kenya Insights, the group is accusing Governor Samboja's political advisor, Bigvai Mwailemi of receiving kickbacks from all suppliers and contractors to the county.
"Imebainika kuwa kupata tenda yoyote kwa serikali ya Gavana Samboja lazima Supplier ama contractor atoe ka kitu cha ma cartels. Bigvai Mwailemi hutumia Accounts hizi mbili kupokea mgao wake wa kickbacks ili kujificha. Mara nyingine wanapokea kickbacks in Cash na hizo wanaziweka kwa nyumba kwa magunia kama nafaka." Said the group who went further to reveal the accounts allegedly used by Mwailemi to receive kickbacks.
They further claim they after blowing the scandal on social media, Bigvai reported to the DCI in Voi for 'cybercrime' in a bid to track and nab the shadow faces behind the exposes online. However, according to KWAELA, things turned opposite for the political advisor when police escorted him to his house for a search upon which Sh400K was reportedly found and Bigvai out behind bars given that he couldn't explain the source of the cash found in his house. Allegedly, the Governor made calls and secured his lieutenant's release.
Yet we have been seeing the Drilling Rig drilling privately own boreholes here and there.

To some extent proving the allegations that the #PayBill is owned by an individual, Nr Mwakimengo as was earlier alleged.

— Kwaela News Network (@KwaelaDotCom) November 1, 2021
"Baada ya kuanikwa hapa, Bigvai Mwailemi Ouma – Chief Political Propagandist wa Gavana Samboja, alienda kwa DCI Voi office, kulalamika. Kufika huko wakamgeuka ylna wakaamua waende nae nyumbani kwake. Kufika nyumbani, msako ukafanywa na akapatwa na shilingi elfu mia nne ambazo hakuweza kuelezea amezitoa wapi. Ikawa apelekwe ndani kisha afunguliwe mashtaka kortini. Mkuu wa Cartel, Governor Granton Samboja kupashwa habari, mbio mbio akaongezea hela zaidi ili mtu wake wa mkono wa wizi aachwe huru. Si wamesemea wako tayari kwa mdomo na hata na kwa pesa….Na kweli akaachiliwa…." Wrote the group.
The summer allegations are as follows;
The group also exposed a scandal in which the Governor is accused of plotting to steal over Sh500M from the county government to fund his campaigns.
"As I speak, Taita Taveta County is set to lose over Kshs 500m in its budget this financial year. All this money has been allocated to fund campaigns for my boss, Governor Granton Samboja. It will all be disguised in the face of non-existent development projects. They intend to have ghost projects that will cost approximately Kshs15 million in each ward. The total is about Kshs300 million for the whole county. There will also be other bogus schemes that will be spread across the county. The money will be shared amongst The Governor, some corrupt MCAs, and some of my colleagues." A supposed insider revealed to KWAELA.
"Do you remember when CECs were given compulsory leaves? This was the reason, to create room to craft the budget."
"In utter disregard to the PFM Act 2012, PFM Regulations 2015, and the COK 2010; the budget for the FY 2021/22 was deliberately prepared by three Musketeers, just THREE after the CECs were sent on compulsory leave."
"Do you remember the memo from the County Secretary? The Budget Appropriation Committee (BAC) of the County Assembly was ordered and directed to pass it in total!"
"These 3 mafiosos comprised of two members from The Executive. These are The Governor's Personal Assistant and his counterpart the Governor's Political Adviser. The third person is the CEC Finance, and he represents The County Assembly. He is indeed The Assembly's extension in The Executive! I refer to them as The Triple M or 3 Mafiosos aka musketeersin my secret musings."
"Their dirty deeds have disappointed most of us in the strategy team of mzee. We no longer have a say on what is good for our people in Taita Taveta County. We are not even implementing what we promised during the past campaigns."
"With the CECs safely away and their cars parked on the site of the Mafiosos, they went ahead to mutilate the budget and allocated:
1. Kshs 100 million for the campaign war, this is for Governor Samboja to buy votes next year. It will be masked as Ksh15 million bogus projects in each of the 20 wards.
2. Each cooperative elected MCA will get Kshs5 million to support the re-election bid.
3. Each cooperative nominated MCA will be allocated Kshs3 million to buy another nomination.
4. The Speaker, The CS, and The Clerk will get Kshs25 million each for providing support to the looting process and to play dumb as more pending bills are created.
5. The three musketeers, were overheard swearing that they will ensure the current regime leaves a whooping pending bill of not less than Kshs1.5 billion. By the way, each of them is eyeing Kshs5 million to line their pockets."
"The PFM Act clearly states that County Chief Officers (CCO) who are the Accounting Officers, should prepare the budget. But they were completely ignored as the 3 mafiosos went ahead to prepare the last budget."
Governor Samboja who has been accused of using the police to muzzle the youths who raise a finger on the dirty dealings in the county, is not new to accusations as he's a familiar face with the EACC.
Governor Samboja has been under investigations by EACC for years now over questionable academic qualifications. It's claimed in court that the governor uttered false documents from Kenyatta University, including a degree certificate.
A degree certificate is one of the mandatory documents one is required to have before being cleared by IEBC to run for governor in Kenya.
As part of its investigations, EACC wrote to Kenyatta University requesting information on three certificates, including a diploma and degree that the governor claims he holds lawfully.
In its response, the university, through its legal officer Aaron Tanui, declared that the certificates were fake.
Tanui said despite the alleged forgery Samboja still tried to gain admission for masters of business administration studies in the same institution but was turned away.
In 2019, Governor Samboja was impeached by the county assembly over alleged gross misconduct.
Issues said to have led to Samboja's impeachment include failure to submit to the county assembly an annual report on the implementation status of the county policies and plans, misappropriation of funds as well as misleading the people of Taita Taveta in dissolving the county.
The ward representatives also accused Samboja of failing to remit statutory deductions of the relevant institutions including Kenya Revenue Authority (KRA), National Hospital Insurance Fund (NHIF), National Social Security Fund (NSSF) among others.
County governments have turned many into overnight millionaires, EACC has in the past launched a lifestyle audit on county officials in Taita Taveta in a bid to wud out criminal elements. It doesn't take a brainer how for instance someone earning a meager Sh28K salary would manage to build a Sh19M mansion and be able to explain mysterious wraith that only rise after their employment with the county government.
The President recently announced that all public  servants would be subjected to mandatory lifestyle audit, EACC should take allegations as such made on Taita Taveta and go for the heads of the corrupt. Will they strike?
---
Kenya Insights allows guest blogging, if you want to be published on Kenya's most authoritative and accurate blog, have an expose, news TIPS, story angles, human interest stories, drop us an email on

[email protected]

or via Telegram
---