The Rise And Fall Of Strongman Vimal Shah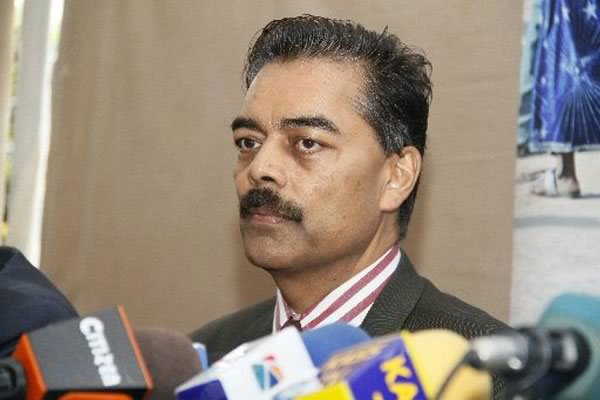 Forbes Magazine, estimated the net-worth of Vimal Shah's father, Bhimji Depar Shah, then aged 82, together with Vimal Shah, then aged 55, and Vimal's younger brother Tarun Shah, at US$700 million, making them the 33rd wealthiest individual or group in Africa in 2014. Vimal was then at the top of his game being one of the richest Kenyans with a positive image of the company. With time trouble came knocking.
Before the advent of social media, many people with questionable characters used to do PR all over media making Kenyans believe that they were angels.
But the advent of social media has debunked all this, holding corporates responsible for their ills since the Kenyan media can't expose some of these ills because some of these corporates are their clients.
For instance the Safaricom Cheza games Saga that the Kenya Insights Team wrote about a few months ago trended on social media with Safaricom CEO Bob Collymore refunding Billions. What shocked many kenyans was the silence from the media poseurs who decided to give the Multibillion Saga a deaf ear yet the role of media is to educate Kenyans and report on all these matters of public interest.
Social Media is a force the reckon with and what we are witnessing is " Digital Disrupt " that is killing the old media like a cancerous infection.
The truth is that as media hides or struggles to protect their favorites, social media and vocal blogs are taking charge, controlling the narrative and replacing the old media. It has now become a norm for the media to break stories blogger broke many years ago.
A Classic Study case of the Social Media Impact can be traced to Bidco Africa, the edible oils industry whose embattled CEO Vimal Shah has been forced to resign due to many scandals and negative social media publicity that has hurt the Companie's bottom line.
Bidco Oil Refineries chief executive officer Vimal Shah is a man under siege and has always been accused of economic sabotage as well as human rights abuse. To show how bad things were in his tenure as CEO, he once had to pull out of a prestigious London Investment Conference after one of the delegates whispered to him that protestors were planning to demonstrate against him over his poor human rights record.
Sources say he took the first flight back to Nairobi to avoid being embarrassed. The demos went on as planned despite his absence with demonstrators carrying placards as they shouted "down with Vimal Shah" and "Stop Bidco" as conference participants arrived at Claridge's, the 5-star London hotel where the conference took place.
This prompted the conference's organizers to drop his name from the list of the main speakers. One of his senior staff who had accompanied him was at pains to explain his absence at the conference.
Vimal is a well-known shrewd businessman who has been involved in a number of scams. Another demo was also held in Nairobi along City Hall Way. Motorists were blocked as demonstrators bayed for the tycoon's blood. One placard read, Vimal, a Wife Snatcher.
Vimal is accused of being a slave driver. His firms underpay poor farmers, exploit those he has employed and suppliers and allegedly evades taxes running into billions of shillings.
KRA has been demanding Sh702 million tax. The taxes have accumulated to Sh1.3 billion with at one time KRA threatening to attach bank accounts and properties. This was also subject to social media campaigns, and the office of the Kenyan Ombudsman once wrote a Letter to KRA Demanding an explanation from Njirahini on why Bidco had not paid arrears.
Poor working conditions are also the order of the day at Bidco. The workplace is full of danger. Bidco staff have been suffering for years over poor working conditions and sick pay as well as the firm's poor safety record. Staff says employees are fired at will and without following laid down procedures, and those who demand better pay or good working conditions are intimidated and threatened with summary dismissal. A worker once died in a Bidco store and court ordered Vimal to pay the Vimal one million Shillings leading to many questions from Kenyans who wondered how human life could be that cheap.
Bidco workers describe Vimal as a heartless person. Money to National Hospital Insurance Fund and National Social Security Fund is not remitted as prescribed; it is claimed. To complicate matters, workers are paid on a contract basis.
The hygiene standards of Bidco products are being questioned as to whether they meet the standards required. Workers who have had accidents at their workplace are not compensated.
A woman working at the boilers is said to have received severe burns, but the family's efforts to get compensated has hit a snag. At one time, Shah is said to have chased her parents from his office calling them stupid poor Africans.
He is accused of using abuses on Africans. Due to his low opinion to Africans, Bidco has budgeted and allocated less to social responsibilities. As a result, there is now a move to boycott the company's products. Staff members do not enjoy education scholarships for their children.
The clinic at the factory is poorly manned and is only for first aid. Christians are not allowed to pray and fellowship during lunch times as it happens in other places as this is banned. If found violating the rule, one is summarily dismissed.
Sexual harassment by Indian managers is the order of the day. To compound and complicate matters, even those fully employed are not covered by insurance. To Vimal, he is close to the powers that be, and nobody can dare stop his operations and oppressions.
United Nations were probing all these Scandals as Bidco risks being kicked out of the United Nations Global Compact. Parliament is also probing Bidco over human rights abuses, Grabbing of land in Uganda and tax evasion now estimated to be 7 Billion Shillings.
In a bid to save the family empire from falling, a decision was made by the family to have the businessman step aside as his tainted reputation blew huge curses to the BIDCO dynasty. Thiagarajan Ramamurthy takes over from Vimal Shah as Bidco Africa CEO.
---
Kenya Insights allows guest blogging, if you want to be published on Kenya's most authoritative and accurate blog, have an expose, news TIPS, story angles, human interest stories, drop us an email on

[email protected]

or via Telegram
---