Serial Rapist Ng'ang'a Muriuki Goes Into Hiding After Raping And Sodomizing a Minor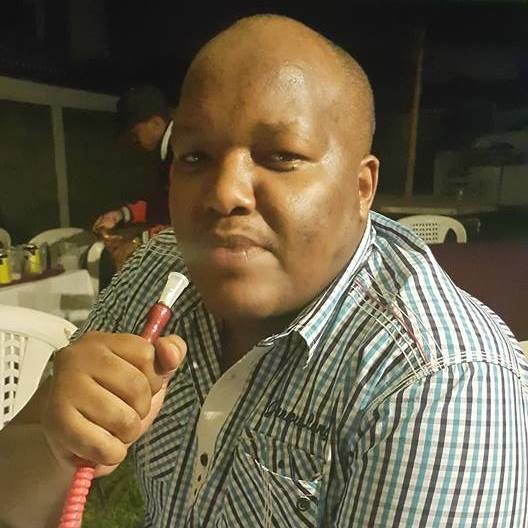 It was a normal day for Alice* going about her duties in the house unknown to her, the boss had evil plans in place. Alice, a 17 year old girl was working for Ng'ang'a family as a maid. On 27th September, the hugely built man pounced on the tiny girl in a horrible, painful rape ordeal that went for close to one hour in his home.
Kenya Insights has gathered, the monster is not new to raping and previously, he raped and impregnated his sister in law, the matter unfortunately was solved within the family and he escaped justice. The raped lady just gave birth the other day.
The neighbors told KI when we visited his home in Ruiru that the man is a notorious abuser who often beat his wife, a mother of three to pulp. The wife has been suffering silently and nursing injuries from consistent brutality from the beast of a husband but like the rest of many domestic violence cases , she has often opted to stick with the man who exhibits killer motives.
A day to Ng'ang'a raping the minor maid, he had as usual beat his wife brutally injuring her and on this day, she fled away leaving him behind the kids and Alice. He came home ealier on the day that she was to rape the young lady.
Alice told Kenya Insights that he came home unusually earlier perhaps maybe because the wife wasn't around, unknown to her the reason for coming earlier were different.
The kids were in the house under care of the maid. As Alice was making her way to the kitchen, he cornered and pounced on her in the corridors. Covered her mouth, held a knife to her face threatening to kill her should she shout, helpless and terrified, Ng'ang'a repeatedly raped the girl and as if that was not much evil, sodomized her. All these were happening with the kids in the house.
After struggling with the shame of a man, Alice finaly managed to find a space and ran out to the neighbours who took her to the hospital and Muthuga Police Station to report the rape case. Ng'ang'a immediately went into hiding knowing what he has done.
When we visited the police station, they said the matter was being investigated and he remains at large. But we're unconvinced the police are doing enough to find his whereabouts and being a repeat offender, being out there walking free is a threat to lives of his potential victims.
"He has destroyed my life completely, I was a virgin and preserved myself all through just for him to come around and ruin me completely. I only planned to start having sex once I'm married. I never knew things would end up horribly to me like this. I curse my life, my life is ruined. " Teary Alice narrating her story to us. Honestly, it was a disturbing scenario and emotional listening to her narrate all this.
Because of privacy issues, we can't post her face and we've used a different name from the real to conceal her identity. Alice after finishing her fourth form in Meru, came to Nairobi to stay with her sister in April this year and found a job as a maid to the family of Ng'ang'a. She has worked for four months and during all this time, she tells us the man has never talked to her though he spends most of his time in the house. He's always in bad moods.
Alice fortunately is under full medical attention but the barbaric act still haunts her with sleepless nights. From health records, she's had to be put on reconstructive surgery since beast raptured her rectum in the sodomy act. Ng'ang'a has more than a crime to answer, the wife and him must be held liable for employing a minor according to the law only persons over 18 years should be. The case of Alice is of many maids out there who are faced with such a like men. You can be sure of many cases of maids being raped that go unreported and many lives continue to destroyed we therefore as privileged medium, use the opportunity to highlight and expose the beasts in the society. Ng'ang'a has since abandoned his home in Ruiru, the wife is nowhere to be found either. He runs a logistic company Aeromarine.
We also notified Healthcare Assistance Kenya (HAK) to offer the much needed psychosocial support and provide linkages to help and assist Alice access treatment and how to prevent infections such as HIV and other sexually transmitted diseases.
HAK also called the Police Headquarters to report the matter and find out why Mugutha Police Station had not swiftly acted on the rape case reported.
HAK is the first and the only organization in Kenya which runs a GBV Rapid Response Call Centre where women Kenyans can call 1195 Toll FREE to report Gender Based Violence , Rape.
HAK's hotline 1195 is for survivors of Sexual and Gender Base Violence and purely for real time rescue missions and referral to other ideal GBV service providers.
Kenya Insights further gathers that Ng'ang'as filthy trends backdates to his Kanunga high school days in Kiambu where he was expelled from school because of attempt to rape a form one boy. Back in the year 1998. He was notorious in homosexuality in school. Then he used to live in Thika. And at some point he was a matatu conduct route 237 Thika.
We're tasking the police to move with highest speed to arrest this man and bring justice to the young girl whose life as she says it has been totally destroyed.
If you know of Ng'ang'a's whereabouts call and report to the nearest police station and you can also write to us [email protected] also if you have related stories that need highlighting don't hesitate writing to us.
---
Kenya Insights allows guest blogging, if you want to be published on Kenya's most authoritative and accurate blog, have an expose, news TIPS, story angles, human interest stories, drop us an email on

[email protected]

or via Telegram
---