The State's Muscles Flexing On NMG Journalist Walter Menya Sends A Chilling Message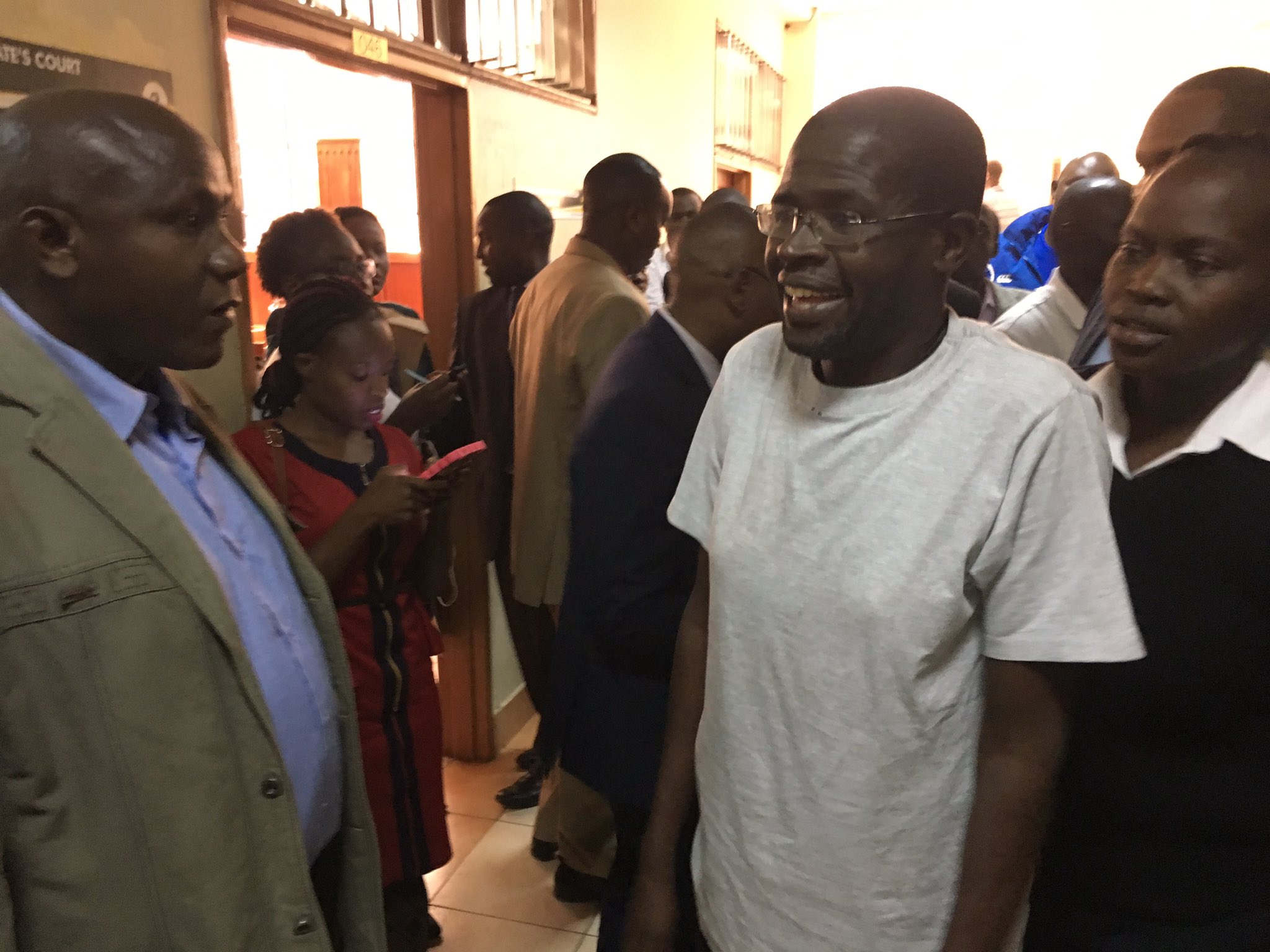 Walter Menya was having a regular medical checkup at Metropolitan Hospital, BuruBuru when a man identified to him as Korros posing as a source of a juicy story called him for a meeting to pass over details of his dossier. Since he couldn't make it to town where the fake source had suggested, they agreed to meet at the hospital. Unknown to Menya, this was a well laid out trap to get him. After a short chat with Korros, Menya was accosted by cops who demanded him to take them to his house upon refusal he was forced into a police car. According to his colleagues, it was inside the car where he was handed a newspaper inside there was 20K which later turned out to be treated money to close him up. The incident was taken in camera by the cops.
Menya would later be taken to CID HQ in Kiambu, and this is where the actual players and motive behind his arrest started to show their faces. The discredited and State's online propaganda mercenaries broke the news of Menya's arrest full with photos of the handcuffed journalists taken from restricted photography premises of CID this would only mean they were given via state agents. Initially, the online mercenaries privileged to be called 36bloggers under instructions as it has been said Menya was arrested for soliciting a bribe to kill a damaging story on the unnamed person, and that was the start of blunders.
The purveyors failed to name the accuser whom Menya had solicited bribe from and the particular details of the story that they termed as fake story a now famous phrase by bully U.S. President Trump that he uses to discredit any publication he seems negative on him Terming the unmentioned story by Menya as Fake would only mean he was exposing damaging details on influential person. Before going into details, if Menya was demanding a bribe to publish a story and not to kill a story then the best route is going to the employer and not police?
It has come to light that Menya had received a call from a PS on clarification to a story he had written earlier how top civil servants were amongst the high profile guests in the Uhuru's fundraiser that raised 1B in hours. The senior officers were named as part of Friends of Jubilee Foundation rooting for his re-election. From his sources, Menya called KRA Commissioner-General John Njiraini and Energy PS Njoroge having attended Uhuru re-election fundraiser raising tens of millions to the kitty.
As an after thought, Nation writer Walter Menya accuser was named as Kiprotich Koros; the nan who posed as a source and police asked the court to detain Menya for three more days as they probe bribery claims. Comedic peak was the police said the accuser was too poor to pay rest of the demanded bribe I 50K having paid 20K which was spiked and handed in the car. According to the arrested journalist, while being taken in rounds, he overheard one of the officers saying "huyu mtu tumpeleke Karura tumalize" (this one we should take to Karura Forest and finish him) a threat that goes to confirm extrajudicial killings exist and Karura being their execution point. He was arrested by the dreaded flying squad suspected of being Kenya's police hit squad.
The accuser Korros is a nobody in the picture but a mere implantation, who's this powerful person he had irked with his writing. If indeed Menya had solicited for bribes and had received a prior pay of 20K via mpesa then that makes the accuser an accomplice to the crime of bribery, why is he not being accused?
Menya being denied bail on a bailable offense in the name of more time to collect evidence which is the new detention without trial was just but away to intimidate him further. It is inhuman that the journalists had to go without his routine medication since he was denied citing orders from above.
The lead investigator told the court that the complainant, who claims to have given cash to Menya, thought the money was going to NMG. Later he was informed by someone that NMG only changed to publish adverts and now news stories.
It didn't come as a surprise when the newest recruit to the 36 assassins a Mr. Robert Alai posted what's alleged to be a recorded conversation of Menya bargaining for the bribe. Since we value your time and intelligence, we've decided not to repost that kindergarten fabrication here. Menya was arrested and what followed immediately was character assassination and demonization. A public lynching and prosecution in the public court scheme initiated by 36 mercenaries before the truth could come out. The amount of state machinery applied in Menya's shows there's more than meets the eye.
Rather than attempting to kill a man's credibility that he has built for ages, the unspoken reality is someone sending a warning to journalists against writing contrary to government's hymns. Jubilee has had zero regards to press freedom, and this is yet again another hammer to the same. The script continues to unfold with laughable loopholes and factors arising but journalists and Kenyans must look beyond Menya, he's being sacrificed to pass a message. Media is a crucial tool in a democracy, and infringing press rights amounts to undermining democracy and also interfering with the electoral process of public enlightenment. Civil servants must not engage in partisan politics as they've been, it is unconstitutional.
---
Kenya Insights allows guest blogging, if you want to be published on Kenya's most authoritative and accurate blog, have an expose, news TIPS, story angles, human interest stories, drop us an email on

[email protected]

or via Telegram
---