Richard Ngatia Stands A Good Chance In Becoming Nairobi Governor But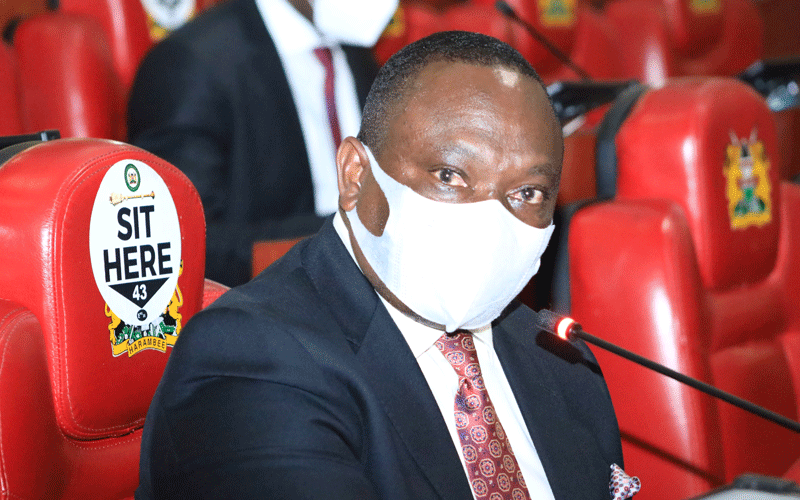 "Nairobi mpo…Nairobi mpo… Leo si siku yangu lakini tutakuwa na mazungumzo hapo baadaye ( Nairobi residents, today is not my day but we shall be having conversations later )," The president for Kenya National Chamber of Commerce and Industry Richard Ngatia told the mammoth of crowd during the Azimio la Umoja event at Kasarani on 10th December.
While the event was for Raila announcing his presidential bid, calculative Ngatia also seized the moment to hint at the possibility of him going for the Nairobi's top sit.
This didn't come as a shock to many who've been following the politics of the day, those who've been reading the body language of the Mt Kenya leaders. Behind the scenes, there has been intense lobbying for whom to takeover Nairobi after imminent exit of Kananu.
Nairobi controls the junk of Kenya's resources hence the battle for its control is often intense and closely watched as the presidential.
Those close to the power matrix say that the mountain is more than interested in taking control of the city now now so that they've agreed to support Raila Odinga for the presidency. Mount Kenya Foundation which comprises of billionaire businessmen, endorsed Raila's bid.
In return, they want Nairobi.
While front runners in the race have folded their arms waiting for the smoke signal, Ngatia has given the first and clear hint ahead of Dennis Waweru, Peter Kenneth and Kabogo that he's interested in the seat giving him the limelight.
ODM Secretary General Edwin Sifuna yesterday announced his bid for the city's senatorial seat. This complicates the chances of Westlands MP Tim Wanyonyi. Both not only come from ODM but same community too, Luhya. If Sifuna and Wanyonyi are to go all the way with his bids then we'd have two Luhyas running the city. Going by the voting dynamics, this will be impossible meaning one will have to give way.
ODM leader Raila Odinga believes his bid to succeed President Uhuru Kenyatta got a major boost after he was endorsed by a team of Mount Kenya billionaires to protect their businesses.
The promise to back Odinga comes a midst a grand search for President Uhuru Kenyatta's successor or kingpin of the vote rich region that has never lacked a proper presidential candidate in the previous polls.
The GEMA group made it clear that it had been tasked by the President to present a name of a possible candidate who would take care of their business interests when he retires in August next year.
To make the rare move of backing Odinga, the oligarchs pushed the ODM leader to accept their tough demands which include having their kinsmen occupy the office of the deputy president, top cabinet positions and Nairobi governorship.
Odinga who has failed to clinch presidency in his four attempts has already surrendered Nairobi top seat to the Kikuyu nation as part of ODM power games with Jubilee.
Kikuyu candidates failed in 2013 and 2017 pushing the president to form the Nairobi Metropolitan Services to run the country's capital which was first run by ODM's Evans Kidero and Mike Sonko who comes from the Kamba community.
Raila, sources say, is convinced that a Kikuyu-Luo joint ticket for the city seat will secure victory, given that there are about 900,000 Kikuyu registered voters and about 400,000 Luo voters in the capital. Hence, a joint ticket will have a headstart of about 1.3 million votes.
Weak aspirants from Mt. Kenya region eyeing the Nairobi governor's seat in next year's general elections have opted to take a low profile as they push Odinga to hand them the slot through tribal arithmetic and political realignments at the national level.
Odinga now reason that most of the city business are in the hands of Kikuyus and so they should control City Hall, the den of corruption and massive looting.
Why Ngatia
It is being said that Raila strategists are aware of Ngatia's campaign strategy that saw him land KNCCI presidency and his city network is enormous and tight.
Ngatia is also feared due to his deep pockets and untainted past.
Ngatia was elected KNCCI president unopposed after all his competitors withdrew from the race and backed his bid. He assumed office on June 8, this year.
Ngatia is a close ally of Uhuru and since his election as KNCCI boss; he has been drumming up support for the March 9 2018 handshake between the president and the former prime minister. He is also close to Ruto, which somehow complicates matters for him.
In the KNCCI polls, Ngatia mounted a spirited campaign including eventful launch of his manifesto in which he promised to set up a Special Chamber Fund to help small and medium enterprises remain afloat and many Nairobians will welcome his bid to run for the seat given his astute managerial acumen.
Richard Ngatia, a valued political and business ally of the Kenyattas has also been actively campaigning on behalf of Uhuru Kenyatta, but he is also much more discreetly partnering his sister Nyokabi Kenyatta on a number of government contracts.
Scandals
While cards on the table look right for the KNCCI Chairman, he can't run away from his past which has been murky.
Known in his cycles as a powerful businessman, Ngatia has been written as one of the close friends to President Uhuru , a position that he has effectively used to win major tenders in healthcare. It is said no big tender in the healthcare sector would go without his cut.
While he's not refuting claims that his company disappeared with COVID-19 supplies donated to Kenya by Chinese billionaire Jack Ma, he's defending his firm Megascope which was one of the biggest beneficiaries of the Covid Millionaires fiasco that arose from the Kemsa scandal.
Ngatia was also mentioned in the KEMSA scam where his firm Megascope yanked the biggest share. The Kemsa scandal triggered national outrage that has seen EACC summon top dogs close to power as it seeks to uncover the rot.
Megascope was, for instance, awarded a Sh765 million contract by Kemsa for the supply of personal protective equipment.
It also got a tender for the supply of SV300 ventilators at Sh165 million and a Sh35 million deal to supply KN95 mask at Sh700 each. Made over a billion.
Ngatia was also mentioned in the failed Sh63B medical supply scam that has left taxpayers with more burden.
A damming report by the Senate says Megascope Healthcare Ltd — a firm associated with Richard Ngatia — was part of the rip-off and recommended it be investigated by the Ethics and Anti- Corruption Commission.
According to the report, the contract for the supply of theatre equipment under Lot 1 of the project was awarded to Shenzen Mindray Biomedical Electronic Co., a company registered in China at Sh5.4 billion.
However, Shenzen Mindray subcontracted Megascope in controversial circumstances that the Senate committee note was a tactic "used to circumvent the procurement process".
"The committee finds that the contract and the subcontractor's deed of warranty were used to circumvent the procurement process by awarding the subject matter of the contract to Megascope, a party that would otherwise not have qualified to be awarded the contract as per the term of the tender that required bidders to be original equipment manufacturers," the report notes.
It says the deal officially made Megascope the legal owner of the equipment, putting the government at risk as the new contract made it clear that a claim could only be made against the subcontractor.
"Due to the foregoing the subcontractor, Megascope, through the transfer of ownership of the equipment, ended up becoming the principal in a contract that it would otherwise not have been qualified to win," the report states.
It goes on, "the Ministry of Health was negligent when it signed an amendment and restatement deed that limited its rights under the contract."
Senate ad hoc committee said the project was conceived like a criminal enterprise shrouded in opaque procurement processes and aimed at selfish commercial interests.
The committee established that the change of ownership of equipment from the contractor, Shenzhen Mindray, to the subcontractor, Megascope, indicates that the actual person who supplied the equipment was not the original equipment manufacturer.
Critics have described him as an 'economic hitman.' "Ngatia an economic saboteur is not a great manager, though he has succeeded in covering up the two deficiencies of being short and poor management through the use of cash."
Nowhere has Ngatia been so successful in the deliberate destruction of public amenity than in the medical field. His antics and those of his ilk have stifled development in Kenya's medical sector.
Through his firm, Megascope Limited, Ngatia has been involved in almost all scandals during the reign of President Uhuru Kenyatta.
For example, the Managed Equipment Services deal sees county Govts collectively lose over Sh9 billion per year to cartels sitting in Nairobi.
Through his links and big pockets, Ngatia has made sure that tenders awarded to his firm are overpriced.
In the deal to construct hospitals by Nairobi Metropolitan Services, worth billions, Megascope positioned itself well and won the construction tender to build both Level 2 and 3 hospitals.
Some of the hospitals have been completed, this includes that in Uthiru, Kiamaiko, Ushirika and Soweto-Kayole.
Ngatia's style of management has been criticized as well with those close to him describing him as a sexist and dictatorial.
Ngatia has been in and out of court following suits against him by aggrieved KNCCI officials who've accused of abuse of office, his micromanaging leadership, corruption, impunity, nepotism as he beams a picture of perfect leadership to the business world unaware of the internal wrangles that have been hitting the KNCCI chambers across the country.
Ngatia is described as one who adores being surrounded by 'yes' men and wouldn't hesitate to cut off those not aligning to his eyes.
Law doesn't really matter when he doesn't like you as witnessed in the reorganization of the Nairobi chamber of KNCCI where he kicked out 'moles'.
One person who got kicked out was Businessman Jimnah Mbaru who was the chairman of the Nairobi chamber and he wasn't in the good books with Ngatia reason being he was too tough and refused to play ball to his ploys, Jimnah is well monied was not interested in engaging in corrupt deals. Ngatia then orchestrated frustrations that would make Jimnah bolt out of the position as he didn't want to be dragged into unnecessary wars that would inturn taint his image. As a key investor in different markets, he had his image too to protect.
With Mbaru now out of the way, plans were now in line and Ngatia quickly and without considerations of the law, imposed his stooge and the Vice Chairman Mr Geoffrey Kimani as the Acting Chairman of the Nairobi Chapter. This was done with the aim that, he would be puppeted by The Godfather in the larger embezzlement of funds scheme. Mr. Kimani who by the time of being appointed by the Chamber President to Chair, KNCCI Nairobi County, was not a fully paid up KNCCI Member for 2 Good years, 2019 and 2020, this disqualified from holding the position but it was overlooked as The Godfather wasn't going to give law s chance to stand in his way.
That office has a story to tell and they've been running it in that manner.
Conclusion
It's undisputed that Ngatia enjoys close ties with the president and his family, during the Azimio event when he was given the coveted prize of speaking, it meant an endorsement from Raila as well.
They say in Nairobi the governor need to be sober and equipped with excellent managerial skills. The first encounter was with Evans Kidero who was a business executive from Mumias Sugar, he came and ran down the city. Corruption became part of the system, he's now spending most of his times in the courts. A thuggish Sonko came in and there wasn't anything different, he's now battling corruption cases as well.
Could Ngatia be the man to write history different? If we're to judge him with his history is their hopes?
What are the chances of Agnes Kagure? We review her next.
---
Kenya Insights allows guest blogging, if you want to be published on Kenya's most authoritative and accurate blog, have an expose, news TIPS, story angles, human interest stories, drop us an email on

[email protected]

or via Telegram
---