Police Impersonation And Their Public Relations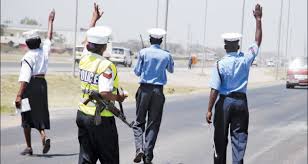 Keeping law and order has been proved to be every country's biggest agenda. No one is safe until they feel safe. As much as safety starts with you, there are State personnel specially and specifically deployed to make sure there is law and order.
Keeping law and order in Kenya is the mandate of the Police. Who operate under Kenya police Service. In well and clearly divided divisions, the Kenya Police Service make sure there is law and order as well as justice.
These are the people who make sure that our rights are protected. They make sure there's a calm environment that promotes political stability hence economic development. These are same people who literally have the nation's security details at their hands.
Also read: DCI: We Do Not Require Huduma Namba During The Application Process
Now, when we start hearing and reporting the cases of police imposters scattered everywhere in our country makes our entire security setup a joke.  This causes lots of unnecessary instability. This discloses a lot of loopholes in our security set up. These imposters make people start thinking about how to protect themselves.
Our security system was supposed to guard us internally and externally. This goes with a very thin margin of era. As I write this, I have been a victim couple of times to these police imposters. First was administration Police with a fake combat. Then Traffic police with unmarked reflector jackets and funny radio calls.
But many people get into bad hands of plain clothes officers.  A lot of people are extorted by civilians pretending to be corps. This even gets worse when such imposters get hold of the real police radio calls and handcuffs. One wonders if they collude with The Police in service to commit these crimes or they have their way in, to our security system.
Again, I was recently arrested by Police imposters who refused to talk to someone I had saved with a name similar to the Police spokesman. They even refused to take me to a nearby Police station. I had no cash on me and was not willing to provide any. That angered them and made them chain me for more than 5 hours in their Toyota wish car that had dusted plates. I was, fortunately, let loose after getting money from a friend who brought it in cash. They also 'caught' other citizens who paid off their freedom.
How will we notice that these aren't the Police? Our security set up works differently according to; who you are.  Where do you come from? Where do you stay? Rule and divide.  Divide and rule. Then protect. There is a section of people who can't be arrested without a warrant. There are people who can't be arrested without seeing and verifying the police identifications.
Then there are the majorities who have no clue of what to check, demand or even do. They just get arrested and start negotiating for their release price. Well, everyone should agree with me that that is just the way these Police Officers operate. The public knows that the police will always charge you with an offense. Be it framed or not, no judicial officer cares as far as the police say so.
The police have neglected the fact that they are supposed to introduce themselves. With all the identification of them being hidden, arise the cases of police impersonation. Hidden identities are the cause of all these menaces.
It's also the duty of the government to make sure that police identifications and budges are hard to fake and easily recognized by the civilians.  We all have duty to protect ourselves and others, which includes those who protect us and the nation at large.
Kenya is a failing State and Police are still using colonial tactics to make our streets safer again. We have Police in our countries capital City that care less about law and order yet they are the ones that are mandated to do the very same thing. 'Kukula na kirauni" that's what folks know. At night in Nairobi, you get arrested for nothing and you have to pay something to be freed. The system is skewed against men and media has been used to shield this and portraying men as 'city gangstas'.
If security starts with me, then I have to be well equipped with knowledge concerning the security and part of the basic security details every single citizen should know.
---
Kenya Insights allows guest blogging, if you want to be published on Kenya's most authoritative and accurate blog, have an expose, news TIPS, story angles, human interest stories, drop us an email on

[email protected]

or via Telegram
---