Ladies And Gentlemen, We're All Missing The Whole Point On Esther Passaris And James Mwangi Sex Scandal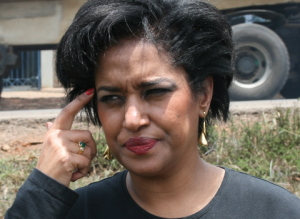 When the story first broke out, I initially dismissed it as one of those usual Twitter rants but after noticing she wasn't stopping, and the plot was thickening, I stopped for a minute to give the story a different and concentrated view. It's not on a typical day that a woman will come out publicly to tell a sexual harassment story because of the traditional and sustained script from the public "You ate his money now you're coming to tell us to do what? Or you're only blackmailing him because he refused to give in to your demands."
Faithful to the words, the same script has been unleashed on Esther Passaris the Adopt-A-Light CEO since she came out that the Equity Bank CEO James Mwangi on several occasions reigned sexual harassment on her. On the onset of Esther speaking out, Mwangi gained dozens of apologist and without second thoughts she was called a liar and all mannerisms of names. This was a shallow reaction, without looking deeper into the terms.
I then did my research to find out what exactly happened between Adopt-A-Light and Equity Bank Ltd, but that wouldn't be the basis of this article. Kenya Insights is embedded on sticking to facts and not sideshows, in our subsequent articles we will go into depth and details of the contracts and the intrigues. Wait for it.
Back to the story at hand, sexual harassment isn's something that happens in a day and especially in the case of Esther and Mwangi. These people struck a contractual business so they were partners and around each other most of the times. If indeed he did it once, he'd do it over and over even if she said no with hopes one day she'll give in. But from the looks, Esther made the chase last longer than anticipated and it wasn't going to be business as usual.
Many people are saying Esther should give evidence that the harassment happened and why she didn't come out then and had to wait all that long to come out, in unanimous view, most Mwangi's apologists are taking her move as a blackmailing move. The same would be asked of Equity Bank as to why they waited all that long to publicise the blackmailing by Esther as they're doing it now.
From my reads on Esther's updates and latest media interviews, she's not dwelling much into the contract, but the core issue of sexual harassment and this is where I feel many people have been thrown off the cliff.
In communication strategies, to put off a fire, light another fire and that's exactly what Equity quarter is evidently playing by not answering the matter of sexual harassment directly instead bringing in the intrigues of the contract and at worse bringing Esther's past and dragging her family and affairs into this saga. Which I simply ask, what's about sexual harassment, did it happen or not Mwangi? Prove this and save the contracts intrigues to courts.
Mwangi you have a matter to address an elephant issue for that matter that your daughters, wife, clan and entire Kenya won't forget because you are trying to rubbish it off by dispensing sideshows. It might help you to cool down the heat for the moment, but the ghost will come haunting.
Women die in silence for the fear of public backlash and groundless slut shaming that Esther is currently facing, luckily for her she has grown a crocodile skin from her experience being a public figure so she says but what about that naive, young girl from the village harassed by her boss where sh's working as house help for sexual favours.
How about that someone's wife, daughter and sister stuck in a job group and given the ultimatum to open her legs or promotion chances closed. To me, Esther coming out is an important measure to unleash and uncover a big mess in the society. A trend of shoving ladies to a desperate and suicidal end of your success in life determined by how wide your legs open and not how wide your brains goes because the sex pests sit at the helm of control and unleash the sex terror on their female prey.
To me, this sex scandal is about undermining the women's growth in the growing and competitive business world. Entrepreneurship is the new way to better livelihoods, if we minimise women's upscaling by putting sex hurdles in that you either sleep with me or you're not getting this contract or loan its pure non-sense.
If you have sisters, wife, daughters, you wouldn't have sympathy for a potential rapist. It's commendable for Esther to come out, it's a bold, hard step that should tell off the powerful sex pests that they can't continue using their positions to manipulate and strangle, women, retarding their growth.
The society is largely to blame, Esther who was the victim has been now turned to be the suspect and put on trial, the mind game and choreographed propaganda calling her a blackmailer has worked, This is just but an example why most women opt to die in silence and I the way the pests continue jumping from one victim to the next.
Just because Mwangi sponsored a million students and is wealthy, successfully doesn't mean he can't do what Esther is alleging and for God'ds sake that can't is an excuse for sexually harassing her.
In signing off, the main and core issue here isn't about the contract or what Esther is and was or done in the past but the sexual harassment allegations. Mwangi should respond and prove that he didn't do it. Everything else besides this is Nollywood, Bollywood and Riverwood. Orchestration. Performance. Debris. Adjunct.
---
Kenya Insights allows guest blogging, if you want to be published on Kenya's most authoritative and accurate blog, have an expose, news TIPS, story angles, human interest stories, drop us an email on

[email protected]

or via Telegram
---