Despite Delinking From Harun Aydin, Equity Bank Loaned A Renowned Ugandan Charlatan In Vaccine Deal.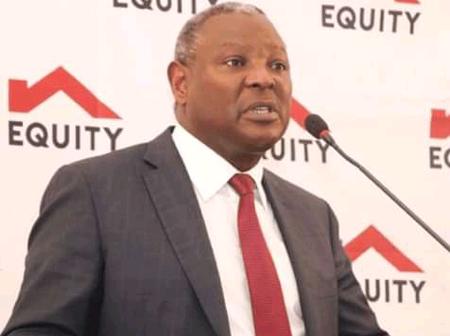 Ugandan tycoon Matthias Magoola of Dei Pharmaceuticals Company is the businessman who Deputy President William Ruto negotiated a Sh15 billion loan from Equity Bank using the single phone call to the bank's managers in Nairobi, as lightly approved by the CEO during interrogations by the parliamentary committee.
What passed many in the whole saga as the bank fought relentlessly to distance themselves from Turkish citizen, a suspected terrorist and declared money launderer Harun Aydin, is yet another well documented money launderer and fraud Ugandan businessman, Matthias Magoola, who had seen the chance given Ruto's links and good relations with Uganda's dictator Museveni to strike a money laundering deal using the COVID-19 vaccination plant, a project that was hurriedly launched without any feasibility study done. It wasn't meant to materialize, it was meant purely to launder cash before the Kenyan intelligence agencies got ahead of the deal and put a stop to it. So…
Who is Matthias Magoola?
At some point in time in 2020 -Ugandans bayed for blood of Ugandan man who was filmed convincing President Yoweri Kaguta Museveni along with Speaker Rebecca Kadaga that Uganda will in the next two weeks (after first corona virus case was reported in the country) begin producing a spray that will kill Coronavirus.
An excited Speaker would later update parliament with conviction that a Ugandan (Matthias Magoola) and more so from Busoga region was behind the invention of this super sanitizer.
Mathias Magoola in his charlatan character duped Museveni that this 'miraculous' disinfectant would kill any bacteria and other virus that emerge in future. He said he had teamed up with an alleged American professor Safraz Njaz who was also available in the clip trying to explain to the President Museveni.
But it was fishy how timely the two scientists planned to 'invent' the drug in the shortest time possible, how possible the disinfectant which had not been approved by the United States of America or anywhere, where the said professor came from could and only be launched in Uganda without recognition from CDC or even WHO and why would the US give the patent of a potential cure to the country with no single case when it had several thousand cases? Fundamental questions that were overlooked intentionally because a few people wanted to rip off the vulnerable citizens.
According to Magoola (who's not a scientist) the sanitizer was to be co-produced by his company DEI GROUP which runs over 10 subsidiaries; Dei Industries International Limited, Dei Natural Products International Limited, Dei Minerals International Limited, Dei Tech LLC, USA, Dei Technologies International Limited, Dei Farms International Limited, Dei Pharmaceuticals, Dei Import and Export International Limited and Dei Investments International Limited.
According to Wikipedia, Sarfaraz Khan Niazi was born in Lucknow, India in 1949; he migrated to Karachi, Pakistan in 1962 and to the United States in 1970. He is an expert in biopharmaceutical manufacturing and has worked in academia and in industry, and as an entrepreneur. He has written books in the field of pharmaceutical sciences, biotechnology, consumer healthcare and poetry. Niazi earned a Bachelor of Science degree in pharmacy from the University of Karachi in 1969. In 1970 he moved to the United States. He obtained his Master of Science degree in pharmaceutical sciences in 1971 from Washington State University in Pullman, WA, and then moved to Illinois. In 1974, he obtained his doctorate in pharmaceutical sciences from the University Of Illinois At Chicago. Prof Niazi was in the country and met President Museveni.
During the meeting, attended by Kadaga, one of Niazi's associates tells Museveni that "it is only this product in the world that kills the virus including Sars." The President then asked in case Coronavirus is contained would the chemical be able to fight other viruses, to which the associate stammers, 'Including bacteria.' 
Seven years prior, local media published stories about the arrest of Minister Isaac Musumba and Ugandan MP Micheal Mawanda who were held in India on charges of fraud. But the arrest involved in a third party- little Matthias Magoola a businessman who turned to be a mastermind of the game.
The fraud involved shs 50 billion which he sought from Videocon an Indian firm.Magoola had allegedly wanted to sell ghost minerals to these Indians. Whereas Magoola had been placed under investigations by Indian police, he later switched the version of his story saying he had been fleeced of his mining licence by Videocon.
It all began in September 2006, according to documents seen by our source. Magoola, working as a proxy for some powerful officials in the ministry of Energy, got the largest wolfram mine in the country, located on 600 acres of land in the western district of Kisoro.
Currently China is the largest consumer of wolfram, which is used in the manufacture of engines for planes and bombs, among other uses. Under the trading name of Dei Minerals International, Magoola was given a licence barely 10 days after applying for it.  He was also given prospecting rights to produce an acceptable feasibility study to develop the mine.
He, however, failed to avail the feasibility study, although records show that Magoola had previously worked in the department of Mines and Geological Survey and Mines.On August 21, 2008, Magoola sold 60 per cent majority shareholding to the Indian firm, Videocon Natural Resources PLC, whose chairman, Martin X. Fernandes, got him arrested in India.

After selling a snake oil in the name of 'super sanitizer' which really didn't even take off, the charlatan moved to another dream project of a Covid-19 vaccine producing plant, with full knowledge that the country doesn't have the capacity, but given his connection to Museveni and with free money from foreigners, liaised with Kenya's DP Ruto to launch the vaccine project which was clothed as having been financed by Equity Bank in the tune of Sh15B, a farce and a nut on the face for a national bank.
………………….
Speaking during an interview with a local radio station, DP Ruto claimed he had helped Aydin which later turned out to had been Uganda Tycoon Mathias Magoola —acquire a Sh15 billion loan from Equity Bank to set up a vaccine processing factory in Uganda, which he (Ruto) and three other businessmen alongside his close allies were scheduled to commission. "I helped him on one phone call. He said the benefits Ugandans will get are the same that Kenyans will get."
Link between Equity bank​ DP Ruto, Equity bank and Matthias Magoola 
August 25th, Equity Bank officials appeared before a parliamentary committee on to testify on allegations made by Deputy President William Ruto that it had advanced Sh15 billion loan to a Turkish national Aydin Harun who was deported to Istanbul in a dramatic turn of events that saw DP Ruto barred from traveling to Uganda by the authorities.
Through its chief executive officer James Mwangi, who was represented by the managing director Gerald Warui, the lender told members of Parliament that it has no customer by the name Harun Aydin.
The bank also denied advancing a Sh15 billion loan to Mr Aydin, who is linked to DP Ruto. Mr Warui also told MPs that Equity Bank has never received any phone calls from anyone to advance a loan to Mr Aydin.
The bank, however, admitted it has a banking relationship with Dei Group of Companies, associated with Aydin, which was setting up the said medical factory that Uganda's President Yoweri Museveni described as world-class and which would produce enough medicine, including Covid-19 vaccines.
"The relationship between Equity bank and Dei Group in Uganda dates back to 2014. It's an old relationship and the directors of Dei Group are Matthias Magoola and Kellen Kamurungi. Those are the shareholders according to the records of the bank," Equity told the committee.
The relationship between Equity bank, Dei group owned by Mathias Magoola was similarly confirmed by Museveni ​.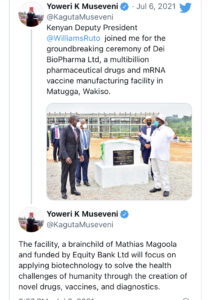 Banks have been used before in channeling dirty money Siphoning dirty money and even with fines which Equity has been a casualty of CBK in several plunder of public funds, has never stopped the trade.
Equity Bank was fined Ksh 120 million for facilitating NYS and other scandals where money was packed in bags. Banking industry is the second largest criminal cartel in Kenya second only to the government.
Money laundering, according to authorities, seeks to hide the source of money believed to have been obtained illegally, by passing it through channels including commercial transactions and other forms of investment.
According to the Financial Reporting Centre, such schemes seek to hide and legalise the funds without catching the attention of authorities and also making sure all connections of the funds to criminal activities is removed.
Finally, the "cleansed" money returns to the owner in an indirect way, and is used for legitimate purposes.
Fake currency dispensation at Equity bank ATMs.​
Not so long when recently around mid August 2021 – an alleged case of fake currency dispensing at one of Equity bank branch in Donholm was reported by a Netizen on Twitter sparking new concerns as to how many fake notes of the same have circulated within the area and if this a normality is only an isolated case or replicated elsewhere and whether Equity bank has been upto the task put in place security measures by the regulator of curbing fake currency circulation, it's a big shame for a big bank as Equity to be painted with such allegations as it casts many doubts on its security system- Bankers Association to tame such cases. 
This is equity bank Donholm branch, avoid, they have fake notes, they have fake notes, avoid, avoid, infact we are waiting to see if they will change those notes. pic.twitter.com/mBrN5fB6MR

— Bevalyne Kwamboka (@bevalynekwambo3) August 25, 2021
@EQUITYBANK People beware of Equity ATMs dispensing fake 1000 Bob notes. I am a victim of the Hunters Equity ATM pic.twitter.com/SERBECRAbe

— Bridge of Hope (@okindata) August 5, 2015
Equity Bank's Eazzy Banking​ fraud
Equity Bank's mobile banking service named Eazzy Banking, has had the most complaints with the the customers say is prone to hackers. There has been endless cases of customers having their cash swept out from their accounts without authorization.
Check the social media pages of the bank and it's chaotic with complaints of mysterious missing funds.
In a fraud case registered under OB /62/24/8/2020  a Nyeri man lost his entire savings in Equity Bank. According to his son Edward Karungu, the old man had gone to bed with money sitting in his account only to wake up to an empty shell in what he now suspects to be an insider job and a weak link in the bank's system.
In Last two weeks  in Uganda, upto 11 customers came out so far to demand that Equity Bank Uganda replenishes their money totaling Shs25M which they claim went missing from their accounts.
---
Kenya Insights allows guest blogging, if you want to be published on Kenya's most authoritative and accurate blog, have an expose, news TIPS, story angles, human interest stories, drop us an email on

[email protected]

or via Telegram
---