Business Genius Or Well Dressed Wolf? Shoddy Deals Peels The Mask Off Devki's 'Guru' Narendra Raval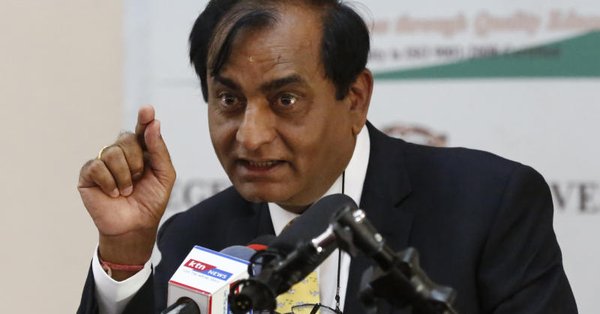 Until recently when the hell broke lose over the Mumias Sugar Company's purported revival, Narendra Raval aka Guru as he's known in his circles for his prowess to cut deals and come up with genius business ideas that have placed him amongst richest people in Kenya, Raval was just a wealthy businessman with a clean slate and a philanthropist who rides in a boda boda to work.
He hasn't received much negative press like in the past weeks perhaps a good job from his PR team that ensures his image remains Snow White.
Until the secret deal that Raval had drawn with Mumias Sugar's receiver manager Ponangipalli Venkata Ramana Rao was uncovered, all was well as Devki sold the narrative that he was all out to revive a dead company in the tune of Sh5 billion
So good was his selling points that he said his bid was not to make money, he says, but to revitalise it and give cane farmers livelihoods. Of course that was a plain lie, even world's biggest philanthropists like Bill Gates don't 'help' entirely without securing their business interests, even philanthropy is business, good for tax evasion by the way from the tax exemptions.
All was going smooth until the Devki-Mumias deal blew up in parliament with Western politicians reading ulterior motives in the deal.
It emerged that the leasing process of Mumias Sugar Company Limited was done in secret between Raval, Rao and allegedly in liaison with Kakamega Governor Oparanya.
Political leaders from the Western region, where the plant is located, made public statements seeking more information while calling for transparency in the take-over process.
Speaking on behalf of those leaders, Amani National Congress leader Musalia Mudavadi said the struggling sugar firm is a strategic facility in the region and that locals must be fully involved.
"KCB Group which placed the company under receivership must be careful how it picks an investor to revive it because the person or firm that comes in will require the goodwill of the leadership, farmers and other stakeholders," Mudavadi said.
Lugari MP Ayub Savula has asked the receiver-manager at the troubled Mumias sugar firm P. V Ramana Rao to declare the amount of money he has made from the sale of ethanol.
"We're aware that the KCB has negotiated with Narendra Raval who is ready to pump Sh5 billion in the revival of the company.  Rao must make public how much money he has made from ethanol and how much he has repaid KCB," Savula said.
When the lid was lift and things started getting nasty, Devki tactfully pulled out of the deal citing protection of their reputation and giving a chance to an open leasing process, this was an afterthought, at first the company was okay going through backdoor to win the lease and on being found with hands in the cookie jar, pulled back to play saint. Devki was aware there wasn't any public bidding process which is unethical and ridiculously announced withdrawal from a which had not been announced or started, plainly admitting to have attempted playing dirty.
However, Devki's problems were from over as renowned activist Okiya Omtatah filed a petition in court to stop the leasing of Mumias Sugar Company as it was marred in secrecy and Rao had manipulated the process in favor of Devki.
The petition unmasked relationship Devki had with Rao and to a larger extent how Raval seals his some of his deals behind close doors and by using his high connections to get ahead of his competitors in unfair business practices.
In the petition, Omtatah says it is only when Rao was summoned to the Senate that he disclosed that he had invited eight investors.
The companies include Catalysis Group of Russia, Sarrai Group of Uganda, Kruman Associates (France), Kibos Sugar and Devki Group, which are both from Kenya, Premier JV (India), Third Gate Capital Management and Godavari Enterprises, India.
It has also emerged that none of the eight bidders he secretly invited to bid had the capacity to revive the company, leading to fears that a plan was underway to dispose the company off to Rao's cronies for a song.
Omtatah says that the fears that the Receiver Manager is conflicted were further reinforced by the fact that, while he was the receiver manager at Kwale Sugar Company he sold scrap metal to the purported lead bidder, Devki Steel Millers Ltd.
Incidentally, Western leaders had pointed out that given Devki's past relationships and deals with Rao, the two were scavenging for scrap metals in Mumias which Devki deals in, curiously, the Mumias Sugar takeover by Devki looked like a fine blueprint of Kwale Sugar so the fears of leaders that Devki was coming to Mumias for scrap metals are believable.
In his petition to oust the questionable receiver manager, Omtatah also claimed that Rao took over the Mumias Company to ostensibly "protect its assets and to the best extent maintain its operations," yet the company was processing ethanol, from molasses bought mainly from the neighbouring Butali and Busia sugar companies.
In the court documents, Omtatah says that instead of reviving the company, Rao has mismanaged the ethanol operations and shut them down in March 2021, thus halting all manufacturing operations at the company.
Also, without proper planning, he ploughed 677 hectares of the Nucleus Estate but failed to plant sugarcane on some 307 HA, letting the effort go to waste.
He adds that he is aggrieved that close to two years after taking over in 2021, the receiver manager has not published a general statement of affairs on the assets and liabilities of the company as at the time he took over and made known the efforts he has taken to protect the assets of the company and the interests of investors (including farmers), creditors, and other parties.
He also said Rao has not published periodic reports on what he has done to reduce the KCB Group debt that is responsible for the receivership or published a general statement of affairs on the current state of the assets and liabilities of the company.
He reiterates that he is aggrieved that the receiver manager has been on site for close to two years with nothing positive to show for it.
"To make matters worse, he has neglected many assets of Mumias Sugar Company, including the Nucleus Estate and machinery, resulting in the company making huge losses due to the deterioration of the assets," he adds.
While answering to the senate over Auditor General Nancy Gathungu's report to anomalies flagged in the 2018/19 financial year, an exchange between Governor Oparanya and Senator Malala revealed more about Devki and the relationship Raval has with the Governor.
The melee started after Malala alleged that Oparanya's administration has been dishing out county contracts through direct procurement to Devki, the financier who was supposed to take over Mumias Sugar Company.
The allegations arose from an audit query where Gathungu flagged procurement of fertiliser at a contract sum of Sh305.01 million by the county government.
According to the report, the county procured 135,000 25kg bags of planting fertiliser and 90,000 bags of top dressing fertiliser for maize.
However, the county did not award the tender to bidder one and bidder two that had been recommended.
Instead, it awarded the tender to Mavuno brand fertiliser, who was bidder three without notifying the other bidders.
"Had the supplies been procured from bidders No 1 and No 2 at their respective process, the cost would have amounted to Sh238.50 million instead of Sh305.01 million. Management would as a result, have saved Sh66.51 million.
In his response, the governor said the law does not require the procurement entity to notify other bidders.
He added that Mavuno was picked as it had the type of fertiliser the user department needed after consulting the Kenya Agricultural Research Institute on the appropriate type.
But Malala immediately shot to the floor, saying while the governor's explanation was scientifically correct, he had issues with the mode of procurement.
"Your response is scientifically correct, but I have an issue with the contract. Why was the first and second bidders not awarded?" he posed.
He demanded that the governor and county chief officer in charge of agriculture disclose the proprietor of Mavuno.
The governor said he did not know the proprietor of the firm a response that triggered the senator to table a document, alleging that the firm is owned by Devki.
"The owner of Mavuno is Devki.  Is there any relationship between the governor and Devki. Three year ago you gave Devki a go ahead to lease Mumias," he claimed.
The governor insisted he had no relationship with Devki.
"I don't know him. You think you are the only person who can speak," a visibility agitated governor hit back as the situation escalated.
Previously, Sugarcane farmers had flagged efforts by the Governor to rig the deal for Devki Group.
The farmers from Western region have warned Kakamega Governor Wycliffe Oparanya against meddling in the leasing process of Mumias Sugar Company.
The farmers accused the governor of misadvising Mumias Sugar Receiver Manager Pongangipalli Venkata Ramana Rao to disregard the directives of the Senate.
The Senate Committee on Agriculture recommended that the process of leasing Mumias Sugar Company should start afresh and that it must be done in a fair and transparent manner.
However, Governor Oparanya, over the weekend appeared to discredit senators saying that they have no powers to direct Mr Rao how to carry out the process.
"We are privy to the information that Governor Oparanya is asking Mumias Sugar Receiver Manager to ignore the recommendations of the Senate and bring in Devki Group Limited, we shall resist," said the farmers in protest of Oparanya's bias to Devki.
Curiously, Oparanya has been having an interest in Mumias takeover and warned severally against it, it therefore doesn't take brainer to how Devki was secretly pulled in, pitted the lead bidder and by connections pushed for the seal by the governor.
Dominance
There has been proxy wars as it could emerge that Rai's family made a bid for Mumias through their Ugandan subsidiary Sarrai Group, which among other installations, owns a sugar and plywood business in Uganda and Malawi. Rai family are the dominating sugar industry shareholders in the country and one of the bidders for Mumias takeover, were to meet their longtime foe in the fight for sugar dominance.
A rivalry has existed between the Rai and Raval with the two wealthy businessmen trying to outdo each other, Rai has made attempts to penetrate the cement market but Raval with his methods has ensured it hasn't happened like in the case of ARM takeover that he kicked Rai out. By attempting the Mumias takeover, Raval was taking the war to Rai's doorstep.
Rai is the sugar magnate controlling 44 per cent market share through his three millers – West Kenya, Sukari Industries, and Olepito Sugar.
Raval, popularly known as Guru is the king of steel through his company Devki Group has been expanding his empire into cement business.
In 2015, a Nigerian magnate approached Guru, with a proposal to acquire part of the Devki empire as a means of accessing the East African market. Mr Raval turned down Mr Dangote's offer.
He has since been expanding rapidly and he beat Rai to the court battle to take over Athi River Mining (ARM) where Guru emerged the winner and gave him teeth into cement and fertilizer business.
ARM deal made Guru's National Cement Company (NCC) which manufactures the Simba Cement brand, the second biggest cement maker in the country.
National Cement expansion saw it merge with Cemtech in West Pokot with significant limestone and clay deposits that are key components in its production.
Raval is also erecting a second 1.8 million metric tonnes per annum clinker line in Kajiado where construction started this year.
He is also setting up another 0.75 million metric tonnes cement plant to be built in Kilifi County while the 0.88 million metric tonnes is still underway and was to be commissioned in mid-2020.
Unhealthy Competition
The king of Kenyan cement and boss of Devki Group, Narendra Raval, has been aiming to become the sole supplier of raw materials to his competitors. Raval has been lobbying the government to raise the import duties on clinker from 10% to 25%.
The clinker wars that favors Devki attracted cries from close competitors like Savannah Cement who accused Raval of using his proximity to Statehouse to lobby for unfavorable terms to his competitors in bid to lock them out and cement his market dominance which they termed as unhealthy.
Raval has had cordial relationships with the Kenyatta government as well as the previous Kibaki government. There have been claims that he uses his proximity to power to cut deal, claims that he naturally dismisses.
On March 9, 2018, President Uhuru Kenyatta handpicked Raval to replace Shem Oyoo Wandigaas the Egerton University chancellor.
Like the late Chris Kirubi, Raval has also been a power broker an instance of how played a big role in ensuring that Kenya's third President Mwai Kibaki appointed Kalonzo Musyoka as his vice president after the disputed 2007 polls, as Kalonzo confirmed in his 2016 memoir, Against All Odds.
Raval's philanthropy has been felt more so during the COVID-19 pandemic where he donated oxygen to all government and county hospitals in the country. He was also appointed by Uhuru to the Covid-19 Emergency Response Fund Board. Its primary mandate was to mobilise resources for an emergency response towards containing the spread, effects and impact of the COVID-19 pandemic. Other objectives of the fund included  supporting the government's efforts in the supply of medical facilities and equipment and support for vulnerable communities with their immediate needs, including food.
The fund would later be rocked with misappropriation of funds as flagged by the Auditor General.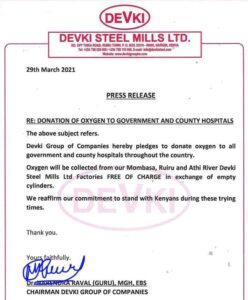 While the world is all praises for Raval, he has equally been criticized by workers rights groups over welfare of workers in Devki steel factories. Allegations include, Workers being hired and fired on temporary casual contracts even though those who've worked for years. Poor wages and lack of adherence to occupational safety & health requirements a mater that had put the company on the spot after five workers died in an explosion. The company's labourers claimed the company flouted labour laws saying they worked longer hours and that most of them were not supplied with protecting gear.
In 2015, he featured in Forbes Magazine, among Africa's top 50 richest people, with his fortune estimated at Ksh40 billion then.
Companies under his solely owned Devki Group conglomerate include Devki Steel Mills Limited, National Cement Company Limited Uganda, Maisha Mabati Mills Limited and Northwood Aviation Limited.
---
Kenya Insights allows guest blogging, if you want to be published on Kenya's most authoritative and accurate blog, have an expose, news TIPS, story angles, human interest stories, drop us an email on

[email protected]

or via Telegram
---