Kenya Medical Training College (KMTC) being steered by political motives and slowly fading away its worth and pride.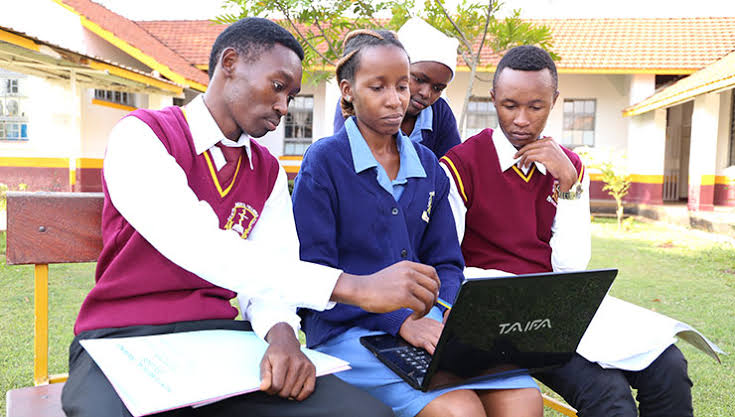 Kenya medical training college (KMTC) is undisputedly, undoubtedly, unarguably the best among the best medical training institute in Kenya and in Africa. KMTC rightfully boasts of producing fully baked, authentic and focused graduates into the healthcare field market and this have in a bigger proportion assisted in the realization of Universal Healthcare (UHC) in Kenya under ruling Jubilee party's big four agenda.
Actually the institute has no worthy competitor in Kenya that even Bachelor degree graduates humble themselves before the kmtc Diploma graduates in relation to the depth of practice and knowledge Kmtc pumps into their students. The market favors them and employers prefer them for they have all it takes – fully baked.
But political forces have taken over the operations and decisions of the institution all the way from the board members and has corrupt the reservations, public respect and the system of the institution.
From the previous chairman of KMTC Prof Philip Kaloki  whose contract expired in April this year 2021, publicly admitted to be having political ambitions come next year 2022 general election. Gubernatorial position – Makueni county preferably on wiper ticket this time round. Prof Kaloki a one term MP for Kibwezi constituency before it was divided into Kibwezi East and West, Prof Kaloki lectured at Dallas Baptist University and failed to win in his attempt to clinch the gubernatorial position on a Jubilee ticket in previous election. 
Kaloki used his position as the chairman of KMTC board of directors to impress his home county and double up his scorecard by constructing KMTC campuses in Nunguni in Kilungu, Kaiti constituency whose functions were only delayed by the Covid-19 outbreak.
The embattled kmtc boss also opened another KMTC college in his home area of  Emali. All these in addition to existing Makueni KMTC in wote. He liased with politicians to do the same in their respective constituencies to increase their political scorecard.
Prof Kaloki successfully managed to hold hostage the entire KMTC college from the procurement process to employment; he dished out tenders to his tribesmen and buddies and employed people from his Kibwezi backyard, he managed to display and practice his illegalities with IMPUNITY.
He restructured KMTC's organizational structure and controlled the board to oust CEO Prof Kiptoo whom they had personal wrangles which were marinated and circled around Kiptoo's disinterest in his nepotism, tribalism and corruption. He abused power in office and has intergrity case, a matter before the Court.
Every politician especially Members of Parliament are working their way to use every available resources at their disposal to grasp attention of the board to establish college branches in each of their constituencies to gain political score card points of NG-CDF development. 
KMTC apparently has 71 campuses branches in Kenya with many more new ones yet to be launched under construction.
The rapid rate at which KMTC is opening and establishing its branch colleges in the eve to next year's general election is alarming being that the board directors, members have expressed their low tone political interests. Its downplaying quality of the service. The hoodwinking picture to a regular thinker is development but the interior motive behind these move is political. Here's why;
Since September 2017, kmtc have had reduced intake in numbers and many branch campuses across the country have failed to admit new comers till to date in almost all departments, one example is Medical Laboratory Science department who haven't had admission in 5 of its contrywide campuses for the last 4 years. The admission energy has shifted to Certificate courses like Orthopaedic where admissions are overflowing and the market is already getting overflooded. The Orthopaedic department we're told is the most underfunded with resources; inadequate lectures and teaching equipments -with available lecturers hired as external with some many campuses only having one permanent on permanent basis with student intake population hitting over hundreds. Monkey business.
The available campuses are recording and complaining of inadequate facilitation  in terms of development funds allocation which is due to reduced intake that have been recorded in the past 3 years. Lots of funds have been channeled to new institutions they're building all over the country in a super spreader exodus that's alarming.
The existing old campuses are left in limbo as the funds are being chaneled to meet ambitions of the political class behind the wheel. It's now Quantity to the board over Quality service. 
There are complaints all over, from the students and also staffs of the institution as they're the sufferers due to the bulls fight.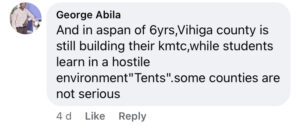 KMTC needs to get back on its steady-healthy form, KMTC is limping and simping, KMTC need to value quality over quantity.
Only Increase the campuses with an aim lower the college fees and increase the quality service of the available properties, staffs and subordinate staff. Increase the campuses and increase lecturers, if you cant afford qualified lecturers in terms of numbers then seize the exercise of expansion. Quality over Quantity is the core value or else you'll cripple. 
Increasing campuses in every village now to increase your income in fees and flooding graduates to the overflooded field market is like a monkey business. It's like supermarket business being done but in denial – by same monkeys and just different forests.
KMTC board must re-asses itself and value quality over quantity then have limit for quantity.
---
Kenya Insights allows guest blogging, if you want to be published on Kenya's most authoritative and accurate blog, have an expose, news TIPS, story angles, human interest stories, drop us an email on

[email protected]

or via Telegram
---