Trump Is Regrettably Right, Africa Is A Shithole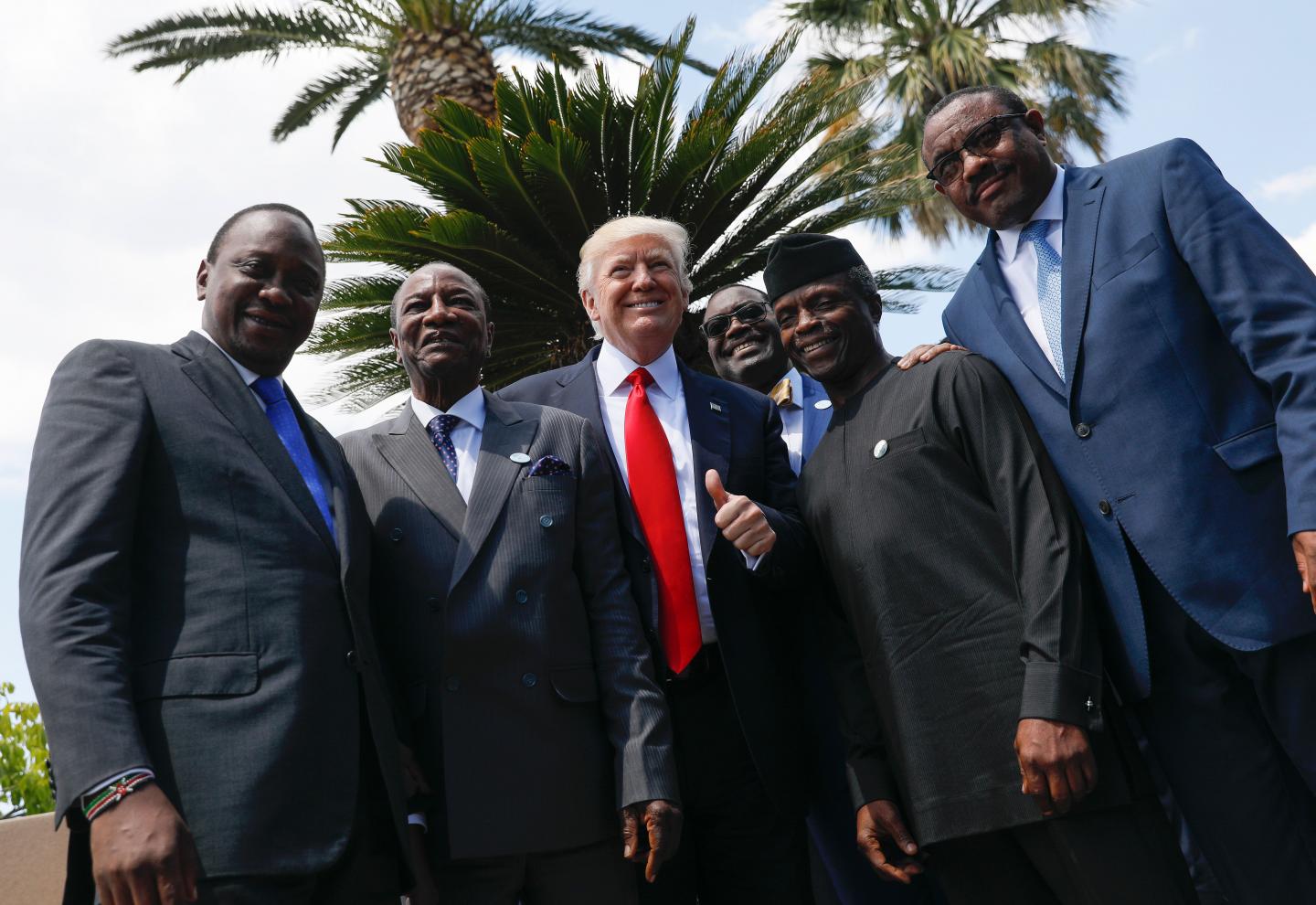 From the very day that he declared his candidacy for POTUS, Donald Trump has held the grip of attention, as a law of power, Trump has been more than excellent in it's courting. Being the most powerful president on earth, the former TV star, billionaire and accidental president according to Tom Wolf's 'Fire and Fury', Trump has grown in last time to bring the most controversial president in America's and world's history.
Sexual assault, Russia links, electoral fraud, racism, poor mental health, Trump has a shit load of accusations hanging over his head but despite all these, he stands top of the tower. It no longer shocks on hearing any controversial remarks from the president whose mouth has built a reputation of a loose cannon. Breaking all the diplomatic rules, Trump with his smartphone is daily causing ruthless ripples.
"Why are we having all these people from shithole countries come here?" Trump said about people from Haiti, El Salvador & Africa in the Oval Office. He then said America should get more people from places like Norway. His sentiments have attracted global criticism, Trump who has a built a reputation of loose bowel mouth rubbed many the wrong way. The adamant African Union has suddenly woken up from custom deep slumber protesting the referral and demanding an apology from Trump.
An overly fed with ego Trump is unlikely to retract his shitholes comment, after all, it is the same outrageous grounds that he swims and thrives best. Something about the truth is that everyone wants it until it is the only plate on the table. Trump's remarks are not anything new, his views on Africa is shared by many in Europe. Africans themselves share the same derogatory feeling about their continent. We've had cases of millions of annual applications to the European countries. We've lost many of our people trying to cross the seas for life abroad.
Racist card aside since Trump is a certified racist and that his bigotry is what actually made him the President, I think he said what we all know and talk about every day but as a president of a free country, he's justified to get stoned as it is. Africa is a wonderful continent with rich resources but with shithole leaders.
Annually, Africa os slapped with brain drain, the best of minds ever getting on plains for opportunities abroad but you can't blame them, grounds here remains hostile and professionalism remains less unappreciated. Africans constitutes the largest expat population in America, in fact, studies show in the US, Africans living there are more educated as compared to native whites.
While Trump's remarks are miles away from the true nature of African natives if he was referring to African leadership them he scores a distinction from me. Africa remains one of the most resourceful continent and that's why America and rest of Europe have their hands all over the continent, actually, colonialists streamed in not for anything but for our vast resources. I don't want to bore you with history since we all know.
Africa is a shithole because we're resourcefully rich but instead put our wealth under terrorism leadership. African failures are attributed to poor leadership. Corruption is Bonnie and Clyde with African leaders. Instead of developing her citizens, they're developing their stomachs.
Poverty in a resource clouded continent remains a stamped shame, the fact that relief food is still a consideration in this age is startling. You'll find African leaders leaving the shithole continent to go seek treatment abroad because they view their own countries to be having shithole healthcare. Poor healthcare doesn't mean health doesn't get an allocation, the dwarfing is deliberate, view the case of Kenya with Afya House scandal where billions were squandered, HIV, Maternal et al money, shamelessly stolen by individuals.
Unemployment in Africa has maintained an upward curve, in Kenya, one in every five of working age are jobless, it is so high that statistics rests it at 56%. Mention a single African election that sailed through without bloodshed, it has metamorphosed to seek like the presidency is a matter of life and death, for this, we have elections accustomed to rigging and violence. Ain't that a shithole?
Gold, diamond, oil name it, Africa has it all but look at the standards of lives we're subjected to; pathetic. The money is lost to corruption and exploitation by the Western countries. Trump's language is obviously unfortunate but not far from the truth, I think it should be a wake-up call to our leaders, from a racist lens, Trump spoke for many of his supremacist followers.
It hurts that with our rich resources, Africa still depends on western aid, if we had our shit together, we'd be where the rest of the world is; developed. Like African diplomats have no way over politics abroad, western diplomats would be as sterile here, but since we depend on them. As long as we view outside world as the absolute reach in life given opportunities they hold and going abroad as a trophy, deeming African lights, maintaining anti-growth environment, we forever will remain a shithole.
As far as I'm concerned, Africa is not a shithole but with shithole leaders who make it look like a shithole and that's why I'll let Trump's dissolution pass. Talking of which, Mr. President, Africa is not a country but a continent
---
Kenya Insights allows guest blogging, if you want to be published on Kenya's most authoritative and accurate blog, have an expose, news TIPS, story angles, human interest stories, drop us an email on

[email protected]

or via Telegram
---