FIFA World Cup Trophy Landed In Kenya And No Footballer Was Lined Up By Organizers To Receive It But Only Socialites.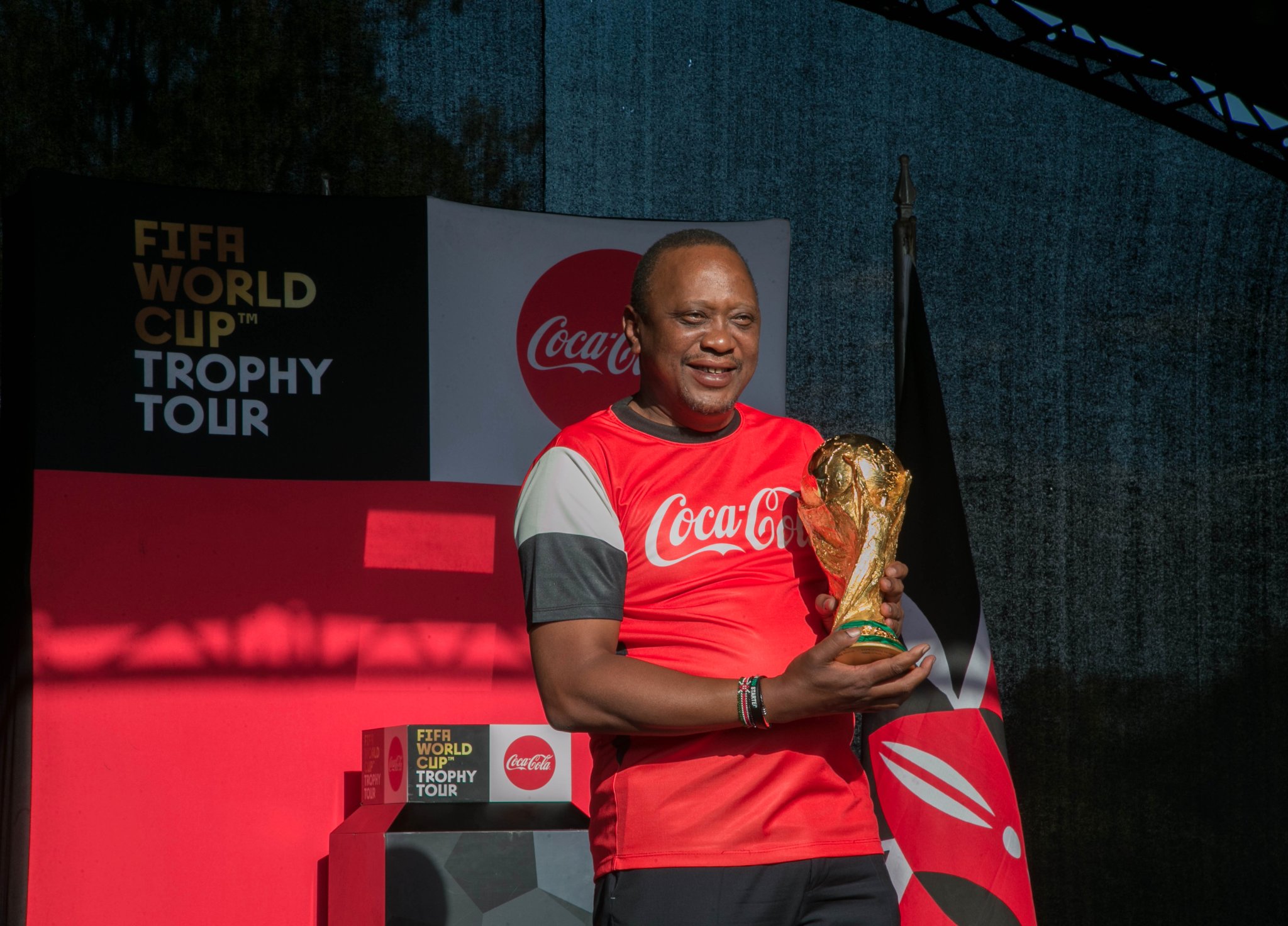 World's most coveted trophy landed in the country to the thrill of many. Kenya is the third country in Africa after Sudan and Ethiopia to host the trophy that will be doing rounds in 100 countries globally and only ten in Africa. This tells you how privileged Kenyans is to play host. This will be the third time this trophy has been here and only two Kenyans have held it; president Kibaki and Uhuru who's double lucky to have held it twice.
The excitement around the trophy is something of an envy, organizers of the event sent a team to Ethiopia to escort the trophy home. Ministers, politicians and social media influencers made part of the big team that had an opportune time to lodge in five-star hotels, fly in the luxurious, private chartered plane carrying the trophy. Reception of the trophy at JKIA was nothing short of glamour, ceremonial acceptance painted an excited audience. Photos from JKIA, selfies from the plane and hotels flooded the social media streets as Coca-Cola's official hashtag for the tour as the sponsors #ReadyFor was flooded with high-resolution photos thanks to the influencers and other social media pages.
At one point it started to look as if this was Kenya Tourism Board's event as they seized the opportunity and advertised the endless opportunities the countries offered. This explains why Tourism CS Balala was amongst the entourage to Ethiopia and back. While everyone was happy enjoying the luxurious trips to and back from Ethiopia with the trophy, not everyone was onboard and the saddest part, most important group. Frowning from a distance, the football fraternity in Kenya felt sidelined and isolated by the organizers who by default would've put them ahead.
I managed to talk to David Onjili who's a professional match analysts featured in various platforms in the UK and in 2014, was a runners up in Europe as the most creative football blog alongside Amit Singh, Vimal Shah and Timothy Pool. He had no single nice word as far as the entire organization for the event was set up, "The treatment given to the FIFA World Cup trophy is the joke that the government & football stakeholders view the game of football. The very people who once brought glory to this nation languish in neglect as we carry socialites to hype the trophy. Football is not about hyping a nonexistent product. It's about painfully building a product through a clear plan & structures then inviting flower girls."
He continues, "It is a sad day to football in this land. Dennis Oliech is the least who would have been on that flight to Ethiopia to bring the trophy home and be met by a host of Legends. Currently, Football is just an Avenue to reward our concubines and Samanthas with trips & commissions. I mourn."
David's sentiments are shared by many who feel the organizers of the event didn't do much research and left out the group that would ordinarily headline the tour. From numerous interactions I've had with even some top players who've asked for anonymity due to the sensitivity of the matter, organizers of the event went for socialites to headline the event while blacking out the real players.
"Why is it that no footballer. we have Oliech, Kadenge, Bobby Ogolla and many legends, why is it that none of them is involved in this FIFA World cup trophy? yet we allow socialites." One legend posed to me. It turns out they're not happy that the organizers only took 'joyriders'. "These people only listed their friends and sexual partners to this trip instead of factoring in the real deals. In that plane, we'd have had excellent young players from Mathare, football legends still alive and other stakeholders working on daily to improve football standards. What did they give us? Someone like Betty Kyalo honestly had no justification, other than being a slay queen what was her purpose and what contributions has she made on football in Kenya? What if we had someone like Oliech in that plane, wouldn't it have had made sense? " A top Harambee Stars striker told me incognito.
A general perception of my interaction is the football fraternity feel left out in such a lifetime event. Football standard in Kenya has been advancing towards the bottom of the barrel. For three times consecutive, Coca-Cola has done their part by bringing us this trophy but has it really motivated and helped us spring up? Currently, on FIFA rankings, Kenya is at position 111 and 25th in the continent. Despite Kenya producing world class players from Wanyama to Mariga to Oliech and many others, the levels of football remain low given existing discriminatory moves like what has been happening in that tour. We can't improve standards in this country if we don't recognize and appreciate our own.
Greed and open corruption has to blame largely on the dwindling rates, an instance of sabotage is that there is an initiative called Jaza Stadi, during the Super Cup game between Gor and AFC in Kericho, the guys involved led by Radull demanded to be paid for bringing fans to stadium yet and AFC vs Gor game attracts fans anywhere. They negotiated to be paid 100K yet the proceeds for the game were to be shared by AFC and Gor who have no league sponsors yet the Jaza Stadi initiative could not account for number of fans it had brought to the stadium. Can't it be possible for us to genuinely support our own or get stuck with European leagues?
Football leadership in this country has turned out to be an enriching scheme for elected leaders who least prioritize the growth of the supersport. It doesn't make sense why is Nick Mwendwa the FKF boss is quiet when he knows it is the footballers who need to be involved with this trophy and not socialites. More worrying is even himself wasn't at the airport to receive the trophy. Don't get it wrong that it was Tourism Boards affair at JKIA after all its for the general good. Mwendwa has in this instance exhibited sissy character for a football federation boss. Ordinarily, he would've been in the entourage and if not, ensured that recognizable football figures were prioritized.
Organizers will argue that football legends and shareholders were honored at Statehouse where the trophy was presented to the presented and treated to a dinner. It is a consolation. The peak of the tour was jetting in the trophy, it holds a symbolic significance that can't be seen with naked eyes and that's perhaps why organizers opted to embrace a socialite affair while leaving out football legends.
Real quick I need to make a point clear here, everyone has a role to play on the society and even though it's convenient to hammer the socialites I'll be fair that they help especially in hyping events. But here's an event that needed an inspiring leading figure. You won't find Kim Kardashian going to receive the trophy in the US or elsewhere. They'll use legendary players because you know what? They know the value of that trophy and they appreciate their legends and the game. Social media was used in mobilizing for the 'Jaza Stadi' drive, it proved effective, this is why we've missed a chance to utilize this trophy tour. There's nothing much to celebrate, Kenya has never qualified for world cup, the national team currently doesn't have a coach, sponsor and our Sports CS is illiterate. We must really start taking this prestigious sport. We can't act like we love this sport while treating out local talents as trash. For organizers making the whole thing a socialite affair while sidelining footballers in the hopes of maximizing publicity, now that have it, no one is really bothered with the trophy actually the turnout at KICC was a record low compared to the last two times, the topic now everyone is talking about is now the organization was trash and how the local football stakeholders were ignored, perhaps that's the kind of publicity Coca-Cola wanted.
An opportunity has once again been lost where we'd be talking about genuine issues surrounding football crisis in Kenya. Other day the women's national team, Harambee Starlets had an international gig and not even government offered assistance, they had to turn the public for assistance, what a shame. Sportpesa threatened to pull out sponsorship and football almost froze. Local players are ever underpaid and in pathetic living standards. It at a point as a country we start viewing football as an economic activity beyond ball juggling. You only need to see how much European players are earning to know this is a serious revenue hub.
After public viewing today and selfies, the trophy will go and what will be left of us? Nothing just selfies. This was yet another opportunity for the media who by the way were never in the group selected for Ethiopia, to ask serious genuine questions. Thiery Henry came and went thanks to Guinness, what improvements or impact did it make be beyond selfies? None. We can't survive on selfies. We need critical thinking and strategic plots. Media ought to take the authorities into the task as to why football standards are not improving, ask where the promised mega stadiums are but instead, they uphold mediocrity. It was a WTF moment watching most stations dragging decade-old clip of Raila being denied the chance to hold the trophy which is a reserve of heads of states only, such are the innuendos that thrill our media.
World Cup Trophy is supposed to motivate us to improve our football but organizers have effortlessly failed the nation by further isolating the stakeholders who're overwhelmingly and extremely unmotivated. We must learn the art of seizing the opportunities. We have big characters in this country making big steps unappreciated in uplifting the spirit and prevalence I the game. Let's learn and live by appreciating our legends while they're still breathing.
I've learned a good number of players have been invited today for the viewing at KICC, I also know of senior players and former who've resorted to boycott the invites saying it is a mockery of the sports. "Why would I attend an event to legitimize a fraud scheme, if the organizers appreciated our input then we'd have had real footballers in that plane and at the airport receiving a trophy but all we saw were socialites and busy bodies who've done absolutely nothing to the football industry in Kenya." A Gor Mahia player told me in anonymity. Maybe, the organizers can wake up and learn from this alternatively, they can ignore the insiders cries cried continue with normal programming but the general view is that of disappointments.
---
Kenya Insights allows guest blogging, if you want to be published on Kenya's most authoritative and accurate blog, have an expose, news TIPS, story angles, human interest stories, drop us an email on

[email protected]

or via Telegram
---