Kenya's World Cup Tour Organizers Sidelines Football Players Opts For Socialites To Fly In The Coveted Trophy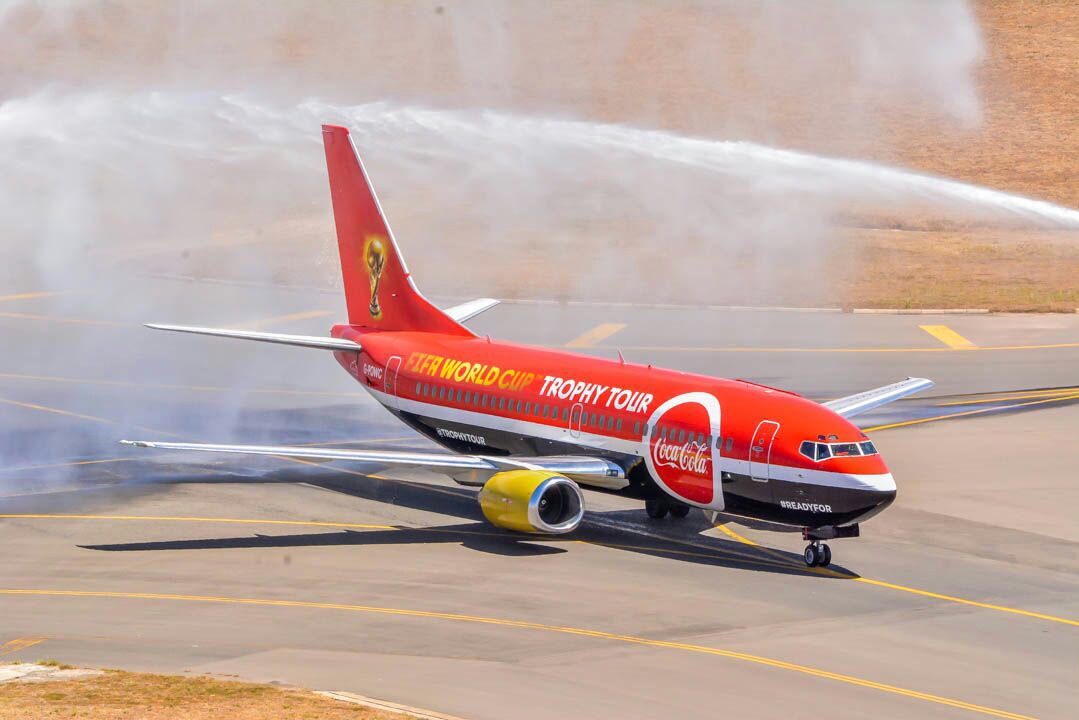 Football fever is hitting high codes as the world prepares for the biggest tournament in the globe set for July in Russia. To set The moods right, World Cup FIFA working with Coca-Cola have embarked on a 100 days tour that will see the trophy do rounds in 50 countries. Kenya becomes the third country amongst the lucky ten in Africa to host the coveted trophy after Sudan and Ethiopia.
A tour of this magnitude is priced, brings with it immeasurable thrill as it gives football fans a rare opportunity to come close to world's most prestigious trophy. Kenya according to latest FIFA ranking, is at a low 111th position and 25th in Africa, a continent famed for making top-class players. Just to brag, Wanyama playing for Tottenham Hotspur is from Kenya and doing well in The international bracket. Oluga, Oliech, Musa Otieno, Mariga are just but a few recognizable top ranking international players I can think of now. The message being, Kenya is a hub of endless talents.
Organizers of the World Trophy Tour in Kenya which by default is an agency firm sent a team of respectable and well established social media influencers to Addis Ababa where the trophy had landed from Sudan, the team was to accompany the trophy to Kenya. Ministers and other politicians and sport ministry officials were also incorporated into this team.
Moving on, according to Coca-Cola the official sponsor of the tour, they're specific about the objective of the tour, "The visit of the trophy is set to re-ignite the overwhelming World Cup fever amongst soccer fans and country teams preparing to compete in the 2018 Russia FIFA World Cup tournament. The Trophy Tour gives fans a once in a lifetime opportunity to enjoy a rare close-up view of the authentic Trophy while having a great experience and an opportunity to take plenty of souvenir photographs to share on their social media pages."
Summarized, social media buzz which is also to give Coca-Cola maximum positive publicity, the company has been undeniably supporting talents from music to football and who hates that taste of cold refreshing drink? Not even me. Anyway, my point is, the organizers of this event failed to capitalize on a lifetime opportunity served on a silver plate. Just to be specific, Kenya has never participated in the world cup and that's why I'm furious coz
FIFA World Cup Trophy Tour is an opportunity that any country would salivate to be allocated, it gives a global audience perfect for selling your country. Kenya being a tourism destination, hasn't disappointed to capitalize from various social media pages, they've used the opportunity to showcase endless opportunities, Tourism CS Balala was part of the entourage that flew to Ethiopia to bring the trophy home.
Having studied the whole scenario from a 360 view, I feel the organizers missed an opportunity to ignite a conversation that we do much need, state of the Kenyan football field and how it can be improved. Recently, Guinness brought Arsenal legend and legendary striker Thierry Henry, he came, we took the selfies and as soon as he boarded the plane, everything died actually the only thing we have left is TBT pictures on Instagram. I think we need to move away from face value PR drives where everything dies as soon as the event relegates from the trending topics list.
Organizers such events need to start thinking outside the box, we can't keep on missing opportunities to improve the state of sports in the country by convincing the clients that topic A trended and people are posting selfies. If I was such a client, I'd be more than happy to note that my event made a huge impact beyond selfies.
It will be the third trip in Kenya for the FIFA trophy and one question we all should ask is behind the thrill, what has this trophy tour impacted the country's sports levels? It can't be that that wait every five years for selfies whose shelf life is as relevant as filters apps are updated. Kenya's organizers need to see beyond their noses and not advice the clients from a customs perspective. We can't continue relegating on the FIFA ranking, dwindling on football quality in the country. We must be innovative enough to use such lifetime opportunities not for anyone but for the country to improve sports in the country. Can you imagine Europe's Football Leagues unites Kenyans more than locals? Not for anything but there's nothing motivating locally, we need more salad on the plate.
My issue here is not that A, B, and C official was sent out but lack of far-thinking by organizers to have right persons. First of all, that trophy touching down is supposed to be symbolic, it's supposed to inspire c'mon, only ten African countries have this privilege.
Social media influencers have incomparable relevance when it comes to pushing an agenda and that's why I feel the influencers had to be part of this journey. However, think for a minute, if we had on that plane landing at JKIA and it was a super player in Mathare from MYSA, Joe Kadenge or even relatable legends as Musa Otieno, Dennis Oliech other reigning Mariga, Wanyama…headlining the trip to Kenya, as opposed to ministers and Social media influencers, don't you think it would impact and inspire those kids in Mathare, Korogocho? I mean why couldn't the organizers have common figures that those in the grassroots could relate with? Perhaps they were there but from the public limelight, I never saw any.
In my own view, considering the pathetic state of football in Kenya, that we even had to fundraise for Women's National Team, Starlets to participate in a world cup tournament. By the way, they'd have been amongst those headlining this tour. Other than taking selfies with the trophy, organizers would have been innovative enough to come up with ways to engage Kenyans more specifically on the sport's state and how to improve it. Who would you relate more so as a football enthusiast, a football legend or a YouTube legend aligned with fashion or cooking in such an event? Maybe I wasn't clear enough, the influencers are and must have a play in this, but not as the headlines. We'd have had example Joe Kadenge traveling to Ethiopia to bring the trophy home and Betty Kyalo enjoying her glass of wine at home while tweeting on Kadenge's journey home. Wouldn't that be inspiring? But I guess the organizers think differently. But they have a role to advise their clients based on existing market situations.
Safaricom remains one of the most innovative companies in my corporates radar and their Dimba mtaani meant to improve and promote talents remains a relatable program to my issue today. It is convenient to argue that the public will have their time to view the trophy at KICC on Tuesday and everyone including legends in talking about will be included but still, we miss the opportunity.
We need to see a team that represents the face of Kenyan football getting off that plane with the trophy, not a team that represents the face social media, the symbolic message that would send to the nations and soccer fans is unmatched. I know for a fact, that this article who be dismissed without without second thought by the organizers but I'd urge them to revisit after the plane departs, maybe you'll pick some senses in it. As a country, we can't just be stuck at supporting foreign music, sports while diminishing ours. We must learn to take advantage of opportunities.
The landing was in my view supposed to be symbolic, I'd have loved to see faces representing real football team from that plane as opposed to people in suits and smartphones. Take an example, while going through the hashtag, I encountered a lady whom the organizers would've incorporated.
Fatuma Abdulkadir Adan was born to parents who were from two warring tribes in Marsabit, Northern Kenya. After her training as a lawyer, she returned to her hometown in order to promote peace between the conflicting Borana, Gabra and Rendille communities. In 2003, she founded Horn of Africa Development Initiative – HODI, a non-governmental organization she uses football to foster peace, advocacy, education for vulnerable children and building resilient communities.
Through HODI, Adan launched "Shoot to score, not to Kill", that uses football to engage Kenyan youths in advocacy for peace. The initiative was featured in an award-winning film the Soldiers of Peace narrated by Michael Douglas. In 2008 she initiated Breaking the Silence through football on FGM, Early Marriage, and Beading. In 2015 Breaking the silence won Beyond Sports Award for Social Inclusion and Fatuma was featured among the 50 most influential personalities in Sports. In 2016, Fatuma was re-elected to the Board of Streetfootballworld bringing together 125 organizations using football for social change as the 1st African Woman. In 2017, she was nominated to Champion Goal5 on Gender Equality by the Kenyan Gender Minister during the UN Convention on the Status of Women in New York. She has been invited and treated to many FIFA events on VIP standards, in fact, she's tipped to be amongst few Kenyans who'll be traveling to Russia on FIFA bill. She'll be viewing the trophy tomorrow like the rest of public, no prioritization.
Having studied the interactions on the trending topic #ReadyToGo which is the official tour hashtag, most are talking about side shows as wastage of water on the salute accorded the plane. Tomorrow it will be selfies with the trophy and then what? We will forget everything just like we forgot about Thierry Henry. We must deviate from face value services, yes we trended on social media, people selfies then we went back to same pathetic sports situations. It is time for such high valued, rate international events to put the country's interests beyond their own. They can make the money and at the same time impact sports culture. Keyword, be innovative, listen to different opinions it won't explode your eardrums.
Right now imagine if we had short clips of kids in the football academies who've been kept off crimes in the slums thanks to football, flown to Addis or any country, football legends speaking on state of soccer and improving it, we'd we'd be having constructive conversations running alongside #TembeaKenya (who've performed well from my evaluation, took advantage of every opportunity to sell Kenya) promo clips but since I am an outsider with no idea how things run let's meet at KICC tomorrow and take selfies and bury this thing. I'll be there.
Bonus: Mainstream media remains disillusioned stuck in traditional, rudderless, news angles. Instead of talking about topical sports issues in the country within this time frame, are bringing back Raila and Kibaki a decade ago stories. Coca-Cola have done their parts bringing this trophy here but we're stuck at the same FIFA rankings. This would've been opportune time for the media to take into task sports officials and other stakeholders. Instead, media would rather play into comic agendas. This country bores me at times.
---
Kenya Insights allows guest blogging, if you want to be published on Kenya's most authoritative and accurate blog, have an expose, news TIPS, story angles, human interest stories, drop us an email on

[email protected]

or via Telegram
---