Louis Otieno Has Never Been An Angel But Imperfect Human Being Like Rest Of Us And This Is Why We Must Help Him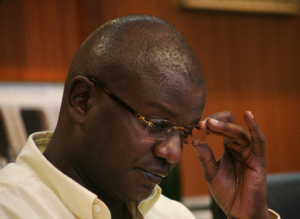 The life they say is totally unpredictable, as a Christian, my belief is only God knows of tomorrow. Years back, well built Louis graced our screens and charmed everyone with his eloquence and unmatched interviewing skills. As a talk show host, his interrogating skills remain unchallenged. In fact, I can comfortably say Louis Otieno remains the top talk show host in Kenya. He was a pioneer who motivated and opened ways for many budding journalists Most of whom are big brands right now. He inspired me as well, I would later pursue journalism course at Nairobi University.
At the peak of his career, Louis made great friends and enemies too by now you must have heard all manner of stories. Some will tell you he was such a boast and arrogant person, some will tell you he was a humble, professional soul. Listen, if there's one thing I've come to realize about life then its that people will always judge you and hold different perceptions on you and the sad part is you can do absolutely nothing about it.
When his career was taking a downward spiral, the presenter was involved in a case where he was accused of having killed his girlfriend, Caren Kipchumba, the case has been in the courts but Louis is yet to be found guilty. In an investigative piece done by KTN's Onsarigo, a higher conspiracy that hinted at incest implications was sparked that opined to a deeper than we thought view. What really happened we might really never know. But for everything, we will rely on police report and court that has never linked him directly to this murder. However, this case has created perceptions that can't be changed, this post though wasn't about proving his guilt or innocence.
Louis lost his hearing senses and as he say he's living in a cage, he can't walk upright due to loss of balance from the ear problem. Shoved into the wall, friends and family decided to launch a medical appeal that is to see Otieno get a corrective surgery in India to regain his hearing.
Many views have been expressed by critics saying poor saving skills have everything to do with Otieno's impasse. I don't know if yourself reading this you've either paid for a terminal treatment or paid for a relative. I can tell you from own experience that nothing drains your account and your families than treatment. Quality healthcare in Kenya is expensive and a reserve for the rich who can afford premium insurance covers.
You could have saved millions from your job and other investments but if a serious illness hits, your accounts might get cleared in a flash. We have families who've had to sell off even land just to take loved ones to the hospital. Nobody ever, willingly, want their medical conditions to be made public and if it gets to that point where it has to go public while making a medical appeal, keep in mind that was the last thing they'd have ever wanted to happen. No one can do it just for the sake.
I feel this article won't change any perceptions, our brains are engineered to hold bias opinions and that's the fact. Louis has had his high times, has made mistakes in life just like you and me have. He's not an angel so are we. Here's a man who has slipped, got himself up and ready to walk again but he can only do so if we help him. I've never met him personally and I don't know if I'll meet him but I think, an act of kindness will go far in restructuring his life. Everything is between him and his God who will judge and knows what he'll do with him, for us we just intervene as imperfect humans.
Life gives us second chances it's how you use it that matters. It is my submission that we help Louis get his hearing back. This is also an opportunity to talk about the state of healthcare in Kenya. This is the time for on the fence celebrities to come out of rhis comfort zones and join us in the fight for universal healthcare. We need systems where Louis won't have to worry about going to India but walking into a public hospital in Kawangware and get the exact treatment he'd have gotten at Nairobi Hospital. We need a working healthcare system that will provide quality care to both the rich and poor. If we don't, we will continue having medical fundraisers because you know what my mum tells me? Sickness doesn't knock, you might be well today and tomorrow you're in unimaginable state.
We don't know whom we will be donating for tomorrow, it could be me, or you and I'm certain you'd want help, not stones. Being a public figure, unfortunately, we can't stop stones being thrown at Louis Otieno. You don't kick a man who's down, let's not forget but put on hold other concerns and let's help Otieno get his hearing back so he can listen to his daughter once again. He also said if he fully recovers he's ready to come back to the screens. As I sign off, I pose a question that Jesus put to Pharisees when they wanted to stone to death a woman accused of adultery, "Let anyone among you who is without sin be the first to throw a stone at her."
Below are details how to send donations to Louis medical fund.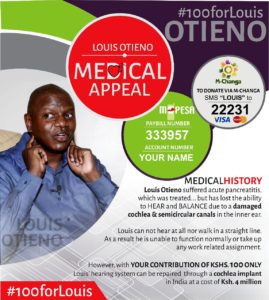 ---
Kenya Insights allows guest blogging, if you want to be published on Kenya's most authoritative and accurate blog, have an expose, news TIPS, story angles, human interest stories, drop us an email on

[email protected]

or via Telegram
---