The Tall Slim Guy That Dumped Slain Chris Msando's Car In Roysambu.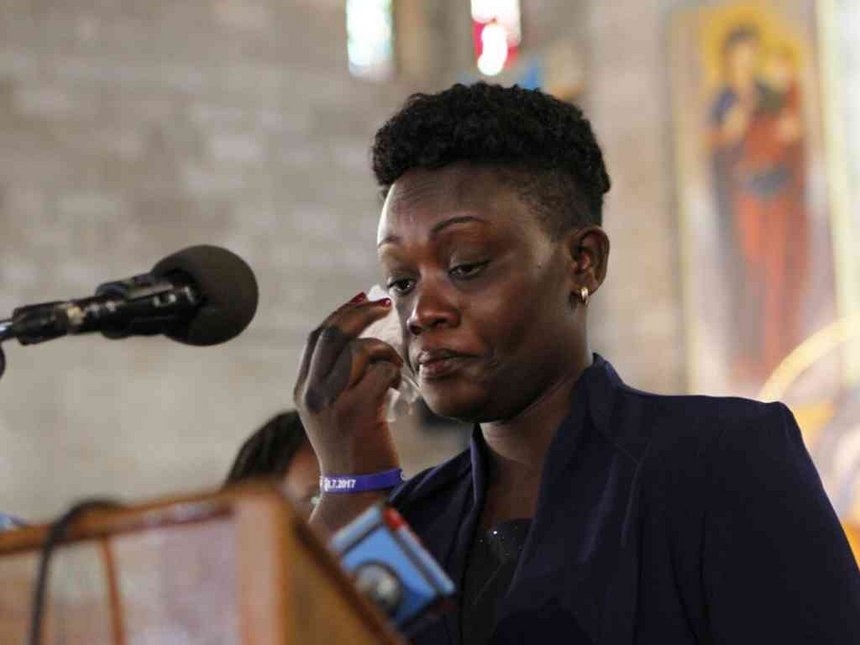 The annihilated IEBC ICT manager Chris Chege Msando was officially abducted around Nairobi Mater hospital South B estate on Friday July 29th night he went missing, tortured and had his last breadth.
Msando was last captured driving his car towards South B estate before the tall slim guy took over the car, wore Msando's shirt and pulled down shade screen to hide face identity from the CCTV surveillance and drove it out to Thika Road-Roysambu near TRM mall where it was ironically discovered two days later by one controversial MP Moses Kuria.
The 44, Chris Chege Msando was murdered on Friday but it was until Monday when his family was informed of his body at City Mortuary after thunderous search the whole weekend.
The suspicious identity of the tall slim guy who as per description by the residence's nightshift Guard Godfrey Ayugi commences from that misery Friday night.
Simple Logics that Unmasks the Assassin.
1.Daniel Kinyua the NeuroTech Services Enterprise Manager and a Relative to top Government official who left Chris Msando in the club for a club in Kilimani for a drink when he had told a family friend he was on his way to Naivasha.
Something to note:
CEO Daniel 'Dan' Kinyua the new suspect whose twitter account handle has been identified as @daneurotech has been dodging speaking to the media who're public watchdog and he has even warned his friends and family not to speak to the media or anybody in matters related to Msando's murder. It's 6 months after the launch of investigation on Msando's murder and only the first month CID special team led by its Director Ndegwa Muhoro and Kenya Police were consistent in giving updates on the doing of the Msando's case but why up-to-date police is still coating Dan Kinyua from media interview when at no point has he been locked for Msando's murder which suggests he is mere in the case and which raises eyebrows why is he not allowed to contribute to public interest case when his chances of being linked to Msando's murder is 'believed to be of lower portion'.
Did he really go Kilimani when he shortchanged his close friends and family that he was on his way to Naivasha to oversee his businesses and at what time did they part ways Msando?
2.In what Capacity and Position was Gatundu South MP Moses Kuria become first to be informed of Msando's abandoned Discovery 4 Land Rover in Roysambu when there is an area Member of Parliament, Member of County Assembly and area Police.
Moses Kuria's presence was already a show of Political Elimination Game script and political mileage script.
Moses Kuria drove to the Crime scene, tampered with fingerprints when he was pseudo-inspecting the car for photo session. But since is he state machinery, he had vowed he owed nobody neither explanation nor apology suggesting he is above the law.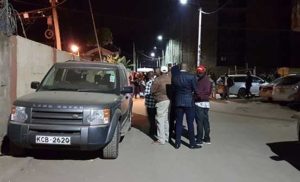 3.When all Suspects linked to Msando's murder were all released on bond by the court and that Msando's car was still being withheld at CID headquarters contrary to policy, Inspector General Boinnet claimed in an Interview with KTN TV's Yvonne Okwara he was not aware..how is that possible for the head of police who was spearheading the investigation. The police evidence presented before the court and to Director of Public Prosecution couldn't hold waters was the fact.
Who was Boinnet Covering up…
4.A top IEBC official introduced the 21yr old medical student Carol to Chris Msando barely 3 months to their murder.
The same top ranking IEBC official's aide was assigned duty to track Msando's movement the day he went missing.
Who is this Top IEBC Official..
5.The tall slim IEBC official who introduced Carol to Msando, is the same one who invited her to club number 7 at then called Msando who was in Anniversary towers ground floor bar to join them. What was the business with Carol when there were no internship jobs? If they were on a date which is private, why would top IEBC official join them? And how was Carol, a medical student's profession related to ICT internship?
6.Denis Onsarigo, the daring investigative journalist through his popular programme 'The Lead', had talked about a CCTV clip given to him by insiders showing the killers & IEBC officials mentioned and suddenly when he had planned to air the programme, it was delayed or could have been possibly cancelled by the powerful entities from the media group which later turned out to be just a postponement. The content could have unearthed the true assassins of Msando on just first round hit. Thereafter the content was distorted and edited, covering up the murderers but despite that, the world appreciates little they clinched.
7.Thika Road Mall(TRM) and the neighbourhood where Msando's car was dumped had CCTV all over but they became inactive on the part when the car was dumped…the coverup script.
8.Alleged Msando's reply text to his wife Eve Msando suggested he had not arrived home when he was already past time. Thereafter, he never replied or called as his wife had advised him.
9.Msando's wife as usual knew her husband Msando would be at home by 15minutes meaning 00:46 from the time they had communicated at 00:31 when he was almost leaving.
By the time Msando is alleged to had replied was 00:58 when:
1.He ought to have arrived home
2.It wasn't possible to chat while driving.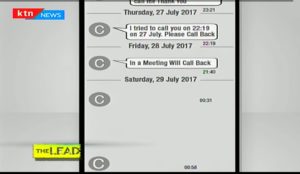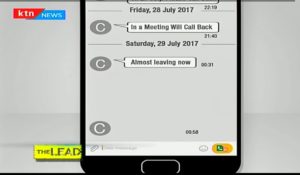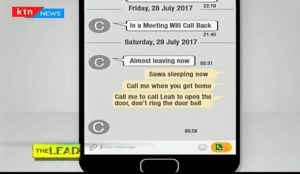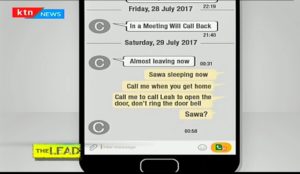 10.The last text sent by Msando (Sawa Jaber n Mum) were out of Chris Musando's form of normal text according to his wife. By this time,the assassins were already in control of his phone.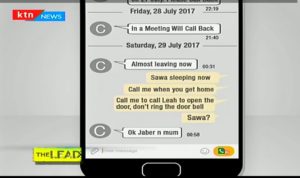 11.Msando's Personal Assistant was never called in for questioning.
Why?
12.After Kenya insights desk received reports on the contradicting initial police report that the distance between Chris Msando's body and Carol's were just 500m apart in the thicket Kiambu Forest which they were dumped, we came to disqualify that lie after authenticating in all aspects and that KTN's the Lead investigation team was compatible with our team in the fact that the two bodies were actually 1Km apart.
13.Records at City Mortuary showed that the two bodies were brought in on a Saturday morning with Carol's first at 10:30am then minutes later Msando's whose was cleaned up and booked in a private wing which only accommodates fully identified bodies. Who would have booked his body in the private wing? Who knew him? When the morgue attendants rejected they had spotted his body while the police said the contrary.
If any Kenyan Common man had faith in Justice system then we would not need investigative journalism sources coming inn.
We're still fighting for this System.The price is affordable in solidarity.
..'If someone steals your cow, you spot it in his compound, head to the nearest police station and inform the police about it and they do nothing about it..do you still ask who stole your cow?'
From the pieces of investigation and indepth analysis,we are satisfied that the tall slim guy is– The most controversial Top IEBC commissioner and to add the list of suspects is this relative to top Government official Daniel Kinyua.
---
Kenya Insights allows guest blogging, if you want to be published on Kenya's most authoritative and accurate blog, have an expose, news TIPS, story angles, human interest stories, drop us an email on tips.kenyainsights@gmail.com or via Telegram
---