The Tall Slim Guy That Dumped Slain Chris Msando's Car In Roysambu.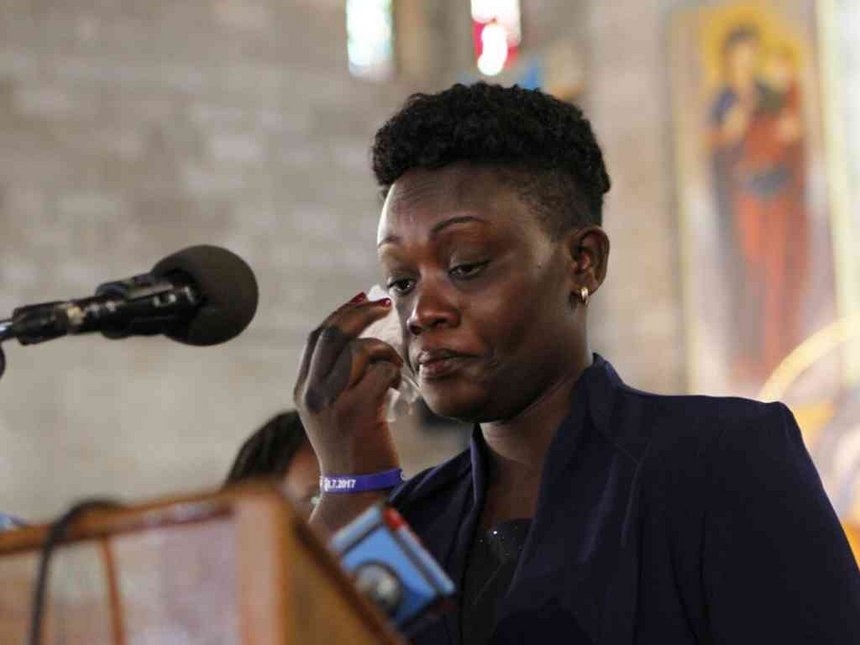 The annihilated IEBC ICT manager Chris Chege Msando was officially abducted around Nairobi Mater hospital South B estate on Friday July 29th night he went missing, tortured and had his last breadth.
Msando was last captured driving his car towards South B estate before the tall slim guy took over the car, wore Msando's shirt and pulled down shade screen to hide face identity from the CCTV surveillance and drove it out to Thika Road-Roysambu near TRM mall where it was ironically discovered two days later by one controversial MP Moses Kuria.
The 44, Chris Chege Msando was murdered on Friday but it was until Monday when his family was informed of his body at City Mortuary after thunderous search the whole weekend.
The suspicious identity of the tall slim guy who as per description by the residence's nightshift Guard Godfrey Ayugi commences from that misery Friday night.
Simple Logics that Unmasks the Assassin.
1.Daniel Kinyua the NeuroTech Services Enterprise Manager and a Relative to top Government official who left Chris Msando in the club for a club in Kilimani for a drink when he had told a family friend he was on his way to Naivasha.
Something to note:
CEO Daniel 'Dan' Kinyua the new suspect whose twitter account handle has been identified as @daneurotech has been dodging speaking to the media who're public watchdog and he has even warned his friends and family not to speak to the media or anybody in matters related to Msando's murder. It's 6 months after the launch of investigation on Msando's murder and only the first month CID special team led by its Director Ndegwa Muhoro and Kenya Police were consistent in giving updates on the doing of the Msando's case but why up-to-date police is still coating Dan Kinyua from media interview when at no point has he been locked for Msando's murder which suggests he is mere in the case and which raises eyebrows why is he not allowed to contribute to public interest case when his chances of being linked to Msando's murder is 'believed to be of lower portion'.
Did he really go Kilimani when he shortchanged his close friends and family that he was on his way to Naivasha to oversee his businesses and at what time did they part ways Msando?
2.In what Capacity and Position was Gatundu South MP Moses Kuria become first to be informed of Msando's abandoned Discovery 4 Land Rover in Roysambu when there is an area Member of Parliament, Member of County Assembly and area Police.
Moses Kuria's presence was already a show of Political Elimination Game script and political mileage script.
Moses Kuria drove to the Crime scene, tampered with fingerprints when he was pseudo-inspecting the car for photo session. But since is he state machinery, he had vowed he owed nobody neither explanation nor apology suggesting he is above the law.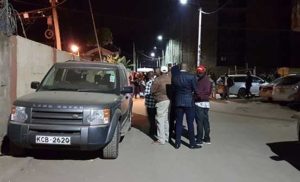 3.When all Suspects linked to Msando's murder were all released on bond by the court and that Msando's car was still being withheld at CID headquarters contrary to policy, Inspector General Boinnet claimed in an Interview with KTN TV's Yvonne Okwara he was not aware..how is that possible for the head of police who was spearheading the investigation. The police evidence presented before the court and to Director of Public Prosecution couldn't hold waters was the fact.
Who was Boinnet Covering up…
4.A top IEBC official introduced the 21yr old medical student Carol to Chris Msando barely 3 months to their murder.
The same top ranking IEBC official's aide was assigned duty to track Msando's movement the day he went missing.
Who is this Top IEBC Official..
5.The tall slim IEBC official who introduced Carol to Msando, is the same one who invited her to club number 7 at then called Msando who was in Anniversary towers ground floor bar to join them. What was the business with Carol when there were no internship jobs? If they were on a date which is private, why would top IEBC official join them? And how was Carol, a medical student's profession related to ICT internship?
6.Denis Onsarigo, the daring investigative journalist through his popular programme 'The Lead', had talked about a CCTV clip given to him by insiders showing the killers & IEBC officials mentioned and suddenly when he had planned to air the programme, it was delayed or could have been possibly cancelled by the powerful entities from the media group which later turned out to be just a postponement. The content could have unearthed the true assassins of Msando on just first round hit. Thereafter the content was distorted and edited, covering up the murderers but despite that, the world appreciates little they clinched.
7.Thika Road Mall(TRM) and the neighbourhood where Msando's car was dumped had CCTV all over but they became inactive on the part when the car was dumped…the coverup script.
8.Alleged Msando's reply text to his wife Eve Msando suggested he had not arrived home when he was already past time. Thereafter, he never replied or called as his wife had advised him.
9.Msando's wife as usual knew her husband Msando would be at home by 15minutes meaning 00:46 from the time they had communicated at 00:31 when he was almost leaving.
By the time Msando is alleged to had replied was 00:58 when:
1.He ought to have arrived home
2.It wasn't possible to chat while driving.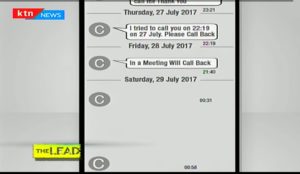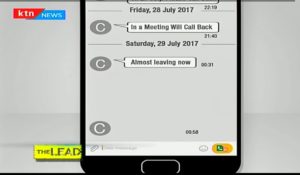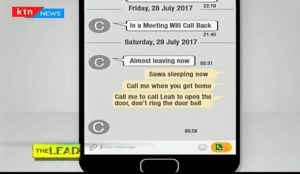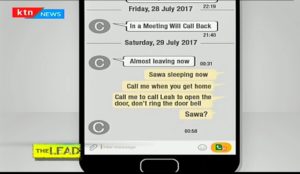 10.The last text sent by Msando (Sawa Jaber n Mum) were out of Chris Musando's form of normal text according to his wife. By this time,the assassins were already in control of his phone.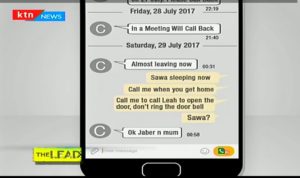 11.Msando's Personal Assistant was never called in for questioning.
Why?
12.After Kenya insights desk received reports on the contradicting initial police report that the distance between Chris Msando's body and Carol's were just 500m apart in the thicket Kiambu Forest which they were dumped, we came to disqualify that lie after authenticating in all aspects and that KTN's the Lead investigation team was compatible with our team in the fact that the two bodies were actually 1Km apart.
13.Records at City Mortuary showed that the two bodies were brought in on a Saturday morning with Carol's first at 10:30am then minutes later Msando's whose was cleaned up and booked in a private wing which only accommodates fully identified bodies. Who would have booked his body in the private wing? Who knew him? When the morgue attendants rejected they had spotted his body while the police said the contrary.
If any Kenyan Common man had faith in Justice system then we would not need investigative journalism sources coming inn.
We're still fighting for this System.The price is affordable in solidarity.
..'If someone steals your cow, you spot it in his compound, head to the nearest police station and inform the police about it and they do nothing about it..do you still ask who stole your cow?'
From the pieces of investigation and indepth analysis,we are satisfied that the tall slim guy is– The most controversial Top IEBC commissioner and to add the list of suspects is this relative to top Government official Daniel Kinyua.
---
Kenya Insights allows guest blogging, if you want to be published on Kenya's most authoritative and accurate blog, have an expose, news, story angles, human interest stories, drop us an email on

[email protected]

or via Telegram
---
How Flying Squad Trailed And Arrested Police Officers Who Raided A Malian Citizen's Home In Kilimani Stealing USD 8,000 In Cash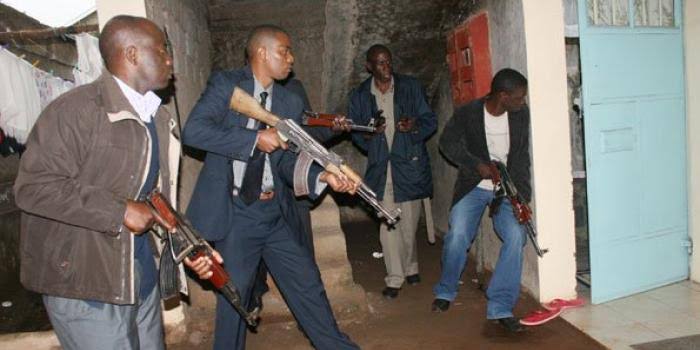 Flying Squad officers have arrested one police officer & are in pursuit of others following a report made by one Bathily Abdoulaye, a Mali national, who had reported that on 15/09/2018 four police officers from Nrb Area command came to his Kilimani residence and arrested him.
In the process of the arrest the officers ransacked his house and took the following items: 8,000 US Dollars,Ksh.83,000, 3 Rolex watches each valued at 15,000 US Dollars, his passport and also transferred Ksh.30,000 from his Mobile phone number to another Mobile phone number.
The complainant was then escorted to Central Police Station where he was later released without being officially booked in the Occurrence Book. Thereafter, the same officers still continued demanding from him an additional 8,000 US Dollars which prompted him to report the DCI.
Flying Squad  officers laid an ambush at Yaya center where the money was supposed to be delivered & in the process managed to arrest one suspect namely Moses Njogu Njagi who led officers to Central Police Station where No.88724 PC Kelvin Ndosi of DCI Central was arrested.
The passport of the complainant was recovered from the arrested officer. The Flying Squad is still looking for the other rogue officers including one driver attached to the County Criminal Investigations Officer,Nairobi Area.
Cases Of Police Officers engaging in criminal acts are not new in the city and this just adding to the pile of many cases. With the purge on illegal immigrants, rogue officers have taken advantage and many foreigners are complaining about harassment.
---
Kenya Insights allows guest blogging, if you want to be published on Kenya's most authoritative and accurate blog, have an expose, news, story angles, human interest stories, drop us an email on

[email protected]

or via Telegram
---
Britania Foods Ltd CEO Robert Kagundah's Days At Britania Numbered As Sales Director Shown The Door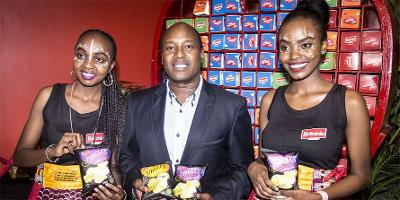 Mr Robert Kagundah, a former Coca Cola executive, was appointed to take charge of the business now renamed Britania Foods Ltd after acquisition from Manji foods by Catalyst Principal Partners and for Manji Foods, previously House of Manji, is Kenya's market leader in the biscuits category with a market share of 27 per cent in 2016, according to data from research firm Euromonitor, it was a good gamble for the investors, however, that hasn't been the case.
Britania has been making losses and notice to the CEO to restructure the company to profitable heights has hit a dead end with steady losses that now rolls.
Britania Foods Limited workers have accused the top management of irregularly running the company that was in 2017 acquired by Nairobi-based private equity firm Catalyst Principal Partners.
All is not well at Britannia Foods Limited following allegations that workers have been turned into slaves with sexual exploits being at the centre of management.
Currently in hands of private equity firm, Catalyst Principal Partners, all eyes are on chief executive, Robert Kagundah popularly known as RK on whom all eyes are focused. Not left out is Elijah Maina, the sales director of the firm. The duo is alleged that in order to satisfy their social urge, they award contracts and employment opportunities to females they befriend.
Kagundah out of the blue, awarded a catering and cake supply contract to Civa Cakes, associated to Cynthia Orenge. The said Orenge has introduced a lady by the name Charity Muema to Maina and her firm CM commodity suppliers is to land a major wheat supply deal running into millions of shillings.
Kagundah met Ms Orenge at Karen Country Club. She was sacked at the club after she was found in a compromising position inside Kagundah's car at the parking.
At Britannia, Kagundah manipulated a Somali tycoon, a one Mohammed and acquired a Mercedes Benz registration number KCD 227B. Mohammed had supplied the company with a number of Toyota Fielder cars for the sales department.
Britania is fully owned by Catalyst Principal Partners after being purchased in early 2017 from the Dawda family. Our sources indicate that cooked books may have been used to dupe Catalyst into buying the loss-making company.
By the time Catalyst found out, it was too late. CEO Robert Kagundah and his sales manager, happen to be best friends, forming an axis of acute corruption that no one at the company can stand up to.
The plan involves working in cahoots with distributors, to dupe the board and management that they are meeting sales targets.
A distributor would for example order biscuits worth Ksh 10 million, and Elijah and his team would report that figure has been met, regardless of whether the distributor sells or not. The distributor would then return back the stock after about three months, very close to the expiry date.
Britania hence ends up losing tens of millions every quarter, and rumors are that Kagundah is paid handsome amounts in kickbacks together with Sales Director Elijah Maina.
Catalyst has since sacked the sales director over non performance and the steady loss making. This can be seen as a blow to the CEO who has now lost s confidant. Britania would be keen to get its brand on straight line by doing away with scandalous characters in its management and more so have performers as opposed to mediocres.
---
Kenya Insights allows guest blogging, if you want to be published on Kenya's most authoritative and accurate blog, have an expose, news, story angles, human interest stories, drop us an email on

[email protected]

or via Telegram
---
Thigh Pain That Killed A Three Year Old Girl In The Theatre At Kenyatta Hospital Parents Say It Was Doctors Negligence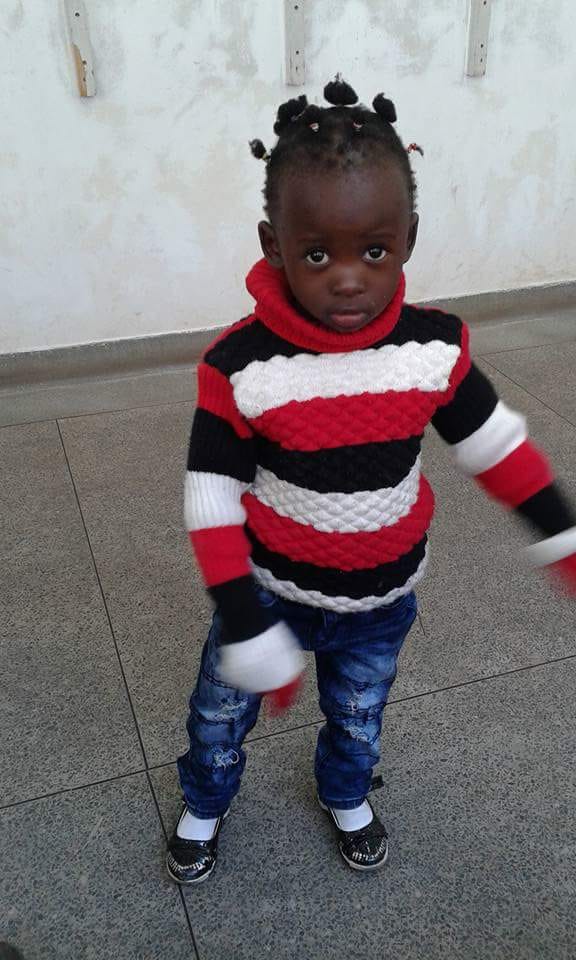 On a normal day on Monday, Penina Kadogo after a long day playing, complained to her father, Mathew Kitito about pain in his leg, "Baba naskia uchungu kwa mguu." The father recalls. He had assumed this was probably a minor injury incurred during their plays with peers during the day. Unknown to him, this would be the start of a short, sad journey and the end of him seeing his daughter alive.
As a precaution, he opted to take her to the hospital for a quick bone check up. Talking to Kenya Insights, the father says a Dr. Tende at Kenyatta National Hospital checked and recommended for an X-ray, ultrasound checks. He was also referred to a bone diseases specialist a Mr. Ndeda.
After tests And deliberations, it was decided for the kid to be taken for operation to sort out the pain on her thighs on Tuesday. As required, she was put on medication and denied food as a patient preparation standard before surgery.
While she was booked for surgery on Tuesday, this never became the case and it was pushed till Thursday. According to the father, the three year old didn't eat anything from Tuesday when the doctors had scheduled the operation till Thursday when she was taken to the theatre.
Mathew was hesitant about having the surgery done at Kenyatta but he was convinced that it was the best place to have it done given it being the biggest hospital. He had suggested taking her to a private hospital. In his own view, he wasn't convinced the minor case warranted an operation.
On Thursday at 11am, Peninah was finally taken to the theatre and once again, things would go down the drain from this point. Minutes turned to hours of waiting, uncertainty and anxiety was killing the parents on the other end. At 3pm that is five hours after she was checked in for the minor operation, the mother was called from the ward to take her daughter, by then, they had finished, so they thought.
When her mother, Joanne Atieno took her up, she felt something unusual, she was struggling to breath and at this point the doctors must have realized they made a mistake and then took her away from the mother who was then instructed to leave. This would be the last time she held her in her arms alive.
Peninah took her last breath minutes after, she was registered dead at 3.05pm. Mathew was then called to the hospital at 7pm where they broke to him the bad news.
Dissatisfied with everything, the father is convinced the death has been caused by doctors negligence and according to an uncle Chabuga Evans who's taking the lead in seeking answers, Peninah was given anesthesia overload and that's what resulted in the hard breathing. They claim she was taken out of the surgery before full recovery and the doctors didn't factor in precautionary measures to keep the baby alive.
Narrating his story, the disturbed father is pointing all fingers at the hospital. "This was a minor case that shouldn't have resulted in the death of my daughter, I'm mad, sad, friends and family are falling and I can't explain to them what exactly happened." Our interview pauses as he breaks into tears.
The uncle Chabuga took over making their pointers clear that from Tuesday to Thursday the kid wasn't given food and was taken to the theatre while too weak. They're questioning why the doctors didn't consider the physical stability before taking her for surgery.
Getting answers from the management has become a challenge, the family says. The body is at the hospital's mortuary and they're sourcing for independent pathologist to ascertain cause of death. They read dishonesty that the body has already been treated which the claim can possibly wash away crucial clues to find cause of death.
However, the resident pathologists are giving assurances that this wouldn't be an issue as autopsy will show the exact cause. They're determined to take the matter to all heights to get justice for the kid. They've raised an eyebrow as to why the final report was written by a different doctor from the ones who handled the patient. They've been advised to seek answers from the management.
Kenyatta Hospital continues to struggle with systematic failures which this site has been highlighting and are never addressed. General understaffing, underfunding and overcrowding remains the biggest challenges that are yet to be addressed making it prone to such errors which can be avoided.
As this family seeks justice for their daughter, another disaster is waiting to happen, the more things change, the more they remain the same. We're yet to move on from the incident where a wrong patient had his skull opened and now this and so many unreported cases.
Employ more doctors and staff, thevfew available are overworked, demoralized and proneness to mistakes increased, allocate more funds and ensure the projects are implemented to improve the facilities at KNH, we can't have a national referral hospital running on colonial equipments. Decongest KNH by ensuring other public hospitals are working perfectly, this hospital should only be for complex issues as it should be not for treating minor cases like fever.
The hospital must give answers to the family of the deceased and ensure justice by taking actions against any deliberate negligence if any that might have resulted in the death of the three year old girl.
---
Kenya Insights allows guest blogging, if you want to be published on Kenya's most authoritative and accurate blog, have an expose, news, story angles, human interest stories, drop us an email on

[email protected]

or via Telegram
---