Raila Loses To Uhuru Even Before The Campaigns Officially Kicks Off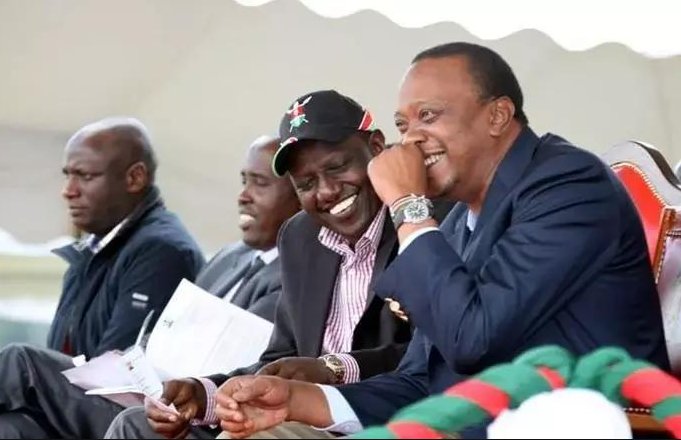 Politics is science meaning finer details can't be viewed with naked eyes. It needs deeper analysis to understand the unwritten aspects adequately. Communication is one thing, strategic, effective communication is everything. It is for this simple reason that even African dictators have resorted to services of international communication consultancy firms to help them control masses and eventually retain power. In recent elections where the opposition has been uprooting till death do us apart Presidents, have a strategic communication system to attribute their successes to.
In politics, perception is critical and how you build that iS entirely up to you, but you must make a narrative to serve your agenda. Psychological manipulation, building perceptions is why explicitly or perceived rogue leaders get overwhelming support, look at Sonko and the support he's commanding despite negative publicity. Unity and Ruto had serious crimes hanging over their heads but used the loophole of psychological twisting to build a favorable perception that they were innocent and only being sacrificed by Raila to be crucified in public land.
While the reality and culpability to the alleged crimes remain open book, the duo manipulated facts and changed perceptions that would later cost the favorable Raila a win in the election.
Propaganda is a traditional take on trade in politics that has worked for systems worldwide. The effectiveness of a well-choreographed propaganda can't be put any better. Politics is not a game for the Saints, and that's the unwritten truth, you either get your hands dirty or find yourself in the cold.
Jubilee unlike 2013 where they ran on a youthful new leadership euphoria and ICC bond, have totally lost leverage and despite the fact that we're less than 100 days to the general elections are yet to settle on a central campaign platform. Jubilee has tried to use development as their campaign agenda capitalizing especially on infrastructure, going as far as launching a portal to sell their record including massive mainstream media hyping of same records but this has proven to be a task to sell. Cost of living has disturbingly shot up in the last four years that it becomes nearly impossible to convince the poor mwananchi who's spending more to put enough food on the table that the country has developed.
Development and improvement of the economy to the normal mwananchi who survive on hand to mouth basis is not the SGR or any other infrastructural development but the table, if they can't feel it in the household, then everything else is music to a dead ear.
The effectiveness of building perceptions has seen opposition squarely paint jubilee as a corrupt government given unending scandals; they ensured all fraud schemes were exposed and this is the ugly stain that Jubilee has struggled to remove in vain. Economic ratings rank Kenya as steadily rising with impressive GDP, but the apparatus speaks a different reality. Cost of living in Kenya has shot up to ridiculous levels, companies have either been downsizing or leaving Kenya because of the extreme business environment, the unemployment rate has hit an all-time high of 46%. This is the loophole and advantage that NASA has jumped into promising magic of resetting Kenya to default settings of affordable life.
The high cost of living remained NASA's greatest bargaining power and campaign platform until Jubilee saw a lapse in their communication system and rushed in to spoil the party, convening a special Parliament meeting to discuss how to lower food prices with a supplementary budget to the same. NASA had a golden opportunity to maximize and milk this failure on the government entirely but has failed to capitalize on Jubilee's failures. It takes prompt and flawless media strategic position to build a narrative around this and change perceptions. This was the opportunity to expose the poor governance in Jubilee which is to blame for the state the country is in. This was the time to task Jubilee to explain to Kenyans why they didn't put in place effective food security measures.
It is also the time NASA would be making Jubilee lose weight explaining where the 15B allocated to Galana Kulalu irrigation project that was meant to answer to food shortage go; it failed terribly. It is also the time Jubilee would be tasked to answer as to why drought eradication can't include water harvesting even as we have heavy rains. Kenya can't run on 90s management yet we expect change, effective governance would have factored in that by now. Also, an opportune time to ask why to take fertilizer supplied to farmers turned out to be fake and infectious leading to drop on corruption. A subsidy from the government, who supplied farmers with plastic fertilizer.
The Kibandas don't serve the extra ugali piece(sosa) anymore, and this is where that juacali artisan is directly affected, maize prices had shot up more than double amount from when Jubilee took power, during campaigns, Ruto is quoted promising for unga prices to go down on taking office, this would've have been perfect time to replay him the videos and ask what happened. Prices of domestic goods have altogether shot up, and this is why it was such a great campaign platform that Jubilee couldn't allow to go, it is felt in all households.
While Jubilee's move to help reduce the cost of essential commodities is a great move as regular mwananchi will get a reprieve, It exposes the put out of touch nature of the government, everything happened under their watch, unconcerned until reality hit that it was being used as campaign platform against them. The sudden concern for the affordable cost of living is, therefore, more plastic than silicon on those glands.
NASA took their time to fully capitalize on this either because they didn't have in place any plan, nI communication strategy or sheer incompetence by existing team or perhaps somebody thought miracles would happen as in Prophet Owuor crusades. The communication lapse gave Jubilee time to re-strategize in responding the failures. This is the price to pay for poor strategizing.
Jubilee has an endless list of failures, and this doesn't necessarily guarantee that Kenyans will reject them and that's why they're on a positive perception building overdrive How this is done, simple, media takeover. Jubilee is running ads and commanding maximum mainstream media coverage. You control the media you control the masses.
Jubilee has also revamped their online army even though most are malnourished with pending payments. Latest project 'The Real Raila' which is a direct demonizing campaign on Raila, is heavily funded by Google, Twitter, Facebook sponsored posts. The project which has been exposed to have a base in Statehouse under Dennis Itumbi watch is running ads daily spending millions.
Unlike Jubilee's 36bloggers who've in their ineffective online campaigns have displayed ignorance and out of touch with everything, NASA online soldiers evidently show articulation and grasp with typical issues. A well-managed communication system ought to take advantage of this to run a coordinated, effective online battle without which it is chasing the wind. NASA must keep in mind they're not dealing with the common political outfit, Jubilee has invested in propaganda arsenal which can only be squashed with timely communication, giving a false narrative to travel won't take it back if the war is online, counter with a well motivated and competent team same to mainstream. Media create agendas that switch perceptions.
In 2013 September, five months after Jubilee took over power, effective September 2nd, 2013, among other products the prices of milk, newspapers, textbooks, fertilizers, and mobile phone handsets went up as a result of implementing the new VAT Act 2013.
The previously VAT exempted commodities were now subjected to 16% VAT. Under that new law by Jubilee, the 12% rate for electricity, as well as the electricity exemption for certain households, was also repealed.
Also, according to that law, effective 1 September 2016 (last year) certain petroleum products became taxable with 16% VAT. The changes have led to a strong impact on Kenyans increasing the overall costs of living. According to William Ruto (in 2013), the purpose of the drastic VAT change was to generate revenue for the nation's development agenda.
The money was scheduled to go into public constructions including road and rail system improvements. It should also help the public hospitals. This was in 2013, fast forward to 2017. Kenyans are feeling the pinch. The cost of essential commodities is beyond the roof, but Jubilee is blaming the cost of living on drought. It is fallacious for Jubilee today, to claim that it is doing all it can to reduce the cost of living.
---
Kenya Insights allows guest blogging, if you want to be published on Kenya's most authoritative and accurate blog, have an expose, news TIPS, story angles, human interest stories, drop us an email on tips.kenyainsights@gmail.com or via Telegram
---