Jubilee Strategists Overhauls Social Media Team With Traditional 36 Bloggers Sidelined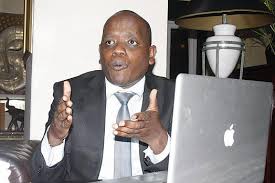 JUBILEE Social Media Machineries And PR Team All At Menopause Stage
When a Woman reaches menopause stage; she is unable to conceive and lacks sexual drive (libido), gratification, excitement. Mechanisms which have been or rather being applied by Jubilee Party PR team which is led by the low self-esteem Dennis 'Veronica'Itumbi to counter attack the great NASA plans to renovate the crooked shape of Kenya Nation seems to be running out through metamorphosis.They have instead made a U-turn into Identity Theft which is a Cyber Crime, but it won't be sorted in Court, it's just dirty politics which pops in when someone run out of ideas because of the same monkeys in a different forest.
When we realized Jubilee smart cards which were to be used for Party primaries was a multi-million scam,it was a plus for the 36bloggers on Twitter who used to be paid 527/- to push Jubilee government agenda since they were promised increment of triple the 527/- and were to be paid at end month.Days, weeks and months passed their account remained stagnant, doors locked over rental arrears, their assets auctioned.They vanished from pushing Government agendas through hashtags on Twitter and blogs.They have never been paid!
Dennis Itumbi led team had to plan a new blueprint strategy to encounter Opposition Online team and instead settled on creating Fake Parody accounts in facebook and twitter where masses are, and fake Websites of NASA tainting its Flagbearer's image to hoodwink, twist and create tension on Opposition supporters.I understand, and I'll die to believe these are last kicks of a dying horse and prior signs and symptoms of menopause.
Dennis Ole Itumbi alias 'Veronica's have been a job seeker because of his childishness, low self-esteem and palpitations ever since he was fired and blocked against any force of gravity that might try to siphon him near Statehouse premises as head of Digital Communication Strategy.He is back to his previous position as 'just' Certificate holder blogger.Veteran Journalist and mastermind behind KTN Tv program "Chamwada Report" Alex Chamwada took over his position as newly appointed Head Digital Communication Strategy. When Itumbi was fired by President Kenyatta in a crackdown strategy, he refused to handover blueprints and relevant resources which were to be used by the new team.He is still being followed by bulls on heat, being hired for malicious plans.
Lately, Jubilee has shifted to sponsoring mainstream media houses through the Chamwada-led team.Here are few observations: News hitting hard at Opposition are given more airtime than news hitting Government; In interviews, Opposition affiliated respondents are always asked peeling off the mask queries while Government affiliated are asked kindergarten questions; Jubilee hullabaloo events being aired while Opposition's events are Censored.
Back to twitter world which is believed to be the second government.Jubilee did away with 36bloggers and went miles ahead to bribing @twitterke which evidently have been censoring hashtags hitting Government and its agencies from trending topic list.This has led to the laying off of all twitter Kenya operating team,@TwitterKe suspended their account due to this incompetence of its team and management.Are you still asking where the multi-millions from the smart cards are being used?
The dirty expenditure has just begun!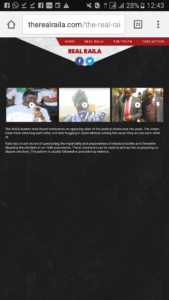 Recently, reports of great concern have reached my desk regarding fake parody accounts speculating propaganda by the following Identities:
1.The Real Raila (Anti Raila)-Sponsored Facebook page with over 80,000-page likes, twitter handle @therealraila and website www.therealraila.com.Note this:1page like cost 1$=100kshs meaning 80k×100=Kshs 8,000,000 and remember this is a government project behind bars.Whose money is being used? Also the website and the twitter handle have all been sponsored and are more expensive compared to Facebook advert policy and payments.
2.The National Super Alliance (NASA) -which has over 100,000-page likes, do the math and get the cost.Kenya will soon be declared bankrupt.On 5th May, the administrators sponsored blogs with the content of fake reports claiming ditching and resignation of NASA deputy flagbearer Kalonzo Musyoka from the coalition and was to make press statement the day after which never happened.
Itumbi's tactics are never dynamic, always the same old tricks to the same old dog: During IEBC-CORD war alias 'Teargas Monday,'he published a 'leaked'statement regarding CORD's strategic plans against the government which included the war on IEBC, sponsoring doctors strike.Identity Theft. Sometimes back he again published his Statements on behalf of an NGO by the name Nothern Advocacy for Sustainable Agriculture (NASA) which was 'Optimistic' to halt Opposition's political alliance National Super Alliance (NASA) to use another name due to confusion, fortunately, failed terribly. Here he again went ahead with the same trick to publish his own 'leaked' Kalonzo's plan on ditching NASA and going for the presidency alone.Am willingly calling upon Itumbi to enroll for my lessons to at least get new tricks.
Below is the list of the Administrators managing the above parody accounts:
Dennis Itumbi(Name)-Dennisi(Login)
James Murithi(Name)-jamesm(Login)
David Nzioka(Name)-davidn(Login)
Ali Yassine(Name)-aliy(Login)
Nyaga Mbitiru(Name)-nyaga-mbitirugmail-com(Login)
Wambui Gichuru(Name)-wambui-gichurigmail-com(Login)
Karissahallstrom(Name)-karissahallstrom(Login)
Kieranw(Name)-kieranw(Login)
Filip(Name)-itsfilipoficial(Login)
Jubi(Name)-jubiadmin(Login)
Author-JohnBosco Juma
Follow-@JohnBosco_Juma
This article expresses the author's opinion only. The views and opinions expressed here do not necessarily represent those of Kenya Insights or its Editors. We welcome opinion and views on topical issues. Email: [email protected]
Author-JohnBosco Juma
Follow-@JohnBosco_Juma
---
Kenya Insights allows guest blogging, if you want to be published on Kenya's most authoritative and accurate blog, have an expose, news TIPS, story angles, human interest stories, drop us an email on

[email protected]

or via Telegram
---