President Uhuru's Entrusted Military-Intelligence Service Men Performances in Civilian Offices – Good and Worst.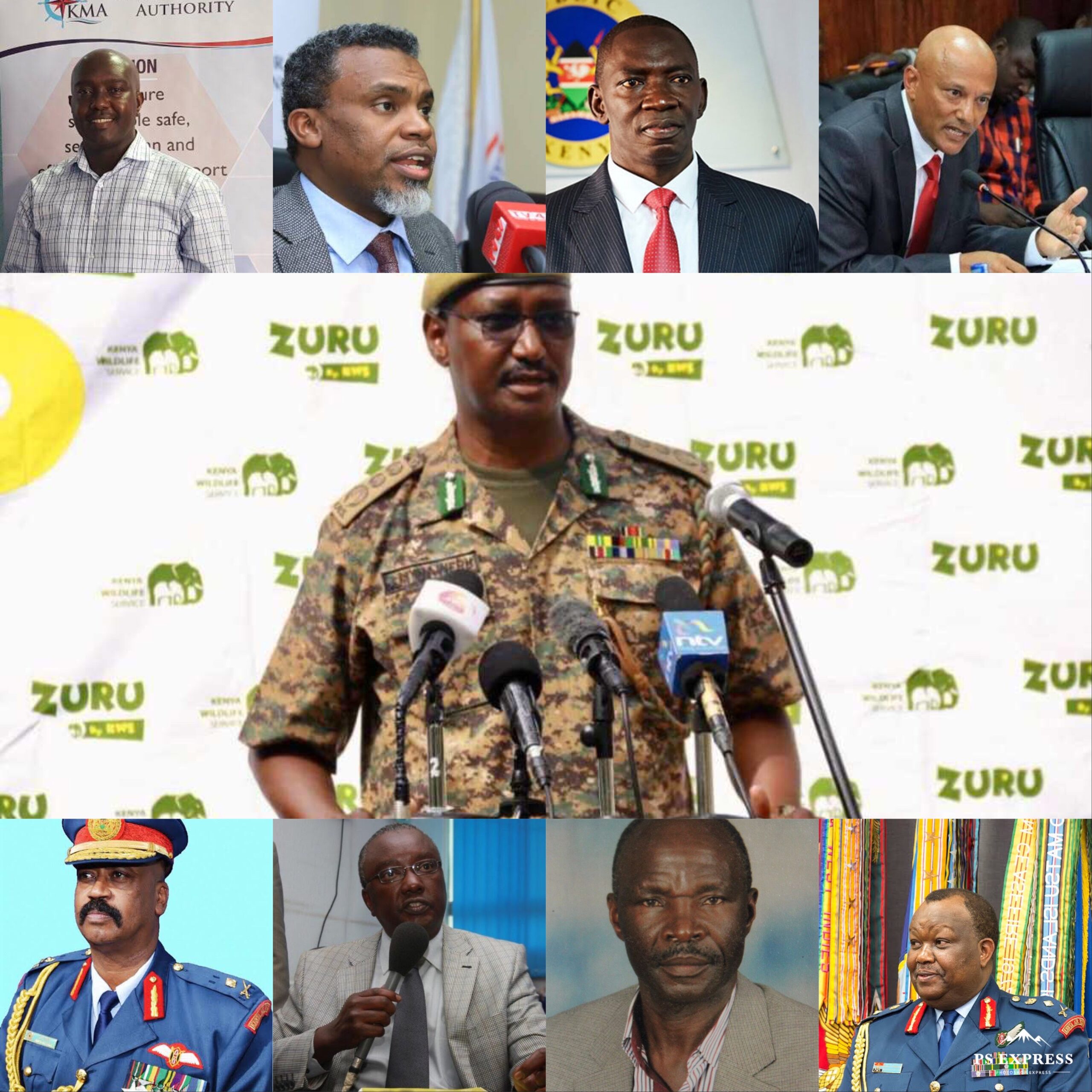 After President Uhuru Kenyatta's emanation to power in 2013, his appointments to strategic positions in government parastatals have revolved around key figures from military and Intelligence service.
Some of the senior civil offices occupied by military or intelligence service Uhuru's favorite men include the Office of the Director of Public Prosecutions (ODPP), Ethics and Anti-corruption Commission (EACC), Kenya Civil Aviation Authority (KCAA), Financial Reporting Centre (FRC), National Social Security Fund (NSSF), Kenya Maritime Authority (KMA), Kenya Wildlife Service (KWS), Nairobi Metropolitan Service (NMS) and the Kenya Coast Guard Service (KCGS).
Military.
1. Worst of All 
KWS well-connected Director General of Kenya Wildlife Service Brigadier (Rtd) John Waweru was also a direct appointee of President Uhuru Kenyatta. Waweru was appointed to this position on March 13, 2019.
The rot at KWS is  so deep that when State House instituted secret audit which exposed poor leadership, costly inefficiencies and capture of board by a section of management led DG Waweru and his loyal right-hand -men  — Edwin Wanyonyi; the Deputy Director Strategy & Change, HOD Procurement Mr Wambua and HOD- Roads Mr Eng Walter Ochieng.
Gripping KWS's centralised procurement system; the Waweru's cartel hijacked the operations of the KWS Tender Evaluation Committee which openly demanded a ten percent standard kickback from tenderpreneurs who sought business from the state corporation that turns-over approximately Sh8 billion p a.
The four senior staff had been linked to corrupt dealings at KWS through phone and bank records as well as an intricate investigation into their social circles.
Waweru micromanages Road Maintenance Tenders (KWS receives substantial cash injection from the Kenya Roads Board for maintenance of roads within national parks and game reserves) with Engineer Ochieng who had developed a list of preferred contractors and suppliers most of whom the audit revealed were proxy companies they had shares in through relatives and associates.
The tenders were sub-divided and evenly distributed to the preferred suppliers. The DG Waweru who also acts as Corporation Secretary at Board level often blackmails Board members in the name of the President hence placed figureheads in all the main three board committees of finance, conservation and audit rendering all internal controls his tools of manipulation like in a military Barack.
In one controversial incident, Waweru managed to persuade the Board sanction the contract to build a new luxury residence inside the serene Nairobi National Park for himself as the Director General at the cost of Sh31 million.
This particular tender was awarded to a waste collection company suspected to be linked to the DG by proxy and one that has no experience in construction of buildings nor architecture nor design.
He's also been alleged to be a womanizer "Even worse are an open secret that he has relationships with various women at KWS including the Head of Legal and Head of Security." Kenyan Report blog exposed. The state of affairs at KWS deteriorated so bad that disenchanted staff resorted to colluding with poachers thereby undermining wildlife conservation which is a core mandate of the KWS.
Confidential documents where the KWS employees were being forced to sign the trash documents in order to commit and agree that they won't leak any information to the public in a bid to contain the crisis.
'An employee shall not, under any circumstances, communicate with the media either in writing or by granting interview and making statements on matters affecting the Service programs or policies without the specific authority of the Director General. Where such authority has been obtained, the employee shall communicate with the press through the respective Divisional Head', part of the new code of conduct stated.
'Consequently, attached herewith please find an extract of the Service Code of Conduct to be signed by every employee under your jurisdiction. After signing, a copy is to be returned to this Headquarters for record purpose while the employee shall retain the original for reference', the letter from Waweru stated.
2. Worst 
In August 2014, Kenyatta appointed Retired Major-General Gordon Kihalangwa to fix the Immigration Department following demonstrated concerns over Kenya's porous borders and their contribution to increased terror attacks in the country.
Kihalangwa retired from the military in 2013 after serving in major positions including Head of the Military Police and Assistant Chief of Defence Forces. He was appointed to replace Jane Waikenda who had served as a diplomat and was later posted to Kenya's embassy in Pretoria, South Africa.
His appointment to fix the Immigration department later turned out to be a looting spree exercise with Passports scandal that was unearthed by then Auditor General Ouko. The department couldn't account for missing 1.4 billion Kshs. Immigration department instead have worsened the corruption menace in the country under the military man's watch. Later transferred to Ministry of Defense as PS and apparently Public works PS.
3. Worse
In June 2016, Kenyatta appointed former Chief of Defence Forces Joseph Karangi as the chairman at the Kenya Airports Authority before re-appointing him as a non-executive chairman to the board of the National Hospital Insurance Fund NHIF and now Chairman of National Social Security Fund (NSSF) which has been emtanglement bedrock for tenderprenuers cartels.
The looting in NSSF at one point allegedly led to a heated engagement between the the Rtd. General with President Kenyatta who at one time during the board's zoom meeting stormed in and directed Chairman Karangi to make certain tender transactions to his (President) prefered firm to stabilise his housing agenda. A move that made Karangi furious and opted out of the meeting.
While at KAA, Karangi was ousted after influencing the supply of faulty scrutiny security machines using Magnate Ventures a company owned by a Kikuyu tycoon Stanley Kinyanjui that is currently under investigations. Karangi used his office also to oust the Jimmy Wanjigi affiliated firm that had been awarded the tender and had to be transfered before hell broke loose into public domain.
4. 
In October 2018, Maj (Rtd) George Nyamoko, was picked by Kenyatta and given the role of heading the Kenya Maritime Authority as the Director-General. Nyamoko replaced Nancy Karigithu, a maritime lawyer and graduate of the University of Nairobi who had led the maritime authority in an acting capacity.
But after 2 years in the civilian office since 2018, Nyamoko resigned after scandalous construction of the Sh1.8 billion 15-storey KMA complex in Mbaraki area.
5. Worst
Captain Gilbert Kibe who also served at the military was appointed the Director General at the Kenya Civil Aviation Authority. Before his appointment, Captain Kibe was serving at the Kenya Airforce as a trained pilot who had overseas training in military warfare.
Kibe's incompetence is exemplified by the collapse of Eagle Aviation, a Mombasa based
operator he co-owned and managed with Kiran Patel. The airline run into
turbulence and wound up in 2003. Another insolvent firm Kibe co-owned and managed with Charles Muthama is Aero Kenya which collapsed in 2010.
In his tenure as the Director General of KCAA he has been accused of favoring specific aircrafts and isolating specific other ones being that he also owns an aviation school within Wilson airport. He has allegedly been working to the advantage of Jetways and Skyward which have cargo aircraft. And prior to which he operated LET 410 aircraft that transported miraa to Somalia and other destinations prior to his appointment as the DG.

Other operators; Bush Air, Rudufu, Buff Air, Capital Air, Freedom Airlines and Silverstone operate Fokker 50 aircraft felt the pinch.
He employed his concubines Sheila Kemunto and Praktisha Patel and gave them high ranking positions in the Licensing Department and Air Worthiness Inspection, lucrative positions.
Speaking on condition of anonymity, an employee who works under said: 'Kibe has always been more focused on clamping down on air operators rather than improving the
environment in which they operate. He's not tried anything innovative or to re-brand or do anything different.'
The Auditor General raised red flags on payment of millions of shillings irregularly paid to Kibe as subsistence allowance for several months raising serious queries on the agency's spending and the director general's overseas travels. Kibe clocked millions of frequent flier miles and in the process made a fortune in per diem payments over and above his own perks leading the Auditor General to question the deals.
Under his watch in 2019, tender scandal for Provision of Medical Insurance Cover For Staff (KCAA-019-2019-2020)
The letter dated 22nd November, 2019, adressed to the Manding Dorector of KCAA Gilbert Kibe, copied to Insurance Regulatory Authority (IRA), Office of the Director of Public Prosecutions (ODPP), Office of the Director of Criminal Investigations (DCI), Ethics & Anti- Corruption Commission (EACC), Public Procurement Regulatory Authority (PPOA), and Ministry of Transport.
"It has come to our attention that the procurement process on the referenced tender is a mockery of the bona fide gesture on the part of the majority of the bidders who diligently go about their businesses justly and in accordance with the laws of this land. More disturbing is the fact that the process has been under the supervision of one of the bidders thus further camouflaged by guising as an innocent participant in the process, whilst in cahoots with members of staff at the Kenya Civil Aviation Authority with the intention, will or craft to lure other participants and the general public that the same is a free and fair process.
We are at pains to understand why the Kenya Civil Aviation Authority members of staff would elect to ignore the principles of our Constitution as espoused under Article 10 of the Constitution on good governance, integrity, transparency and accountability. Prior to the release of the tender document, Mr. Urbanus Muthama, an insurance agent affiliated to Jubilee Insurance Company , assisted in the drafting and finalization of the mandatory requirements listed on the published tender document. Resultantly, the tender document suits the interests of Jubilee Insurance Company of Kenya, more particular as set out under requirement No. 13 of the Mandatory Requirements listed on the tender document. It is noteworthy that currently, only Jubilee Insurance Company of Kenya meets the threshold, hence no real bidding.
The Kenya Civil Aviation Authority is an entity well bound by Article 73 of the Constitution which advances objectivity and impartiality in decision making, and in ensuring that decisions are not influenced by nepotism, favouritism, other improper motives or corrupt practices. In blatant disrespect to these provision of the law, a meeting was held in November, 2019 at Panari Hotel along Mombasa Road, attended by Kenya Civil Aviation Authority Human Resource Manager, Martin Kivui, representatives from Jubilee Insurance Company of Kenya Limited and the insurance company's agent, Mr. Urbanus Muthama, among others. The subject of the meeting was proposition of a 'kick-back' amounting to Kshs. 48'000'000/- to Kenya Civil Aviation Authority officials should the tender be awarded to Jubilee Insurance Company of Kenya Limited.
Further Section 44 of the Anti-Corruption and Economic Crimes Act prohibits an individual from receiving or soliciting or agreeing to receiving or soliciting a benefit borne out of a bidding exercise. Moreover, Section 46 of the Anti-Corruption and Economic Crimes Act cautions against a person using his office to improperly confer a benefit on himself or anyone else. In addition to these, Section 176 of the Public Procurement and Asset Disposal Act requires a person not to unduly influence or exert pressure on any member of an opening committee evaluation committee or on any employee or agent of a procuring entity to take a particular action which favours or tends to favour a particular tenderer, neither to inappropriately influence tender evaluations and not to commit a fraudulent act. In conclusion, Section 204B of the Insurance Act prohibits a licensed person from knowingly and willfully assisting, conspiring with, or urges any person to violate the law or for any person who due to such assistance, conspiracy or urging by the said person, knowingly or willfully benefits from the proceeds derived from the use of fraud.
Based on these happenings and the further convoluted step by way of the addendum to the tender, it is our hope as law abiding citizens of this country, that your office would address the issue with the force that it deserves. The same is a clear violation of the Kenyan laws as the exercise is marred with corrupt practices by members who are entrusted to govern public funds. It is noteworthy that there is great effort by mandated bodies to rid the country of such practices and as such this exercise should be subjected to their scrutiny to prevent further graft.
We look forward to your urgent and timely action in order to arrest the fruition of these machinations.
Yours Sincerely,
Interested party."
Good
1. In May 2019, former KDF spokesman Colonel Cyrus Oguna was appointed as the government spokesman replacing Eric Kiraithe who was transferred to the Airports security department. He's performance in our scope iPad not been with marred and well in defending the government.
2. NMS Director General Badi 'airman Badi', whom prior to President's appointment was a senior directing staff at (National Defense College) NDC. Before his elevation to the NDC portfolio, Badi was the Moi Air Base Commander. NMS has made tremendous strides in improving Nairobi and our rating is based in comparison to the previous regime of Sonko which was flooded with corruption accusations, baseless wrangles, cartel wars and minimal service delivery.
Others who served in the military and were appointed in various bodies include NTSA Chairman Lt Gen (Rtd) Jackson Waweru, Kenya Railways Corporation Chairman Gen (Rtd) Jeremiah Kianga, KPA Chairman Gen (Rtd) Joseph Kibwana, Kenya's ambassador to Saudi Arabia Rateng' Odinga Ogega, who was by the time of his deployment early last year the Deputy Commandant (Civilian) at NDC and Director-General for Immigration Alexander Muteshi.
Spies
All good
1. In March 2018, the president appointed Noordin Haji as the Director of Public Prosecutions. Prior to his appointment, Haji worked at the National Intelligence Service (NIS) as the deputy director of investigations. Haji replaced Keriako Tobiko, a University of Cambridge law graduate who is now serving as the Cabinet Secretary in the Ministry of Environment.
Under Haji, Kenya has seen prosecution of high voltage corruption cases, leaders brought to book as Migori Governor Obado who's currently facing murder charges.
2.
In August 2018, Twalib Mbarak who also served at the National Intelligence Service was appointed to head the Ethics and Anti-Corruption Commission (EACC). EACC has also had its probably the best form under Mbaruk and we've seen the mighty being brought to books even if it's not the best but the credits are given where due.
3. Alexander Muteshi, who earlier worked as the NIS director of counter-terrorism was also appointed as the director of Immigration Services in July 2018.
Muteshi replaced retired Major-General Gordon Kihaangwa who was appointed as the principal secretary in the Ministry of Defence in  September 2019.
---
Kenya Insights allows guest blogging, if you want to be published on Kenya's most authoritative and accurate blog, have an expose, news TIPS, story angles, human interest stories, drop us an email on

[email protected]

or via Telegram
---