Selective Execution; When Will EACC Have Balls To Arrest Uhuru's Ally Githaiga Over TARDA Multi-Million Saga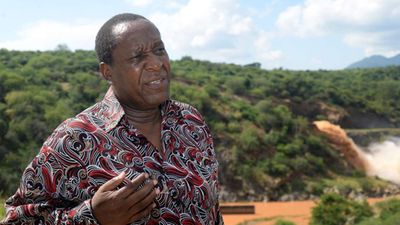 One thing about investigative bodies in Kenya is sometimes talking a lot for the purpose of scoring public trust, promising to crush the criminals in the society and do too little in action. EACC is such a body that has become synonymous with blowing hot air.
Recently, the anti-graft authority vowed to with other investigative bodies like the DCI and NIS to go after public officers occupying office using forged papers. It has been said that majority are holding office with falsified documents thereby earning salaries irregularly.
Such a case of public officers using fake documents is that of Stephen Githaiga an ally to the President whom he has often boasted of his assured protection despite the illegalities committed. He was also one of the big financiers for Jubilee Party where he raised millions for the campaigns.
Having a job remains the biggest dream for many in Kenya and they would strive to do all it takes to keep employment. There is, however a limit to everything as Stephen Githaiga may have learnt the hard way.
His tenure at the helm of the Tana and Athi Rivers Development Authority (Tarda) was brought to a crashing end last year in October unceremoniously but after a relentless battle when a judge ruled that his appointment as the managing director was in breach of law—ending his three-decade link with the firm he joined as a trainee financial analyst.
Though Mr Githaiga's lengthy service at Tarda had been tranquil all through, matters hit a rough patch for him after he rose to the position of managing director in 2015 amid claims of a falsified identification document which lowered his actual age in order to win him a lengthier stay at the water services firm.
Mr Githaiga was also accused of nepotism after allegedly employing some 41 people who are related to him at the agency, claims he disputed.
The tribal MD had been misusing his office openly and DCI together with the toothless EACC swayed out of the radar. Sources from EACC confirmed that the MD Steven Githaiga had allegedly bribed EACC  official to evade arrest over multiple crimes.
After joining Tarda in 1984, Mr Githaiga rose through the ranks and was promoted to the position of deputy managing director.
In April 2013, he was appointed the acting managing director pending the recruitment of a substantive office holder but the board later met and recommended to Environment CS to confirm him to the position.
His appointment was confirmed through a Gazette Notice on June 12, 2015, for a term of three years.
And before the lapse of his term, Mr Githaiga applied for renewal of his tenure and the board subsequently met in July 2017 and resolved to renew his appointment.
The move forced the Union of Kenya Civil Servants to file a case in court, challenging the decision by Devolution CS to approve his second tenure.
The union claimed that an audit carried out by the Auditor-General in June 2015 had established that he had changed names and date of birth to avoid retirement.
According to the union, Mr Githaiga's passport indicated the date of birth as October 20, 1958 under the name Ruimuku Steven Githaiga. The second identity card, under the name Steven Maina Githaiga, indicated the date of birth as 1953.
In response, Mr Githaiga maintained that his passport, identity card, birth certificate, baptismal card and police clearance certificates all showed date of birth as October 20, 1958. He denied claims of a second identity card filed by the union showing different dates.
Other than the claims of falsifying his identity card to avoid retirement, the union alleged that his appointment for the second tenure was irregular because it was made without following due process.
"The court is satisfied based on the records produced that Steven Maina Githaiga and Steven Githaiga Ruimuku are one and the same person, and that the 4th Respondent (Mr Githaiga) had caused to be altered his birth records," Justice Stephen Radido ruled.
The judge said Mr Githaiga was in violation of public service values and principles,since he stood to benefit by altering the dates in his identity card.
The court noted that the Auditor General's report for the year ended 2015 established that Mr Githaiga irregularly caused the employment of staff from a particular region, when he was acting managing director.
"The court is satisfied that the 4th Respondent was in breach of the values and principles of public service as well as the requirements on code of conduct and ethics by causing to be employed by the authority, persons related to him," the judge said.
While quashing the appointment, Justice Radido said the government and the agency failed to provide any evidence that Mr Githaiga's recruitment in April 2015 was subjected to public participation, competition or merit.
OBVIOUS BREACH
The judge added that the initial appointment failed to meet the expectations, values and principles of the public service and was therefore, a nullity.
"The recommendation by the Authority in 2018 for the appointment and/or renewal of contract of the 4th Respondent, and the renewal of contract by the Cabinet Secretary was founded upon an obvious breach of the guiding norms and cannot be allowed to stand," the judge said.
The fact that the judge found him guilty of having worked illegally, relevant bodies as EACC ought to have picked the case immediately for prosecution and recover the irregularly earned perks. But have we had? A resounding silence perhaps to get the case out of the public face.
According to a petition filed in court, Steve Githaiga Ruimuku defrauded the Government over Kshs. 20 million in salaries and allowances for the years as MD. Then over ksh12 million he paid non-existing staff including his wife, brother, new wife's brothers and other relatives and friends.
In 2019 when we mounted pressure, Mubarak led EACC officials confirmed that they were investigating Githaiga. The same Institution had confirmed in 2016 that Steve was a verified fraud and he was being grilled.
When Mubarak was installed at the EACC, he was tasked to clean the rotten EACC. The corrupt individuals had made EACC a den of the corrupt and had acquired massive wealth by sitting on documents and subvert serious cases.
TARDA was operationally crippled by this MD. In countries where the rule of law prevails, Steve would already be serving his miserable time behind bars. Unfortunately, he's a free man roaming in Urban eating joints and spending cash from his fraud dealings in City bars.
He's always chest-thumping that he has Uhuru Kenyatta's blessings and he's from his community. Steven Githaiga contributed Ksh 2.5 Million for president Uhuru's re-election. Is he amongst those that are on the State House protection list?
Giving credits where it's due, today, Detectives from the Ethics and Anti-Corruption Commission (EACC) arrested a former County Executive in Charge of Sports in Meru, for allegedly forging his education papers.
Daniel Kiogora was arrested after EACC received intelligence reports that he forged his Bachelor of Commerce Degree Certificate from the University of Nairobi.
He is said to have used the forged document to secure his job.
This is exactly how things should be done. Cases need to be investigated and prosecuted and filed not left to catch dust yet the body has claimed they've been investigating Githaiga since 2016? Such a simple case. The inaction could simply mean that Githaiga is a man too big for Mubarak.
The downside of leaving such cases untouched is it encourages the crime and replicated in other institutions. For a country that has highly qualified young people catching dust in unemployment, jobs should be given to people who're qualified for the positions. You can't fight corruption with trembling hands.
For the 111th time we're asking EACC to tell us how far they've gone with Githaiga's case which is in the public domain just in the same speed they're telling us about junior officials being arrested over forged papers.
Assets Recovery Agency (ARA) also ought to be interested and enjoined in the efforts of recovering the public's funds not only from Githaiga but all those who earn salaries, enjoy perks that the jobs they fraudulently sit on come with.
Lastly, are president's fraud allies too sacred to be touched?
---
Kenya Insights allows guest blogging, if you want to be published on Kenya's most authoritative and accurate blog, have an expose, news TIPS, story angles, human interest stories, drop us an email on

[email protected]

or via Telegram
---