John Muhoho The Son To Uhuru's Uncle George Muhoho Was Involved In The Murder Of Monica Kimani As New Details Emerge In Jowie And Maribe Case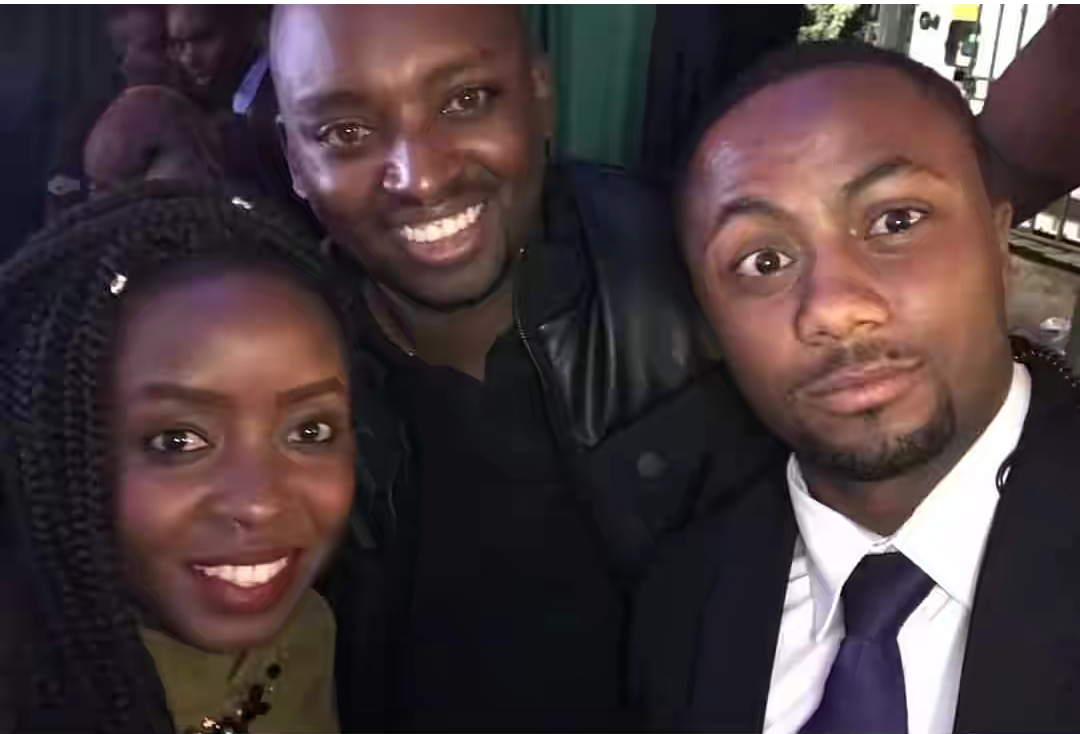 The events in Monica Kimani murder case have taken another twist with the involvement of President Uhuru's cousin John 'MO' Muhoho, a week before the Court set date for trial.
Brian kasaine's statement has revealed details showing why police believe that Joseph 'Jowie' Kuria and his then-fiancee, TV Journalist Jacque Maribe murdered Monica.
Kasaine had been arrested and then released in connection with the murder, recorded his statement with the DCI giving out further detailed activities of Jowie on the night of the killing happened and the following day.
DCI's lead investigator Maxwell Otieno, statement has outlined events that could have led to the murder of Monica Kimani.
"Our investigations established that both the accused persons were directly responsible for the death of the deceased Monica Nyawira," reads the conclusion of his statement.
The two statements on our desk are part of the Prosecution documents that will be used on Tuesday's trial.
Monica Nyawira Kimani was murdered in her apartment on the night of September 19, 2018.
Kasaine's Statement with the police indicates that he, Kasaine, had given Jowie the gun because he knew him as an undercover cop.
The said gun is the one that Jowie shot himself with.
Kasaine narrated the happenings of September 20, 2018, the day the police believe Jowie tried to destroy evidence.
Kasaine told the Police that he received a WhatsApp call from Jowie at around 2am seeking to know if he had "paraffin or anything flammable or air freshener in the house."
"I got surprised at such request of these items by him at such late hour," Kasaine's statement reads.
Kasaine also told the Police that he met Jowie at 3pm on the very day, at Maribe's House.
"I wanted to borrow their car keys so that I could use it to go and pick up my son from school. He was wearing a white vest, grey sweat pants. He was in deep thought and distracted," Reads Kasaine's statement.
Kasaine said he "jokingly" asked Jowie why he was looking for paraffin in the middle of the night.
"He replied, 'tulikuwa job fulani na Mo-Muhoho na nikama alidunga mtu kisu' (I was with Mo-Muhoho yesterday for an assignment and he stabbed somebody," Reads Kasaine's statement.
"When Jowie told me as follows, 'tulikuwa job Fulani na Mo-Muhoho na nikama alidunga mtu kisu' – he was referring to John Muhoho who is a close friend of his," Kasaine clarified to the Police.
John Muhoho is the son of former KAA chairman and Mama Ngina's brother George Muhoho.
John Muhoho, President Uhuru's cousin has been a very close and social friend to both Jowie and Maribe
These photos on Instagram proofs right the statement.
John Muhoho is not only an Instagram rich kid but also a very private member of the wider Kenyatta family that had maintained a clean on and offline existence till this Statement surfaced.
John Muhoho is alleged to have spent sh1.6 million at the 1824 launch party.
The two, John and Maribe, have also been spotted in all the major Jubilee party rallies
Jowie, John and Maribe have been close friends enough to an extent that Muhoho has been to couple of Maribe's birthday parties and other celebrations.
Kasaine told the Police that Jowie told him that he wanted to burn some stuff and had used some air freshener "while pointing towards the empty plot across their house."
DCI's lead investigator Maxwell Otieno gave 12 reasons why he concludes that Jowie was directly involved in the murder.
Mr Otieno also highlighted five reasons on why Maribe should be charged.
According to DCI's Otieno reveals that tests by the Government Chemist in a report reference A 199/2018 dated December 13, 2018, confirmed that DNA profile generated from a short Jowie wore on the day of the murder marched that generated from Monica's blood sample.
"After the commission of the crime, the accused person burnt the clothes he was wearing at the scene of crime at the second accused residence in her presence," Reads part of Otieno's statement.
Daboul Walid and Owen Omondi
Who are both witnesses in the case placed Jowie in Monica's house and two of them said they left Jowie in the house on that day.
Another revelation in the case has that Jowie changed into a different set of clothes before he went to see Monica in her house.
"The accused changed and dressed in a white kanzu, grey
coat and red cap in the immediate presence of Jennings Olando (a Recce squad officer who also had been arrested during investigations). These were the same clothes that he was putting on while at the residence of the deceased on a fateful day as confirmed by Owen, Walid and guards at the Lamuria gardens apartments," Otieno's statement reads.
Jowie was in the same red cap at Club 40 Forty on the night of the murder and witnesses say he had the same red cap at Monica's house.
"After the commission of the crime, the accused person burnt the clothes he was wearing at the scene of crime at the second accused residence in her presence. "  Said DCI detective Maxwell Otieno.
Kasaine said that Monica introduced Jowie to Walid and Owen as someone who works with the Interpol when they sat in her house.
He indicates that Jowie at one time commented on the live news that "They (Interpol) him included had arrested 19 terrorists in Lamu who were to be ferried to Nairobi for deportation."
Investigations revealed that Jowie claimed to be wearing a kanzu to enable him "blend with the Somali community since he alleged that he resides in Eastleigh."
"When Owen said that he desired a firearm for protection purposes, the 1st accused offered that he was going to assist him to acquire one either through the legal or illegal process," Otieno's statement says.
"Owen confirmed that while in the deceased house, Jowie received several phone calls whereby he would move aside and speak in coded language over the phone."
Otieno's statement reveals that a gardener accessed Monica's house through a window and found her in a bathtub.
The Gardener got out and informed Monica's brother who was waiting outside her house and this is when they broke the door before calling the Police.
The Police believed that Jowie murdered Monica because he had informed Jennings of who he was going to see.
"He informed Jennings Olando whom he was with that he was going to visit a lady friend who had just arrived from South Sudan," Otieno's statement reads.
Otieno's Statement says that on September 19, 2018, Monica flew from Juba and landed at JKIA at around 5.30pm.
Investigations into the murder have revealed that Maribe's car was at the scene of the crime and she was seen in it on the later that very night.
"The accused person witnessed the burning of the clothes by the first accused on the night of the incident near her residence," This is the second supporting evidence.
Maribe's phone was also within the same area of the incident and before being switched off at about 10.25pm and switched on at around 9:52 am the same day.
The Police autopsy records indicate that Monica died at around the same time Maribe's phone went off.
"Considering the above, it is evident that the accused persons jointly murdered the deceased," Otieno's statement reads.
Maribe's contradicting statements on how Jowie had sustained his gunshot injury also depicts her as "dishonest"
Her alibis on the murder date are also not believable.
Maribe was also spotted with Jowie at Club 40 Forty almost immediately after the murder and was spotted too near the scene of the crime.
Kasaine also narrated the events of the night of September 21, 2018, when he found Jowie bleeding at his gate.
"He was shouting at his fiancee Jacqueline Maribe immediately he saw her there saying 'you want me out of your house, it is fine, bury me in Lang'ata' then went quiet. Jacqueline didn't answer him," reads Kasaine's statement.
Kasaine told the Police that Maribe told him that Jowie shot himself when he, Jowie, told Kasaine to secure the weapon.
According to Kasaine, Jowie couldn't be admitted to Lang'ata Hospital and Nairobi West Hospital without a deposit of Sh50,000.
Jowie passed by the Lang'ata police station the following evening and reported the matter as a shooting incident then later went to Lang'ata Hospital for gun wound dressing.
Kasaine said that Jowie had been advised to do so by someone he, Jowie, didn't name.
---
Kenya Insights allows guest blogging, if you want to be published on Kenya's most authoritative and accurate blog, have an expose, news TIPS, story angles, human interest stories, drop us an email on

[email protected]

or via Telegram
---