Education Crisis In Mandera And North Eastern Region, The Untold Truths And Way Forward.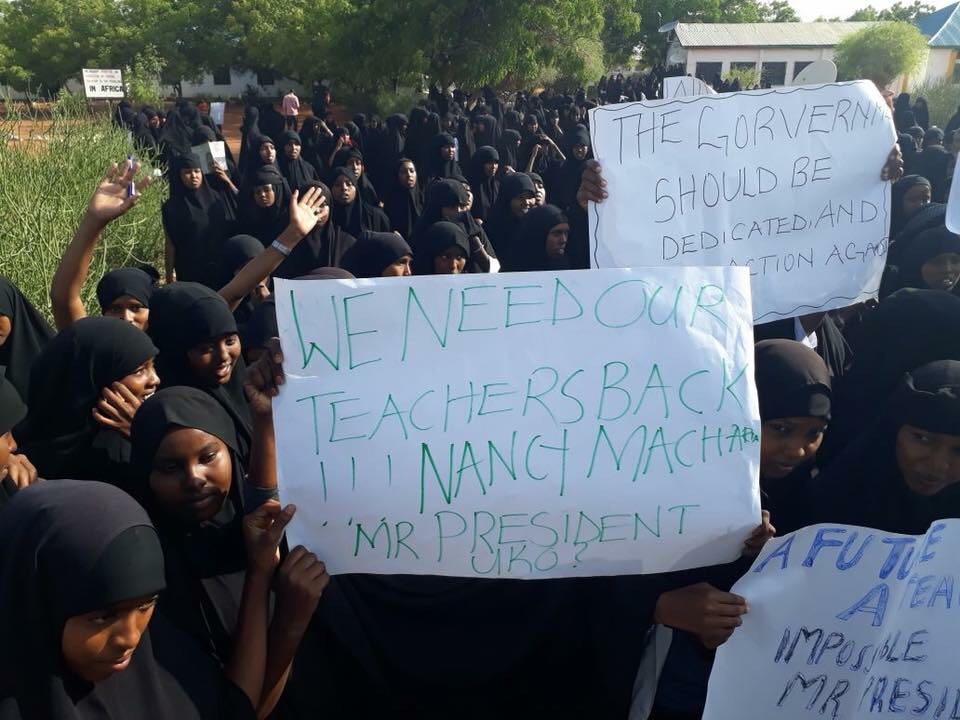 Following the death of a teacher and his partner in Wajir recently, the Teachers Service Commission pulled out nonlocal teachers in a mass transfer that has left the region paralyzed and education crisis expanded. The region of NEP has been struggling with teachers imbalance and a general education crisis that has been escalated by what seems to be a blinded decision made by TSC officials in Nairobi.
A section of disgruntled non-local teachers from the region had camped for days at the teacher's HQ and coerced the commission into submission effecting a mass exodus with the transfer commands. Citing insecurity and discrimination from the hosting community, the teachers amounting to about 50 threatened to town their tools were it that the commission was to retain them in the same region.
Mandera Education Official dismisses sexual harassment and discrimination claims.
The region that has been a victim of negative publicity especially for nonlocals, continues to bare the wrath of what local leaders say is misinformation hence causing an education crisis in the area. According to a research conducted independently by Kenya Insights, a side of the coin in this whole fiasco has been left uncovered thereby not giving a vivid picture.
While it is highly publicized on the mass exit of non locals, the untold story is of those fighting this mass walkout, in an SMS message sent to a Headteacher in Mandera and seen by KI from a Non-Local Teachers who was Camping at TSC Headquarters for transfer, it reads, "…on Thur,15th March,18 I travelled home to see my sick mother hoping to come back on a Sunday but I did not make it.
Nilikuwa tempted kutoka lakini naomba msamaha kwako unisamehe na unirudishe kazi hata kama ni kesho. Mimi Mandera imenisaidia sioni haja ya kutoka I  was mislead. Please forgive me and tell me the way forward.."
After thorough Consultations, it has been decided to let the Non-Local Teachers who are voluntarily willing to go back to the County to either Report to TSC-CD, SCD or your respective School Heads before the Schools are closed on 6th April 2018. This is to give the affected Teachers an Amnesty.. so as to Reinstate them or Stop further disciplinary actions to be taken against them.
Mandera due example hosts about 4000 nonlocals who work in various economic sectors from health to education to informal sectors and many of them including private school teachers have come out in defense for the region saying the few cries shouldn't shadow the major good. Those who've spoken to the media are accusing those who've been condemning the region for doing so based on selfish interests and rhs5 Mandera and entire community remains safe and hospitable. Leaders have also dismissed the sexual harassment claims saying as a Muslim community, they adhere to the highest moral standards and the sexual harassment allegations are unsubstantiated.
We've come to establish that Mandera County for example, happens to have developed one of the best working environment for him local teachers that have not only provided them with employment spaces but given them a sure hub for absorption into the TSC payroll. A system has been configured to take in unemployed teachers, they're put on salaries made by parents and well-wishers, they're put on full accommodation at the expense of the school. They're guaranteed absorption into the TSC system given positive referrals.
Nonlocal teachers in Mandera have castigated their colleagues who fled the region on grounds of insecurity and discrimination. The tutors drawn from private and public schools in the county told the press on Tuesday that claims made by the teachers who left the region after suspected Al Shabaab killed two of their colleagues in Qarsa primary school in Wajir County were unfounded.
Patrick Mwiti, the principal of Ibnu Hajjir Integrated Academy denied allegations that locals were discriminating non-locals in buses and in buying goods from shops at a hiked price compared to the natives. Mr Mwiti has been a teacher since 2011 and lives barely 200 meters from the Somalia border. However, he claimed that he had never encountered any mistreatment from the locals.
He further added that the 123 teachers currently in Nairobi are only seeking transfers to areas near their homes and nothing more. Those nonlocal teachers who left are 123 and those who remained are 660. Mwiti said the school has 16 tutors, 12 of them being nonlocal whom he said are contented with the area and will serve the community with dedication.
Mandera West sub-County Director of Teachers Service Commission (TSC) Mohamed Tullo Ali, denied allegations of sexual harassment on non-local female teachers. He claimed that there were no records at Takaba police station registered by anybody on sexual harassment and were no reports on the same to his office. Tullo said out of the 49 primary schools head teachers, five are non-locals, 20 deputy headteachers out of which 10 are females.
A trend is emerging that a few teachers posted and embedded with security fears, go out of the way to give the negative picture that seasoned nonlocal teachers refute. However, this is not the first time a crisis is hitting these regions and perhaps it is high time the government stopped issuing plastic treatment to a deep crisis.
Transferring nonlocal teachers and replacing them with other nonlocals is simply postponing and recycling the impasse. A lasting solution would possibly train and recruiting teachers from the local region instead of dancing around the issue.
NTV documentary clearly painted the picture on the ground.
Lack of proper solution to the education crisis in this region is not only denying the students the basic rights like rest of their counterparts in Kenya but also a radicalization factor. When these kids are left uneducated and exposed, Al Shabaab will continue taking advantage to recruit them into the terror group in Somalia and Kenya will continue bearing the wrath.
---
Kenya Insights allows guest blogging, if you want to be published on Kenya's most authoritative and accurate blog, have an expose, news, story angles, human interest stories, drop us an email on tips.kenyainsights@gmail.com or via Telegram
---
Government Abandons New SGR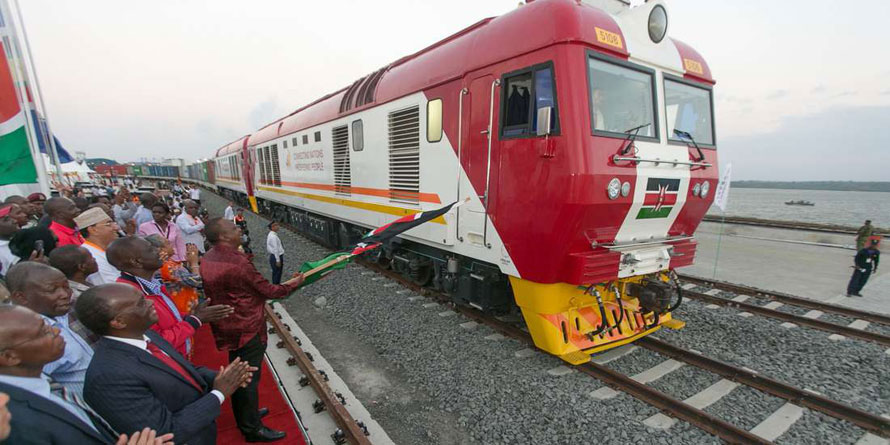 Kenya has been rolling deep down into public debt in the name of development. Government handlers have been on the frying pot for advising the government of projects that are not profit generating at the expense of the tax payers.
Recently a Chinese loan worth Ksh.374 billion for the extension of the SGR from Naivasha to Malaba didn't materialize. With some saying that Chinese now wants the government to prove that they are going to pay for the first loan.
The government of Kenya now has plans to modernize the old railway track to link a newer line to neighbouring Uganda at a cost of Ksh.21.3billion.
Sources in the government indicate that unidentified private financier has offered to fully back up the project. This is almost 15 times cheaper than building another almost modern railway with Chinese loan.
also read:Container Freight Station Owners To Lose Sh35B Investment In SGR's Cargo Debacle.
The SGR was under  China's "One Belt, One Road" initiative, a multi-billion dollar series of infrastructure projects upgrading land and maritime trade routes between China and Europe, Asia and Africa.
The Nairobi-Mombasa SGR that was launched at a cost of Ksh 323.9 billion then later linked with Nairobi-Naivasha line costing Ksh.151.7billion might sound as a serious wastage joke when the government links it to Naivasha-Malaba track that will cost Ksh 21.3 billion.
"We need to make sure that when we commission the SGR in August, we have connectivity to Uganda from the SGR so we have to rehabilitate that line to make sure it is properly functional," said CS James Macharia,
Macharia also said that using Ksh.15 billion to rehabilitate decades-old line from Malaba on the border with Uganda and using the remaining amount construct another short track connecting to the SGR at Naivasha within a year would be a faster option than building another SGR.
---
Kenya Insights allows guest blogging, if you want to be published on Kenya's most authoritative and accurate blog, have an expose, news, story angles, human interest stories, drop us an email on tips.kenyainsights@gmail.com or via Telegram
---
Henley Index: The Kenyan Passport Is Now The Strongest In The Region With 71 Countries You Can Visit Without A Visa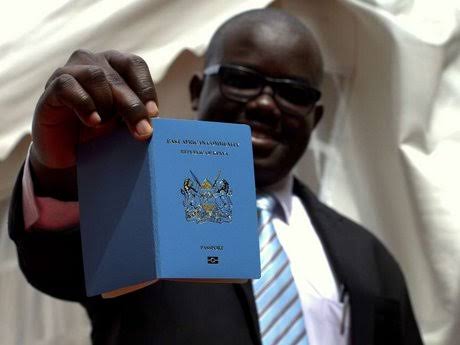 For some people, a passport is a portal to the world. For others, it is a barrier to the travel freedom they seek.
According to the Henley Passport Index, which is the most rigorous and sophisticated measure of global access, Kenyan passport has been ranked the 73rd most powerful powerful in the world with 71 destinations listed that you can visit without a visa or issued with a visa on arrival.
The Henley Passport Index is the only passport index that is based on IATA data, enhanced by extensive in-house research, supported by expert commentary, and updated regularly throughout the year, making it the most robust, credible, and reliable index of its kind.
Kenya which is still the strongest passport in the East African region, has however dropped in rankings compared to 2017 where it was at 68th now down by 4 points to 73 a significant drop.
South Africa holds the 3rd strongest passport in Africa at position 52 globally with 102 visa free destinations. Nigeria is at 94th with only 47 destinations.
Kenya has the 6th most powerful passport in Africa after Seychelles which is 25th with 152 destinations, Mauritius, 31st with 146 destinations, South Africa and Namibia which is at 69 with 79 visa free destinations.
Regionally, Kenya is the strongest with Tanzania coming right after at position 74 with 68 visa free destinations. Uganda, 77th with 64 destinations. Rwanda at 87th with 54 destinations.
Japan has overtaken Singapore to claim the top spot on the 2018 Henley Passport Index, having gained visa-free access to Myanmar earlier this month. Japan now enjoys visa-free/visa-on-arrival access to 190 destinations, compared to Singapore's total of 189. Japan and Singapore have been neck and neck on the index since they both climbed to 1st place in February — following a visa-exemption from Uzbekistan — and pushed Germany down to 2nd place for the first time since 2014.
This quarter, Germany has fallen further to 3rdplace, which it now shares with South Korea and France. France moved up from 4th to 3rdplace last Friday when it gained visa-free access to Uzbekistan, while South Korea moved from 4th to 3rd place on 1 October when it gained visa-free access to Myanmar. Germany, France, and South Korea all have a visa-free/visa-on-arrival score of 188. Iraq and Afghanistan continue to hold the bottom (106th) spot of the Henley Passport Index, with only 30 destinations accessible to their citizens.
The US and the UK, both with 186 destinations, have also slid down one spot — from 4th to 5th place — with neither having gained access to any new jurisdictions since the start of 2018. With stagnant outbound visa activity compared to Asian high-performers such as Japan, Singapore, and South Korea, it seems increasingly unlikely that the US and the UK will regain the number 1 spot they jointly held in 2015.
Countries that you can visit with a Kenyan passport without a visa or be issued with one on arrival can be accessed here:
Asia: Cambodia, Laos, Macao(SAR China), Maldives, Nepal, Timor-Leste.
Africa: Benin, Burkina Faso, Cape Verde Islands, Comores Islands, Congo, Djibouti, Guinea-Bissau, Madagascar, Mauritania, Mozambique, Seychelles, Nigeria, Sierra Leone, Somalia, South Sudan, Sudan and Togo.
Oceania: Palau Islands, Samoa And Tuvalu.
St. Lucia
Americas: Bolivia
Middle-East: Iran and Jordan.
This list mutates so you have to check with your travel agent.
For several years, the South African passport has remained the third strongest on the continent in terms of its levels of access, with Lrst and second place held by the Seychelles and Mauritius, respectively.
Both islands continue to outperform their continental counterparts due to their maintenance of prized visa-waiver agreements with Schengen countries as well as their own relatively open visa policies, which have generally been reciprocated.
The Seychelles, which renders itself a completely visa-free destination, secured further deregulated visa access for its passport-holders through visa waivers from the governments of Thailand and Angola in the Lrst quarter of 2018. Similarly, Mauritius, which is visa-free for all but 16 countries, secured a visa-waiver agreement with New Zealand in April 2018.
Although the rest of Africa continues to lag behind in the accessibility of their passports, there is reason for optimism. While visa-free access outside of the continent is still limited, African states are increasingly deregulating visa regulations for their continental counterparts.
A case in point is Angola, which recently removed visa requirements for nine African countries: namely, Lesotho, Madagascar, Malawi, Cabo Verde, São Tomé and Príncipe, Morocco, Swaziland, Algeria, and Zambia. Similarly, the undertaking of the Central African Economic and Monetary Community to grant visa waivers to passport-holders of its member states (Cameroon, Equatorial Guinea, Central Africa Republic, Congo- Brazzaville, Gabon, and Chad) could also be replicated by other regional political blocs seeking to promote the African Union's vision of increasing inter-African trade and travel, as outlined in its Agenda 2063 mandate.
---
Kenya Insights allows guest blogging, if you want to be published on Kenya's most authoritative and accurate blog, have an expose, news, story angles, human interest stories, drop us an email on tips.kenyainsights@gmail.com or via Telegram
---
Mombasa County Launches Open Roof Double Decker Sightseeing Busses As Joho's Goverment Strives To Boost The Tourism Industry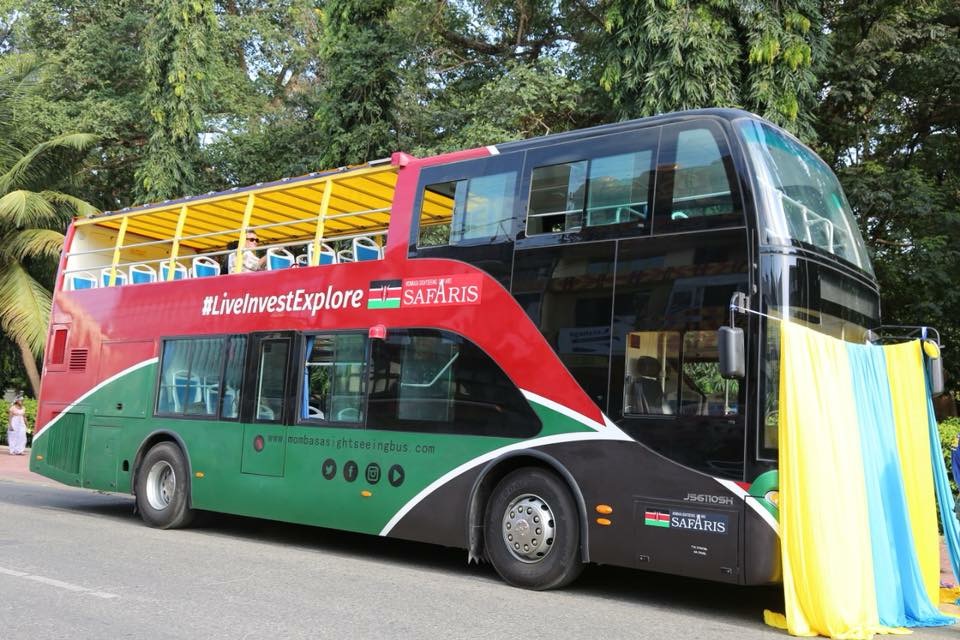 Trade, Tourism and Investment CECM Hon. Fawz Rashid officially launched the Mombasa Sightseeing Bus at the Tusks earlier today. Among those present during the launch were Archbishop Martin Kivuva, Mombasa County Chief Officer Mr. Innocent Mugabe, Tourism Finance Corporation MD Mr. Jonah Orumoi, Proul-Mombasa Sightseeing Bus Limited acting CEO Ms. Evelyn Lelle, Kenya Association for Hotel Keepers and Caterers CEO Mr. Sammy Ikwaye and Kenya Coast Tourist Association CEO Mr. Julius Owino.
The introduction of the double-decker sightseeing buses to Mombasa's tourism scene is a major milestone towards elevating our tourism industry and building the infrastructure for sustainable tourism success.
This service addresses a gap in the sector that exists today, whilst also making Mombasa more appealing as a leisure destination to tourists. These tours will be one of the best ways for visitors in Mombasa to get acquainted with all that this unique city has to offer.
The county government of Mombasa will work hand in hand with the management of the sightseeing buses to put a facelift at the various stopping points to give tourists the opportunity to have quality interactions with our rich history and culture through sampling of our local cuisines, shopping for our traditional souvenirs and taking part in our local dances and music.
This will also loop in our youth and women into the tourism value chain as they provide these lasting memories to our visitors. This sightseeing bus should not only offer a fantastic service for tourists coming to Mombasa but for people living or working in or around Mombasa who might have a couple of hours to spare, or friends and relatives visiting from out of town.
The open roof double decker bus will allow tourists to hop-on and hop-off as much as they like at any of the bus stops on the route and see all the best sights and attractions that Mombasa city has to offer.
---
Kenya Insights allows guest blogging, if you want to be published on Kenya's most authoritative and accurate blog, have an expose, news, story angles, human interest stories, drop us an email on tips.kenyainsights@gmail.com or via Telegram
---