Declaring Cancer A National Disaster Won't Solve The Problem That Is Healthcare System In Kenya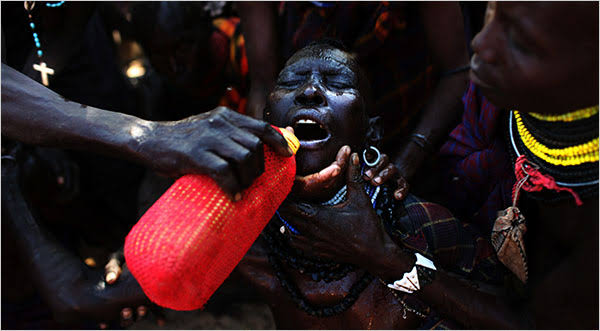 Ongoing debate in cancer is one of many that only happens when a prominent person dies. Recent statistics show that averagely 100 people die of cancer daily that's on top of about 47,000 diagnosed cases annually. The figures are scary hence the panic and call for the declaration of cancer as a national disaster.
Untold story is about 1000 people die daily because of other illnesses and other cases. Cancer is the third top killer after malaria and pneumonia. I won't be surprised if we'll have roadside and knee jerk declarations in the wake of the death of the prominent persons but I can assure you whatever they're about to do, won't solve the big elephant in the room that is poor public healthcare system.
Doctors and staff at KNH average at 6,000 compare that with over 30,000 patients daily on a hospital with 1,800-bed capacity and designed to handle lesser numbers then you'll notice the problem.
Cancer is a problem but not the only problem, primary healthcare in Kenya has not been prioritized and that's the problem. Funny how leaders don't bother to prioritize public healthcare because they have health insurance courtesy of their voters only to run abroad and end up in public hospitals there.
Now that's the beauty of having working systems, public hospitals in UK where your leaders run to have the best services. Why then can't it be implemented here? Parliament would rather debate on how to increase their salaries but not healthcare allocation.
Poor leadership, corruption and policies are part of the problem that's formed the deplorable state of public healthcare. For instance, the government entered into an agreement for equipment leasing. Which was a good idea that has now turned to be expensive.
Two years after writing the story I'm told not much has changed. Equipment continue to idle in the hospitals despite government paying for the lease. They took machines and forgot to train or employ experts to operate them which brings me to a big point.
Human resource, it's ironical that the likes of Anne Waiguru were amongst the first to talk about cancer and need for its declaration as national disaster. The irony is back in Kirinyaga the public healthcare is frozen because she's been bullying health workers. I doubt she keeps in mind the many sick People who're now suffering without doctors.
I was going through my timeline and this tweet by a doctor caught my eyes.
I am the only doctor in Ndaragwa Sub County with a population of about 90,000 not forgetting people from neighboring counties who visit our facility…ofcourse you will have to wait longer to get my services….government should hire doctor UHC cannot be realized without adequate

— Victor Waithaka (@victor_mwangiw) July 28, 2019
Now you see doctors have been demonized and blamed for so long but what the public doesn't know that it's simply the easiest way for the government to cover their asses.
It is the responsibility of the government to ensure proper healthcare and that includes and importantly, heavy investment in the human resource. Doctors are human first, one doctor serving almost a population of about 100,000 is not only exhausting but torturous.
So many people are dying because they can't access treatment not only because of costs but lack of enough human workforce. So if we want to see any difference, employe more doctors, look after their welfare's.
Stop with knee jerk reactions like hiring Cuban doctors who's presence in the country hasn't done much. If the money they're being paid would've been used to pay more Kenyan doctors don't you think more Kenyans would access treatment?
Cancer is like terrorism. It's noisy, emotive & steals headlines. As we mourn Okoth, Laboso and Bob, let's also mourn the 1000 that die every day from preventable causes & build a Primary Healthcare health system that prevents cancer & other deaths not knee-jerk to cancer centers pic.twitter.com/rwkUDkye3U

— Dr Githinji Gitahi, MBS (@daktari1) July 29, 2019
So ladies and gentlemen, yes cancer is a problem but we have a bigger problem that is an ailing public healthcare that we must fix and do it very fast. Other than treating cancer for instance, we need preventive legislations, I was reading on newspaper that the government has refused to ban the use of a weed killer linked to causing cancer.
In the wake of a US court ordering Bayer/Monsanto to pay damages of $2 billion to a man whose cancer was said to have been partly caused by the Roundup herbicide, regulators are under pressure to ban the use of glyphosate.
One way of improving healthcare is ensuring preventive measures are taken.
Cancer cannot be eradicated, but its effects can be significantly reduced if effective measures are put in place to control risk factors, detect cases early and offer good care to those with the disease.
About 80% of reported cases of cancer are diagnosed at advanced stages, when very little can be achieved in terms of curative treatment. This has been attributed to several factors among them; due to lack of awareness, inadequate diagnostic facilities, poorly structured referral facilities, high cost of treatment and high poverty Index.
The country has few cancer specialists who are concentrated in a few health facilities in Nairobi. This makes it difficult for a great majority of the population to have timely access to cancer treatment services hence resulting in long waiting periods.
Some cancer management options are not readily available in Kenya necessitating some Kenyans to seek cancer treatment abroad.
According to KNBS 2016, the top leading causes of death in KE were pneumonia (21k), followed by malaria (16k) and then cancer (15k). Top 2 hardly kills the rich & the famous coz they can afford the treatment. We need a good healthcare system & not just against cancer!

— Mohamed Wehliye (@WehliyeMohamed) July 29, 2019
We can declare cancer a national disaster today which I support but let's not go in with an ostrich mindset by not burying our heads in the sand. We have a problem and the big problem must be taken care of. We have experts and papers have been done, engage and let's treat the ailing public healthcare system first and fast.
---
Kenya Insights allows guest blogging, if you want to be published on Kenya's most authoritative and accurate blog, have an expose, news, story angles, human interest stories, drop us an email on tips.kenyainsights@gmail.com or via Telegram
---