Compromised PPRA Continues To Give a Deaf Ear Despite Complaints over Unfair Tender won by Jubilee Life Assurance Company.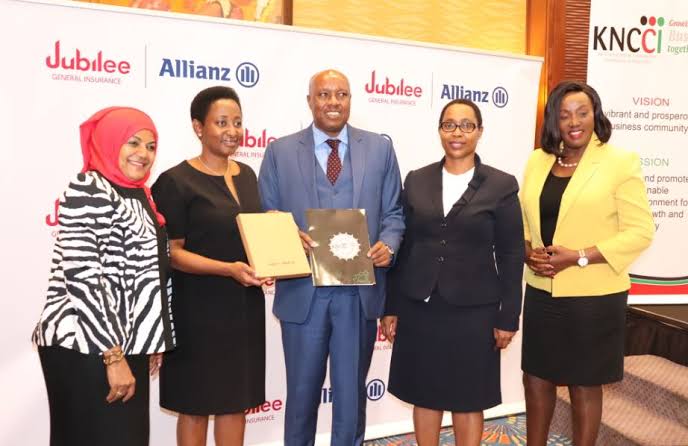 If you can remember, on record when terms and conditions was regulated to favor Minet to kick out NHIF and other insurance firms from TSC Medical scheme, the normalcy is repeating itself in the recent KNH PROCUREMENT OF INSURANCE UNDERWRITING SERVICES KNH/T/46/2021-2022 where terms and conditions were changed out from the cloud and that only left one candidate qualified. 
Jubilee Insurance now Jubilee Allianz General Insurance Ltd have become the  corrupt dominant bully in the industry boasting of smuggled huge annual returns on corrupt deals. Jubilee Insurance is known for the dirty game of kickbacks in every tendering process they engage in.
Their contravention of Section 44 of the Anti-Corruption and Economic Crimes Act which prohibits an individual from receiving or soliciting or agreeing to receiving or soliciting a benefit borne out of a bidding exercise has always been their daily bread and contravention of Section 46 of the Anti-Corruption and Economic Crimes Act which cautions against a person using his office to improperly confer a benefit on himself or anyone else; Section 176 of the Public Procurement and Asset Disposal Act which requires a person not to unduly influence or exert pressure on any member of an opening committee evaluation committee or on any employee or agent of a procuring entity to take a particular action which favours or tends to favour a particular tenderer, neither to inappropriately influence tender evaluations and not to commit a fraudulent act and finally Section 204B of the Insurance Act which prohibits a licensed person from knowingly and willfully assisting, conspiring with, or urges any person to violate the law or for any person who due to such assistance, conspiracy or urging by the said person, knowingly or willfully benefits from the proceeds derived from the use of fraud — is Jubilee's wine they drink.
In 2019, tender scandal for Provision of Medical Insurance Cover For Staff (KCAA-019-2019-2020) In a letter dated 22nd November, 2019, adressed to the Manding Dorector of KCAA Gilbert Kibe, copied to Insurance Regulatory Authority (IRA), Office of the Director of Public Prosecutions (ODPP), Office of the Director of Criminal Investigations (DCI), Ethics & Anti- Corruption Commission (EACC), Public Procurement Regulatory Authority (PPOA), and Ministry of Transport.
"It has come to our attention that the procurement process on the referenced tender is a mockery of the bona fide gesture on the part of the majority of the bidders who diligently go about their businesses justly and in accordance with the laws of this land. More disturbing is the fact that the process has been under the supervision of one of the bidders thus further camouflaged by guising as an innocent participant in the process, whilst in cahoots with members of staff at the Kenya Civil Aviation Authority with the intention, will or craft to lure other participants and the general public that the same is a free and fair process.
We are at pains to understand why the Kenya Civil Aviation Authority members of staff would elect to ignore the principles of our Constitution as espoused under Article 10 of the Constitution on good governance, integrity, transparency and accountability. Prior to the release of the tender document, Mr. Urbanus Muthama, an insurance agent affiliated to Jubilee Insurance Company of Kenya Limited, assisted in the drafting and finalization of the mandatory requirements listed on the published tender document.
Resultantly, the tender document suits the interests of Jubilee Insurance Company of Kenya, more particular as set out under requirement No. 13 of the Mandatory Requirements listed on the tender document. It is noteworthy that currently, only Jubilee Insurance Company of Kenya meets the threshold, hence no real bidding.
The Kenya Civil Aviation Authority is an entity well bound by Article 73 of the Constitution which advances objectivity and impartiality in decision making, and in ensuring that decisions are not influenced by nepotism, favouritism, other improper motives or corrupt practices.
In blatant disrespect to these provision of the law, a meeting was held in November, 2019 at Panari Hotel along Mombasa Road, attended by Kenya Civil Aviation Authority Human Resource Manager, Martin Kivui, representatives from Jubilee Insurance Company of Kenya Limited and the insurance company's agent, Mr. Urbanus Muthama, among others. The subject of the meeting was proposition of a 'kick-back' amounting to Kshs. 48'000'000/- to Kenya Civil Aviation Authority officials should the tender be awarded to Jubilee Insurance Company of Kenya Limited."
Recently following Kenya Insights expose of Jubilee's corrupt dealings, the recently awarded to them after bangling the process, this time won't be an easy ride. 
From documents seen following the bangled KNH PROCUREMENT OF INSURANCE UNDERWRITING SERVICES KNH/T/46/2021-2022 which PPRA the mandated authority has given deaf year to the complaints of the participants over unfair play, – it is such a pitty how corruption is being normalised in these tenderpreneual processes where kings of kickbacks get the lions share at the expense of sobriety and transparency in the market.
The KNH tender was divided into two businesses: Life business and general business with Life business being the rigged and customised for Jubilee Life Assurance Company. The tender was awarded on 14th June 2021.
Participation was as follows
1)GA INSURANCE CO LTD-General category
2)GEMINIA INSURANCE CO. LTD-Both General and life categories
3)UAP GENERAL LTD-General category
4)JUBILEE GENERAL LTD-General category
5)CIC GENERAL LTD-General category
6)HERITAGE INSURANCE LTD-General category
7)TRIDENT INSURANCE LTD-General category
8)APA GENERAL INSURANCE LTD-General category
9)JUBILEE LIFE LTD-Life category
10)CIC LIFE LTD-Life category
11)BRITAM LIFE LTD-Life category
12)KENYA ALLIANCE-General category
13)LIBERTY INSURANCE LTD-Life category. 
After evaluation the tender was awarded to five underwriters lowest per each class
1)GEMINIA-WON FIRE
2)GA INSURANCE-WON GPA/WIBA
3)UAP GENERAL-WON MOTOR VEHICLE
4)JUBILEE LIFE-WON GROUP LIFE
5)HERITAGE-WON MONEY,PUBLIC LIABILITY,MACHINERY BREAKDOWN.
However, one of the concerned underwriter in an email seen tries to point fingers at the whistle blower and tries to downplay the bigger picture, their normalcy of interfering with tendering process forgetting they have history and it's on record.

Here's the statement;
"JUBILEE LIFE INSURANCE LTD KNH staff has been engaging Jubilee life since January but the underwriter was slow in confirming and declined 5 days to tender closing and participated directly after realising he was unnecessary for the following reasons
1)They confirmed he is not in procurement as he had claimed he was in charge of the process
2)He started asking for advance money
3)He had no intelligence to offer
-That is why he is dragging the Jubilee life name as the only bidder who won the tender and leaving the other four underwriter.
-Jubilee life knows him very well and we can also give his name and people they are working with to any institution which needs him.
-We also have CCTV footage of when he visited our offices."
It's usual PR move as we all know. Even the guilty tries to play innocent. If the purported staff is out to tarnish their name then it's a scenario where the cat is being let out of the bag.
Jubilee Insurance/ Jubilee Allianz General Insurance Ltd lack the basic manners of ethical practice.
---
Kenya Insights allows guest blogging, if you want to be published on Kenya's most authoritative and accurate blog, have an expose, news TIPS, story angles, human interest stories, drop us an email on

[email protected]

or via Telegram
---