Why Patients Risks Having Their Sensitive Health Information Leaked To The Public With The Cuban Doctors In Kenya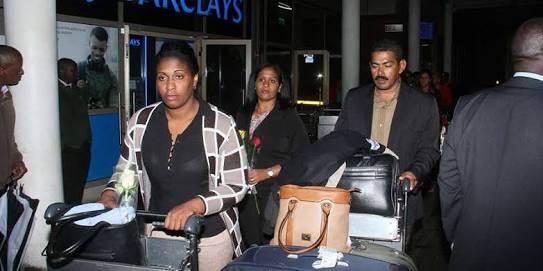 Despite great opposition from their colleagues, 100 Cuban doctors eventually came to Kenya and have since dispatched to all the Counties. While the need for specialists is unquestionable, the mannerism of government begind this exercise has been criticized in all the right terms.
Economically, it doesn't make sense for government to hire the 100 foreign specialists at a cost of Sh1 billion while Kenya has a big number of unemployed doctors. Here we're having foreign doctors pampered with better remuneration packages than their local colleagues who've been on the streets and ever crying for better pay then boom, the new entrance are living in lavish mode.
Doctor-Patient Confidentiality
In the whole setup, one thing was under looked and it's a big concern. Language barrier. Cuba is largely Spanish speaking and only few are fluent if not good in English.
The majority of patients who will be seen by the Cuban specialists speak Kiswahili and/or mother tongue and a little or no English hence the need for interpreters. And here lies the biggest problem that is set to compromise medical ethics.
Credible fears of misdiagnosis, wrong treatment and prescriptions are here with us. A slight misinterpretation can be catastrophic, this goes without much expounding.
Even for local doctors, you need to interact with locals at a personal level to fully understand their language and this come with long experience.
For instance, local doctors would know when a middle aged man says "mimi sitaki wanawake yote", he doesn't mean that he doesn't like seeing women. He means he has erectile dysfunction. When an elderly woman says "leo nimejikunaNairobi usiku mzima," she doesn't mean she traveled all the way to Nairobi just so she can scratch herself.
It means that she has a persistent itch in "her private parts". You need to have long experience to know the various terms used to mean several things for instance sex; "kukutana na mzee, kukuwa na mama watoto, wakati tunafanya mambo yetu" among many other terms. These can pass even any translator.
Patient-Doctor confidentiality is a traditional work ethics and without this secrecy, a patient either will hold back critical information that would lead to misdiagnosis, prescription and treatment which by effect would negatively impact their health.
Since the Cuban doctors need translators it means a third party will be injected into the service flow and ruin the a lot. There's a cardinal principle in medicine called confidentiality!The doctor-patient secrecy code is very important and has been there with our Kenyan doctors. With Cuban doctors who don't can't speak English/Kiswahili you'll now have to share your secrets with a non medic interpreter.
There are numerous numerous implications as I've touched them lightly above, it's obvious certain illnesses of not all must be treated with ultimate secrecy, when doctors rarely share patient information amongst themselves unless they're sharing the patient or there's a need for senior advices from superiors.
Do you realize when you go to the doctor not even the nurse is allowed around so you open up completely, now imagine having a third party in the jane of an interpreter, many people will withhold crucial information for proper diagnosis. You wouldn't be east opening up about your health to an stranger, it's natural.
Sensitive Health Information Leaking
Patients risks having their sensitive health information leaked to the public given that these interpreters most likely lack medical background and are not bound with the secrecy oath and code of ethics. Doctors never give out their patients information at whatever cost unless it's a rogue one. They treat that information with unexplainable hold and you can be confidence it wouldn't get to wrong hands that's why you're easy to open up to the finer details to the doctor.
For someone who doesn't understand this important work ethic, probabilities of having time health records leaked to the public are very high. "Huyu anaringa hapa na tunamtimbu ako positive" such gossips from the non medic interpreters will be common call it pessimism I call it open facts.
Nobody would want their health records to be made public even those who make medical funding requests never do it out of will but as last option but here's a situation where your information is leaked because it landed in the hands of someone who doesn't understand the implications.
Well, at this point, little can be done as all efforts to stop this muddle have been thwarted so we're at catch-22 and have to live with the consequences. The Cuban doctors are here with us for the next two years.
---
Kenya Insights allows guest blogging, if you want to be published on Kenya's most authoritative and accurate blog, have an expose, news TIPS, story angles, human interest stories, drop us an email on

[email protected]

or via Telegram
---