Why Kenyan Billionaire Humphrey Kariuki Is Likely To Lose His Cyprus Citizenship This Time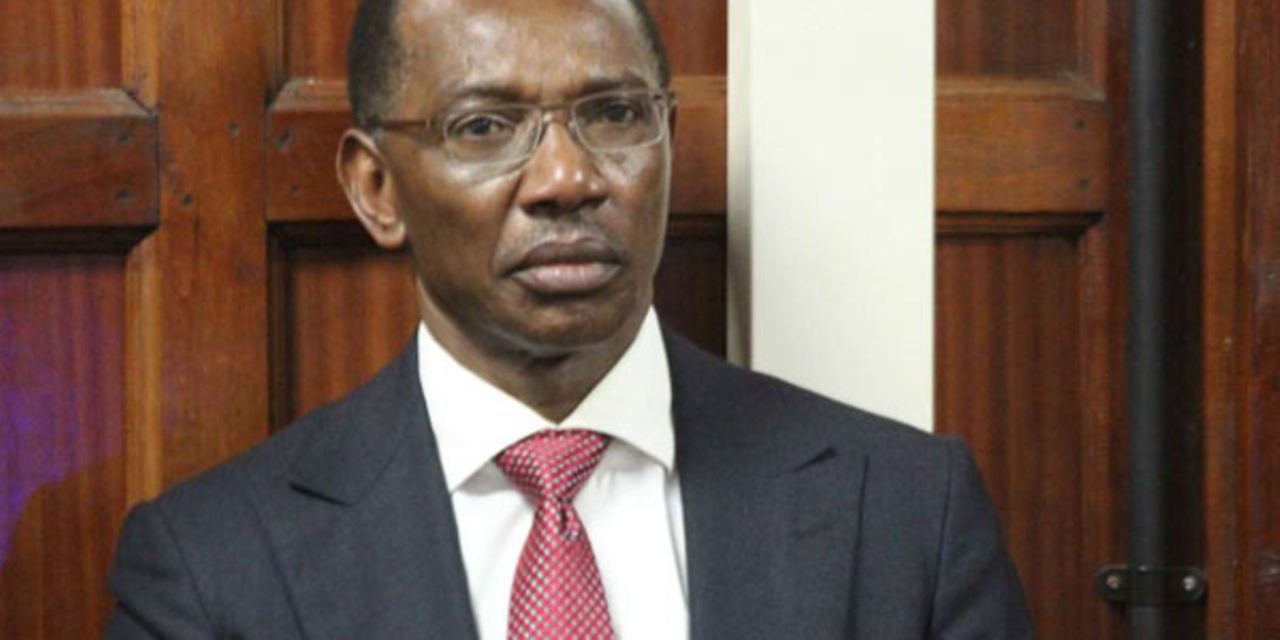 Cyprus has announced the suspension of a "golden passport" scheme to sell citizenship to wealthy investors following a sting by investigative journalists.
Al Jazeera's investigative unit filmed high-ranking Cypriot politicians, including the parliamentary speaker Demetris Syllouris, promising to support the sale of a Cypriot passport to representatives of a fictitious Chinese businessman with a money-laundering conviction.
The citizenship-through-investment scheme, which has been in operation in its current form since 2013, allowed foreign individuals to invest €2.5m (£2.26m) in the country in exchange for citizenship, raising a reported €7bn to sustain the country's sclerotic economy.
But it has for years been the target of ferocious criticism by anti-corruption campaigners, who have repeatedly warned that such schemes can be used by criminal individuals and organisations to launder large sums of corrupt funds into property.
The Twitter account of the presidency of Cyprus announced on Tuesday that the scheme in its current form would be abolished, citing abuse of the scheme's provisions as well as historic weaknesses.
Undercover operatives from Al Jazeera posed as representatives of an invented Chinese businessman convicted of money-laundering. Under the rules of the scheme, such a conviction should have disqualified the fake businessman from applying.
However the reporters were repeatedly told that the rule could simply be circumvented or ignored if sufficient cash were invested.
One registered service provider claimed to have previously secured a Cypriot golden passport for an individual who had been jailed for two years for corruption, and suggested that the fake businessman alter his name to apply under a new identity.
"Of course we can change his name," the service provider was reported to have said. "This is Cyprus."
Syllouris, the president of the house of representatives, was filmed saying: "You can tell him that he will have, without mentioning my name or anybody else's, full support from Cyprus. At any level – political, economic, social, everything – OK?"
Both men later claimed they had been playing along with the Al Jazeera reporters in order to elicit information that they would later report to the authorities.
On Tuesday Syllouris said he would withdraw from carrying out his duties pending an investigation by the government, adding that he "would like to publicly apologise for this unpleasant image conveyed to the Cypriot public" and suggesting the report was "staged and fragmented".
On Monday a spokesperson for the European commission said the report had been watched "with disbelief" in Brussels and that the organisation was considering infringement proceedings.
Brussels representatives have regularly expressed disquiet about cash for passport schemes in recent years, both over the risk of their abuse by money launderers and because citizenship from one EU member state grants access to all 27 others.
"President (Ursula) von der Leyen was clear when saying European values are not for sale," said the spokesperson.
Sophie in 't Veld, a Dutch member of the European parliament, told Al Jazeera the undercover footage "fully exposes the citizenship by investment schemes for what they really are: a cover operation for bringing criminals and criminal money into the EU".
In 2017 the Guardian reported on leaked files from the Cypriot golden passport scheme revealing that billionaire Russian oligarchs and Ukrainian businessmen accused of corruption were among those to whom Cyprus had sold citizenship.
Also in the files was Rami Makhlouf, the businessman and cousin of ther Syrian president Bashar al-Assad, described in leaked US diplomatic cables as a "poster-boy for corruption". Makhlouf's Cypriot citizenship was later revoked following the outbreak of the Syrian civil war.
Last November, Cyprus was forced to announce that 26 individuals would have their golden passports rescinded after an investigation by Reuters discovered that several Cambodian politicians, including the chief of police and finance minister, had used the scheme.
Other countries to run controversial "golden visa" or "golden passport" schemes include the UK, Portugal and Malta.
A separate leak to the Guardian identified a Brazilian tycoon convicted of corruption as part of the Lava Jato scandal as one of the investors to have applied for a golden visa from Portugal. In 2018 the British government announced the UK's "tier 1 investor" visa scheme would be suspended over corruption concerns, only for the suspension to be dropped less than a week later.
At the same time, Cyprus' parliamentary speaker has resigned after an undercover news report allegedly caught him on tape promising to help circumvent the country's rules on granting citizenship to foreign investors.
Demetris Syllouris had initially decided to stay on as speaker but abstain from his duties until investigations ran their course.
The scandal erupted after news outlet Al Jazeera's investigative unit used hidden cameras to show Syllouris and others promising to a man posing as a representative for the Chinese investor to find ways of skirting Cyprus's rules on buying citizenship.
Under Cyprus's "golden passport" program, a foreigner can get citizenship by investing at least 2.5 million euros ($2.93 million) in the country. Such programs, which exist in several small EU countries, have raised broad concern about money laundering and other crimes.
The program has attracted many foreigner investors because a Cypriot passport automatically grants its holder access to the entire 27-member European Union. Around 4,000 Cypriot passports have been issued to investors under the program, generating more than 7 billion euros ($8.25 billion).
The European Commission said it is looking into launching infringement proceedings against Cyprus.
The Cypriot government had defended the program while admitting to "mistakes" it said it rectified. New laws tightened the vetting rules and made it easier to revoke citizenship from investors found to have lied about previous criminal convictions.
But the investigative report was the coup-de-gras for the program.
An independent committee is conducting a probe into thousands of applications that were made since 2007. The investment program had gathered pace after 2013 when a financial crisis nearly brought Cyprus to bankruptcy.
The latest development leaves shrewd billionaires like Kenya's Humphrey Kariuki exposed and likely to have their citizenship reviewed.
The Kenyan billionaire whom had been granted a Cypriot passport is under investigation for tax evasion by the authorities.
Detectives questioning Humphrey Kariuki over tax evasion were surprised to find out he is also a citizen of Cyprus, something he was obliged to disclose under the country's laws.
According to investigations, Kariuki's passport had been issued in May, 2016. At the time of the application, Kariuki had given Larnaca as his place of residence.
The issue emerged after the businessman was summoned by police following the discovery of smuggled ethanol, 312,000 litres of illicit liquor and 21 million fake Kenya Revenue Authority (KRA) stamps at the Thika-based African Spirits Limited on January 31, 2019.
Kariuki's London-based lawyers said he is a "venture investor" at the firm and holds no directorship.
Mr Kariuki and a number of directors from African Spirits Limited are currently facing a Kenyan court over evasion of tax amounting to Sh41 billion.
Mr Kariuki, Wow Beverages directors Stuart Gerald Herd and Robert Thinji Muriithi, and Africa Spirits Directors Peter Njenga Kuria and Geoffrey Kaaria Kinoti Mbombua are facing a total of 21 counts of tax evasion and being in possession of counterfeit excise duty stamps.
His Janus Continental Group (JCG) has business interests in a number of countries on energy, real estate and hospitality.
In Kenya, Mr Kariuki is the owner of the luxurious Mt Kenya Safari Club in central Kenya and the Hub Mall in Nairobi's upmarket Karen, and is a shareholder of Dalbit Petroleum, among others.
While a Cypriot passport enables one to do business throughout the European Union, since Cyrus is a member, its investor citizenship has of late been criticised by other EU members and Transparency International, who fear it could become a "gateway to Europe for corrupt people and money laundering", according to TI's report released in August.
As a result, Cyprus has been under pressure from the EU to tighten entry of foreigners into the scheme.
Mr. Kariuki and his wife Stella Nasike holds dual citizenship with Cyprus.
In 2001, his company Crucial Properties Ltd received 2bn Kenyan Shillings (around €17.8m) through Charterhouse Bank.
The transfer raised the attention of local authorities and the US Federal Bureau of Investigations after it was wired from Liechtenstein.
The Kenyan Central Bank froze the account, demanding more information on the money's origin.
Kariuki claimed at the time the unusually large transfer was legitimate and was part of a $150m (Sh11bn) package the company had negotiated with international lenders to be invested in Kenya.
On May 10, 2001, judicial authorities lifted the freezing order, allowing Kariuki to withdraw Sh1.6bn before the attorney-general could appeal the order.
No further investigation was conducted into the withdrawal, citing the attorney-general's delay in presenting his application to court.
According to Cyprus media, Kariuki had been listed amongst 26 controversial investors whom had been blacklisted for citizenship revocation in 2019 following an uproar. The decision was announced by Interior Minister Constantinos Petrides.
Along with Ndegwa and his wife, the list names included Malaysian Jho Taek Low wanted in connection with alleged financial crimes and eight Cambodians closely connected to the country's authoritarian regime.
These include Im Paulika and her husband Aun Pornmoniroth who is Cambodia's finance minister and Choeung Sopheap and her husband Lao Meng Khin, who is an MP. Cambodian leader Hun Sen's niece Hun Kimleng and her husband who is Cambodia's national police chief and their two daughters are also on the list.
Three Russians, their spouses and children are also among the 26.They are: Vladimir Stolyarenco, his wife and daughter, Alexander Bondarenko, his wife and two sons and Oleg Deripaska, his son and daughter.
Chinese national Zhang Shumin, reportedly linked to a gold scam, his wife and three children are on the same list.
At the time, Kariuki having been put under government scrutiny for revocation, took to Twitter on to defend himself.
"I wish to inform you of development regarding my Cypriot passport which has fueled inaccurate speculations in media reports, as well as on social media platforms," he posted.
"Recently, the government of Cyprus has made the decision to review all passports under the Cyprus Investment Scheme before 2018.
"The audit will be led by an internal committee, set up by the government, which will be in charge of reviewing these individual passport awards to ensure they met regulatory requirements for the scheme applicable at the time of approval.
"While I understand my passport is part of the audit process, having been granted before 2018, I have no doubt that my application is fully compliant with the regulatory requirements.
"As a law-abiding citizen, I will fully support the mandated process in Cyprus with any requirements or further information needed to undertake the review swiftly."
Its only a matter of time before the Cyprus government makes public their crucial decision on the controversial passport nightmare.
---
Kenya Insights allows guest blogging, if you want to be published on Kenya's most authoritative and accurate blog, have an expose, news TIPS, story angles, human interest stories, drop us an email on

[email protected]

or via Telegram
---