Geneva-Based Global Initiative Affirms Money Laundering Report Against Somalia Remittance Firm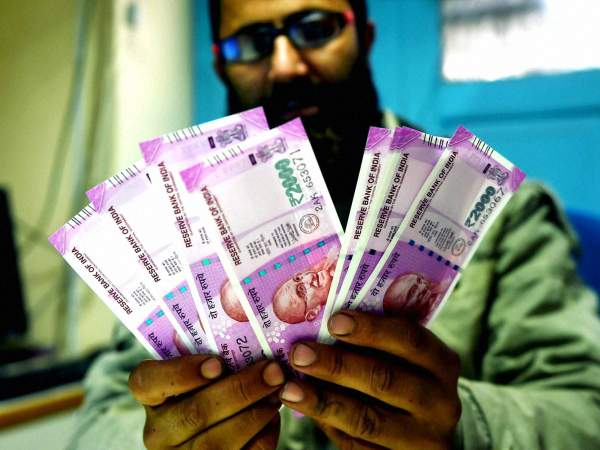 Geneva-based Global Initiative Against Organised Crime (GI-TOC) has refuted allegations that their report on money laundering was inaccurate according to accusations by Somalia remittance firm Amal Express. Published in September, the report claimed a number of Hawala service providers including Amal may have allowed transactions to settle payments to individuals sanctioned by the US Treasury. Those payments, amounting to $40,000 may have been used to pay illegal arms dealers in Yemen.
The report titled "Following the Money", authored by former UN Expert panellist for Somalia, Jay Bahadur, analysed transactions for money transfer operators (MTOs) amounting to $3.7 million between 2014 and 2020, sent via MTOs Iftin, Amal and Dahabshiil.
It detected two payment batches of about $40,000 in total, which the operators should have stopped as per US sanctions on the recipient individuals. And Somalia's port city of Bossaso in Puntland state was the origin of most of the illegal payments to arms sellers in Yemen.
No suspicious transactions were found on the part of Dahabshiil while Amal was particularly accused of handling cash sent to Abdulrab Salem al-Hayashi, who was in October 2017 sanctioned by the US Treasury.
Somali money transfer companies moved more than $3.7 million in cash between suspected weapons traffickers in recent years, including to a Yemeni under U.S. sanctions for alleged militant links, according to the report.
The findings by the Geneva-based research group further complicated attempts by Somali transfer companies to retain access to international banking services.
Though they provide a lifeline to millions in the anarchic Horn of Africa nation, few banks will do business with them because of the risk of falling foul of international transparency and anti-money laundering regulations.
Asked about the report, the Central Bank of Somalia, which regulates money transfer firms, said it was unaware of the transfers but would investigate and was in general making progress in countering terrorism financing.
Contacted by Reuters, the four companies said they adhered to global "know your customer" norms, although some conceeded it was difficult since Somalia had no national identity card. The firms also said they used specialist third-party databases of internationally-sanctioned individuals.
The Global Initiative analysed nearly six years of transaction records from the city of Bossasso, matching them with mobile phone records provided by security sources and database searches.
The report identified 176 transactions from the last six years that it said appeared to be linked to suspected weapons dealers in Somalia and Yemen. Nearly two-thirds were over the $10,000 threshold that should trigger an automatic report to regulatory authorities.
They include two transfers totalling nearly $40,000 to numbers linked to Sayf Abdulrab Salem al-Hayashi after the U.S. Treasury sanctioned him in 2017 for allegedly providing weapons and financial support to al Qaeda in the Arabian Peninsula and Islamic State in Yemen, the report said.
Somalia-based Amal Express and Iftin Express handled the transactions, which used different combinations of his name and nickname, the report said.
The report did not find any instances where the other two companies, Dahabshiil and Taaj, made transfers to any sanctioned individuals. But it noted instances where individuals were able to make transfers with them using multiple names and numbers, a violation of Somali law.
One man used 24 names between the four companies, the report said.
All four companies said they did not allow customers to use multiple identities or phone numbers. Dahabshiil also said it has stopped doing transfers between Somalia and Yemen.
The companies did not say whether the six men named in the report are in their databases.
Apart from al Hayashi – the only one under U.S. sanctions – three others whose names appear in the suspect transactions were identified as suspected arms dealers in public reports by the United Nations panel of experts on Somalia.
Two were flagged – one as a proxy for al Hayashi, and one as an arms trafficker – in a confidential annex to a 2018 report by the same panel.
Few Somalis have bank accounts. Money transfer companies – often known as hawalas – are vital to economic activity and delivering humanitarian aid.
Cutting companies off from banking is not the answer, said the report's author, Jay Bahadur, former head of the U.N. panel of experts. "Excluding companies from international banking services will punish families that rely on them and drive financial flows underground," he said.
But he said companies must ensure their agents follow anti-money laundering laws and Somali authorities must improve enforcement.
"Financial regulatory bodies in Somalia are understaffed, under-resourced, and aren't trusted by domestic financial institutions," he told Reuters. "They receive limited reporting data and aren't able to take much action with what they do receive."
Abdirahman M. Abdullahi, governor of Somalia's central bank, said cooperation was improving. Somalia is working with the World Bank on developing a national identity card, he told Reuters.
He said arrests have been made for breaking anti-money laundering and terrorism financing law, citing the case of a trader convicted in August of running an unregistered bank.
In rebuttal, Amal rejected claims it transferred money to such an individual and refutes a copy of the receipts published in the report.
"The document was not authentic. It was a very poor imitation of our real receipts and had several inconsistencies and formatting mistakes. We proved [this] to the author of the report when he sought to establish its authenticity, before the report's publication," the CEO said.
"As we speak, auditors from the Somalia Central Bank are in Bossaso and they have been given adequate access to our systems to verify for themselves that our systems have stringent checks," Jama told the Nation when asked about the company's know-your-customer rules."
On Monday, GI—TOC said it stands by the accuracy of the report's findings "and the authenticity of the remittance slip disputed by Amal Express."
"The research process involved the years-long collection of hundreds of MTO remittance receipts, including 63 relating to transactions conducted through Amal Express.
"The remittance receipts were supplied by multiple independent sources who were well-placed to guarantee their authenticity," the organisation said in a statement.
GI-TOC said it contacted Amal to comment on specific transactions with question marks but "received no subsequent communication from Amal Express either prior to or following the publication of the report."
The organisation said there was no evidence the money transfer operators directly violated UN sanctions on arms embargo, but may have failed to flag questionable payment to an individual sanctioned by the US Treasury.
Jay Bahadur the organization's investigator further added on his recital to the Nation's publication, "I should also add that the neither author of this "article", @agmutambo, nor anyone else at @NationAfrica, bothered to contact me or GI-TOC for comment prior to publication. Just a two-bit hack job."
In affirming his assertion of authenticity of the slips that were refuted by Amal, Jay said.
But, for the sake of a neutral comparison, I recently asked a friend in Puntland to send me a random Amal remittance slip dating to around the same time (late 2019) as the transaction disputed by the company.

The appearance of these two receipts is identical. (7/14) pic.twitter.com/eTgaWDQXcQ

— Jay Bahadur (@PuntlandPirates) October 12, 2020
Jay further hinted at his hesitance in the welcomed audit by Amal casting huge doubts on the genuineness of the Somalia's banking authority in investigating the firm.
Amal's statement also inaccurately claimed that the GI-TOC report referred to the use of Amal's services by individuals on an unspecified "UN Black List". As noted above, the transaction published in the report concerned an individual under OFAC, not UN, sanction. (10/14)

— Jay Bahadur (@PuntlandPirates) October 12, 2020
The investigator also questioned the firm's legal department's grasp of the law in the face of exposed violations.
As noted in the GI-TOC statement, we stand ready to engage with Amal, or any other MTO operating in #Somalia, about the report's findings and its recommendations regarding AML/CFT compliance in such challenging environments. (13/14)

— Jay Bahadur (@PuntlandPirates) October 12, 2020
Contrary to Amal's claim that he didn't contact them, the investigator took it personal by detailing his efforts to reach out to the management of Amal.
To set the record straight: I interviewed a senior representative of the company on 11 July 2020, at which point I made him aware of the October 2019 transfer. On the same day, I emailed the company the transaction details and offered an opportunity for further comment. (4/14)

— Jay Bahadur (@PuntlandPirates) October 12, 2020
Somalia's Hawala system has been influential in reaching millions of people who remain largely unbanked. According to local regulations in Somalia, individuals can send or receive up to $300 without undergoing rigorous background checks through mobile payments.
Many Somalis receive payments sent via MTOs through their mobile phones even though MTOs and mobile money services are run by different entities.
But Somalia doesn't have national ID data and the Global Initiative report claimed some senders and receivers may have used variations of their names to dodge scrutiny.
The organisation did admit that the complex number of networks involved in wiring and final payment of the money may make it difficult for parent companies to detect errant partners.
"As a result, parent companies may often be unaware of lapses in anti-money laundering/countering the financing of terrorism (AML/CFT) compliance amongst its agents or franchisees.
"GI-TOC stands ready to meet with representatives of Amal Express and/or Iftin Express to share the details of the report's findings and its recommendations on addressing AML/CFT compliance gaps."
Amal officials said they're cooperating with authorities and use a system called World-Check to flag transactions involving persons listed as high risk.
The World Bank estimates that just about 15 per cent of the 15.5 million Somalis have bank accounts, leaving the Hawala system as the main service for transmitting the estimated $1.3 billion sent by the Somali diaspora every year.
It advised the Somali government to begin developing a robust identification system to eliminate the loopholes.
"An effective identification system would help narrow the significant financing gap in Somalia and address de-risking issues," it said in a report titled "Rapid Growth in Mobile Money".
"Better mobile money regulation and a robust identification system are closely connected and need to be developed in parallel."
HAWALA
Hawala has been faulted as the invisible financing system of form of money dealing & funds transfer that spans the globe. It is one of the channels for Terrorists funding in.
Investigations have found that hawala money has reached both terrorists and separatists from abroad. The highest remittances have been from Saudi Arabia, United Kingdom and, of course, Pakistan.
How It Works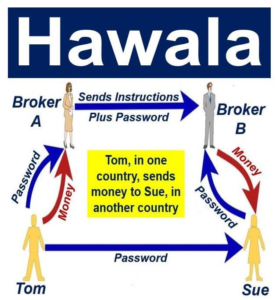 The racketeers procure foreign exchange abroad from different sources & arrange payments in targeted country through their henchmen or paid employees.
It happens the other way also, viz, certain persons in the country specialize in arranging payments abroad & either by themselves or through their alias in targeted country arrange payments in currency equivalent to the foreign exchange which had been procured by their men abroad.
Often a code-word is provided to both parties which the sender conveys to the recipient anywhere in the world and the amount can be collected after disclosing the code-word.
The terror groups still find hawala to be their best bet since it is safer compared to legal banking. It is very difficult to crack this trail as the persons involved in the transfer change after every two or three transactions.
Latest investigations by UN Security Council also implicates Amal. The investigations found that Al-Shabaab generated approximately $13 million in  four case studies alone. In only 10 weeks, the zakat account controlled by Al-Shabaab showed deposits of $1.7 million, with the entire balance being transferred onward during that period.
The investigations found that Al-Shabaab generated approximately $13 million in these four case studies alone. In only 10 weeks, the zakat account controlled by Al-Shabaab showed deposits of $1.7 million, with the entire balance being transferred onward during that period.
Despite territorial losses and increased aerial strikes targeting the group, Al-Shabaab operates multiple checkpoints across Somalia, extorts businesses in numerous cities and holds multiple bank accounts to facilitate its system of "taxation". The Panel assessed that the group is in a strong financial position and is generating a significant budgetary surplus, investing these funds in various enterprises, including property purchases and market investments in Mogadishu.
The Federal Government of Somalia is developing a financial disruption plan to address Al-Shabaab's systematic use of domestic financial systems. The Panel's systematic approach to understanding Al-Shabaab's financial systems may support disruption programming. The current Somali financial sector is limited to eight reporting banks.
The financial Reporting Centre notes that it receives reports from eight banks (Amal Bank, Amana Bank, Dahabshil Bank, Daryeel Bank, International Bank of Somalia, My Bank, Premier Bank and Salaam Somali Bank) while the Central Bank of Somalia reports that there are currently 11 licensed banks.
2 Registration fee ranges from $200 t
As Somalia transitions to formal financial systems, all operators can expect to be exploited by Al-Shabaab, which has consistently operated a flexible business model and is likely institution agnostic. The Panel's investigations focused on the manner in which Al-Shabaab operates, detailing specific organizational mechanisms that serve to enable a fuller understanding of this exploitation.
According to a UN Security Council report, Somalia's Islamist insurgents are moving millions of dollars through the formal bank system and appear to be investing in businesses and real estate offering a rare glimpse into their finances.
The report included details on two bank accounts held at Salaam Somali Bank, founded in 2009 as part of the Hormuud group of companies, raising questions about Somalia's capacity to enforce a 2016 law aimed at curbing terrorist financing.
The bank said the panel had not provided them details, so it was unable to verify. "The Panel's report makes no allegation of misconduct against Salaam Somali Bank," it said in a statement. "There has also been no instance where Salaam has opened an account for a sanctioned individual or entity."
Somalia's Financial Reporting Center, which oversees compliance laws against money laundering and terror financing, said it is investigating the allegations against Salaam.
---
Kenya Insights allows guest blogging, if you want to be published on Kenya's most authoritative and accurate blog, have an expose, news TIPS, story angles, human interest stories, drop us an email on

[email protected]

or via Telegram
---