Understanding The Jubilee's New Anger-Hate Political Matrix Towards Election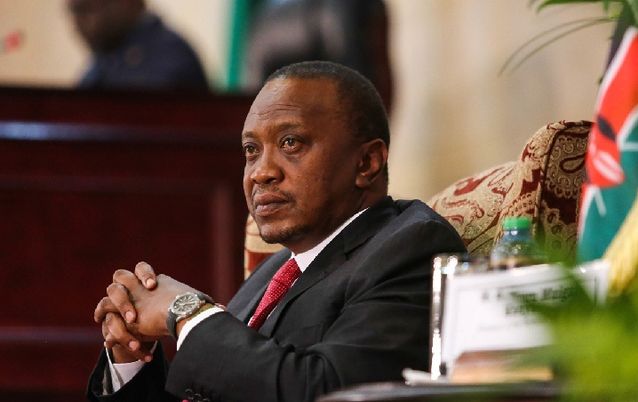 Every war is fought with different battle tactics even if the soldiers are the same, the generals close themselves in, study the war and come up with the most suitable winning strategy. Nobody goes into a war to lose, that's why Jubilee is using all the machinery including trickery to win the votes, NASA is on the other end showing no signs of foolery, they're knees deep in for a win.
Politics is not a cotton factory, this is not a church, this is a dirty, muddy battlefield for the strong hearted. Propaganda is a preferred weapon especially when you have much dirt on your shoulders to engage in issue-based discussions. The president pulled out of the anticipated presidential debate, perhaps he hadn't purchased enough handkerchiefs to wipe himself should the questions on the economic and social state of the country questions come his way. On seeing his main opponent had chickened out, Raila too bowed out of the arrangement. This denied Kenyans opportunity to take the president to task over his performance and how Raila plans to do things differently.
If there's any campaign that has left an incumbent without a concrete campaign platform then it is 2017's. Jubilee easily slid into power in 2013 hanging on the ICC string which was not only the bonding note but core campaign agenda. The youthfulness face Uhuru and Ruto were bringing in was also an appealing vector. Fast forward to 2017, the duo has been in power, Kenyans have had a taste now the dilemma struck the strategists on what to sell. Initially, development track record was to be the main campaign agenda, a portal that struggles to get traffic was launched and major media campaign with ads running on hundreds of millions run in key media outlets. However, it hasn't gone as planned, you wouldn't blame the woman in the village with empty plates trying to keep her kids alive in the era of food scarcity and high inflation with development that she can't feel. Jubilee developed the infrastructures and forgot the vital households where the development should be felt but not. The cost of living has dangerously gone up, highest in Kenya history.
Jubilee having no campaign agenda has been hanging on anything including water when they're drowning. Raila has been their largest campaign agenda and a well choreographed fear-mongering strategies developed. While Raila phobia campaigns have been used especially on the central Kenya voters and worked before, 2017 the war went hi-tech, while the Kurias and Duales are in rallies going extreme, Jubilee hired bad ass PR company Cambridge Analytica to do the dirty job. You must have come across pages as 'the real Raila ' 'Uhuru for Us' which have nothing but a full wedged war on the personality of Raila. They've gone a notch higher with fear-mongering ads that have left many shocked.
The Jubilee principals have in the recent past time on extreme combative campaign mode. The anger in their rallies has left the country wondering what could be going on. In his book 'Surviving Political Campaigns, Politics and Politicians ' Robert A. Nowlan a political scientist on anger tuned politics he says, " There are issues in National Politics that need to be explored in every presidential election. However, candidates have become less and less forthcoming with what they can bring to the most difficult job in the world. They fear being clear about where they stand on issues may annoy some segment of the electorate and cost them votes. Instead, they resort to mudslinging, character assassination and attack ads."
In reference to empty campaign platform, it doesn't come as a surprise that Jubilee has now resorted to deviating tactics to avoid facing the real issues facing Kenyans more specifically cost of living and unemployment, they're now attacking everyone and anything including unfertilised eggs. Character assassination on opposition's main candidate Raila has been steadied now just heightened. However, the strategy is not meant to win new votes, but to lay a foundation for a bigger scheme, the international community also targeted. The intent is to paint Raila stereotypically as a perennial loser such that an electoral fraud could be committed and they use the same stereotypical bait to silence him and in the same line gain international and public stamp that he is a loser.
The political psychology behind anger theory would predict that anger increases the use of generalized knowledge and reliance upon stereotypes and other heuristics. An experiment on students at the University of Massachusetts Amherst showed that people who had been primed with an anger condition relied less upon issue-concordance when choosing between candidates than those who had been primed with fear. In a separate laboratory study, subjects primed with the anger emotion were significantly less likely to seek information about a candidate and spent less time reviewing a candidate's policy positions on the web. Now you see the connection with Jubilee strategy.
War monger, even without ring specific, Raila has been branded such, when the former PM addressed a rally in Kajiado jumping into a major crisis of land and warning the Maasais against selling their land to investors at a throwaway price because of poverty. This statement was the blessing Jubilee brigades were preying for, it was propelled into a campaign agenda how Raila was inciting communities. The sterile NCIC too jumped on the bandwagon to initiate an investigation on a non starter. By branding Raila a violence advocate and blowing up such minor incidences, the intent being should there be a dispute, this will be used against him to restrict his democratic rights as calling for mass action to vent. Having been hanging in the public and international courts as a violent man, Raila will be as cooked. Everything you see, hear, is not by chance but well-choreographed political strategies and baits.
There's nothing like good healthy anger to make one feel better. Voters need facts in making up their minds, something to think about beyond the fearmongering absurdities, meaningless statements, and accusations that may be untrue or at least misleading, meant to inspire hatred or at least great distrust of their opponents. Talking of anger, like in the Brexit, U.S., France scenarios the greatest and most crucial anger is that I the public who feel left out and not beneficial to the system. When this group decides to make a point, they won't be seen but will be heard. There's a public anger.
The fear of losing power, the transition from the head of state to head I your house as a private citizen, the fear of losing influence, friends, the fear of losing state privileges would make even the Pope lose his cool. In Africa they also say, if the gods wants to destroy you, they first get you mad and on the final day, every tree in the forest is slippery to the monkey.
---
Kenya Insights allows guest blogging, if you want to be published on Kenya's most authoritative and accurate blog, have an expose, news TIPS, story angles, human interest stories, drop us an email on

[email protected]

or via Telegram
---