Peace Is An Expensive Price Kenyans Can't Afford In This Election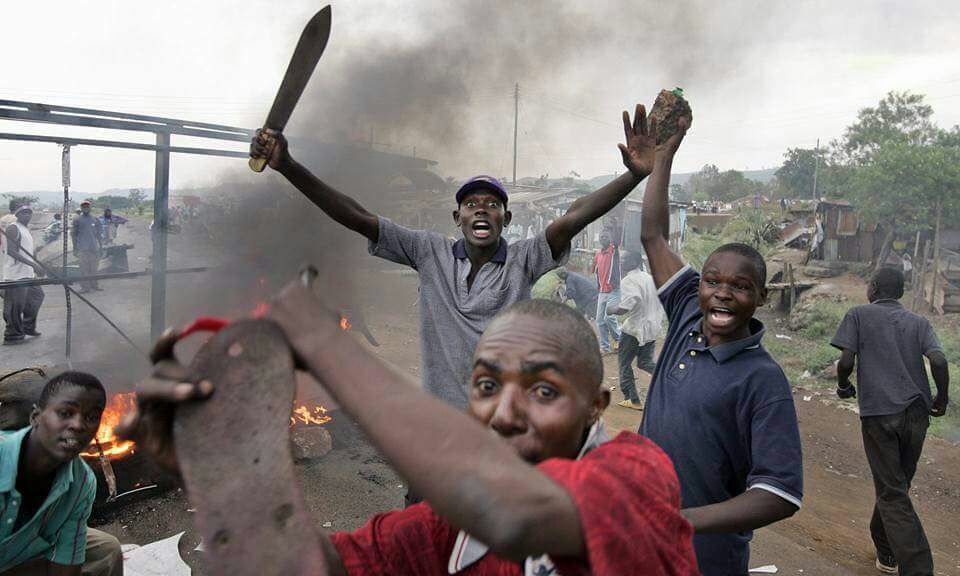 Peace drums are getting louder as the decision-making day of 8/8 nears. One question that has been on many pro democratic minds is the motive behind peace crusades yet the country is not at war. Many have asked but none has been answered. Instead, we've seen the language of the incumbent's transit from peace hullabaloo to issuing threats over illusory or predetermined violence. Margaret Kenyatta and Rachel Ruto are out in the streets trying to outshine the mobile, commercial Jivanjee Gardens preachers with peace prayer rallies. A common question that remains is as to what these people know that the rest of Kenyans don't.
Kenya has had a history of electoral fraud over 60 years and became rife in 1992,1997 general elections that were not only marred with open fraud but accompanied with intimidation and police terror. In these horrific scenarios, peace has been the common denominator used to silence dissents. In 2002 when Kenya had enough of the 24 years of Moi's oppressive rule, a new era was opened. For the first time in the history of Kenya since 1963, Kenya had an open and democratic election and this is attributed to the Saba Saba movement that legitimized multi party system Kenya and incorporated electoral amendments. The proponents of these privileges like James Orengo, Martin Shikiku, Raila Odinga, Paul Muite amongst the rest of Saba Saba movements, knew electoral fraud was a key instigator of post election violence that often rocked the country.
After a successful 2002 elections, Kenyans thought they had advanced and matured democratically but sadly Mwai Kibaki who was amongst the democracy fighters rolled back the country to the dark window when he bangled the elections in 2007 sending the country into its darkest moments of ethnic violence. Over 1200 people were killed and 300K+ displaced. The Democratic progress that had been made was erased in a flash, thanks to power hunger and selfishness to keep Kibaki in power in an election that was clearly won by Raila.
Democracy engineers advanced with their course and by 2013 elections, Kenya had assumed stronger electoral body IEBC which was a presumed professional body than the predecessor's ECK and a much stronger and again presumably independent commission. Previously, electoral fraud was widely committed and the aggrieved referred to the judiciary where they'd met an already compromised bench. the executive had an immense influence on Thu judiciary. 2013 we didn't experience an inch of chaos for the fact that Kenyans had faith in the judiciary and it's independence but as the ruling came in favor of Jubilee despite broadcasted discrepancies, Kenyans lost faith in the two most vital democratic space institutions.
Kenyans are being bombarded with peace messages but peace is an expensive price to pay for a lasting sanity. IEBC is going into an election with shredded public trust, it beams compromised and partisan commission. The credibility of the commission which is key in results acceptance has been dwindling by the day and they have themselves to blame for own undoing. From contesting popular court rulings to back door tender awarding like the case of Al Ghurair, IEBC is like a firefighter in the middle of an inferno without water in the tank. A coordinated attack is being reigned on the judiciary to make it look as opposition aligned, this is a clever way of preparing opposition to contest a stolen election in court where 2013 petition will replay to the end.
Justice as of our national anthem; remains our shield and defender, injustice is the mother of conflict. In an election, justice is served by allowing the voices of the majority be heard. This is through an impeccable, free, fair and credible elections that will be flawless and accepted by all sides. If we preach peace yet the same time undermining the vital institutions preserving peaceable democracy as Judiciary and IEBC then we're scratching our butts and expecting sweet smelling fingers. Strong democratic bodies and acceptance of majority voice will ensure peace.
As if writing this, 28 anti riot armored vehicles have docked at the Mombasa airport ready to reign terror in protesters in what is starting to look like a preempted and forced violence. The police have also been timely awarded a 100% pay hike to do a good job in coming days. The authorities have been vocal about the violence what do they know that the public doesn't? The tongue only speaks what the mind knows.
A pathetically choreographed series of micro violence has been witnessed in the last 4 days from a horrible stage managed jeering of DO Ruto in Kisumu where the Jubilee duo were generally and warmly welcomed in Nyanza to a horrendous burning of campaign material of NASA in Kabarnet which was dubbed a Kisumu retaliatory attack to the very rock bottom stunning of Raila convoy in Thika by hired goons in Jubilee gears. Who takes party gears as flags; t-shirts to protest I I opponent, a clear sign of organized protests. All these as a dry run. The country is struggling with high costs of living, lack of basic commodities as Unga then you ship in expensive police armory as if Kenya is going to a war and not election. Before we forgive you for the Mitumba APCs that have been death traps for our officers being minced in terror war zones and you ship in another scandal.
The message is simple and clear, Kenya had invested a lot to have this new constitution that empowers institutions and guarantees democracy, instead of investing in anti riot armory to kill own citizens, Kenya ought to strengthen and uphold the independence of democratic institutions as the judiciary and electoral bodies. Kenya doesn't need armory but democracy. Peace is too expensive to buy when the majority voice is curtailed. And peace out of fear not peace, that's a time bomb. Peace must not be allowed as the muzzling focal point as electoral fraud is committed and democratic institutions burnt to ashes.
---
Kenya Insights allows guest blogging, if you want to be published on Kenya's most authoritative and accurate blog, have an expose, news TIPS, story angles, human interest stories, drop us an email on

[email protected]

or via Telegram
---