Throwback: Untouchable Artur Brothers Who Were Made Deputy Police Commissioners And Even Dared Police Commissioner To Arrest Them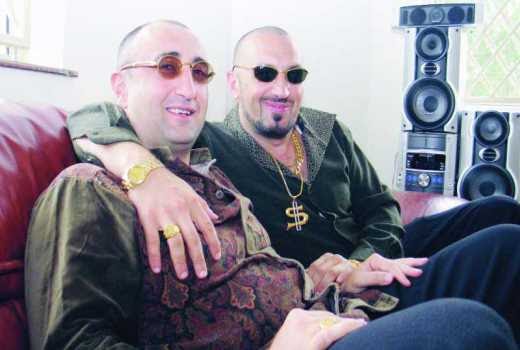 Kenya has had its share of dramas but the Armenian criminal duo must have been one of those that stands out in the recent history. How two foreigners got to Kenya, registered shell companies, using Statehouse connections were made deputy police commissioners giving them access to any security facility and given VIP passes at JKIA puzzled many.
Flashy lifestyles is what they were known for in the public but behind the scenes, these were dangerous criminals if not just business partners in the drugs syndicate with Kibaki administrators and family members at it would later be exposed.
These guys had zero fear and were so powerful at one point they even dared the police commissioner Major Hussein Ali to arrest them.
Their criminal activities would come to surface following the raid on Standard Group office after Lucy Kibaki had gotten wind of the newspaper planning to splash a story on the president's two wives.
The late Michuki who was a powerful minister came to the Armenians rescue just to tell you how highly connected this criminal outfit was with his famous quote "if you rattle a snake be ready to beaten by it" to insinuate the newspaper touched the wrong hole.
A stage managed deportation to Dubai  then preceded after public outcry and even then the Artur brothers refused to have their luggage's checked at the airport as standard procedure in al airports. At JKIA where they had VIP access, they were unmanageable, assaulted immigration officials.
Stanley Murage a PS and special strategy advisor to Kibaki was mentioned as a key player in the saga alongside Mary Wambui and her daughter Winnie Mwai were said to have direct links with the Armenians according to a parliamentary report on the two.
Kibaki instituted inquiry commission led by former commissioner of police Shadrack Kiruki to check on the criminal activities of the two Armenians.
According to the parliamentary report  to look into the conduct of the two, the formation of Karuki commission was part of the larger conspiracy to coverup and shield the two. It was a long chain and the face of the top office which was at the epicenter had to be saved.
Findings of Kariuki Commission has never been made public not even a copy was given to the parliamentary committee investigating the Artur brothers. Despite Kibaki promising to make the report public, it was classified and that was the end of it. But again everything put in consideration, this was understandable, who would expose something close home?
According to the parliamentary committee, their investigations were frustrated by Kibaki administration loyalties including the justice and constitutional affairs minister Martha Karua who attempted to stop the committee from investigating the matter on spurious grounds that Kiruki commission was already investigating the same matter. Again the web of coverups was large and clear.
Karua also blocked a motion in parliament in her capacity as the deputy leader of government business in parliament. The investigating committee had proposed a motion to make public all the evidences of investigation.
Committee also noted that high state officials they had summoned to give evidence as they had the major keys to unlock the saga, refused to honor in what they say was on instruction from high levels.
Isiah Osugo, PCIO Nairobi, David Kimaiyo, Director Of Operations at Police HQ and Patrick Lumumba OCPD Gigiri Station had been summoned to give crucial evidence they were holding and they never honored thereby sabotaging committee's efforts.
In an expose fine by investigative journalists Mohammed Ali and Dennis Onsarigo, another side of Artur brothers was also exposed.
They disclosed how several tonnes of the cocaine went missing, how key suspects were allowed to escape and how two State prosecutions were deliberately mishandled.
They also shone a light on the drastic lengths to which Kenya's drug barons and their friends in high places go to ensure their secrets remain protected. At least four police officers and one spy investigating or connected to drug-related cases have been killed in mysterious circumstances, the team reported.
The foreign mercenaries whose activities infuriated Kenyans in early 2006 were brought into the country by rogue Government officials in response to the dramatic seizure of 1.1 metric tonnes of cocaine 15 months earlier, it emerged.
The men were allegedly recruited to set up and train a specialised anti-narcotics unit. Publicly purporting to be investors and privately passing as security consultants, but we're merely imposters.
Sources suggested that the State was tricked into hiring enforcers working for drug traffickers who wanted to recover the Sh6.4 billion worth of cocaine being held in Kenya. The hired guns failed to complete their task after they were publicly exposed following their March 2, 2006, raid on the Standard Group. This was a bungled operation ordered on the strength of false information about an alleged story linking powerful individuals to drug trafficking in Kenya. No such story existed.
A NSIS report that was ignored for obvious reasons warned that the two brothers were lethal drug dealers and part of international hitmen in the drug world.
For about three months, the so-called Artur brothers had free run of Nairobi police stations from which they took vehicle number plates with which to disguise their unit's cars. One of them even visited the secure installation where the 1,141kg of cocaine was being stored until two cases in court were completed.
A report prepared by a joint team co-chaired by Mr Paul Muite and Mr Ramadhan Kajembe also wanted to look into the roles played by then Internal Security minister John Michuki (now deceased), Francis Muthaura, Mary Wambui, Winnie Wangui, Raju Sanghani and Kamlesh Pattni.
This never happened, nothing has and probably never will. They're going on with their normal lives infact persons like Muthaura still getting rewarded, now the board chairman at KRA. Pattni relocated to Zimbabwe where he's continuing with his scamming career. Answers shall never be known only to the ones involved.
---
Kenya Insights allows guest blogging, if you want to be published on Kenya's most authoritative and accurate blog, have an expose, news TIPS, story angles, human interest stories, drop us an email on

[email protected]

or via Telegram
---