The Unholy Relationship Between Kenya's CDF CEO And Kenya's Parliament That Should Worry Kenyans.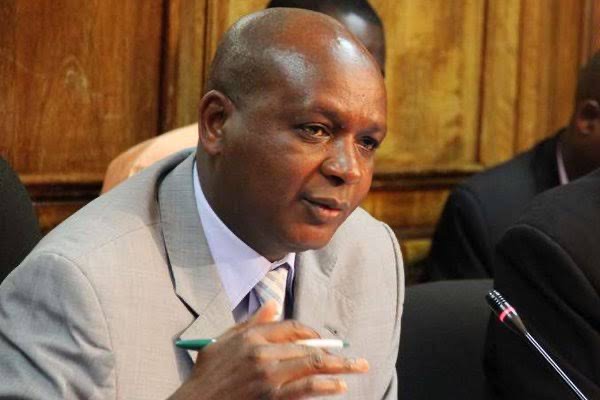 In March 2020, National Assembly House Speaker Justin Muturi had to cut short his statement to calm lawmakers who were chanting 'Mbuno! Mbuno!' bringing house business to a standstill. MPs were protesting the nomination of Prof Mohamed Hussein Abdille as the Chief Executive Officer of the National Government Constituency Development Fund- CDF (NG-CDF) by Treasury Secretary Ukur Yatani. This brought into light the unholy relationship the MPs had with Mbuno.
At the end, Treasury Secretary Ukur Yatani was left with no choice but to retreat and appoint Yusuf Mbuno to head the National Government Constituencies Development Fund for three years, ending his battle with MPs.
Through a gazette notice published, Mr Yatani confirmed the appointment of Mr Mbuno ending a power vacuum that has persisted for nine years following the exit of Agnes Odhiambo who was appointed the Controller of Budget in 2011.
Mr Mbuno emerged top in the interviews with a score 93 percent while Mr Abdille had 73.3 per cent.
The Unholy affair.
The NG-CDF  Board which derives its mandate from the NG-CDF (Amendment) Act 2016 is specifically mandated to consider project proposals submitted from various constituencies, approve for funding project proposals that are consistent with the Act and send funds to the respective constituency fund account with respect to the approved projects.
The NG-CDF Board other notable functions are to ensure timely and efficient disbursement of funds to every constituency and ensure efficient management of NG-CDF.
Law demands that one can only serve for three years (renewable once). Mbuno should not have been considered for the job since he had already served as CEO since 2011 by the time Treasury Secretary made his second nomination to the house to vet as stipulated by the constitution and once approved, the Treasury then officially appoints the nominee officialy. At first, MPs had previously shot down the nomination of Wilfred Buyema by the then Devolution secretary Mwangi Kiunjuri and instead recommended reconstitution of the board further prolonging the wait for a substantive holder.
Mbuno was ineligible for appointment for the reasons that the NDCDF act section 20(4) sets out that one can only serve for three years, that is renewable once yet he had served for 8 years since 2011. The said provisions are to be read with Article 259 (1) d, (3) b of the Constitution.
The approval was marred by open favouritism as MPs expressed support for him in advance, even before the vetting was done.
There are serious audit queries tied to his term of service, for example in the Auditor-General's report of August, 2017 the whereabouts of Sh1.8 billion under his watch could not be traced or accounted for.
Sh300 million allegedly lost to Chase bank – When the 2016/17 financial year Audit report was released implicating the man of over Ksh300 million lost through Chase bank, the report was just tabled in National Assembly and shelved without being discussed. Not even the General Auditors office has ever posted the report on its website as required by law. It just vanished in thin air after both parties received kickbacks to remain maim.
The CDF had been outlawed in 2016 for not being in line with the 2010 constitution. A three-judge bench composed of Justice Isaac Lenaola, David Majanja and Mumbi Ngugi on February 20, 2016 invalidated the CDF Act, but gave law makers 12 months to make the necessary amendments in a bid to align it with the 2010 Constitution. That is when they came up with the amendment of the act, so as to still have access to the funds.
This meant that each constituency would have at least Ksh81 million.

Mbuno managed to pocket a number of MPs to the tune of Ksh9 million each in the name of CSR projects in their constituencies. Most of the MPs were members of the National Assembly on CDF committee (NASC) in parliament and cronies of Mbuno. In return, the 'honourable' members were to root for his appointment and subsequent gazetting, which would add him more life at the body and a dream which came to pass since he succeeded.
Below is a list of the MPs who benefited from the body in the name of CSR projects in their constituencies.
1. Elijah Moindi- MP Nyaribari Masaba (NASC member)
2. Yusuf Chanzu – NASC member
3. Esther Gathogo – NASC member
4. Peter Kaluma – NASC member
5. Maweu Katatha- NASC member
6. Francis Mwangangi
7. Mohammed Haji – NASC member
8. Joseph Ndiege- NASC member
9. William Kamoti -NASC member
10. David Wafula – NASC member
11.  Abass Sheikh -NASC member
12. Abdikadir Ahmed- NASC member
13. Sila Tiren – NASC member
14. Raphael Letimalo- NASC member
15. John Lodepe- NASC member
16. Moses Lesonet- NASC Chair
17. Jesica Mbalu -NASC member
18. John Karanja Kihagu -NASC member
19. Late Francis Nyenze -NASC member
20. Mathew Lekidime-NASC member
21. Nicholas Gumbo-NASC member
22. Jakoyo Midiwo –
23. Gideon Ochanda- NASC member
24. Maina Kamanda
25. Aden Duale- Former Majority Leader
Because of flawed appointment, it is not a rocket science that Mbuno's loyalty seized to be towards the Kenyan public but to certain groups with vested interest, not necessarily for the good of the public. His loyalty is for the MPs who gives him money kickbacks after approving for them flawed process and allocating them funds and keeping secret their audit reports from EACC and other authorities.
In 2017 Activist Okiya Omtatah seeked that the services of NGCDF Chief Executive Officer(C.E.O), Yusuf Mbuno be terminated immediately and his terminal benefits provided in full since his six years tenure in office expired 0n 1st September 2017 hence lacking capacity under the law to order the recruitment of the C.D.F committees in the 290 constituencies.
Activist Okiya Omtatah filed a petition seeking an order to stop the on-going exercise of constituting National Government Constituencies Development Fund (NG-CDF) committees until a properly constituted  board is appointed.
Omtatah claimed that the board was irregularly managed by a board of four directors instead of five as required by the NG-CDF Act thus lacking the required quorum to conduct business.
In the petition filed at the Milimani Law Courts, Omtatah wanted the court to issue a temporary order of injunction restraining the respondents and their agents from forwarding any nominated Members of NG-CDF committee to the NG-CDF Board for appointment through gazette notice.
Mr. Mbuno is dancing to the tunes of MPs as Treasury is losing millions of shillings through his unholy relationship. And when Ukur Yatani tried to cock his gun on this crook, he was instead shot back by majority of MPs whom were on the payroll of Mr. Mbuno.
Here is a matter of public funds being missappropriated with the help of  disbursement authority and cover ups being done at the expense poor Kenyans tax money. Accountability, Fidelity, Transparency are in jeopardy in this board led by CEO Mr. Mbuno.
As Kenyans are getting over-taxed and prices of commodities get increasingly high by everyday, MPs and Mbuno are laundering public funds in the likes of CSR projects and many other irregular allocation of CDF.
A NG-CDF 'Mugabe' illegally overstaying in power to swindle public funds under the watch of Legislators in a symbiotic affair is a sinful, corrupt, economic sabotage act. His illegal over-stay in office is upto no good for general public.
---
Kenya Insights allows guest blogging, if you want to be published on Kenya's most authoritative and accurate blog, have an expose, news TIPS, story angles, human interest stories, drop us an email on

[email protected]

or via Telegram
---